Tuesday, February 20th, 2018 by Julian Karsunky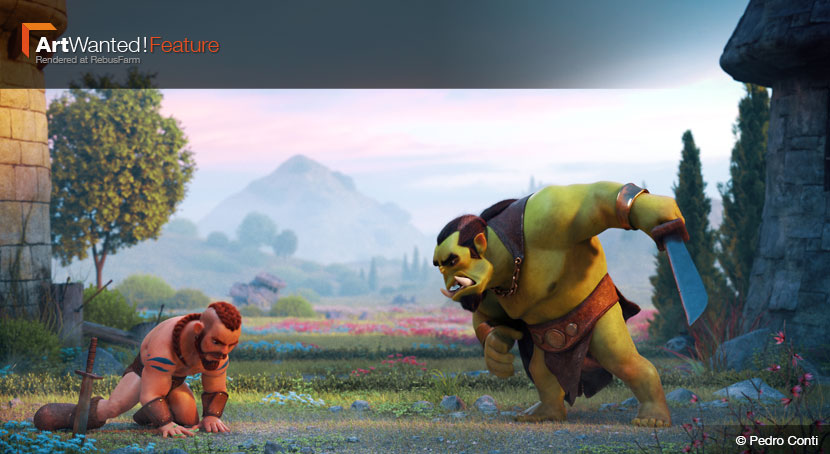 When Pedro Conti received his first job offer as a graphics design student, he did not think twice about dropping out of university after just his first year to pursue a career as a CGI artist.
Almost a decade later, Pedro is an accomplished 3D generalist who has worked for some of the biggest studios in the animation industry, including Walt Disney and Aardman Nathan Love. In this month's ArtWanted! Feature, Pedro talks about his eventful career, recent and upcoming projects and what it means to be a true all-rounder.
Hi Pedro, thank you so much for taking the time! To start things off, please introduce yourself to our readers!
Hello everybody, my name is Pedro Conti, I'm a 31 years old 3D generalist from São Paulo, Brazil.
Do you still remember how and when you initially came into contact with CGI?
My first exposure to CGI was back in 2005. My brother, who was studying industrial design at the time, showed me some of the software he was using. I had the opportunity to learn a little bit of After Effects and some 3ds Max, really basic stuff.
My interest in visual design started a lot earlier, however. Two of my friends in highschool were really talented illustrators and their work ultimately motivated me to tap into my own creative potential. I was terrible at first, of course, but I was determined and kept practicing a lot – soon I was a lot more invested in my drawings than in any of my classes! I've always enjoyed cartoons a lot but back then I had no idea I'd make a living doing that.
Then how did you decide to pursue a professional career in 3D?
My brother introducing me to 3D software really ignited a spark. I decided to enroll as a graphic designer at the same university he was attending shortly after. Through my studies and various other aspiring 3D artists I met there, I soon found out the true capabilities of 3ds Max, that people were creating movies with this very software! I pretty much dedicated my professional life to 3D then and there.
At the same time, I wasn't particularly enjoying the study programme itself, so I mostly focused on art and started building my portfolio in my free time. One of my early projects somehow got a lot of attention online and eventually led to my first job offer from renowned design studio Seagulls Fly in Rio de Janeiro. Considering I was still very much green behind the ears, I leapt at the chance. So I quit university after only one year to try out the life as a 3D artist. I have no formal education besides that single year, everything I know I learned out in the field.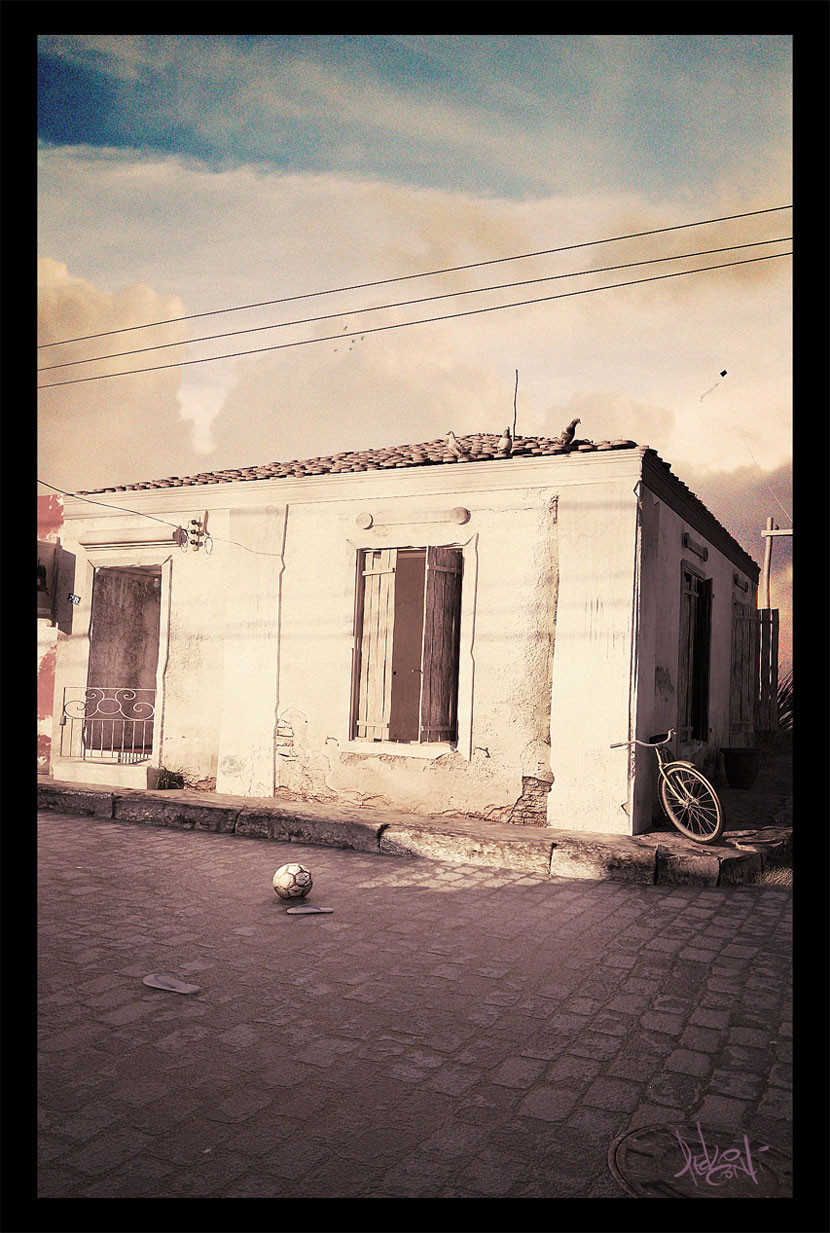 This nostalgic scene of this hometown Itobi titled 'The Wonder Years' landed Pedro his first job while still being a student.
Can you tell us more about your current work as a freelancer?
Nowadays, I'm mostly doing character development which includes design, modeling, look dev and grooming for studios from all over the world. I'm also frequently involved in the later stages of production such as directing and supervising. I have this Pedro Conti Studio project that is slowly taking shape and things are moving towards that but I'm mindful not to force things, meaning I'm not pushing that angle too hard right now.
From modeling to directing - when it comes to CGI, you appear to be a true all-rounder! Is there a subject in 3D you particularly enjoy?
I really like being a generalist. I believe the best works of art strike a balance between a lot of different aspects. It's this process of balancing design, modeling, look and lighting that I enjoy the most. Besides, I'd probably get bored being confined to a single role. It's all interconnected, anyhow – when I started as a lighter and lookdev artist back in 2005, I soon noticed how crucial modeling was to get the shaders working well. The same more or less holds true for all stages of production. There are a few projects I exclusively work on viz dev modeling in Zbrush, without worrying about topology and similar technicalities, and I have fun doing that as well. Long story short, you can count me in for everything but rigging and animating!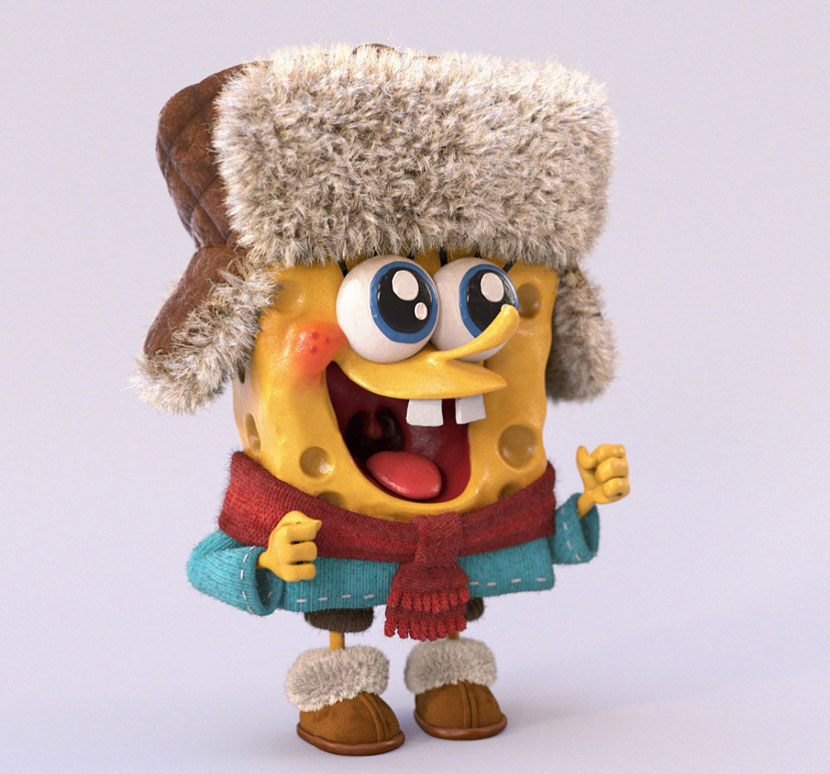 This image Pedro worked on with Aardman Nathan Love helped the animation studio win the pitch for Nickelodeon's 'Winter Refresh' campaign.
Judging by your portfolio, you already had quite an illustrious career up to this point, working for some of the biggest names in the animation industry, including Walt Disney, Nickelodeon and Aardman Nathan Love. What are some of your personal highlights in your working life?
While having the opportunity to work on a Disney picture obviously was a big dream coming true and I'm generally very proud of my list of clients, I'd like to give a more nuanced answer: One of the coolest and most memorable experiences as a 3D artist was being invited to speak at various events and conferences. Traveling around the world, seeing different cultures and meeting amazing artists who share the same struggle is a blast.
Though as of today even that somewhat pales in comparison to the simple fact that I'm able to successfully provide for my family by working from home. Being a remote freelancer is usually not too stressful, so I consider myself very lucky to have this much quality of life which is rather rare in this industry.
Let's talk about some of your recent projects in more detail. You've already mentioned Disney, more precisely the work you did for the studio's 2016 animated film 'Moana'. Please tell us all about your involvement and overall experience!
I was involved in the look development process and had the opportunity to work on some big sequences. In the look dev department, the artist usually works per sequence, and for the most part I was assigned to five main sequences. One of these was the 'Kakamora's barge', which is this giant pirate ship I worked on with Victor Hugo Queiroz and Sara Cembalisty. It was very challenging and I was extremely happy when I finally saw it on the big screen.
I was also one of the three look development artists who brought the lava monster 'Teka' to life. Besides that, I had a couple smaller tasks, such as helping the art directors find the proper look for environments amongst others. Overall it was a very intense experience in every regard. I learned a lot not only about 3D, but how big studios operate.

As a look development artist, Pedro helped bring this lava monster to life in Disney's highly acclaimed island adventure 'Moana'.
A few month back you co-directed a cinematic trailer for 'Castle Crush (www.castlecrushgame.com)', a mobile strategy game with a medieval setting. How did you approach this particular project?
Overall, the project was very simple. But since we had no pipeline it was a lot more challenging to achieve the quality we were aiming for. We had a very complex environment as well as intricate hair and clothing simulation, VFX and so on. I ran a studio in Brazil from 2009 to 2014 complete with its own pipeline and a render farm, but 'Castle Crush' was my first time working on a project on that scale without these luxuries. Render time was a big concern, I'm glad RebusFarm helped make it happen. Inspired by my workflow at Disney, I built a very simple pipeline for sending the shots to the farm and it worked surprisingly well!
The project took us six weeks to complete with the core team consisting of only 4 people. I had the pleasure of co-directing alongside my good friend Fernando Peque, but I also worked on character and environment modeling, lighting, composition, grooming and more. Overall the project flowed very well, which is not that common in animation. Working with TFG Co. [editor's note: the game's developer] was very easy going, we were bouncing ideas back and forth and they were pleased with our approach. We had very little retakes, the most time-consuming part was probably fleshing out the script between us directors and the client.
Somehow, you still seem to find the time for personal projects. Is there a significant difference in how you approach these in contrast to commercial jobs, be it in terms of creative/visual design or otherwise?
I always remember that these type of artistic endeavors were the reason I started doing 3D in the first place. So whenever commercial work is taking over, I try to make time on the side to express myself with something personal. The obvious difference between a commercial and a personal project is that for the former I'm working under the restraints of someone else's vision, which is great more often than not. And even when it's not, as a contract artist, that's just part of the game.
While it's getting harder and harder to find the time these days, I always have ideas in mind. One thing I've been thinking about for a while now is to tell a story with a short film. I'm working on it with a few friends but unfortunately we couldn't launch the production yet. Hopefully that'll change soon!
Speaking of personal projects, how would you describe your overall style?
I like super-stylized characters with photorealistic renders. I tend to play with shapes and composition a lot, trying to put things together in a meaningful way. Sometimes I go for more simple characters, other times I focus more on anatomy – it really depends on my mood at the moment. Over time my basic designs have gotten more minimalistic, as I'm trying to dig deeper into personality and character.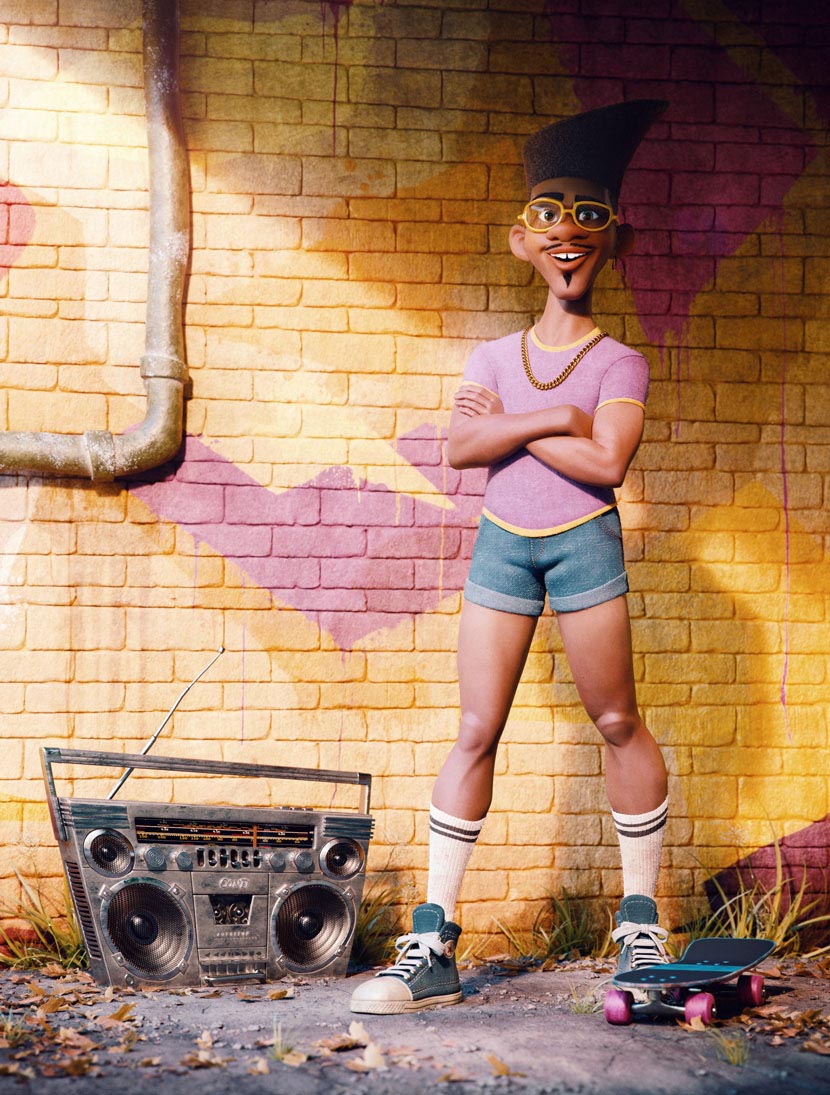 'The Good Old Times', an illustration Pedro did for 3D World magazine. During his stay in Los Angeles, he found inspiration for this character during his trips to Venice Beach.
What software do you usually work with?
I work mostly with Zbrush, 3ds Max, Vray, MultiScatter (www.visualdynamics.com/multiscatter/buy-multiscatter.html) and Ornatrix. Just this year I started working with Substance Painter and I'm loving it. I was using the same texturing pipeline (Zbrush and Photoshop) for a decade and I'm thrilled I finally managed to learn a 3D painting software after all these years. I go very simple with software since learning a new tool usually takes me some time. I recently expanded my toolset to include Maya and Arnold, which is a big step for me but in general I prefer to spend my time researching and learning art concepts instead of technical skills.
Have you used RebusFarm before? If so, please tell us about your experience with our render service.
I already mentioned how I used it for the 'Castle Crush' project and it was amazing! I was a little hesitant to render an entire project online initially, so I started render testing very early in the process. However, I was convinced that it would work out fine as soon as I got the first test back.
The software integration is flawless, pricing is very fair and the support was great as well. I was actually planning to build a small render farm in my own home before but there's no reason for that now! I built a pretty powerful computer as my main machine and everything else I will send over to RebusFarm.
In closing, is there anything else you want to say? Any present or upcoming projects you'd like to mention?
I'm really thankful for the opportunity you guys gave me. There are some projects I worked on with Shed MTl and Aardman Nathan Love which I'm really proud of pending release shortly. Hopefully soon I'll have more news about the short film as well!
Keep up with Pedro Conti's work here:
---
How to join ArtWanted!
You want to get featured in our ArtWanted! campaign and win 50 RenderPoints on top? Submit your work, rendered at RebusFarm, to This email address is being protected from spambots. You need JavaScript enabled to view it.! Visit our Art Wanted! page for more information.
---