Wednesday, September 1st, 2021 by Julian Karsunky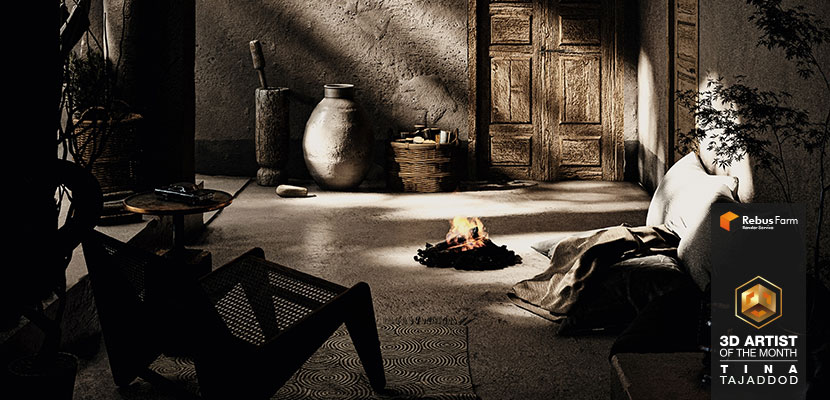 While Iranian architect and visualizer Tina Tajaddod herself humbly declines the label of 3D artist, her soulful and intimately personal approach to CGI left us no choice but to select her as our September 2021 '3D Artist of the Month'! Skillfully crafted architectural reflections of her thoughts and feelings, Tina's work offers a unique and authentic glimpse into her mind. Although a design of individual creative expression, she nonetheless invites the viewer to seek refuge in her 'Quiet Place'.
In our interview, Tina discusses the Iranian CG community, introversion and the search for inner peace.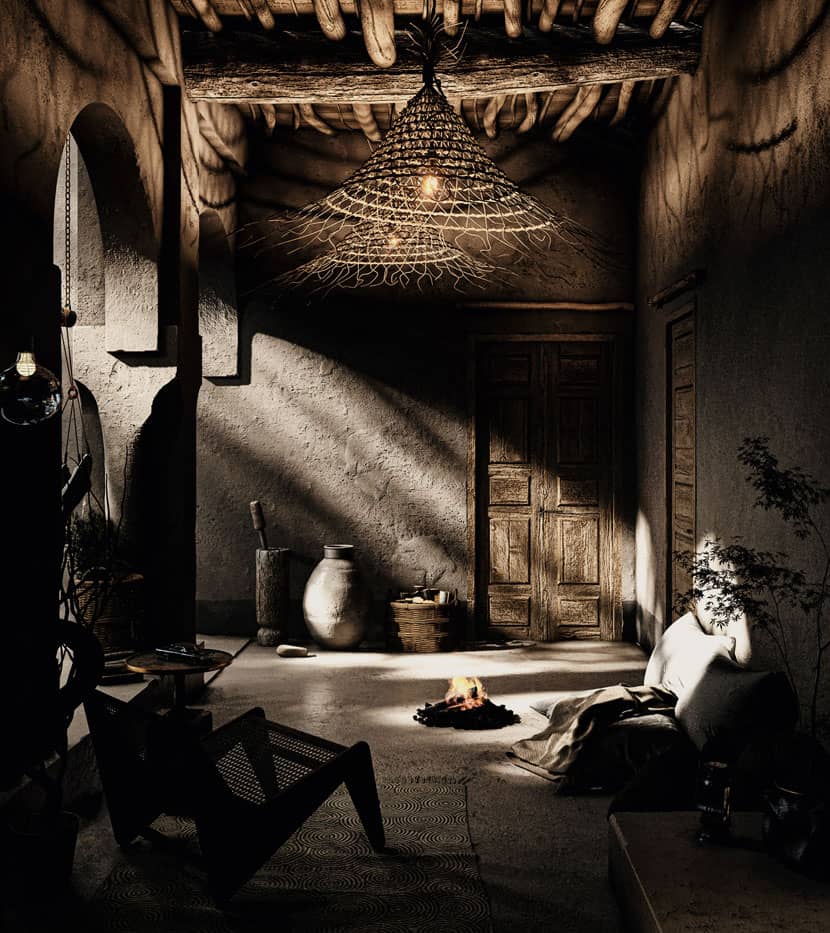 "To stand firm in the face of fire, to be calm in the midst of thunder" Tina Tajaddod, 'Quiet Place'.
Hi Tina, thanks for joining us! To start things off, please introduce yourself to our readers.
Hello all, my name is Tina Tajaddod, I'm a 29-year-old freelance architect and 3D visualizer from Iran.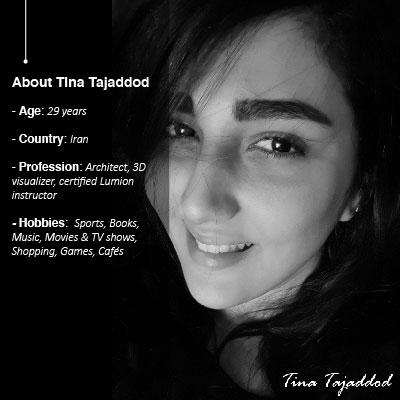 Where does your fascination with architecture and design stem from?
One thing I always knew about myself was that I wanted to be an artist. My father is an architect, so from an early age, whenever I went to his office, I always looked at his designs, architectural plans and projects. Thinking about the way people would eventually live there tickled my imagination, and I became fascinated with how people live and occupy spaces – in their homes, offices or markets.
Considering this, it is no surprise that at about 10 years old, I started playing simulation games such as 'The Sims', which further increased my interest in architecture. Having finished high school with a major in mathematics, I decided to study architecture, and I graduated with a master's degree from IAUTSB three years ago!
When and how did CGI enter your life and career?
About ten years ago, I first took classes on Revit, 3ds Max and Photoshop, but I took no immediate interest at the time and soon forgot about it. And a few years later, during my third semester of university, I was introduced to Lumion and began working with the software as a hobby. Initially, I had no intentions of pursuing a career in CGI, but the more I learned, the more passionate I became. Eventually, I asked myself: "why not?" I figured if others could do it, so could I!
After graduating, I felt a strong desire to further my CGI skills, so I started vocational training at Vividvisual Studio, where I studied under accomplished CG artist Yones Bana. So while I might not have a specific academic education, I feel my practical experience combined with my master's in architecture makes for a solid foundation!
Tina tells us the lighting was instrumental in achieving the desired effect. Notice how the mood shifts completely depending on the time of day.
Please tell us about your current job situation. Are you exclusively freelancing at the moment?
Yeah, I am working freelance with international and domestic clients, but I do have the support of a team I can count on if necessary. My services include 3D visualization, interior visualization and styling, exterior renders, environment visualization and animation.
Before going freelance, I worked at my father's offices for a few years, but I found the job to be too time-consuming and ultimately unfulfilling. Being able to manage my own time fits my personality and lifestyle much better.
Describe your profile as a 3D artist!
Actually, I hardly consider myself a 3D artist. While 3D artists create three-dimensional models and visual effects to match specific briefs, I just do 3D visualizations, renderings and animations. But regardless of the task at hand, my main goal is always to create soulful works, with my own personal signature.
I'm also very interested in VFX and game development and plan on learning the respective skill sets in the future.
What can you tell us about the current state of the CG industry and community in Iran?
For the last 25 to 30 years, Iran's CG industry has steadily grown into a more established, prosperous and influential sector. In fact, today, a majority of people in the field of architecture work in CGI. And because of the excellent training available now, CG artists and the quality of their work continue to improve day to day. Another contributing factor to this progress is found in various improvements for home businesses and freelancers.
Let's talk about your work in more detail, namely 'Quiet Place', the somber and seemingly forgotten room you submitted to our campaign. Can you first tell us more about the origins of the project? Is this a personal or commercial project?
'Quiet Place' is a personal project in the most literal sense. I am an introvert, and it was my introversion that first drew me to CGI. Introversion is most commonly associated with shyness and reserve in the public eye, but to me, it means that one's attention, interests, and concerns are focused on one's feelings, thoughts, and inner life. One way to explain it is that introverts receive their energy from within, as opposed to extroverts, who feed off company.
For an introverted person, a significant part of life happens internally, and my goal was to show a glimpse of my mind in the form of a room.
Please describe the basic concept and central idea for the project. What was your main motivation?
The search for inner peace remains a goal for introspective individuals around the world. It is a lifelong quest that challenges us to learn more about ourselves while allowing us to grow and evolve. 'Quiet Place' is both an expression and an exploration of this sentiment.
The main idea of the project was to depict a place where you can sit in peace for a few hours, removed from the worries of everyday life and free from the need to think about anything. First and foremost, I created this space for me, as a way to escape from the hectic and often sad world around me.
Can you elaborate on this point? You have referred to the room as lying "somewhere in your soul" – in how far does 'Quiet Place' reflect yourself?
Yes, very much so! As an introvert, this space is a reflection of my mind and soul when I retreat into myself. The description accompanying the scene – which you quoted – reads as follows:
Whenever problems seem to get the best of me, whenever I feel them closing in on me, I go to a quiet place that lies somewhere in my soul. I do not reason, analyze or think, those will come later. I simply go. From this place of silence, I garner strength and inspiration to stand firm in the face of fire, to be calm in the midst of thunder. When I emerge, the world has not changed, but I have. And in changing, a whole new world is born.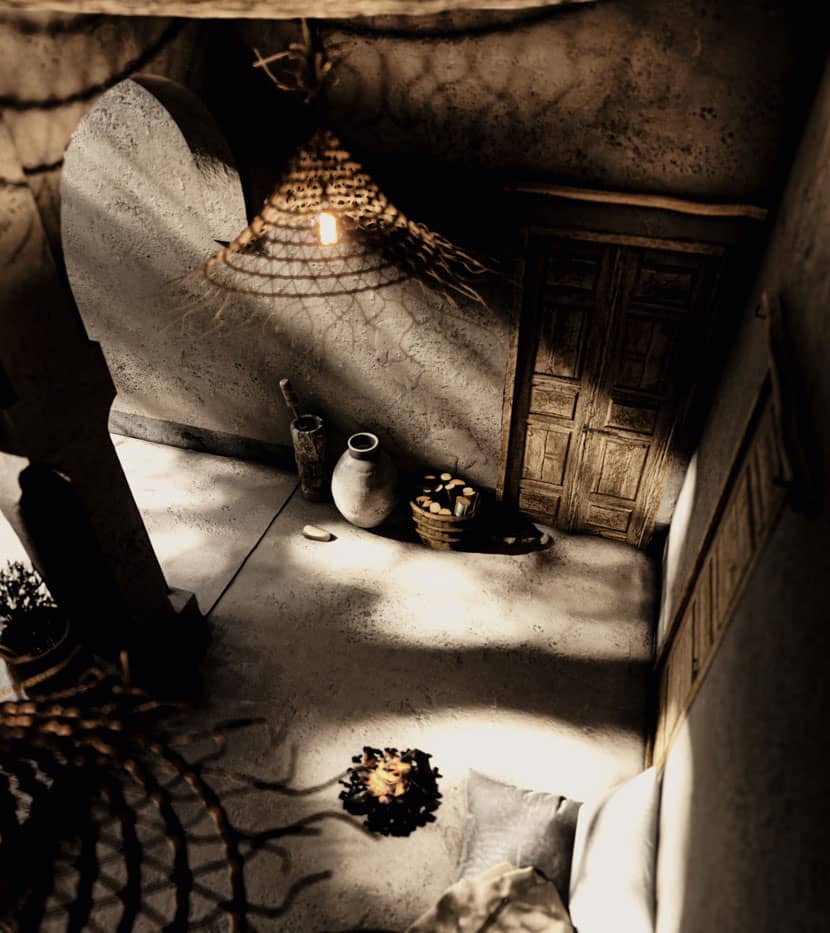 This overhead shot reveals an unseen portion of Tina's 'Forgotten Room'.
What parts of the image were especially important to you, both from a visual as well as from a technical point of view?
I really cannot highlight anything specific, as I created the space as a whole. Every part of the image is equally important to me.
How long did it take you to complete the project and what were some of the challenges you had to overcome?
It took me about four to five days to complete the project. The biggest and most significant challenge was finding the proper lighting and materials to evoke the same feelings in the viewer I felt within me.
Tell us more about your overall use of colors, materials, lighting and the overall composition.
For most of the scene, I used a limited color palette, which I personally found calming. For brighter areas, I made a point to use colors that do not engage the mind too much, with beige being a great and less radiant alternative to white. Furthermore, beige and cream perfectly complement most other colors, such as with the furniture and decor, resulting in an overall more pleasant look.
Regarding materials, I am generally fond of old and used aesthetics, so for this project, I tried to make the space more intimate by instilling a sense of these two features. Lighting and composition similarly are used to create an atmosphere as warm and fuzzy as possible, with the lamps being focal points.
Despite working lamps, there is an open fire burning in the room. What is the significance of this seemingly superfluous source of light?
Indeed! The room is obviously lit by three artificial light sources: the two ceiling lamps and the lampshade next to the chair. Additionally, there is natural light coming in from the arched doorway in the left wall. So, the fire is not there for lighting purposes, but to induce a sense of warmth and intimacy, which is also why I placed it next to the cushions. It symbolizes the heat that pervades human existence and has an emotional counterpart in the subconscious.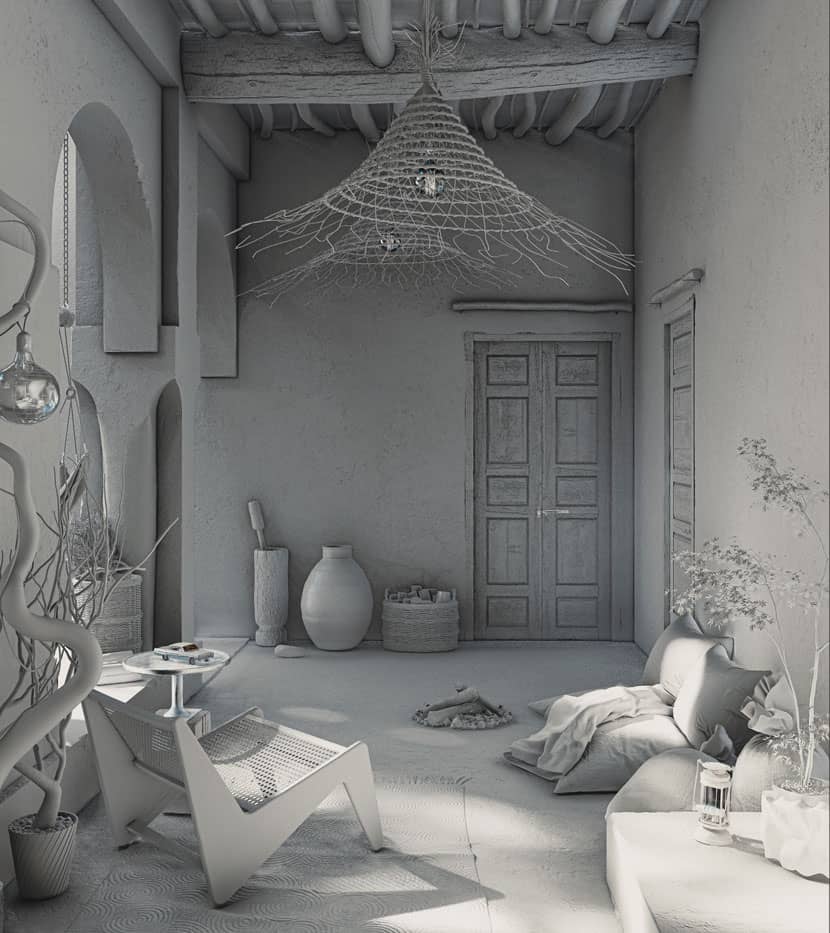 While this grey render lacks the somber and intimate atmosphere of the finished piece, it allows a better look at some of the obscured models.
What software did you use to create this piece?
Mostly SketchUp and Lumion. Some of the models were created in 3ds Max; I used Marvelous Designer for some of the fabrics in the scene, and Photoshop for the smoke effects on the fire.
What is one thing you have learned from this project that you can share with us?
I learned that you can find peace, even in the worst of circumstances. You can find a place to relax, even if it is only in your mind. Mind over matter.
Have you used RebusFarm before? If so, please tell us about your overall experience. Is there anything you especially like about our service?
As of now, I haven't tried your services, but I look forward to doing so in the near future – thanks to the RenderPoints I won!
In closing, is there anything else you want to say? Any plugs, shoutouts or upcoming projects you'd like to mention?
Thanks for featuring me as your 3D Artist of the Month, and giving me this opportunity to express myself, it is very humbling.
The only other thing I want to say is this: you can achieve anything as long as you only set your mind to it. Be yourself, being yourself is the best!
Tina, thank you so much for taking the time and all the best in the future!
Keep up with Tina and her work here:
---

HOW TO JOIN OUR MONTHLY CONTEST
You want to be our next featured 3D Artist of the Month and win 250 RenderPoints? Just visit our 3D Artist of the Month competition page and submit your entry. We'll choose the best image and contact the winner.
---
>> Read more articles on our blog