Friday, October 1st, 2021 by Julian Karsunky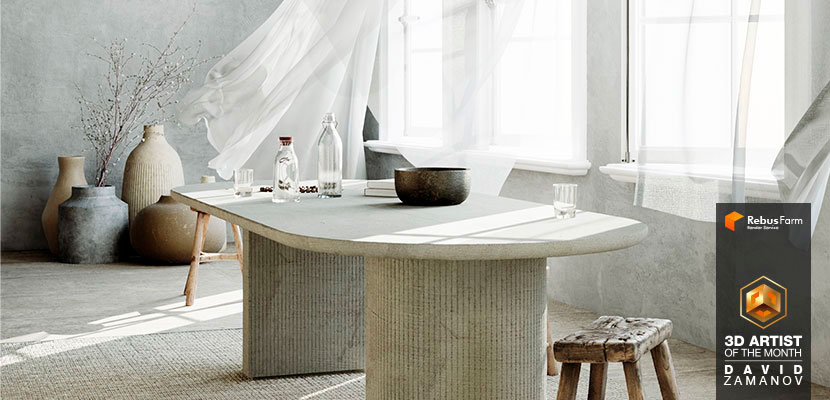 Today marks a much-welcomed break from the luxurious interiors of glossy magazine pages, courtesy of David Zamanov, our October 2021 3D Artist of the Month! His approach to architectural visualization is inherently artistic and expressive, his interior design deliberately counterbalances the decadent and gaudy style of our times. For his 'Authentica Variations', an eclectic blend of minimalism, Gypset and ancient Chinese philosophy, David forgoes pomp in favor of comforting simplicity.
In our interview, David talks about feeling alien, founding his own studio, and the ethics of minimalism.
 David Zamanov, 'Authentica Variations'. Simple, yet elegant forms are one of the cornerstones of David's interior design.
Hi David, thanks for joining us. To start things off, please introduce yourself to our readers!
Hello everyone, my name is David Zamanov, I'm a freelance CGI artist and interior designer, and founder of D&Z Visual studio.
Do you recall when and how you first consciously encountered CGI?
I was first introduced to 3D software at the age of 15, while I was studying design. Between 3ds Max, Mental Ray and V-Ray, I remember being quite confused in the beginning, but thanks to self-studies and the internet, I eventually got the hang of things.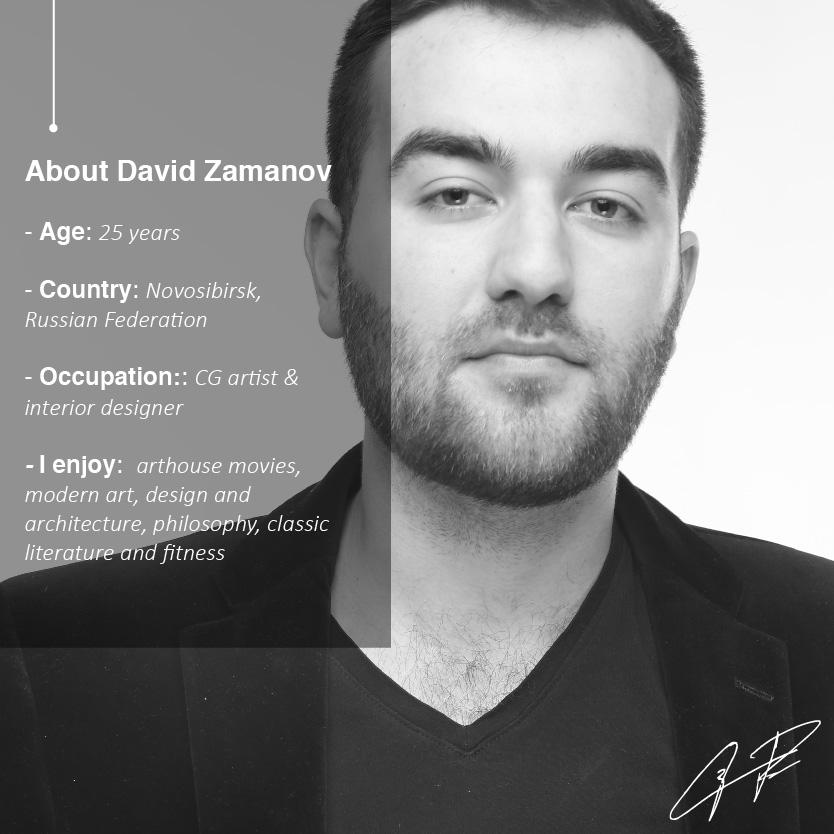 When and why did you then decide to pursue a professional career as a 3D artist?
When I was about 20 years old, I was still struggling to find my place in design. At the time, I had already worked for a number of different studios, but I lacked the creative freedom to express my own ideas. 3D visualization became my refuge, and I soon started to create and share my own works. As people took notice, I received requests for commissions and collaborations, and so I slowly began taking on freelance work.
I really like 3D because of the variety it offers, there are so many methods to create a beautiful image. Another aspect I particularly enjoy is the level of realism you can achieve.
What training or education do you have?
I am a certified environment designer and teacher at an art school. In terms of CGI, I expanded my knowledge by taking various online courses and watching YouTube videos.
Can you tell us more about your academic background in interior design and how it relates to your work as a CG artist?
Following three years of art school, I studied interior design at college for four years. Since I am a practicing designer myself, my knowledge of dimensions, ergonomics and design standards greatly simplifies the process of creating 3D interiors. It is important to take these nuances into account to make every image as realistic and logical as possible.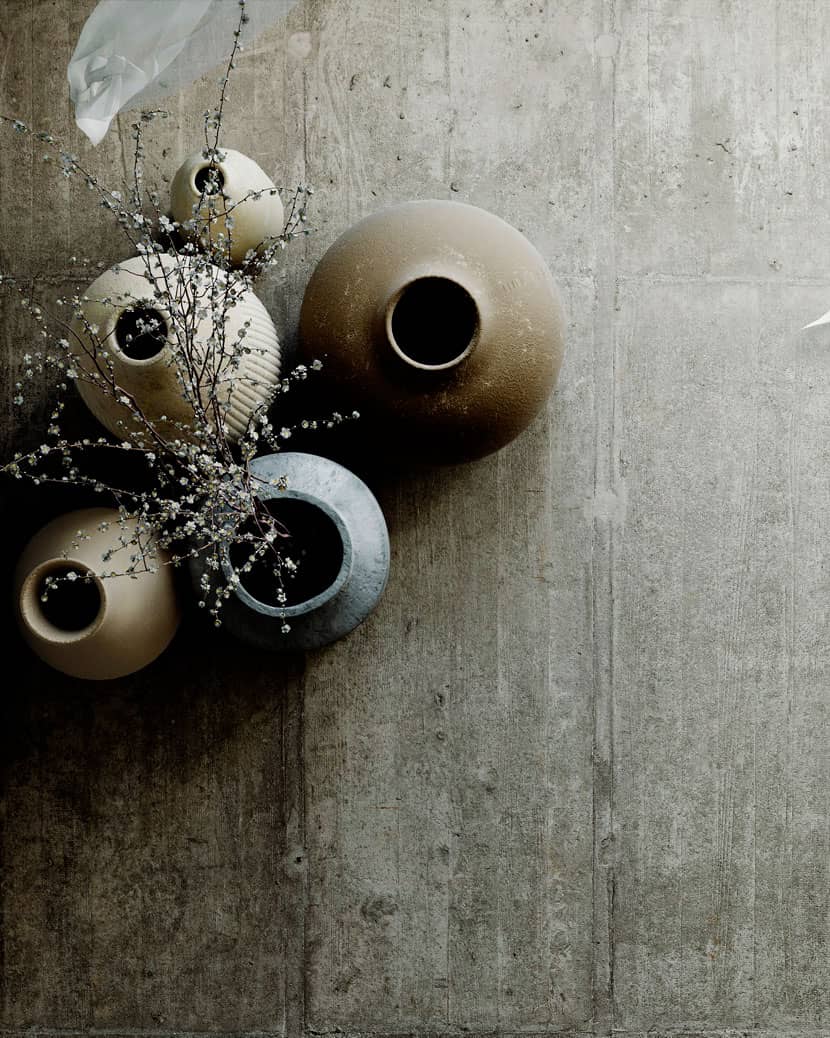 A closer look at the pottery. The earthen colors and quality add to the organic feel of the room.
Please tell us about D&Z Visualization Studio! When and under what circumstances was the company established?
I founded the company two years ago when I was no longer able to manage the requests I received by myself. The idea was to create a studio that accumulates talent from all over the world, with whom I could then share the work. Our mission is to create efficient, modern and high-quality renders that reflect our clients' visions and needs.
The company is still in the making by the way, and we are currently open for applications. If you are interested, feel free to shoot us an e-mail with links to your work!
What services do you provide?
Our services include residential visualization, commercial and product visualization, architectural visualization and animation, interior design, VR tours, modeling, photo montages and 3D floor plans.
Who are your clients and target markets?
Our client base mostly consists of construction companies, design studios and architectural firms. We provide solutions for both commercial and residential buildings: apartments, houses, hotels, offices – we are willing to create something new every day.
Describe your profile as a 3D artist!
Instead of chaining myself to a particular medium, I like to think of myself as an artist in the broader sense. There is this poetic underpinning to the way I try to express myself through forms and spaces. My range of interests is rather extensive, it includes cinema, paintings, sculptures, nature…any manifestation of creativity really. All this makes up and shapes my personal creative world. Sometimes I feel like an alien since my view of the world seems so different (laughs).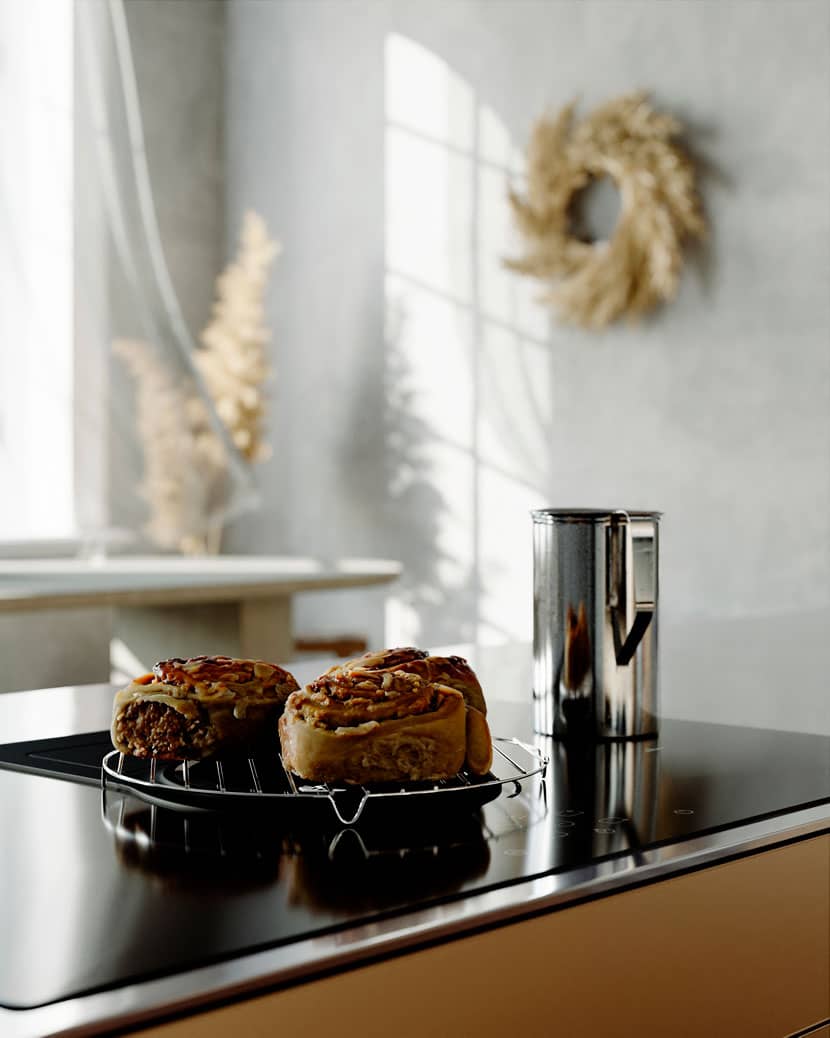 To David, minimalism provides a counterbalance to the hectic and cluttered life in the 21st century.
Where does your fascination with architecture and interior design stem from?
I have wanted to become an artist for as long as I can remember. As a child, I was infatuated with comics, I loved redrawing the pictures and even dreamed of becoming a comic book artist myself. Later, my inclination towards drawing led me to design. I found that there is a strong artistic quality inherent to interior design in particular, which is why I enjoy it so much. To me, there is nothing like creating a timeless and stylish interior!
Is there a part of CG-related work you particularly enjoy?
As I have mentioned, I strive for realism. Thanks to technological advancements, creating realistic 3D imagery has become much easier than five to ten years ago, which I appreciate; I enjoy being able to realize my ideas in a reasonable amount of time!
Are there specific architectural principles or schools of thought you adhere to? What inspires you as a 3D artist?
I am inspired by nature, love, and life itself – I like the imperfections and abundances of this world. I also enjoy philosophy in all of its facets, from ancient Greek stoicism to existentialism.
Russia has been a blooming market in the 3D world for years, producing high-quality works and talented artists. What can you tell us about the current state of the Russian CG industry and community?
I personally think that Russia is number one in the 3D visualization market, there are so many amazing artists here. I think this is due to the fact that Russia has a unique ethic regarding computer education, children are taught from an early age how to work with computers. The advent of the internet has allowed people to connect not only with each other, but other parts of the world, which helps develop good taste and leads to a strong community.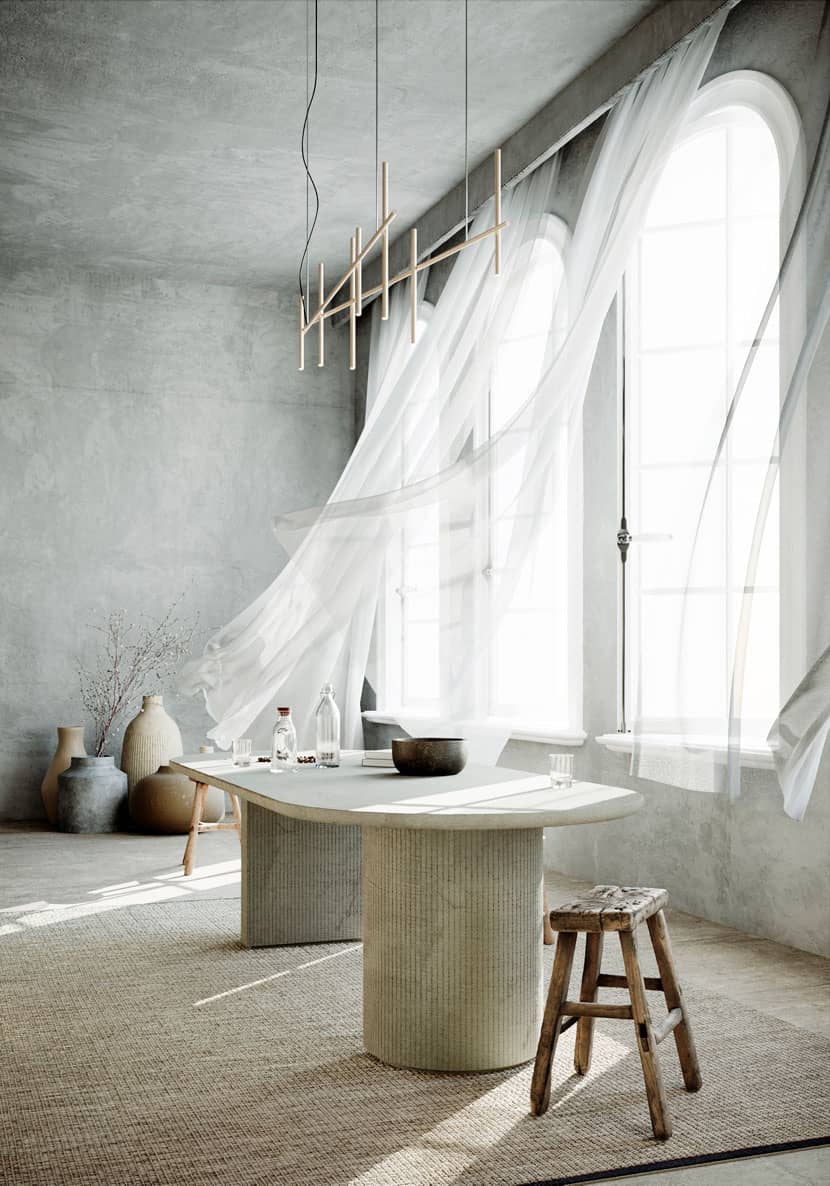 The basic room layout consists of rounded windows and heigh ceilings. David tells us lighting and choice of materials were crucial in establishing the desired atmosphere.
Let's talk about your work in more detail, namely 'Authentica Variations', a series of images depicting a minimalist interior you submitted to our campaign. Can you first tell us more about the origins of the project?
This is a personal project and my own take on an authentic-styled interior. I wanted to explore this particular style by disassembling, then reconstructing it, showing a mixture of natural and simple forms in an interior with minimalist, and modern furnishings.
To create a lively and atmospheric setting, it was important to properly highlight the materials and natural lighting. The biggest challenges were establishing a concept and selecting the right materials for an organic design.
Let us dive deeper into the underlying aesthetic and design concepts! How would you describe your approach to minimalism? What fascinates you about this particular aesthetic and how did you apply its core principles?
Minimalism is a natural continuation of modern design. When people grow tired of clutter, they need simple, understandable and convenient forms. Natural shapes and textures are the best interior decoration because they are able to provide calm from the constant hustle and bustle of the modern world.
In describing the project, you quoted ancient Chinese philosopher Lao Tzu. How does his thinking translate to your interior design?
Yeah, the quote you are alluding to reads: "nature does not hurry, yet everything is accomplished." I wanted to create an interior based on natural shades and materials, unity with nature is the main leitmotif of this work. Lao Tzu's philosophy perfectly describes the importance of nature to humans.
Another potential insight into your design is found in the books on the dining table. I am especially intrigued by 'Gypset Living' – can you tell us a bit about this style and how it influenced 'Authentica Variations'?
Thanks for noticing this detail! I included this reference to Gypset, as it was another influence for this work: I also wanted to show simple natural and affordable materials. I personally think of luxury as an atavism of this era and I generally consider it vulgarity. Do not equate luxury and quality! A minimalist approach to interiors seems to me not only much more modern, but also more ethical.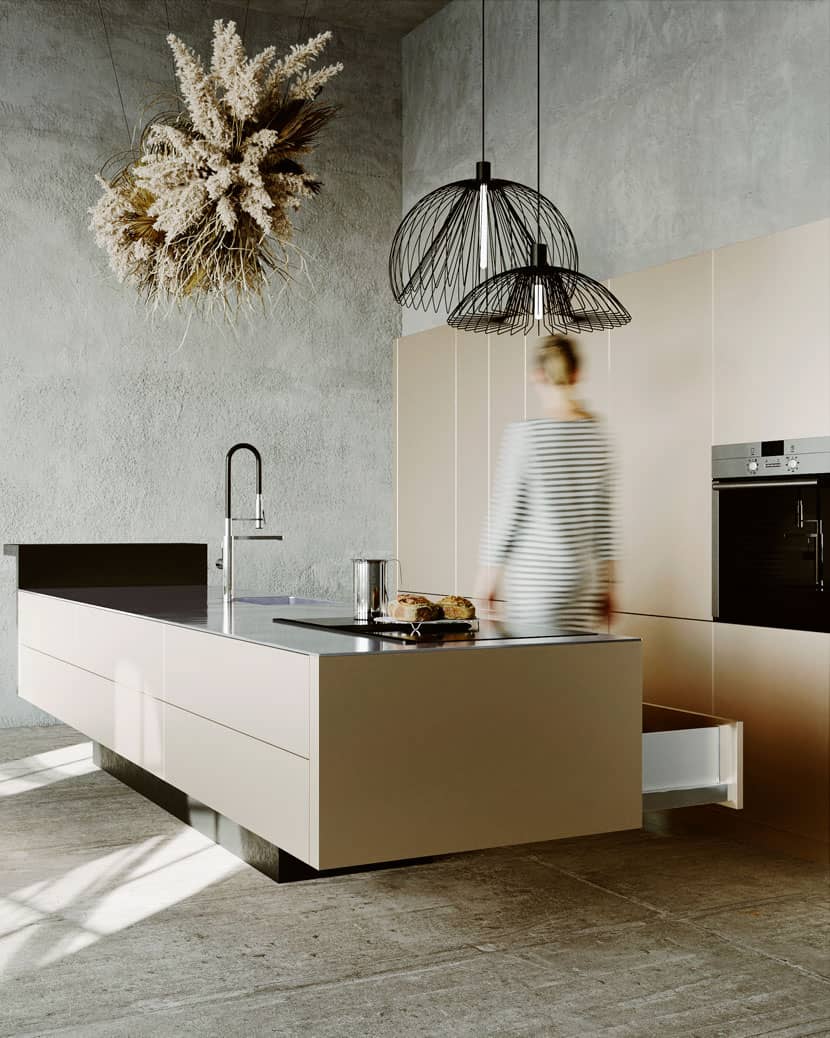 The kitchen area of the room, including the blurred figure of a woman.
Tell us more about your overall use of colors, materials, lighting and the overall composition.
I wanted to create an interior with warm, pastel colors, and sandy, mostly organic materials. It was very important for me that all the components were in harmony so that the space looks simple and natural.
What was the thought process to include the blurred woman in the scene?
I just wanted to liven up the interior. Adding a person and a cat makes the image more atmospheric.
Once you had a concept in mind, how did you go about realizing it? Can you briefly walk us through your development/production process step by step?
It was essential to first understand this style. I collected a lot of references, examined the nuances and arranged different parts of the pictures in different folders. Then, I needed to create a comfortable space for the implementation of the design; after several variations of layouts, I chose a more classic form with rounded windows and high ceilings. This is kind of a dining room with modern cuisine. During designing, it was important to stay in the chosen color palette and keep every element of the interior in place.
What software did you use to create this piece? Any plug-ins you found particularly helpful?
3ds Max, Corona Renderer, and iToo Forest Pack.
What has the feedback been like so far and how satisfied are you with the results yourself?
Once I complete a work, I always tend to perceive its flaws and think about what I could have done better. However, understanding when to stop is also an important skill!
What is one thing you have learned from this project that you can share with us?
I hope my project will inspire others to implement nature in their work as well. We all should be more grateful towards nature.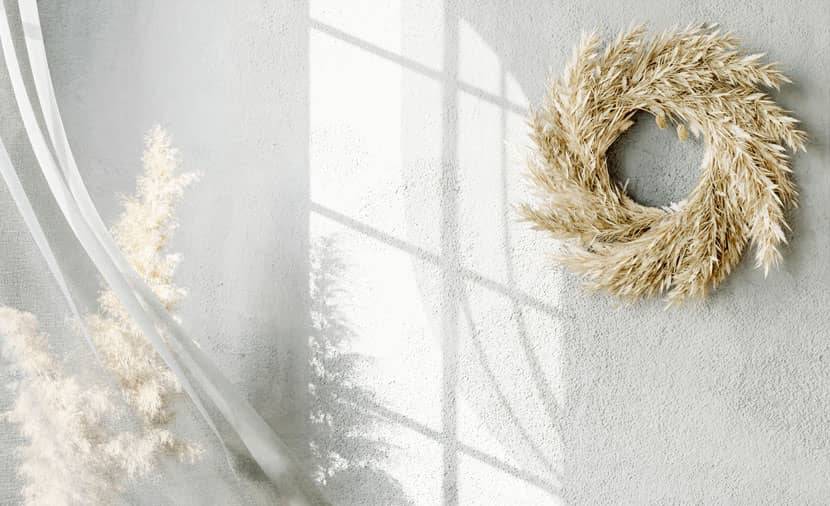 "Nature does not hurry, yet everything is accomplished."
Have you used RebusFarm before? If so, please tell us about your overall experience. Is there anything you especially like about our service?
Yes, your service is a lifesaver whenever a deadline is approaching and you need to render huge objects!
In closing, is there anything else you want to say? Any plugs, shoutouts or upcoming projects you'd like to mention?
First of all, I want to thank you for the interview, this is a first for me, and I hope I was not too boring! I also want to announce my new exterior project, which I will publish very soon, so please keep an eye out for that. Finally, I want to wish all newcomers in the field of 3D success and consistency; focus on your goal, and you will definitely succeed! Bye everyone, and please continue to enjoy the projects of our company.
David, thank you so much for taking the time and all the best in the future!
Keep up with David and his work here:
---

HOW TO JOIN OUR MONTHLY CONTEST
You want to be our next featured 3D Artist of the Month and win 250 RenderPoints? Just visit our 3D Artist of the Month competition page and submit your entry. We'll choose the best image and contact the winner.
---
>> Read more articles on our blog