Saturday, October 1st, 2016 by N. Herget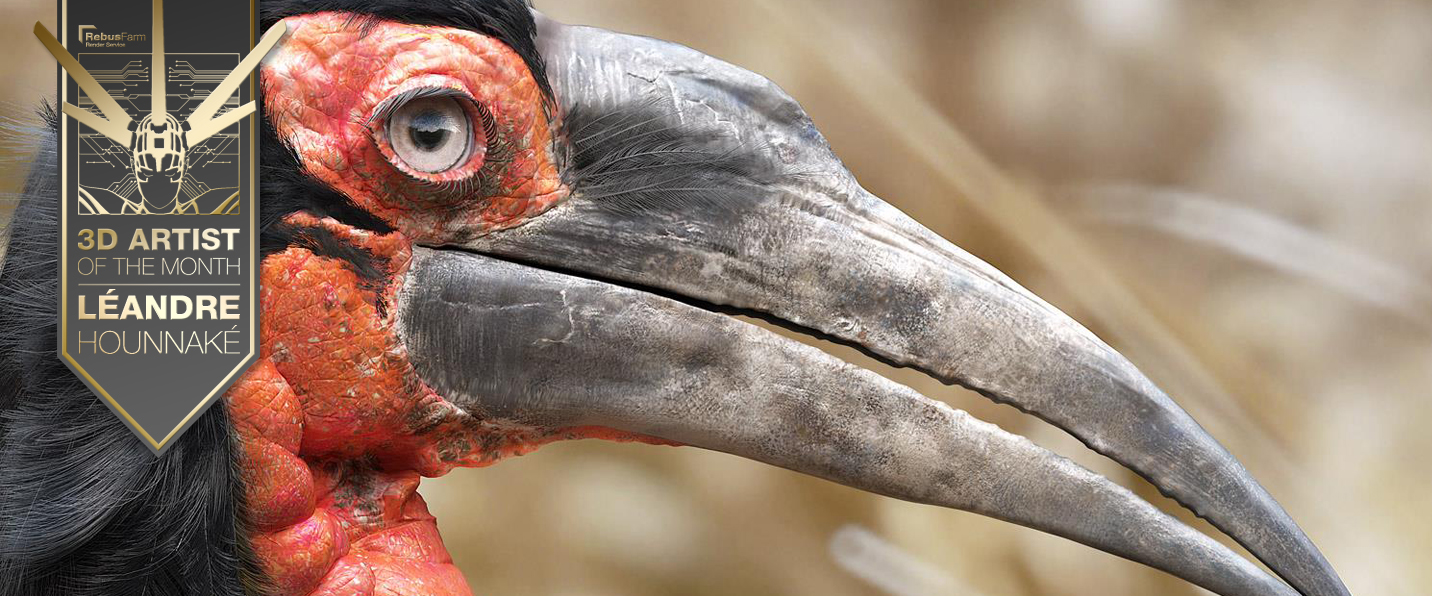 New RebusFarm 3D Artist of the Month in October is Léandre Hounnaké from Lyon, France.

His winning image of a Southern Ground Hornbill impressed our team and the community by its stunning level of realism!
Léandre is a professional 3D artist and co-founder of CG studio PIXEL 23. He is specialized in hyper-realistic illustrations for advertising, product and architectural visualization.
Please check out his portfolio on Behance and read below what it takes to create those awesome images!
Also, check the bottom of the page to sneak peak into the future of the "3D Artist of the Month" contest! *

Hello Léandre, thank you for taking the time!
We'd like to get to know you a little better. Please, tell us about yourself, your art and your workflow.

Originally I graduated in law, but as drawing and painting always were a passion of mine, I decided to study at the Art School in Lyon. Art has always been a very important part of my life and this opened the door to the world of graphic imaging for me, especially in 3D. Overall, it further trained my eye to improve my skills as a concept artist.

Generally, my eyes are my main "tools". Working in the field of photorealism, careful observation of the real world and research are very important in order to achieve high-grade realistic results.

Concerning software, I mostly work with 3ds Max which I've been using for 8 years now. I also use V-Ray, Corona Renderer and KeyShot as rendering engines. I finalize the images in Photoshop.
Mudbox and Sculptris also make up my precious arsenal of tools when it comes to adding details and certain complex textures.

Why did you choose the "Southern Ground Hornbill" as a subject?

I love nature and I'm passionate about animals, birds in particular. As a kid I even wanted to be an ornithologist!
The biggest challenge in creating this image was of course making the bird look as realistic and natural as possible.

Have you already rendered at RebusFarm ? What do you like about RebusFarm?

Up to this point, I haven't had the chance to work with RebusFarm, yet. Thinking about it, it seems to be a very interesting option, though.
The rendering stage is the most time-consuming part of the production pipeline for a lot of 3D artists and studios, lacking the proper hardware resources.
RebusFarm gives the opportunity to significantly reduce render time at an affordable cost.
I'll definitely take using RebusFarm Render Service into consideration for the future!

Furthermore, I greatly appreciate the opportunity RebusFarm gives artists all over the world to promote their work by the "3D Artist of the Month" contest.

You thankfully provided detailed Making-Of material also! Let's see the Southern Ground Hornbill evolve, step by step.

Having decided on the concept, I spent quite some time collecting a lot of reference images.
This gave me a feeling for properly working out every aspect about sculpting, texturing, shading and lighting.

I started this piece in Sculptris. I love this software because it's free and simple to use. It feels like working with clay, really natural. You almost forget about the technical things. I did the retopology in 3ds Max.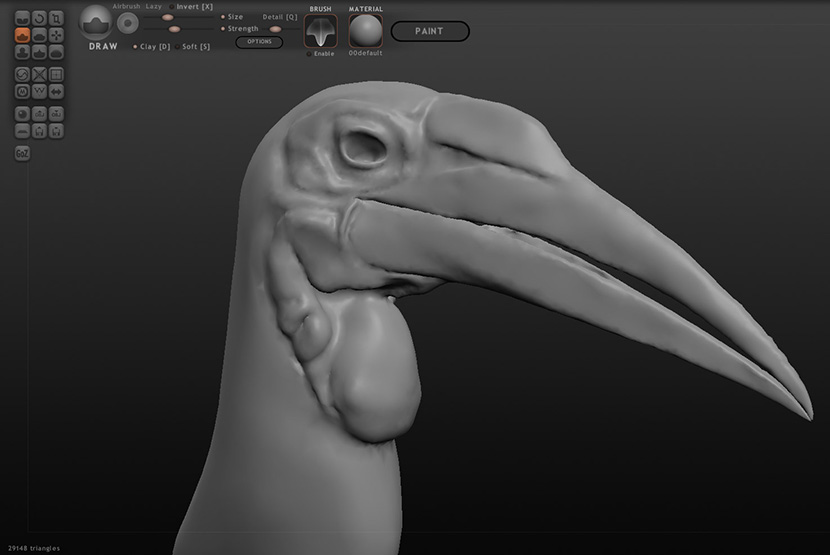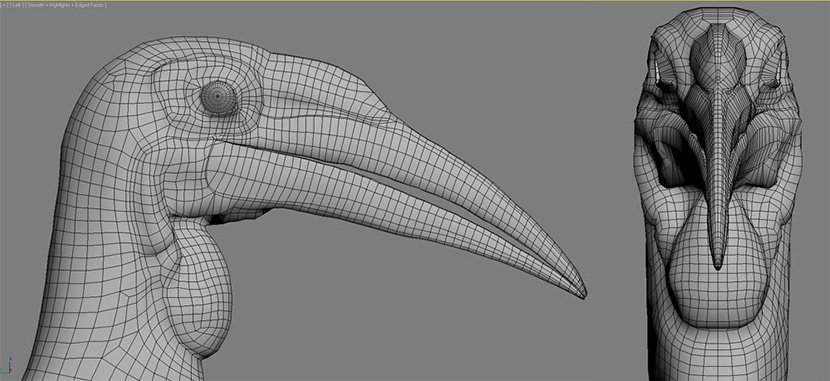 After  retopologizing the mesh, the bulk of the sculpting was done in Mudbox. I love it for its simple uncluttered interface.
On this new mesh I started refining and sculpting details because it had clean topology and UVs.
Sculpting was real fun, and so was the texturing.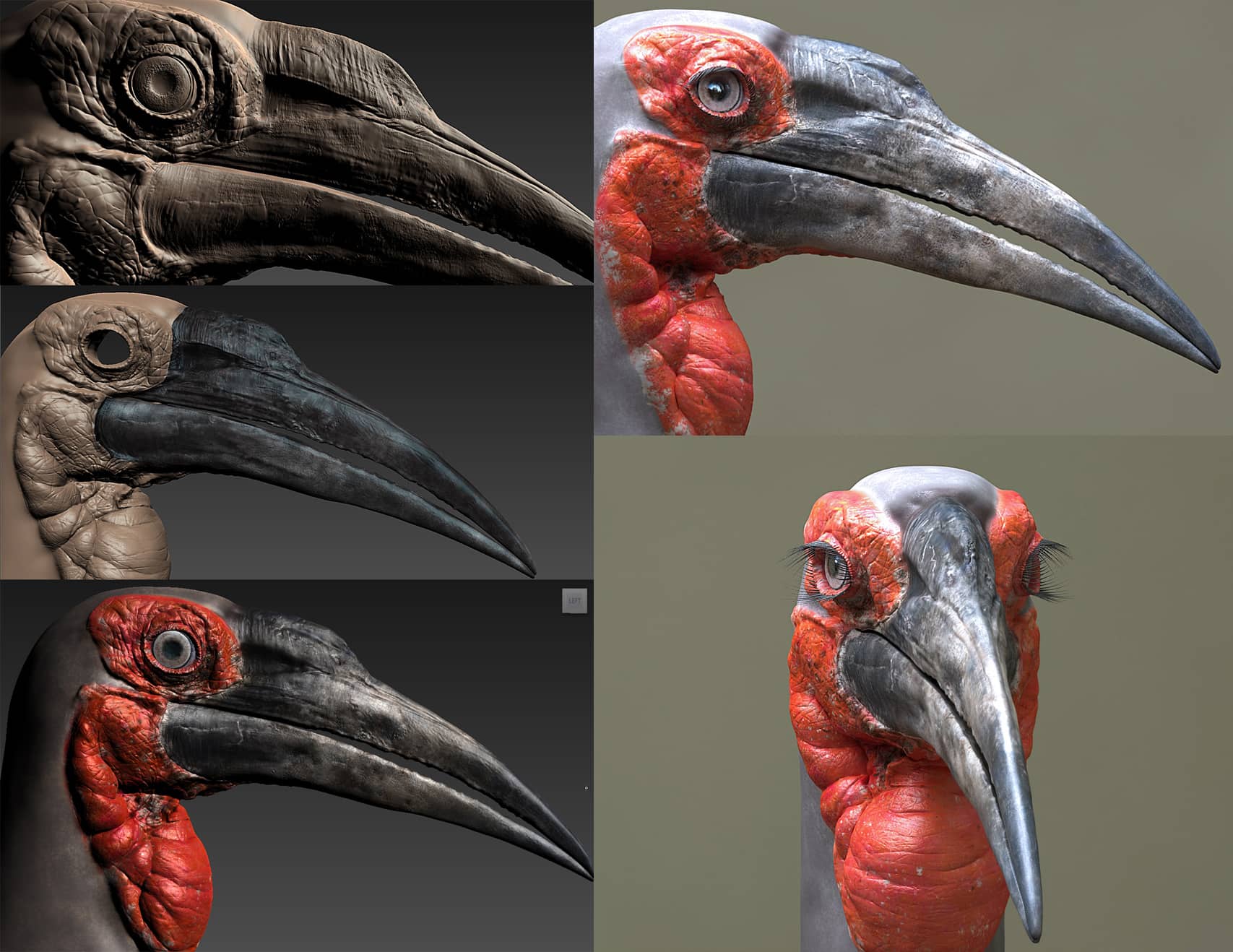 As mentioned before, the biggest challenge in creating this image was getting the bird look realistic and natural. I really enjoyed the texturing process and creating feathers and so on, I couldn't stop perfecting it.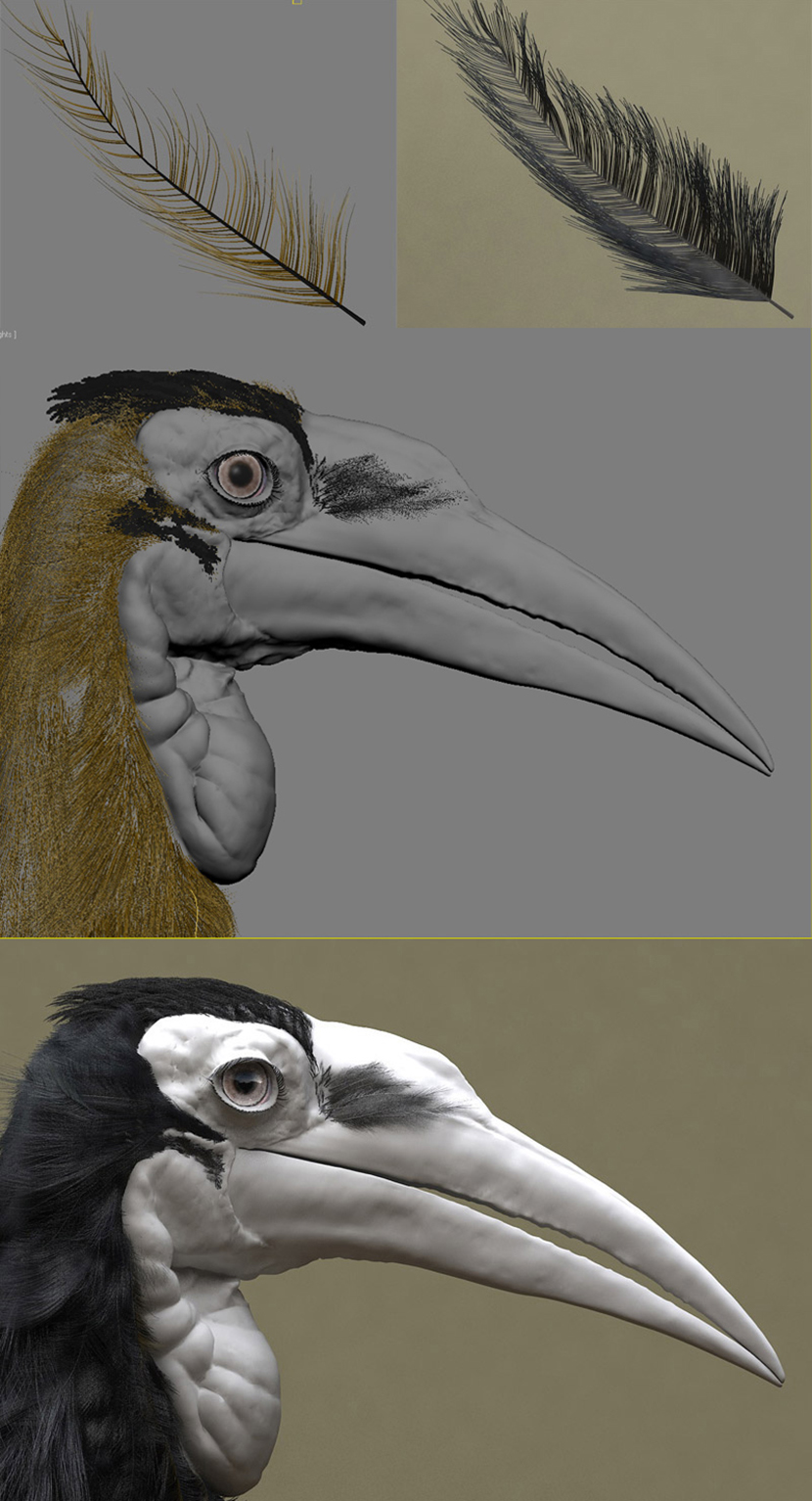 Creating the feathers I used Hair&Fur and I put Vray Material inside Hair&Fur mr Parameters. Additionally, I used Multiscatter to distribute the feathers. I rendered it directly in V-Ray.

Thank you, Léandre!

* There can only be one winner but the concept of the "3D Artist of the Month" the way it now leaves too many high-level works unmentioned! We want to change this and we'll rethink the concept of the competition. We'll let you know soon!


You want to be our next featured 3D Artist of the Month during the upcoming month and win 250 Renderpoints? Then, just visit our facebook page, upload one of your self-made 3D images and send us a personal message containing your email address. We'll choose the best image and contact the winner.

---
---