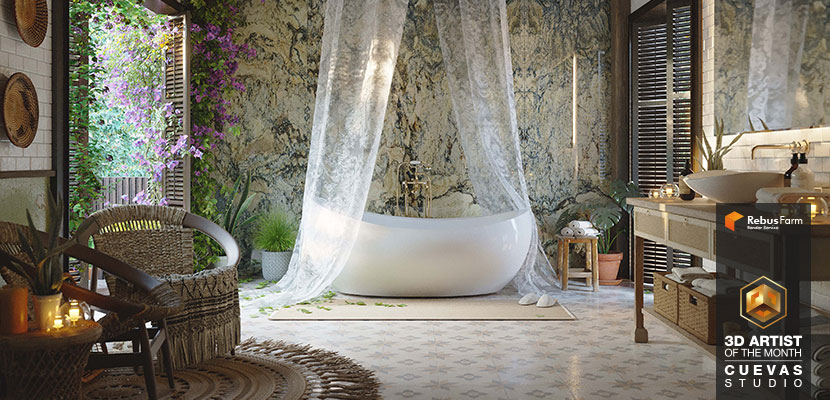 Interior designers and archviz artists are crafters of dreams. With nothing but their vivid imagination and the power of CG technology, they create places of longing for us to find comfort and serenity in. Francisco Cuevas, our November 2022 3D Artist of the Month, invites you to such a digital oasis and enjoy some 'Afternoon Delight'! An elegant and open interior, his submission to our render farm is not only a masterclass in textures and materials, but a showcase of a keen understanding of leisure design.
Continue reading to learn more about Francisco, his professional history, and his latest personal work.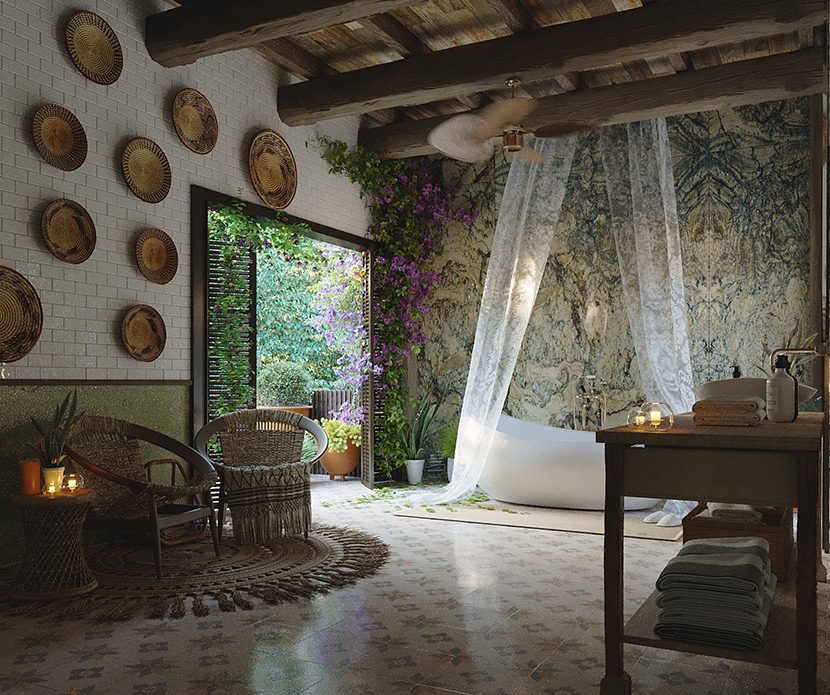 It's bath time: you can just feel the 'Afternoon Delight' seeping into the room from the garden.


Hi Francisco, thanks for joining us! To start things off, please introduce yourself to our readers.
Hi everyone! My name is Francisco Cuevas Monte, I am a 33-year-old architect from Mexico who loves everything 3D!
Do you recall when and how you first consciously encountered CGI?
Yeah, it was around 2009 at university, using a very basic AutoCAD rendering system and some early version of SketchUp.
When and why did you then decide to pursue a professional career as a 3D artist?
In 2014, I was working at an architecture firm as a site supervisor. At the same time, I did render jobs on the side, mostly for the love of it. After a couple of months with lots of 3D work, I decided to transition to doing it full time.
What training or education do you have?
I have a degree in architecture. In terms of 3D, I took a couple of local courses, but I am mostly self-taught.
Please tell us about your brand Cuevas Studio! When and under what circumstances was the studio established?
I founded the studio in 2014 soon after I had decided to follow my passion and earn a living as a CG artist.
What services do you provide?
Our main services include exterior and interior rendering and 2D still images as well as product visualization. We are planning to offer animations at the beginning of next year. Our client base consists of architecture firms, interior design studios and companies that produce various goods.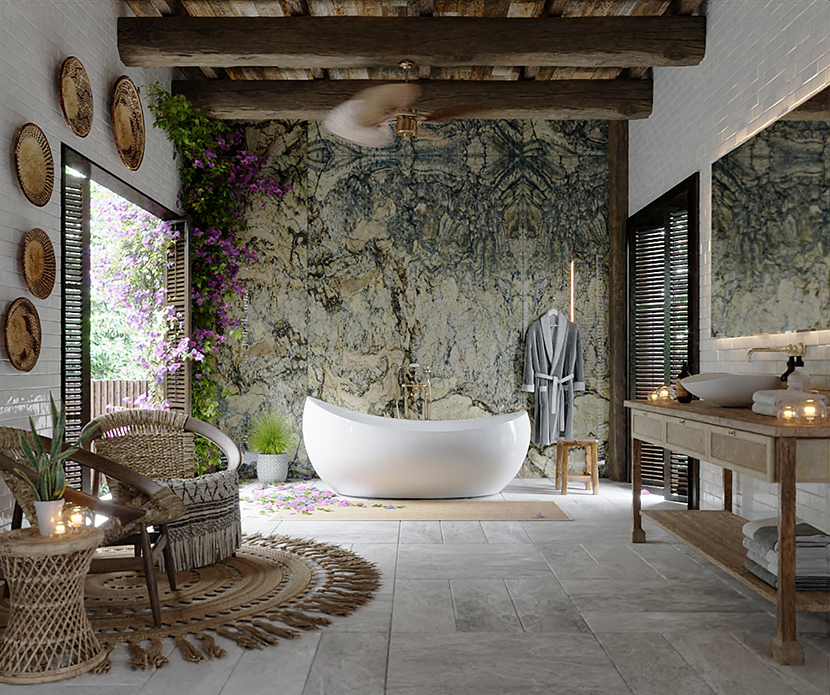 An early iteration of Francisco's 'Afternoon Delight'. Can you spot all the differences?
How would you describe your approach and overarching vision as an archviz company?
My main goal is to satisfy my clients, so I do a lot of research to pinpoint their individual needs and corporate identity. The reaction of my clients when they see their projects come to life with the help of my "magic" is a huge motivation for me.
Is there a specific design philosophy or architectural school of thought you adhere to? What inspires you as a 3D artist?
Nothing too dogmatic, but a healthy mix of photography principles and intuition, I would like to think I have a keen eye to find the best angles and set the scene for each project. For inspiration, I usually like to browse Instagram feeds and Pinterest feeds of photographers and look closely at their work.
Where does your fascination with architecture and archviz stem from?
It was more of an acquired taste to be honest. Entering architecture, especially as an academic field, involved a lot of trial and error, but eventually, things clicked for me.
Is there a part of CG-related work you particularly enjoy? For what reasons?
Right now, I am really into photogrammetry. I do it for fun, as it allows me to immerse myself in 3D without the pressure of seeing as a job.
The details of the room were deliberately designed more spartan to further highlight the center pieces by contrast.


Let's talk about your work in more detail, namely your submission to our campaign, "Afternoon Delight", an elegant and spacious bathroom interior.  Can you first of all describe the circumstances that lead to the creation of this project?
This was my submission to a rendering contest. We had to showcase one of four marble options they provided, and I saw the opportunity to just create a pretty chill place to relax, with the marble in the back.
What were your main goals in doing this project? Was it more of a technical exercise or about the creative expression?
It was totally the latter, I had so much creative freedom to try new things and use some of the 3D models that had just been sitting in my personal library.
What parts of the image were especially important to you, both from a visual and a technical point of view?
The marble and the drapes are without doubt the main attractions of this project. These two elements created the hyper-realistic look of the scene when I imported it from Marvelous Designer to 3ds Max.
What were some of the challenges you had to overcome and how long did it take you to complete the project?
The main composition definitely made for a good challenge, and I also had to learn some of the more advanced and intricate features of Marvelous Designer. All in all, I intermittently worked on the project for around two weeks.
Besides the tub in the center of the room, there are no other conventional bathroom appliances found in the image – am I therefore wrong in thinking of this as a bathroom? How would you describe this space and its function?  
We live in a time where we sometimes feel the need to wind down and disconnect from technology completely. The elegant and natural vibe of the room was actually inspired by a hotel I stayed at in Tulum, Mexico.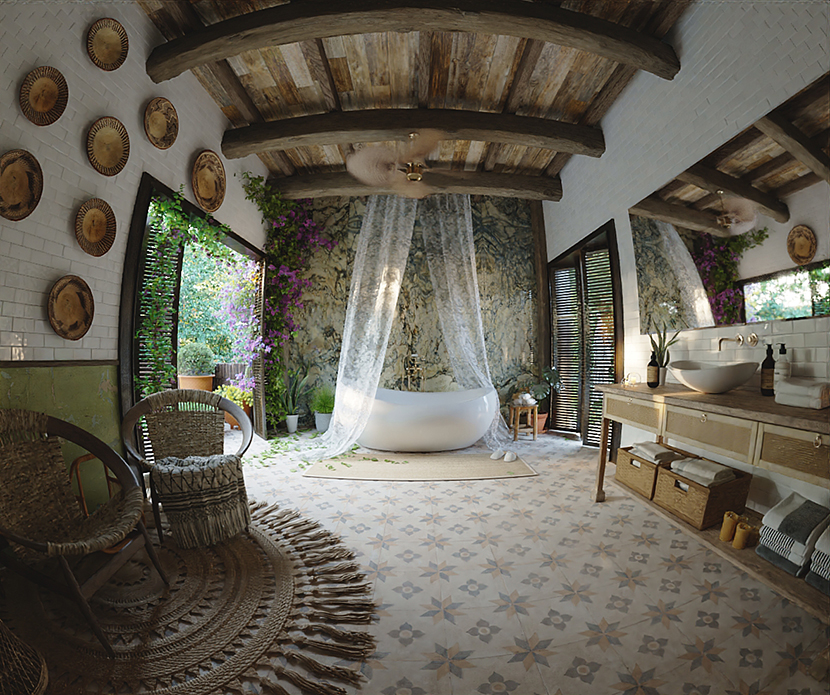 This fisheye shot was among the different cameras Francisco tried after completing the project.


Can you talk a bit more about your use of colors, materials, lighting, and overall composition?
The marble wall is the defining feature of the room, so I designed everything else around it, using mostly natural colors and materials. I went with an earthy color palette for contrast and to make the marble pop out even more. For the floor and wall, I used some basic Quixel assets. I wanted to capture the mood of a calm and peaceful afternoon and lit the scene accordingly. In terms of composition, I took a symmetrical approach, with the tub at the center.
Can you briefly walk us through your development and production process step by step?
Having researched some references on Pinterest for inspiration, I started the project by modeling a basic two-door-room with a camera positioned to see the marble in the back. I then placed the tub did the simulation in Marvelous Designer. What followed was a lot of HDRI testing, after which I tried out several combinations of rustic furniture. Lastly, I placed all of the plants, ornamental and background elements. Once everything was in place, I had some fun "shooting" with different cameras – I even tried a fisheye lens.  
What software did you use to create this piece? Any plug-ins you found particularly helpful?
I created the basic shape in SketchUp, then moved it to 3ds Max and Corona to work on the details and rendering. I used Marvelous Designer to simulate the drapes interacting with the tub, and for the marble I used Pixplant and Gigapixel to create a seamless PBR texture.
What has the feedback been like so far? Are you satisfied with the results yourself?
I have received a lot of really good feedback from peers and colleagues. It is one of my favorite projects, as I learned a lot about mixing software workflows in the process.
Speaking of, what is one thing you yourself have learned from this project that you can share with us?
Always take the time to work on your materials! As I have mentioned, I used Pixplant and Gigapixel to work on the main wall, the increased resolution created a seamless, crispier and more defined texture, which I think upgrades the entire scene.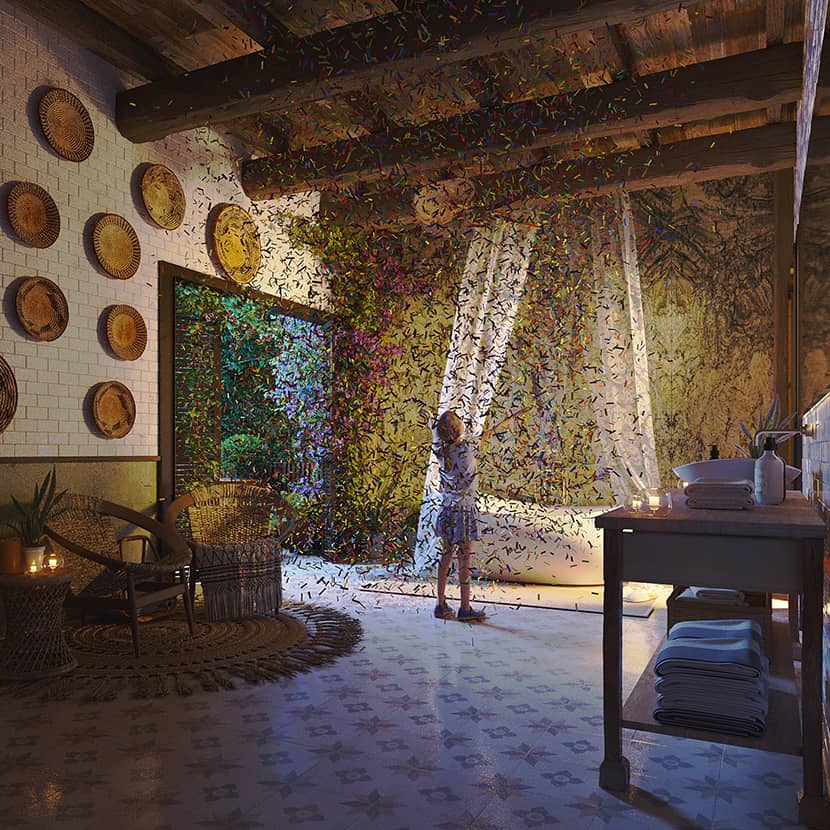 Dusk delight? A significant departure from the original piece in terms of atmosphere and aesthetics, but all the more fun!

Have you used RebusFarm before? If so, please tell us about your overall experience. Is there anything you especially like about our service?
Not yet, this will be my first time using it and I am thrilled to try it out. Since I plan to offer animations as a service soon, I am sure your render farm will be a great addition to my workflow.
In closing, is there anything else you want to say? Any plugs, shoutouts or present or upcoming projects you'd like to mention?
First of all, thank you for this opportunity to showcase our projects on your platforms. I also want to thank my wife for being not only an amazing partner and mom, but also the interior design mastermind behind most of the 3D work I publish!
Francisco, thank you so much for taking the time and all the best in the future!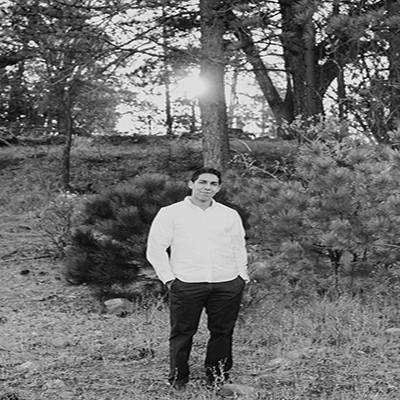 Get started with your own renderings