Monday, March 2nd, 2020 by Julian Karsunky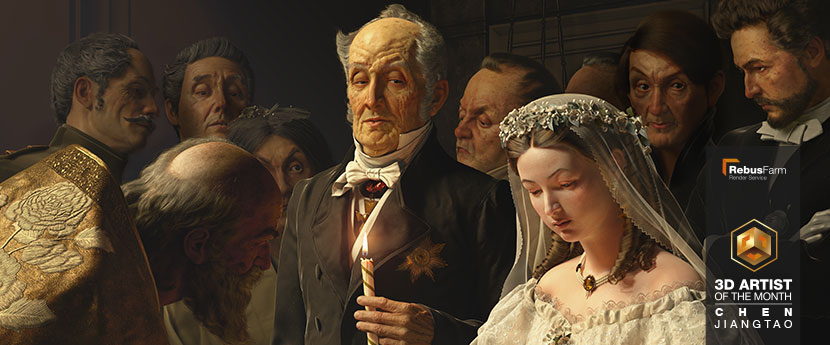 When the worlds of traditional and digital art collide, the results are bound to be interesting. Our March 2020 3D Artist of the Month, aspiring Chinese CG talent Chen Jiangtao, took it upon himself to recreate a work by Russian painter Vasili Pukirv. Under the guidance of his instructor Guang Yang, his faithful 3D recreation skillfully bridges the gap between the 19th and 21st century!
Check out our interview to find out what inspired Chen to emulate traditional realism and how he approached this ambitious undertaking.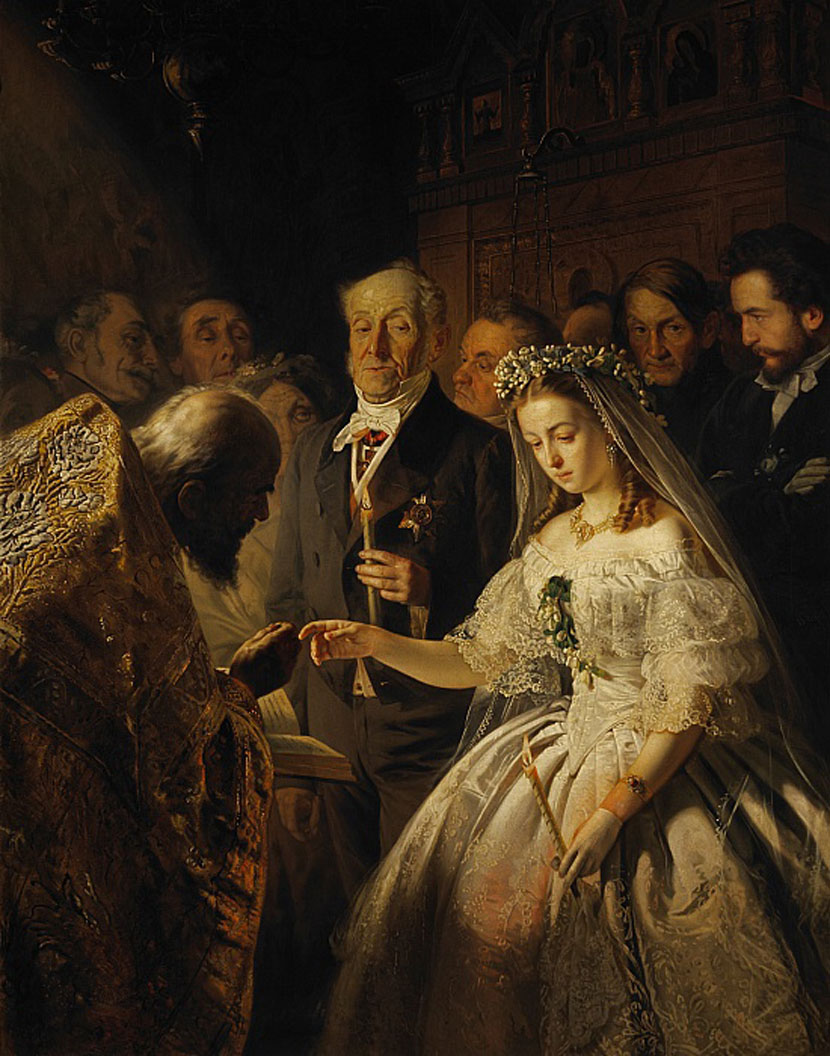 'The Unequal Marriage' (1863) by Vasili Pukirv.
Hi Chen, thanks for joining us. To start things off, please introduce yourself to our readers!
Hello, everybody! My name's Chen Jiangtao, I'm a 21-year-old CG artist, born and raised in the province of Shanxi, North China. Currently, I'm a student at Dalian Ocean University, after graduating I plan on working in Shanghai.
Do you recall when and how you first consciously encountered CGI?
Since my early college days, I've been obsessed with CG. Just browsing ArtStation, I saw so many amazing and inspiring works of art, I was particularly impressed by the incredible level of detail in some of these images. Slowly, I began to look more into this industry and eventually, I wanted to learn myself.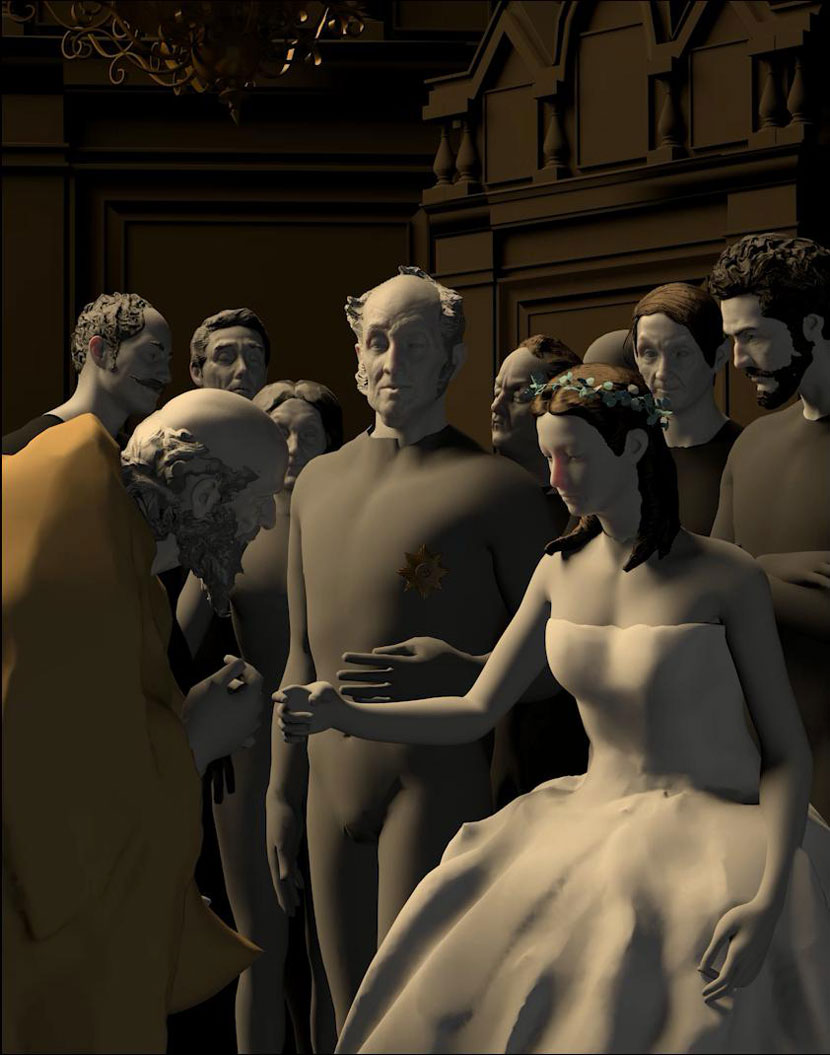 The beginning of an ambitious undertaking: Chen Jiangtao's recreation of 'The Unequal Marriage', rough composition.
When and how did you then decide to pursue a career as a 3D artist?
At first, I exclusively studied on my own. Later, I met 3D character artist and trainer Guang Yang, who not only taught me a lot in terms of CG, but valuable life lessons as well! Mr. Yang treats people very sincerely and respects everyone regardless of age or skill level. In China, there is a saying: "one day as a teacher, one life as a father", which I find very applicable to him. He loves sculpting very much. When I first met him, he told me: "there's an invisible bridge between traditional and digital sculpting, the key is to break it." I owe a lot to Mr. Yang and am very grateful to him.
Can you tell us more about your studies at Dalian Ocean University?
My favorite part of studying in Dalian is the shining Yellow Sea. Its unique ecosystem gives the water its unique color, a special sight to behold! Every year, from April to May, when the algae are in bloom, I enjoy seeing such a beautiful landscape.
I'm about to graduate and would prefer to work in the art field. My dream is to work with garage kits or in film and television.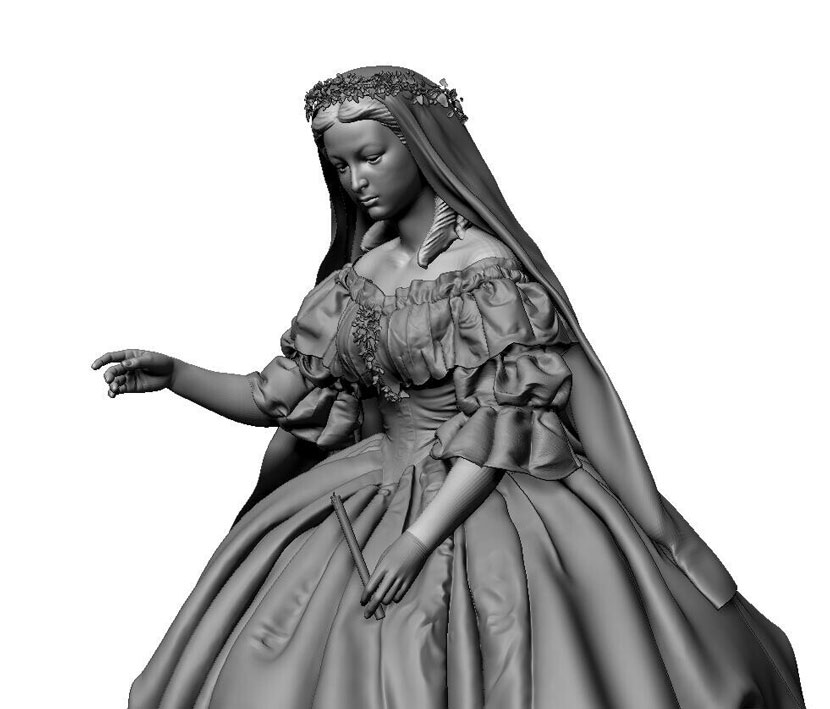 Even as clay render, the bride's face is full of subtle expression.
Now, let us talk about your work in more detail, namely your submission to our campaign, a 3D recreation of 'The Unequal Marriage' by Russian realist painter Vasili Pukirv.
I am fascinated by the relation between traditional and digital art and wanted to try my hands at a traditional painting and see what effect I could achieve in 3D. 'The Unequal Marriage' is what I finally decided after a week of deep thinking.
What initially attracted you to this particular painting?
I like everything about the original painting: its composition, color, the realism…I also like the subject matter and find the artistic depiction to be very captivating. Above all, I just love the visual storytelling and the overall expressiveness.
These details highlight the fine texturing work Chen did on all character models.
How did you go about transposing the 2D sketch into a 3D model? Can you walk us through the development process step by step?
I started by recreating the composition in Maya, adjusting the dynamic of each character. This step took a long time to complete.
Then, I began sculpting the different characters in ZBrush. I started with everyone's head, then moved on to the clothes. During this entire process, I constantly went back to Maya to do rendering tests. After modeling all the characters, I worked on the textures such as skin and clothing, most of which were made in Mari and Substance Painter. Finally was the hair and a lot of minor adjustments to the overall image.
What were some of the challenges you had to overcome?
The biggest challenge in the whole process was to maintain the required patience and perseverance. I needed to calm down and take my time, instead of rushing things.
In the process, my teacher Guang Yang once again supported me a lot, I was able to overcome many problems thanks to his help! The project took about five months in total to complete, with me working long shifts almost every day until the early morning. During crunch time, I was ill, making those days especially unforgettable.
I'm quite pleased with the results though, I feel like I achieved what I set out to do. The feedback has been overwhelmingly positive, many Chinese artists reached out to me, which made me very happy!
This character, found at the very right side of the wedding, is artist Vasili Pukriv himself.
In closing, is there anything else you want to say? Any present or upcoming projects you'd like to mention?
I have a few ideas for future projects. For one, I want to do some more oil paintings. Though this time, I plan to focus on wildlife protection thematically, as that is a topic very dear to me and I want to do my part to raise awareness.
Chen, thank you very much for taking the time and all the best in the future!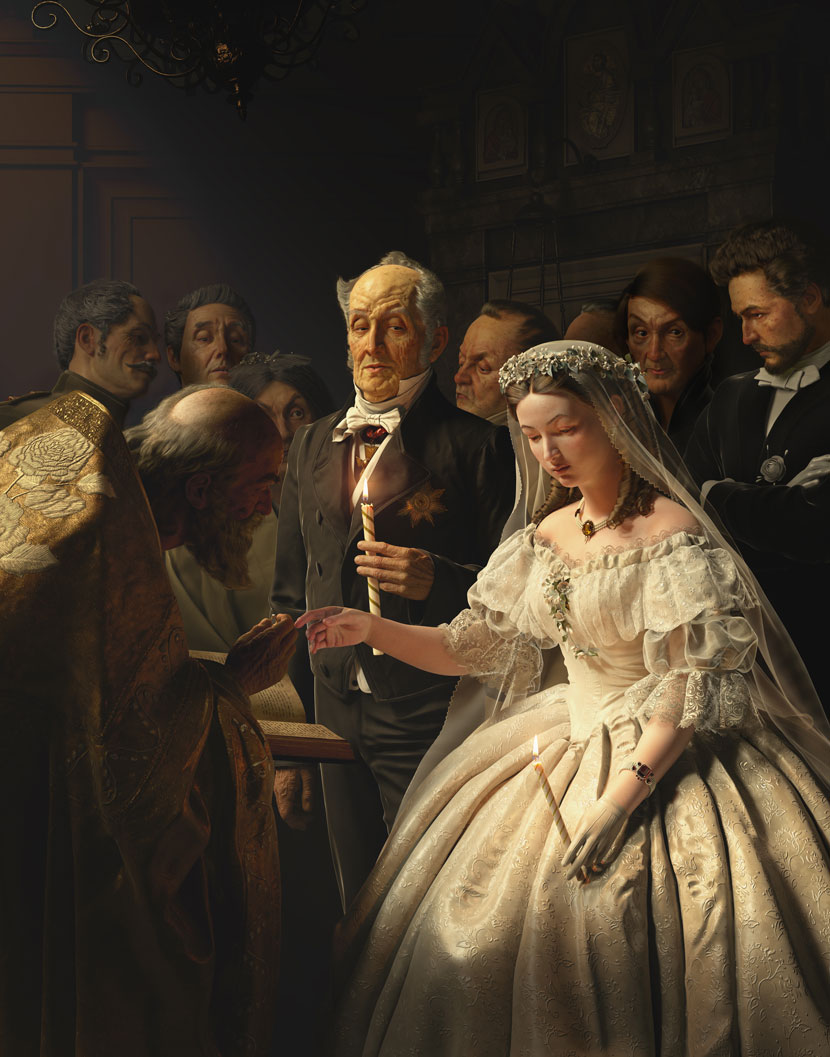 'The Unequal Marriage' by Chen Jiangtao.
Keep up with Chen Jiangtao and his work here:
---

HOW TO JOIN OUR MONTHLY CONTEST
You want to be our next featured 3D Artist of the Month and win 250 RenderPoints? Just visit our 3D Artist of the Month competition page and submit your entry. We'll choose the best image and contact the winner.
---
>> Read more articles on our blog