Tuesday, March 1st, 2016 by Nadine Obst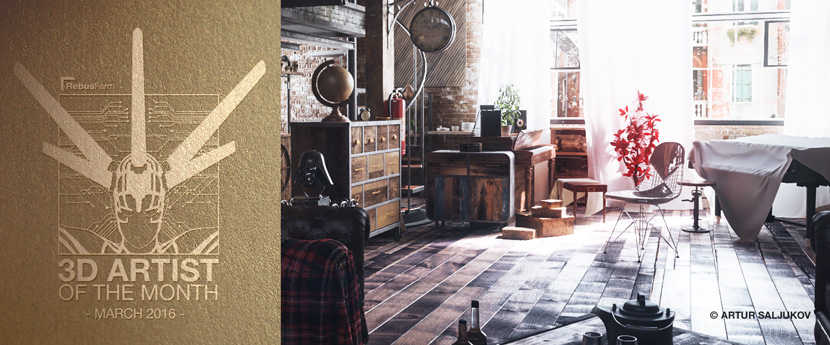 We are happy to announce our March 2016 3D Artist of the Month. This beautiful loft above was created by Artur Saljukov from Estonia, a self-taught 3D artist: "My 3D path started in 2014, so I have been doing it for almost 2 years now. Before that, I studied graphic design for a couple of years and was in music production for about 5 years."
He told us that work wise, nothing worked out for him before finally following his passion for doing 3D: "My absolute greatest inspiration when I started were movies like Transformers or Iron Man. I watched them over and over again and just thought: I WANNA DO THIS, TOO!" But he also admitted that it was really hard, in the beginning, calling himself a lazy person: "I had to motivate myself every second of every new polygon I created. But after following one tutorial step-by-step, deleting, remodeling, rewatching, I finally created my first car...it looked really awful, but for me, it was amazing that I managed to finish something for the first time." From this day on he started developing his skills, watching tutorials, trying new techniques. And he never looked back: "Since then I spend most of my free time doing 3D and I love every second of it!"
Artur also shared that "the most important thing in every creative work is not to stop on what I call "smartass" phase...it's when you think you know enough about techniques/software and you start imagining that you don't need to know more, but it's the most stupid thing an artist can do! In creative work, you always have to keep improving yourself, find new ways, learn from others, experiment. Persistence and hard work ALWAYS pay off, I've proven it to be true so many times to myself and I'm sure every artist can agree with that." Being a very honest person, he confessed: "Well, about my workflow...I am an extremely messy person. Every project ends with my 2k sized desktop full of saved/resaved files, reference images, exports etc. it's a complete and utter chaos... that will later be moved to "Desktop_files_439" folder, never to be seen again. But, I've been working on it lately, so I believe I will do a lot better in the future."
All of Artur's work is made by himself: "As for materials, I never download materials, I create all my shaders myself, I really like going deep to understand how things work and try to make stuff look as realistic as possible." He made an exception to his rule for his winning picture, using downloaded things like plants, just because he was curious about how much time he could save.
As you can imagine, Artur really loves what he does - he even quit his job recently to pursue his dream of working full time as a 3D artist. "I'll see how that will work out, if one day you see my facebook and Instagram pages go down, you know what happened. I guess not all dreams are meant to be followed..."  
For the winning picture he used 3ds Max / Vray 3.2 and Photoshop/ After Effects but also Marvellous Designer which he finds amazing for simulating cloth, and he played around a little using Zbrush, which he likes a lot. The main idea behind his picture was to create an industrial loft with the touch of musical elements: "Since I have a musical background and 3D kind of took its place in my life I wanted to combine both of my passions. A place I'd imagined in my head." He didn't want to make a concrete/metal style loft, aiming for something warm instead, something that would feel cozy and comfortable - like home.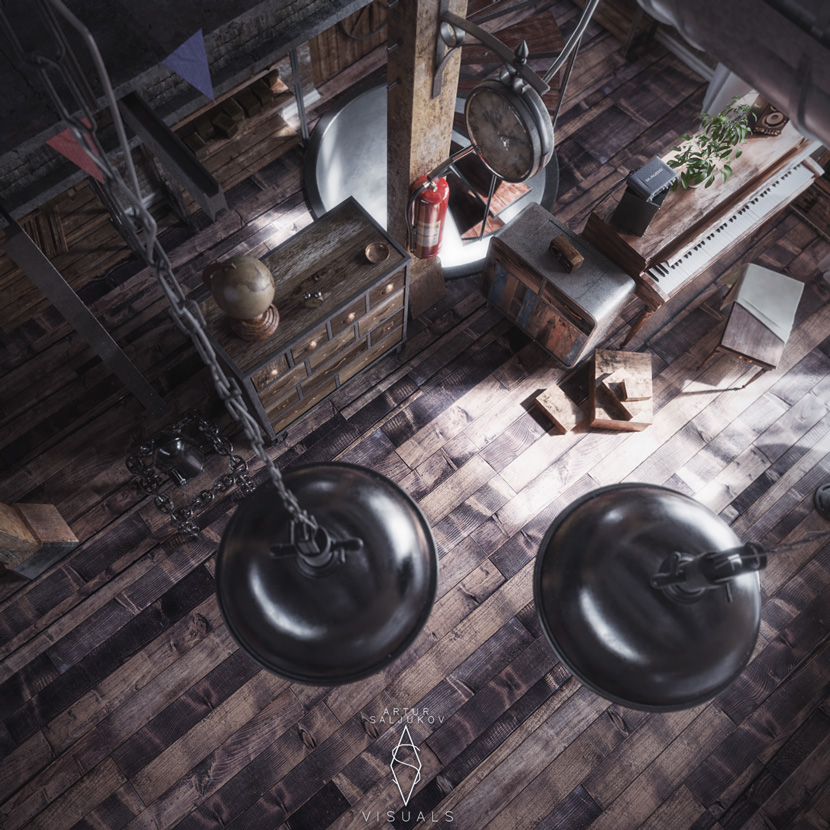 We asked Artur to give you an insight into the production of this stunning art piece. The project was challenging for Artur as he knew what he wanted but didn´t know how to achieve his desired result.
"I started out with modeling the room, then I set up reference objects (boxes) with certain dimensions to see how big I'd need to make my furniture so that everything would have the correct aspect ratio towards one another and also to set up the basic composition. Then I started to look at images for reference. Some of the furniture I just slapped together from the back of my head, some I eyeballed based on the images I found on google. There is nothing special about the modeling process, it's all simple poly modeling, extruding, beveling, chamfering, welding etc. Cloth elements were created in Marvellous Designer."
"All my stuff is modeled, and the desired composition is achieved by throwing about 230 white materials with a little bit reflection and about .66 glossiness material override. Then I started playing around with the light. Since this room was quite long and I only had one main light source, it was hard at first to achieve the look I wanted. I tried Target Light and VraySun but they didn´t give me the result I was looking for. So then I decided to go with Vray Dome light, with an old HDRI map I shot a while back in my yard (canon eos 70D samyang 8mm fisheye lens), desaturated it a bit and dropped down inverse gamma to about .8 for sharper shadows and changed the angle so the sun would shine through the big window. I had to play around with different settings for quite a while until I got enough light and no overly shiny areas. There are also 3 windows on the back wall to light upper pillars a little bit. In front of every window you see vrayportals but I turned them off later for the final render."
Thanks for taking the time Artur!  
You want to be our next featured Artist of the Month in the upcoming month of April and win 250 Renderpoints? Then, just visit our facebook page, upload one of your self-made 3D images and send us a personal message containing your email address. We'll choose the best image and contact the winner.

---
---