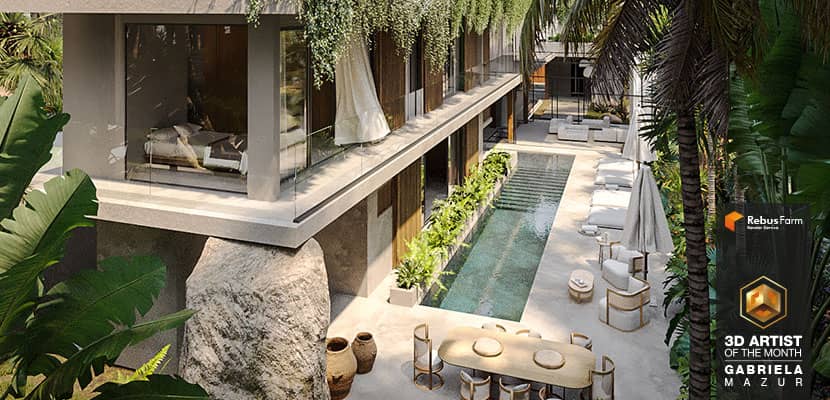 While architecture is always a product of its time, it also has the power to transcend time. When Gabriela Mazur, our June 2022 3D Artist of the Month, was first laid eyes on the plans of the 'Casa Ayahuasca', she was immediately spellbound by the bold concept. Located deep within the Mexican jungle, the fusion of a Mayan temple and an ancient Roman villa tingled her creative sensibilities. After all, who could resist the challenge of capturing the unique and mysterious atmosphere of a paradise lost?
Join us on an architectural journey through space and time, as Gabriela discusses the creation of the 'Casa Ayahuasca', tangible inspirations, and the philosophy of movement.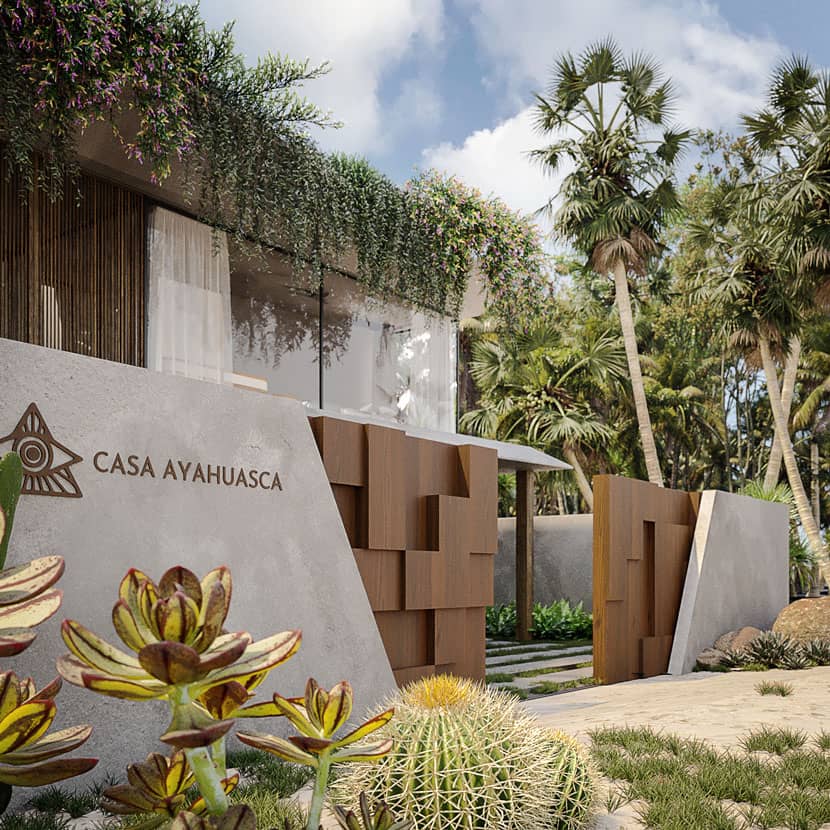 Located deep within the Mexican jungle, the 'Casa Ayahuasca' evokes the aesthetic of an overgrown temple.
Hi Gabriela, thanks for joining us! To start things off, please introduce yourself to our readers.
Hey, thank you so much for having me, it is an honor! My name is Gabriela Mazur, I am a freelance 3D and archviz artist from São Paulo, Brazil. Next month I will celebrate my 31st birthday.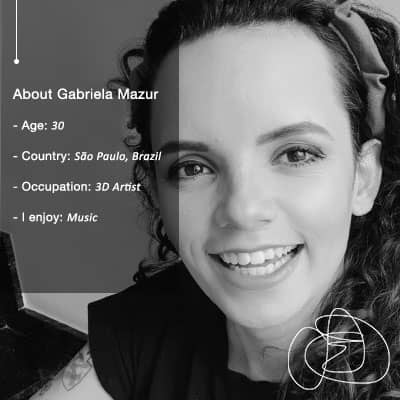 Do you recall when and how you first consciously encountered CGI?
Absolutely, it was love at first sight! I learned about 3D software during a college course, I was studying interior design at the time. When I was introduced to SketchUp and V-Ray, I was immediately stunned by the technology and its possibilities. It was a pivotal moment in my life.
How so? Was it then that you decided to pursue a professional career in 3D?
Ultimately, yes! Before, I had no idea that you even could make a career out of this, but then I researched the job market and was surprised to find such a huge industry! I liked my studies well enough, but I soon realized I enjoyed working with 3D software more. So, I decided to follow my heart and dropped out to earn a living as an archviz artist.
Occasionally, I feel a hint of regret not having completed my academic education, but I simply could not ignore this passion that had been ignited within me. Before discovering 3D, I had no real direction in life, no career path I was following. Now, all I want to do is follow my creative vision and offer my services to the world!
Speaking of, please tell us about your brand Mazur Rendering, its history, your field of work and general philosophy!
When I first established myself as a 3D artist in 2017, I operated under the name Electronic Gmaquetes. After two years, I felt the desire to expand, to reinvent myself. You see, I am not much of a creature of habit, I feel stuck following the same routine day after day. Instead, I am constantly on the move, always looking for a different approach, a new positioning. Movement is my philosophy of life, it prevents stagnancy and is an essential source for renewal.
Applying this philosophy to my work is what lead to me rebranding my business as Mazur Rendering. It is why I am always studying, exploring new software and branching out into different fields. The name was suggested to; initially, I was a bit self-conscious about using my own name this way, but over time I have grown quite fond of it. It has been five years since I started down this path, and I completed many works and overcame many challenges since then.
Who are your clients and target audiences and what services do you provide?
I offer the full range of archviz services, including visualizations, renderings, 360° imagery, virtual tours, videos and digital catalogs.
My client base consists of architectural offices, furniture manufacturers, stores, PR firms, and video producers.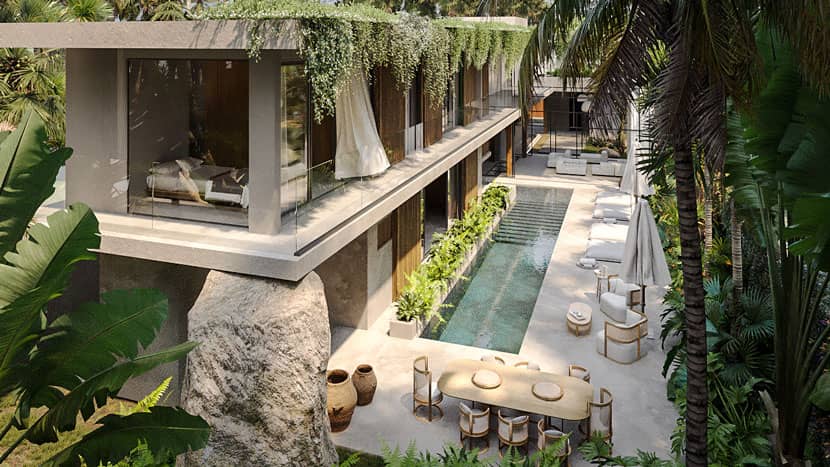 Like the open courtyard of an ancient Roman villa, the 'Casa Ayuhasca' prominently features a pool.
You are also quite involved in knowledge sharing, offering rendering trainings and posting elaborate tips through a designated Instagram account.
Yes, I created the @mazurluminous account to share my rendering tips and techniques with the 3D community. I also run separate accounts for my archviz and furniture services. This split was part of my rebranding, as I have felt that previously, my content had been all over the place, so I wanted to make a more focused effort and reach different audiences through distinct channels.
Describe your profile as a CG artist!
As I have said, I specialize in architectural visualization and digital furniture. I love exploring new materials and techniques and appreciate a good challenge. I always strive for accuracy, and I have found that personal experience makes for the best references. For example, at the end of last year I did this cool study I called 'Lugares do Brasil'. Since I have not yet been able to travel outside of my home country, I decided to focus on what I am most familiar with, the beauty of Brazil.
Is there a part of CG-related work you particularly enjoy? For what reasons?
I love landscapes, any chance to do landscaping for a project makes me very happy! A good landscape greatly enriches any scene by making it livelier, and the work itself also involves a wide variety of skills. It is just a pure joy!
Are there specific design principles or architectural schools of thought you adhere to? What or who inspires you as a 3D artist?
To me, everything is art and music and sensation. Above all, I want to convey sensations, so as an artist, I heavily draw from my own tangible experiences: I am always closely observing my surroundings, touching something to get a feel for its texture, and so on.
I also want to thank my instructors Henrique Barros and Vinicius, whose teachings have played a formative role in my development as a CG artist.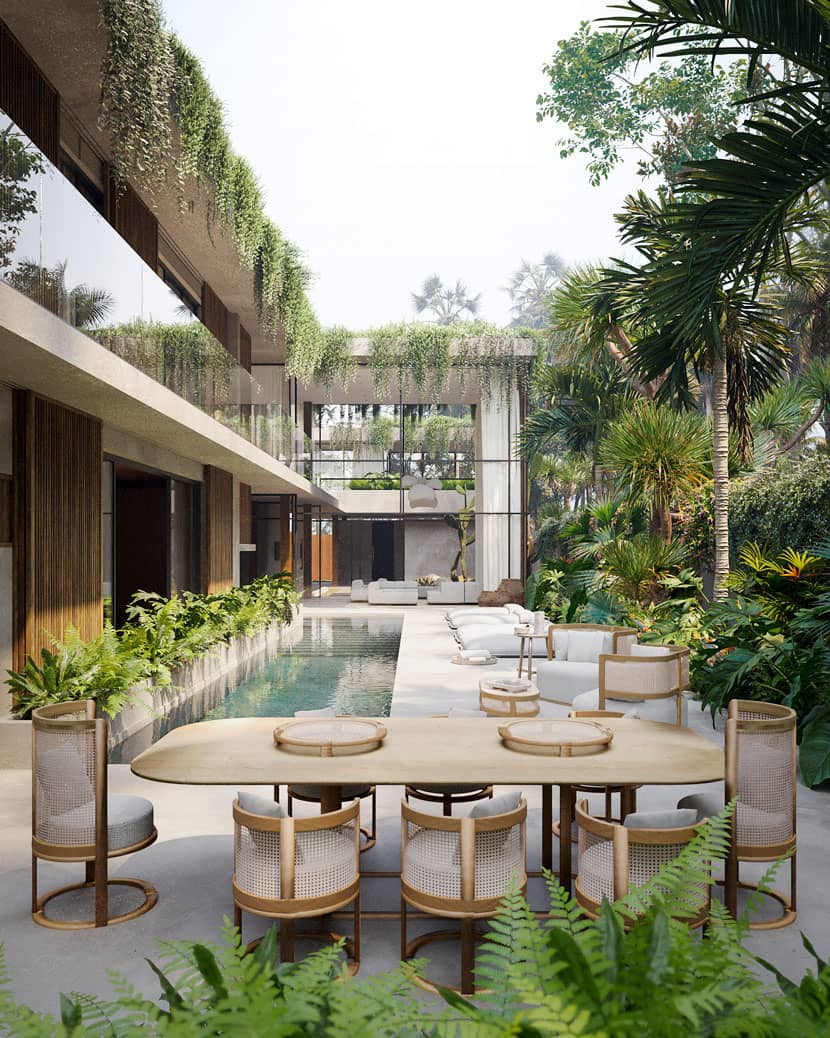 Another look at the outside area, showing more of the beautiful and untamed landscape.
Let us talk about your work in more detail, namely the 'Casa Ayahuasca', a spectacular blend of ancient civilizations. Can you first tell us a bit more about the origins of the project and the job details?
Sure! The architectural office that developed the concept specializes in villa projects, with this particular one being located in Tulum, Mexico. When the client first told me about the project, I was on board immediately, as the idea strongly resonated with me and promised a lot of potential.
Please describe the basic concept and central idea for the project. What were your main goals?
'Casa Ayauasca' is a playful blend of ancient history and contemporary architecture. The central idea was to merge the mystical Mayan civilization with the aesthetic of ancient Rome. Imagine yourself lost deep within the jungle and suddenly stumbling into a place like this – that is the atmosphere we were going for, and the quality I tried to bring out through the materials, the lighting and composition, the photography, and the landscape itself.
Which parts of the image were especially important to you, both from a visual as well as a technical point of view?
The area around the pool and the entrance, it immediately shows you are entering a special place, like a gateway to a different world, a lost paradise. It needed to impress and captivate you, make you feel encouraged to enter.
What were some of the challenges you had to overcome?
The biggest challenge was to properly convey the concept through the imagery in a non-trivial way. Because no matter how good it looks, if an image loses meaning, it loses impact.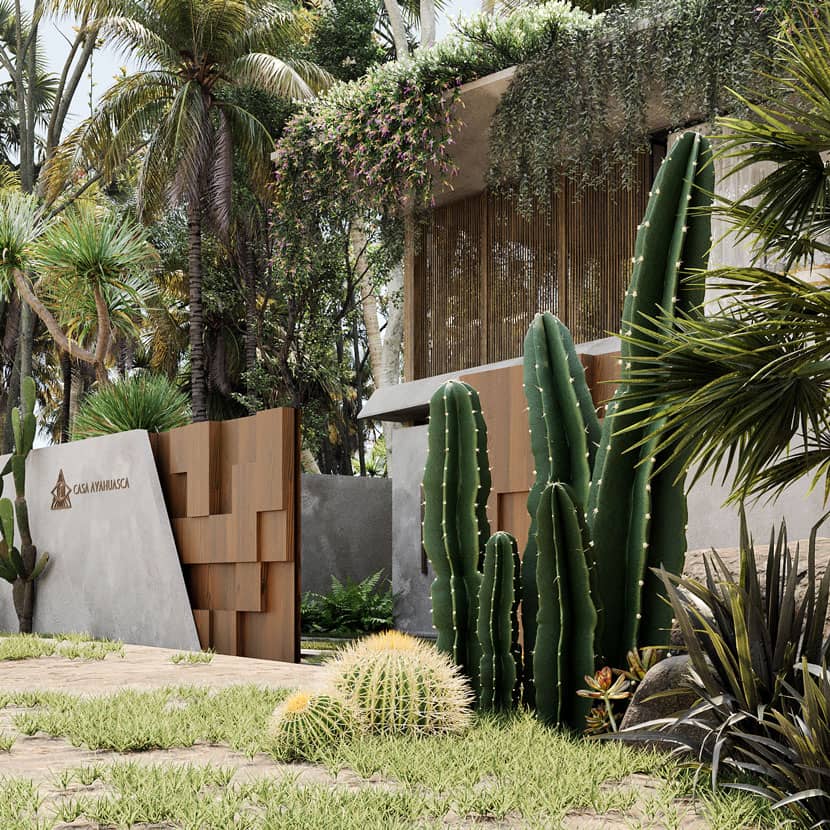 The mysterious atmosphere and unique architecture almost makes it seem like the 'Casa Ayahuasca' exists outside of time.
The idea of merging a Mayan temple and an ancient Roman Villa is fascinating! How did this fusion of these two distinct architectural styles succeed? Can you point out some of the more striking features of the building that resemble your inspiration?
The office that developed the project is highly specialized and probably could give a more qualified answer, but here is my take: commonalities can be found in the straight line work, the materials, the shapes, and the time frame. The concrete is a good example of something we did a lot variations of throughout the entire project, such as burnt cement.
In how far did this approach influence your overall design, and your choices in composition, material and lighting in particular?
It affects everything! Take the location for starters: the site is located in Tulu, Mexico, where the climate is hot and humid. This not only needs to be reflected in the design, the color palette etc., it also dictates how a place of retreat should look and feel, to shelter from these conditions. So just with this parameter, tropical heat, a lot follows, and I knew I could explore from there.
You mentioned wanting to create the mystical feeling, like a lost temple in the depth of the jungle. How did you achieve this atmosphere?
When we enter a building, we do so with certain expectations on what to find, and usually, these expectations are fulfilled. Now this setting, a house sitting right at the entrance to the jungle, does not immediately seem all that inviting; you might think it a little spooky or at least unusual. At the same time, it does trigger a strong sense of curiosity. So, we have this mix of emotions upon arrival, and we have to dispel the potentially uninviting parts without completely losing the magic.
Take a close look at the façade, then close your eyes and picture it in your mind. Imagine the heat, the blue sky up above, the striking sunlight, and birds singing. Look at the façade again, does it not look alluring, like it is inviting you in?
Then, as soon as you pass the gate, the sunlight suddenly becomes softer, there is a refreshing swimming pool and the exuberant beauty of the surrounding nature. The atmosphere is still mysterious, but it is an enticing, not an unpleasant uncertainty. The lighting is crucial for the effect I wanted, so I needed a 3 PM sun and a soft volumetric light.
What software did you use to create this scene? Any plugins you found particularly helpful?
For this project, I used 3ds Max and Corona Renderer. In terms of plugins, the scatter tool was essential.
These shots show some of the additional details Gabriela worked in.
What has the feedback been like so far and how satisfied are you with the results yourself?
Feedback has been amazing: my client was fully satisfied and the project was well received by the community as well. We were published on several platforms and featured by Vogue Architect. I put a lot of love and dedication into my work, and it has been really wonderful to have all of that come back to me!
What is one thing you have learned from this project that you can share with us?
Well, I learned that commercialization and artistic vision should not be considered as opposites, but as inextricably linked. This project heavily relied on mood, creating a photorealistic scene was not enough. Properly selling the fantasy required certain additional, more artistic qualities.
Have you used RebusFarm before? If so, please tell us about your overall experience. Is there anything you especially like about our service?
Yes, just recently I rendered some frames for a small animation I was working on, and it worked great! I appreciate the seamless software integration – I did not even have to switch windows to get the job done.
In closing, is there anything else you want to say? Any plugs, shoutouts or upcoming projects you would like to mention?
Once again, thank you for this opportunity! When you start down this path, you never know if you will be noticed, so this recognition means a lot to me. More importantly, it also confirms my belief that ultimately, it is all up to you: if you put in the time and effort, people will eventually take notice!
In terms of work, I just finished my latest project, the 'Casa Pabellón', and I am extremely pleased how it turned out. Please check it out and give me a follow, you know you cannot resist! Other than that, I have been studying a lot and keep things moving, of course. I am currently learning Unreal Engine and I cannot wait to produce more films soon.
Thank you once again, my heart is overjoyed today.
Gabriela, thank you so much for taking the time and all the best in the future!
---
Keep up with Gabriela Mazur and her work here: 
---

HOW TO JOIN OUR MONTHLY CONTEST
Do you want to be our next featured 3D Artist of the Month and win 250 RenderPoints? Just visit our 3D Artist of the Month competition page and submit your entry. We'll choose the best image and contact the winner.
---
>> Read more articles on our blog