Monday, June 1st, 2020 by Julian Karsunky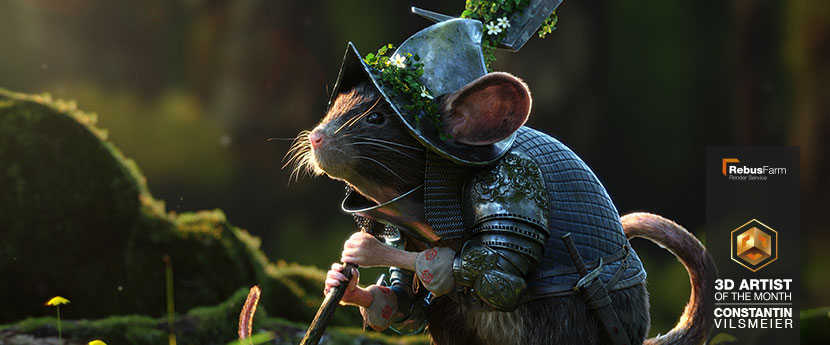 Here at RebusFarm, size does not matter. We support 3D artists big and small, the established veteran as well as the up and coming talent. The common link between our featured 3D Artist of the Month is an immeasurable amount of skill and passion for their craft. Constantin Vilsmeier, this month's winner, is no exception. Artistically inclined from an early age, the pursuit of his dream took him halfway across the globe. His recent graduation from the prestigious Gnomon only marks the beginning of a promising career.
The fact then, that the heroic rodent he submitted to our campaign beautifully illustrates our initial point, is just the icing on the cake!
In our interview, Constantin talks about his past and future, how CGI shapes his worldview and shares valuable insights on 3D modeling.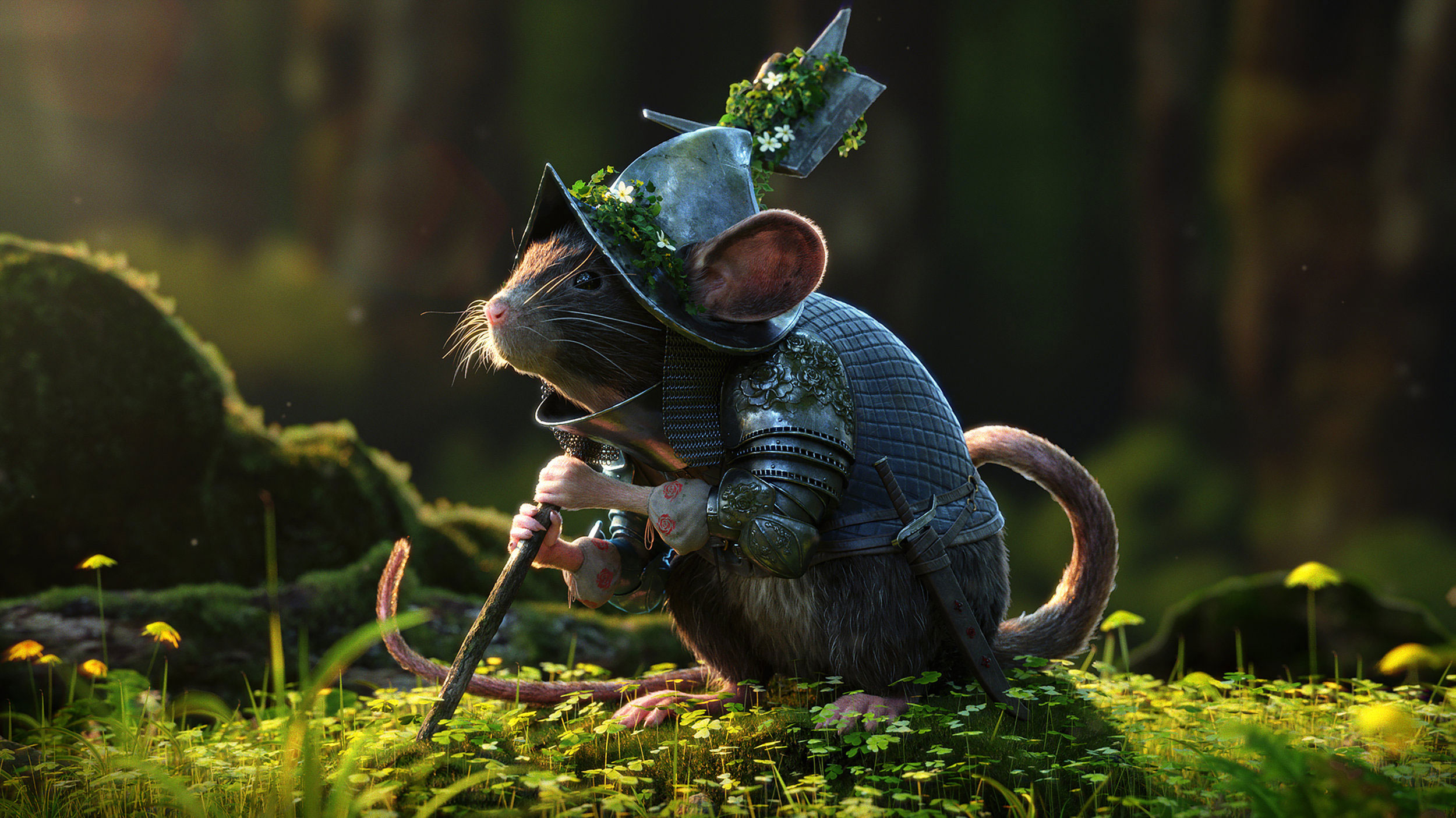 Constantin Vilsmeier, 'Brave Tiny Infantry'
Hi Constantin, thanks for joining us! To start things off, please introduce yourself to our readers!
Hi everyone! My name is Constantin Vilsmeier, I'm a 29-years-old 3D Artist focusing on modeling and texturing with an emphasis on stylized characters and environments. I was born and raised in St. Gallen, Switzerland but currently I live and work in Los Angeles.
Do you recall when and how you first consciously encountered CGI?
For me, the original 'Toy Story' was the first film that I watched with full CGI. But films like 'Lord of the Rings' and 'Avatar' had a huge impact on me, because I consciously realized what was possible with CGI. They were groundbreaking technological achievements that piqued my curiosity on how these fantastical, yet realistic worlds were made. It was almost impossible to distinguish what was shot in camera and what was CGI. That's when I first realized that I had interest in this rather new but quickly evolving industry.
When and why did you then decide to pursue a professional career as a 3D artist?
Since I can remember, drawing has been a big part of my life. My grandmother is a painter and she has always encouraged me, she even introduced me to oil painting when I was only eight years old. In high school, I was in the fine arts tracks, which meant having art history as well as four to six additional hours of drawing classes during the week. From graphic design work for events in my city to graffiti with my friends, I've always been creatively active and was surrounded by creative people.
So, I always knew that I wanted to pursue a career related to art; I had a long interest in feature animation and after high school graduation, I took the time to really dive into the different career paths and explored my options. Soon, I realized that 3D was what I wanted to do.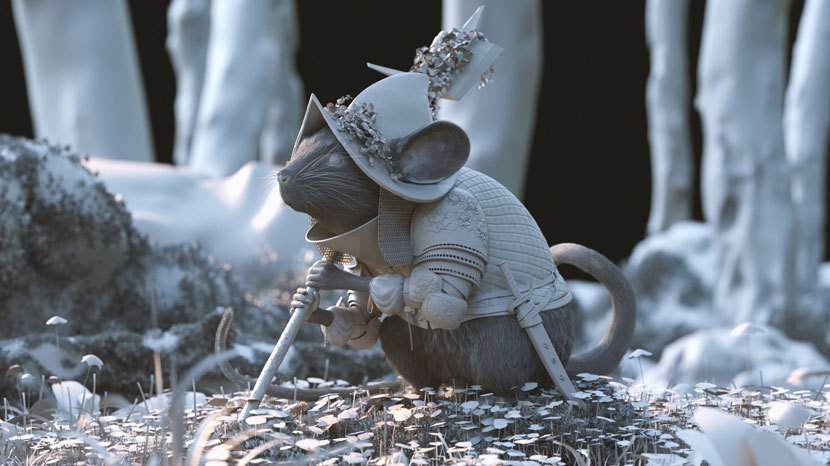 'Brave Tiny Infantry', grey render
What training or education do you have?
After graduating, I encouraged myself to take my first steps towards a creative career by applying to The Animation School in Cape Town, South Africa. In this creative environment I gained my first basic skills in 3D and 2D Animation. After one successful semester in Cape Town, I decided to further continue studies at the Lucerne University of Applied Sciences and Arts in Switzerland. During my time there, I intensified my art skills and improved my technical abilities.
Unfortunately, the VFX industry in Switzerland was very small at that time, so I first started working as an interaction designer for Schindler Creations, a UX design an engineering company. However, after a year, I realized I just wasn't happy with what I was doing, and I took a step back and reassessed my situation. Eventually, I applied for an VFX internship at Mackevision in Stuttgart, Germany. Having gained substantial professional experience there, I took the leap and applied to Gnomon in Hollywood, which was by far the best decision I've ever made. Gnomon had a huge impact on where I am standing now!
So even before enrolling at Gnomon, you already accumulated first-hand industry experience, including your very first IMDB credit.
Yes, working at Mackevision gave me valuable insight in how the VFX pipeline and the production environment function in general. I got to work on different aspects of production – from sculpting in ZBrush, texturing in Mari up to modeling in Maya. I learned a lot during those months and had the chance to work on shows like 'Game of Thrones', 'Lost in Space' and 'Jim Button and Luke the Engine Driver' – a German full feature production for which I got my first IMDB credit as a CG artist. Overall, it was definitely an exciting experience to work on high-profile shows and seeing it come to life on the big screens was a great feeling.
As a recent graduate, please tell us more about your studies at Gnomon, the school community and your overall experience!
I graduated from Gnomon, Games & Animation in Hollywood with a certificate in digital production last fall, completing a full-time two-year program. My education was deeply focused on becoming a 3D generalist, with a clear focus on modeling and texturing. The curriculum is geared to prepare students to the current demand of the VFX industry. At Gnomon, industry leaders are teaching multiple applications in the 3D space. From Maya, ZBrush and Mari, Substance and Nuke – I was able to not only learn all the right tools, but insider tips and tricks from some of the best artists as well!
The staff and teachers are incredibly dedicated to helping students land a job in the industry. Miguel Ortega, Tran Ma and Max Dayan in particular had a huge impact on where I am standing right now. Their dedication and passion for 3D helped me so much and shaped my creative skills. I also have to give a big thanks to the amazing placement office team, who is helping students find a job by inviting recruiters from major studios to the campus on portfolio presentation day. Overall, I'm so happy that I have had this experience.

Clothes might make the man, but not the mouse! 'Brave Tiny Infantry', initial sculp.
What led you from Switzerland all the way to Los Angeles, California in the first place?
Coming to the US was a huge step for me. Leaving my family and friends behind to pursue a career in the VFX industry was not easy. I was lucky enough that my girlfriend was already living in Los Angeles, working as a film director, which simplified the move. What really made all of this possible was the continuing support and encouragement of my parents!
Currently, I'm working as an asset artist for Luma Pictures, Santa Monica, which is a studio mainly focusing on feature film productions, and I couldn't be happier. I can see myself staying in Los Angeles for a few more years, but I also do miss Europe a lot and eventually might want to move back. I'm still young and just made my first steps in this industry, so who knows where I'll be ending up in the future. I couldn't be happier doing what I do right now, making a living from my art and I'm forever grateful to my parents for being so supportive throughout all those years.
Tell us about your long-term goals! Do you have a dream job, whether it's a specific position or a certain company you admire?
I have a profound admiration for feature animation. It was always a dream of mine to work for Walt Disney Animation Studios. Last year, I visited their campus in Burbank for the Disney Inspire days, and it was incredible to see the whole studio and all the different departments. It's just such a creative working environment, and I would love to one day contribute to the phenomenal Disney team – preferably as a modeling or look development artist.
Is there a specific design philosophy or school of thought you adhere to? What inspires you as a 3D artist?
I find inspiration in a lot of things, ranging from films, TV shows, up to traditional paintings. My philosophy is always to try out new things, stay curious and implement newly learned impressions into your own creations and artworks.
When I walk around now, after all those years of 3D education, I look at the world differently than before – more consciously, I would say. I observe how material reacts in the sun, how dust or dirt builds up on surfaces, how old age wears down wood or metal. I even take macro photographs of textures or objects that I like and keep them in my library for future reference. It just happens naturally nowadays; I see an object and ask myself: "how would I model this?" and the wireframes build up in my head all on their own.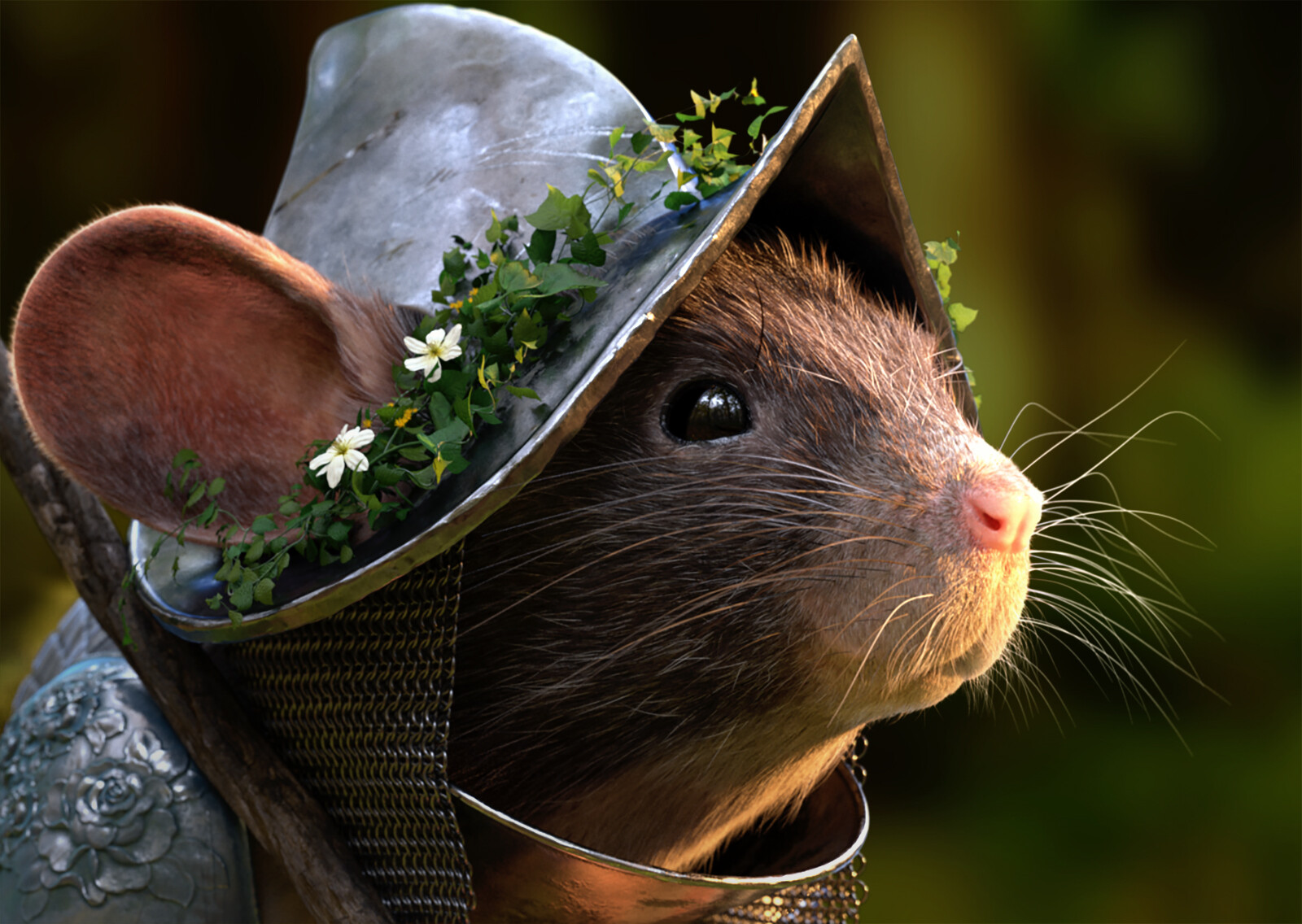 A knight in shining armor: with the proper grooming in place, the cuteness is dialed up significantly.
Let's talk about your work in more detail, starting with your submission to our campaign, the 'Brave Tiny Infantry', a 3D recreation of a sketch by Marta Dettlaff. Can you first of all describe the circumstances that lead to the creation of this piece?
I created this project in Miguel Ortega's Demo Reel class during my last term at Gnomon. The goal was to get it done in five weeks. After watching the new 'Lion King' with my friends in the theater, I felt so inspired by the fantastic visuals and wanted to challenge myself to try to create a photorealistic CG animal.
I've always wanted to turn Marta Dettlaff's original concept into a 3D artwork. The dreamy, fantastic atmosphere of her sketch was really appealing to me and I figured that it would make for a great portfolio piece!
What was your main goal in doing this project? What parts of the image were particular important to you?
Even though the concept is more stylized, I decided to go for a more realistic depiction. I wanted to showcase a lot of variety and different skillsets combined in one project. The groom of the mouse was of course one of my main focus and equally challenging, but I also loved sculpting the armor pieces and the foliage. I spend quite some time refining the armor texture, as I wanted to convey a story with the textures – that was really important to me. I had a blast working on even the smallest details, like sculpting and texturing the clematis flower.
Every little detail counts to make the worlds that I create believable and I try to convey a certain mood with my artwork: I want to craft an emotional response that draws the observer into different worlds!
What were some of the challenges you had to overcome?
Assembling everything in one scene was really challenging, it got super heavy with the foliage, groom and big texture files. When it came to lighting the shot, it was really hard to render in IPR mode. It got to the point that every time I simply navigated around the scene, the entire thing crashed instantly. In order to get instant feedback, which is important for lighting, I had to do some work around and create a greyscale scene, just to be able to light the shot.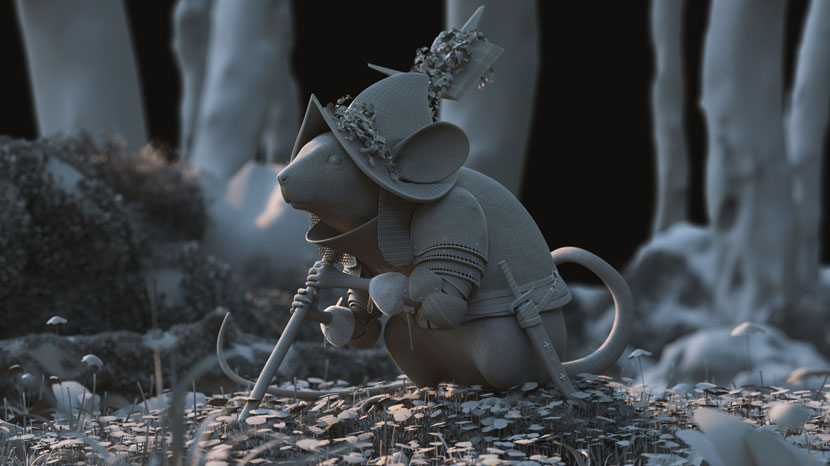 "I see an object and ask myself: 'how would I model this?' and the wireframes build up in my head all on their own."
How long did it take you to complete the project?
It took me five weeks to create this project. During the last term at Gnomon, I had ten weeks to create two full CG projects, which was incredibly demanding, but also the right thing for me. I needed to work towards a deadline. Having the time pressure in mind made me work efficiently and kept me focused to work hard towards the finish line. At the same time, this pressure also made me cut some steps short, because I just didn't have the time to work for another day or two on the sculpt or add more detail to the textures.
What software did you use to create this piece? Any plug-ins you found particularly helpful?
To create this piece, I had to use a lot of different applications. I used Maya and ZBrush for modeling, Mari, Substance Painter and Photoshop for texturing, and V-Ray for rendering. The final compositing touches were done in Nuke. The fur groom was done with XGen that comes with Maya – so no external plug-ins for the grooming part. Furthermore, I used some Megascans assets from for the grass base and the background elements. The ivy and clematis flower on the top of the helmet were modeled from scratch in ZBrush and textured in Substance Painter. For the vines, I used Speedtree to generate two different branch variations of the ivy.
Are you satisfied with the results? What has the feedback been like?
I'm really proud with the end result! I was happy to see that people liked it so much and the feedback on social media and on platforms like Artstation has been great. Furthermore, I got a Gnomon Best of Term nomination for it, which is a big honor as well. I also had the chance to write an in-depth breakdown of the project, so if you want to get more insight in how I created this imagery, go check it out!
The intricate ornaments on the armor is but one instance of Constantin's dedication to details. Make sure to check out his comprehensive breakdown for more.
Since you already wrote about the development process of the 'Brave Tiny Infantry' at length, let me instead ask you about your general approach: how do you go about transposing a 2D sketch into a 3D realm? Looking at your portfolio, there are quite a few shining examples of such adaptions.
First of all, thank you so much for the kind words and for pointing that out. It's really important for me to stay true to the concept artist's design choices and try to replicate the shapes in 3D as good as I can. After all, every line in the original concept is intentional! My goal, then, is to bring the design language chosen by the artist into the 3D space.
I think the most important thing is to work on a good blockout. Getting the shapes as close as possible from the beginning is key to a good sculpt; I always work from big forms down to tertiary forms. When initially studying the concept, I look out for design principles such as curves vs. straight lines, simple vs. complex and the silhouette – then I try to implement those elements in my 3D models. Another good trick is to just flip the model occasionally if you ever feel stuck while sculpting. Your eyes get so used to what's in front of them, a simple change in perspective is often all it takes to be able to point out what works and where your sculpt needs improvement!
Are 'Brave Tiny Infantry' or the Hermione you created for your demo reel indicative of your aesthetic preferences? How would you describe your style?
I think it's hard to assign a singular aesthetic to myself, as I like to work in different styles, experiment and keep evolving. While these two examples are quite different in visual style – one being more realistic the other more stylized – I would say they convey my interest in fantastical and magical worlds and characters. My goal is to entertain the observer and make the experience engaging enough for them to imagine the characters in a fully fleshed out world and story.
Considering the path you have already traveled up to this point, what is some advice you would give to aspiring artists?
I firmly believe that you can achieve anything if you work hard enough. I put in so many hours every single day during my time at Gnomon – and it really paid off! It's all about practicing your craft and finessing it as best as you can. I continuously practice and learn new programs or techniques, keeping up with technology and software is a necessity in this ever-changing industry. Additionally, I think it is important that you choose a department or field that you really love, because if you are passionate about what you are working on, you will not only yield much better results, but you will enjoy spending the time to master your craft.
Like everybody else, I had moments when I felt like giving up. Just browsing ArtStation and seeing all these amazing artists out there, the competition and the pressure can become overwhelming at times. You just have to stick with it – work even harder and never give up!
Have you used RebusFarm before? If so, please tell us about your overall experience. Is there anything you especially like about our service?
I have to confess, I hadn't had the chance to work with RebusFarm, yet! But I definitely have ample reason to try it out now, and I'm very much looking forward to further optimize my workflow by using RebusFarm in the future!
In closing, is there anything else you want to say? Any present or upcoming projects you'd like to mention?
First and foremost, I'd like to say that I feel deeply honored to be featured on your site as 3D Artist of the Month. It means a lot to see my artwork up there, right next to so much other fantastic work.
At the moment, I'm working on a realistic portrait, which I now plan on rendering on RebusFarm and I can't wait to share it with you soon! If you want to keep up with my work, make sure to follow me on Instagram
Thanks for taking the time to read this interview, and once again, thanks to RebusFarm for picking me!
The pleasure was all ours! Constantin, thank you so much for taking the time and all the best in the future!
Keep up with Constantin Vilsmeier and his work here:
---

HOW TO JOIN OUR MONTHLY CONTEST
You want to be our next featured 3D Artist of the Month and win 250 RenderPoints? Just visit our 3D Artist of the Month competition page and submit your entry. We'll choose the best image and contact the winner.
---
>> Read more articles on our blog