Saturday, June 1st, 2019 by Julian Karsunky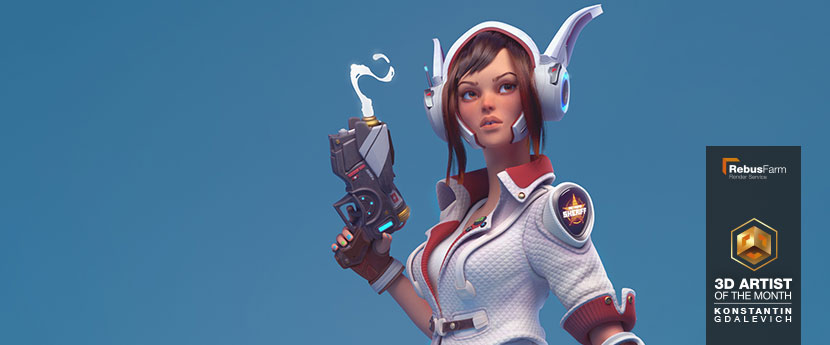 Metropia criminals better watch out, the future of law enforcement is hot on your heels! Meet 'Kasey and Mac', courtesy of Konstantin 'Kosta' Gdalevich, our June 2019 3D Artist of the Month. The sexy Sci-Fi sheriff and her rotund robo sidekick won him first place in the 'NVIDIA Metropia 2042 challenge', with his superb design work earning him a ton of online exposure.
Find out why Kosta's success is no accident, as he breaks down his approach to character design and the importance of design challenges in our interview!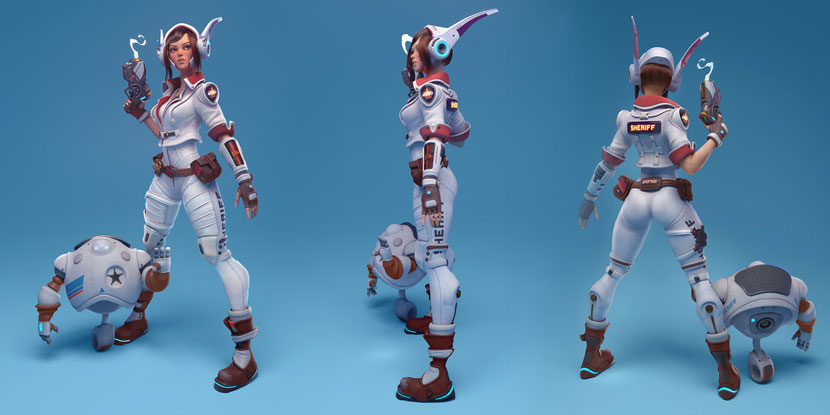 Futuristic crime fighters in action: 'Kasey and Mac' won Kosta first place in the 'NVIDIA Metropia 2042' character design challenge.
Hi Kosta, we're thrilled to feature you as our 3D Artist of the Month! Before we dive into your submission, we'd first like to know you a little better. So, to kick things off, please introduce yourself to our readers!
Hello! My name is Konstantin "Kosta" Gdalevich, I'm a soon-to-be 31-years-old 3D artist born in Russia, tough back then it was still the USSR. When I was nine years old, my family moved to sunny Israel, and I've lived here ever since.
Interestingly, your wife is a CG artist and illustrator as well.
That's right, my wife Victoria (https://www.artstation.com/victoriagdalevich) is in the industry too, though more on the 2D side of things. She works as a concept artist and illustrator in the mobile games market. Just like me, she has a degree in visual communication, and worked for an architecture visualization studio before shifting to games.
What does life together look like for two CG artists? Or does your work not factor in your marriage at all?
Living with another artist under the same roof can be challenging at times, but in the grand scheme of things, it's lifesaving! For example, I really enjoy competing in 3D challenges, as the strict deadlines motivate me to work hard on my projects. A single challenge can take up 120-150 hours easily, and to meet the deadline, you need to squeeze in these hours somewhere between regular work and personal responsibilities. It doesn't matter how hard you try – your personal life will suffer. I can't imagine how my wife would be as accepting as she is without being an artist herself!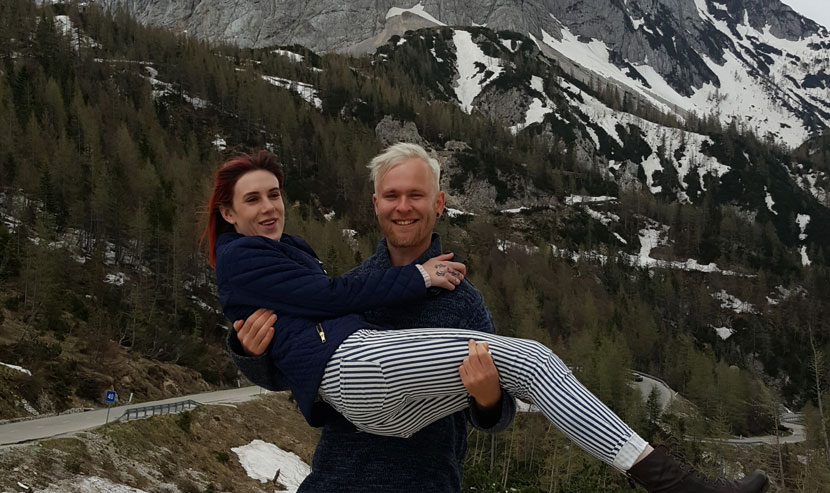 Kosta and his wife Victoria during their honeymoon in Slovenia.
Can you briefly tell us about your professional background and what lead you down the path to join the industry?
Of course; after finishing my degree in visual communications in 2014, I worked as a visual development artist at Israel's biggest post-production house for two years, doing commercials and TV shows. For most of my day to day tasks, I heavily relied on Photoshop, but as more time went by, I slowly came to understand I just couldn't survive in this industry without 3D. That's how Maya and Keyshot first entered my life.
Initially, I only used the software to create static frames, which I then passed on to our 3D team. Then one day, I decided that I could do everything by myself. My creative director gave me a chance to prove myself and I failed spectacularly. It was at that moment that – realizing that I absolutely needed to learn more – my journey as a 3D artist began.
So, this initial failure motivated you to push yourself further! Where did your career go from there?
My first position as a full time 3D artist was at a mobile game studio. We were working on a very promising real-time strategy game, but after a year and a half, investments ran dry and the company unfortunately was shut down. Afterwards, I shifted to freelancing for a living.
Two years later, I found myself in Vancouver, polishing my skills at Think Tank Training Center for an entire semester. It was then that I fully committed myself as a freelancer, creating mostly characters and props.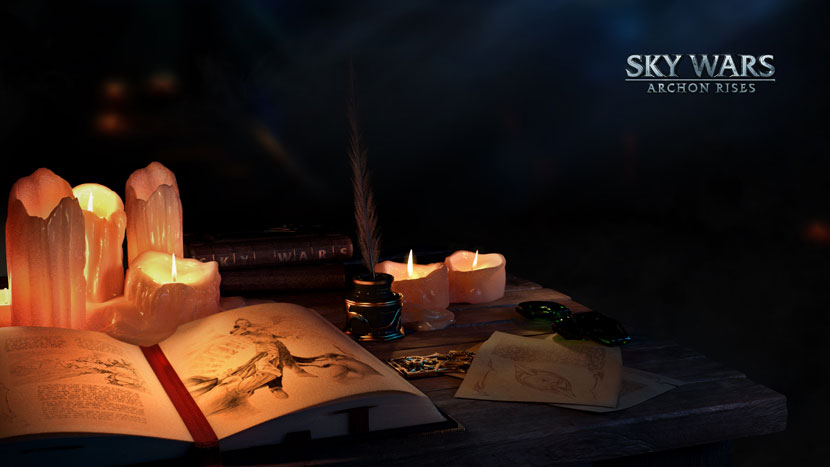 A marketing frame Kosta did for 'Sky Wars: Archon Rises'. The mobile RTS game never saw the light of day.
What are some of your personal highlights in your working life thus far?
My stay in Vancouver, no doubt. I quit my job – which was really good, not only in terms of salary, but overall working environment – because the artist in me was looking for more. I took a six-month break from work to focus on my future career. This decision allowed me to try and explore new techniques and software. My work 'Kasey and Mac' marked the end of this journey, winning the ArtStation NVIDIA challenge and now brings me here!
We will get to 'Kasey and Mac' in just a moment, I promise! But first, please tell us more about your freelancing gig.
Sure! As a freelancer, I create characters and assets for animation and game studios. I specialize in full character production, including everything from initial concept and overall direction to finished and ready for rig characters. Because of the scale of the projects I'm currently involved in, I'm unfortunately unable to disclose further details for legal reasons as of now.
What I can tell you, however, is that in addition to my freelance work, I'm also returning to an Israeli post-production company to work on a cute Disney T.V. show as a shading artist.
Your experience includes work in T.V. and advertising as well as the mobile gaming industry. What are the main differences between these markets, both in terms of general approach as well as from a CG and design point of view?
First of all, both of these industries are amazing! That said, the main difference between them is the amount of people involved in production and, as a direct result of this, the amount of individual responsibility you have. In mobile games, I'm likely involved in every step of the development process: I can start as concept artist, then I will model, texture and even import everything to an engine. In animation, you will probably do one task and one task only, like modeling or shading. In a massive pipeline, you can even be a texture artist "only". The bigger the production, the higher the degree of specialization.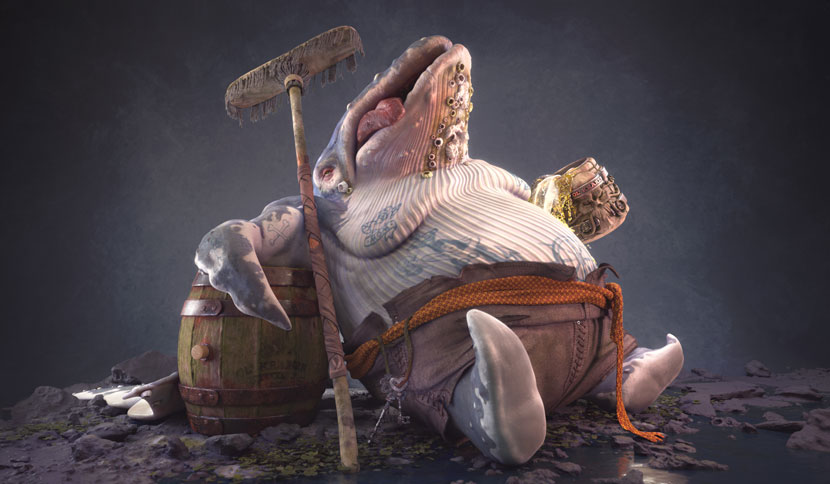 Kosta is a huge proponent of art challenges, as they improve skills such as time-management and self-discipline. Unfortunately, the above pictured 'Andrew the Whale' missed the deadline and was completed later.
To you, what are the biggest advantages and challenges of self-employment?
Freelancing is a tricky thing, for sure! If you want to grow as an artist within the animation industry, you need to put yourself out there, which usually means lots and lots of personal projects. Productions might take a long time, and since you usually can't show your work until it's officially released, you want to prevent your portfolio from looking outdated by generating content and, in turn, visibility in between. In mobile gaming, it's slightly easier, because the time frames are a lot shorter and you can publish your work faster.
Working around these different limitations makes my life as an artist look like a sandwich: I create and publish personal artwork, which leads to more exposure and hopefully new clients. Then, once I'm done with a client project, I usually have something new to show and include in my portfolio. As a result, I get additional exposure again, which attracts new clients and so on…you get the idea.
As a character artist, is there a specific design philosophy or school of thought you adhere to? What inspires you as a 3D artist?
It's a mix of technology and art that inspires me to push myself further. My personal expectation as a 3D artist is that every new project has to surpass my previous work, be it in terms of design, software skill or something else entirely. I can find inspiration in regular objects or situations as well as in CG animations, movies or the work of other artists in our beloved communities! Inspiration is everywhere, you just have to be open-minded and soak it all up, then integrate it into your own visual library.
What skill set does a character artist need?
Due to its complex technical requirements, character artist isn't a junior position. Before you can start to focus only on the design, overall appeal and the meaning of your work, you need to master the technical side and man, is that tricky! What makes it especially challenging is the everchanging nature of the 3D industry. With pipelines constantly changing and software being discontinued, updated or replaced, keeping up with industry standards is very demanding. However, if you do manage to stay on the ball, the payoff is huge: you will work on the best projects alongside the best artists and that's what ultimately keeps me going!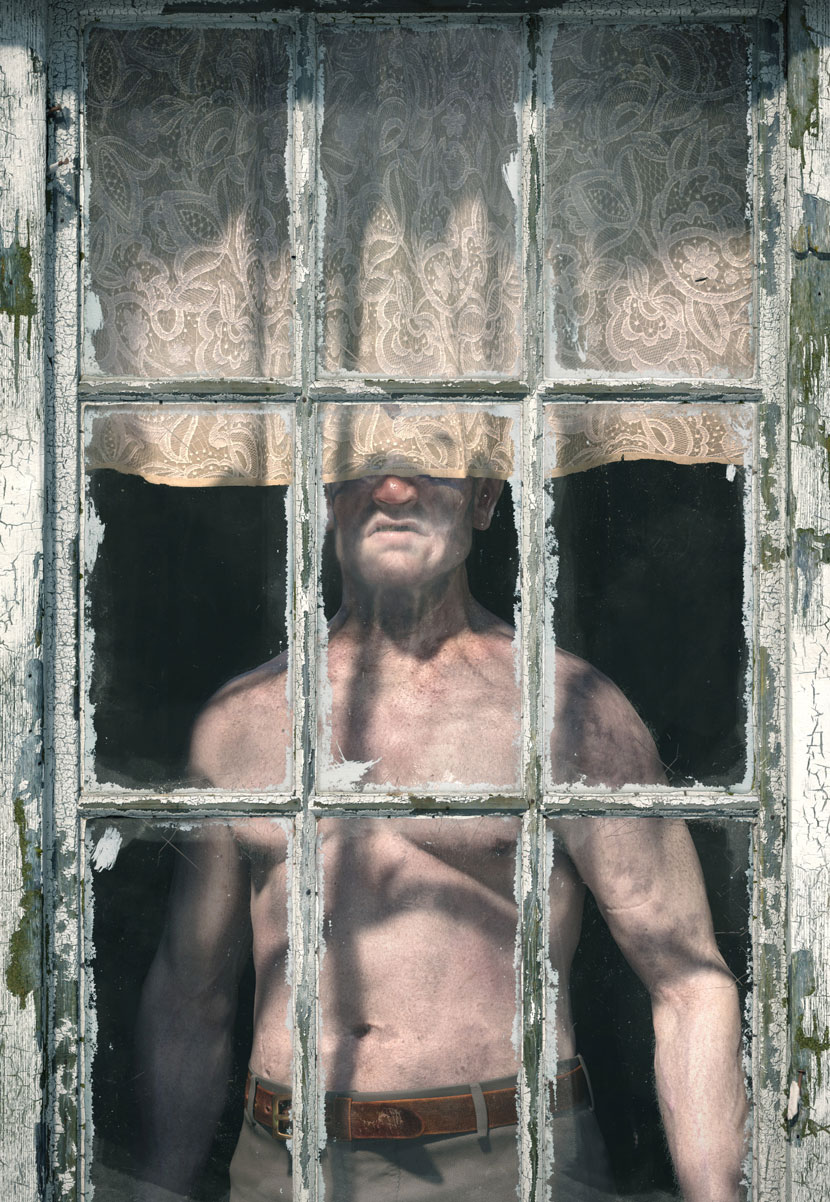 Based on a concept by Piotr Jablonski, 'Dobroslav' perfectly illustrates Kosta's approach to character design.
What makes a good character?
To craft a really good, well balanced character, you always need to keep his or her general appeal in mind. The overall appeal of your character has to be your main focus all throughout the modeling, texturing, lookdev and final presentation stage. Say, you work on some sort of robot and your character is literally made of garbage, think about his maker as an old graphic designer or something along those lines. Even chaos can and should be well designed.
How do you approach characters and assets in terms of visual storytelling?
I approach a character from the initial, base story. This includes the world he lives in his position within that particular world. Take the example from before, a garbage drone in a post-apocalyptic setting: What is his story? What happened to the world? Maybe there was a nuclear explosion or a zombie outbreak! The answers to these questions have an impact on the final design of the character. With the story in mind and taking into account the general appeal we talked about, you can do almost any character or prop and make it work.
Now let us examine your approach in practice and finally talk about 'Kasey and Mac', the two characters that won you first place in the character category in the NVIDIA Metropia 2042 challenge hosted by ArtStation. Congratulations!
Can you first of all describe the contest in more detail and how it appealed to you?
The participants were to visualize Metropia 2042 – a place and time in the near future where humanity has benefited from revolutions in AI, robotics, autonomous transport, augmented reality and environmental protections. There was a total of four categories to compete in: characters, props, interiors and cities!
I already touched upon my general fondness of these challenges, but to reiterate: you will learn a lot about time management, project breakdowns and discipline by participating. Furthermore, you can get a ton of exposure, connect with other artists and learn new workflows! I encourage everybody out there to join in on the fun, you will be doing yourself and your professional career a favor!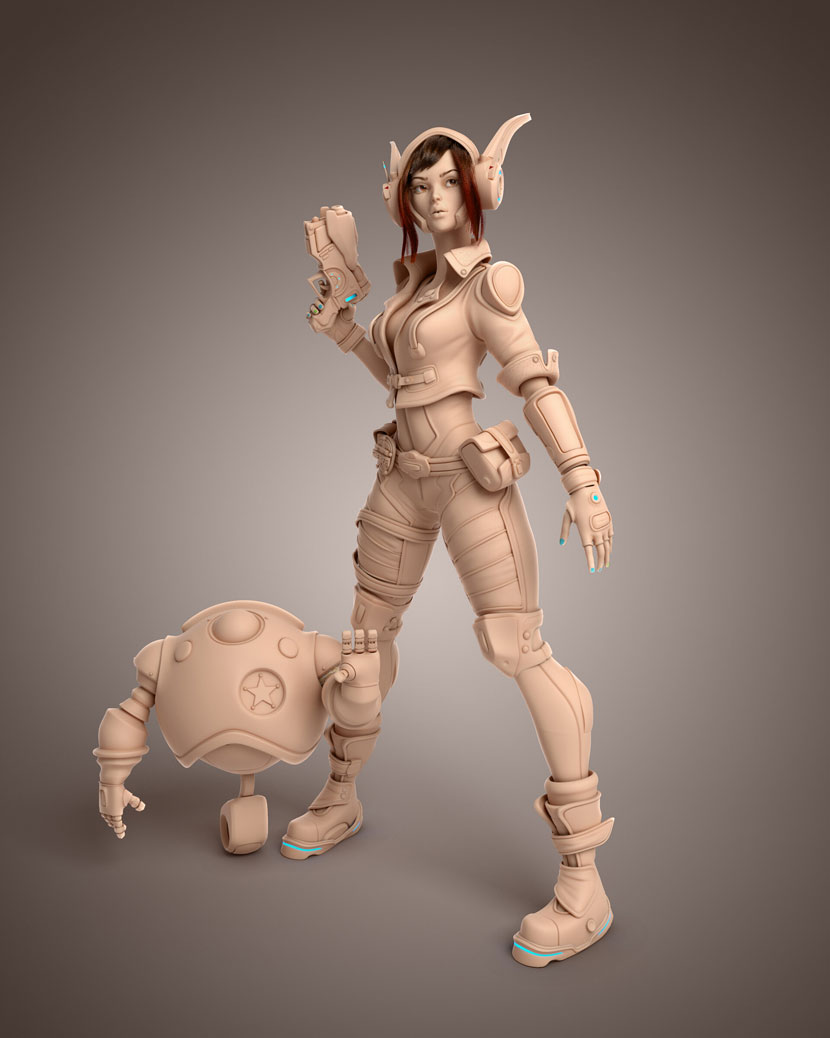 'Kasey and Mac', clay render.
How long did it take you to complete your submission?
The challenge lasted for 45 days, but during this timeframe, I moved from Vancouver, Canada, back to Tel Aviv, Israel. The key to success was to plan around this as best as possible by adjusting my designs to be less time-consuming. While this sounds stressful or compromising, it ended up working in my favor, as the limited time perfectly lend itself to the minimalistic design of my characters.
It's fascinating to see the various iterations of both characters before you decided on a final design. Kasey initially had a more conventional look, even sporting a cowboy hat at one point. The aesthetic of the finished character, however, seems rooted more in modern Sci-Fi. How did your artistic vision for Kasey change over time?
The idea for Kasey and Mac was simple: I wanted to try to break the conventional design tropes for a sheriff character. Contrast the old, bulky dude with a cowboy hat and mustache with a young, nimble girl without a mustache.
Conceptualizing Kasey's design, that is deciding on her face, garnets and props was the longest part of the entire project. You can't tell by looking at her now, but I initially planned to build my designs on a futuristic version of the 'Fargo' universe. However, I quickly realized that type of look wasn't different enough from our current law enforcement, so I went further. In fact, I was constantly walking this line to the point where you could hardly recognize her as a sheriff at all. I shared my progress throughout development and got mixed responses, I went too far here and there, I ultimately got it just right.
'Kasey and Mac' early concepts. Kosta documented the entire design process in his submission thread.
Mac, on the other hand, started out as a "donut drone". Now that definitely deserves an explanation! Does he still have a compartment for pastries somewhere under his hood?
Between the two of them, Mac is my favorite! This cute, rotund mech really deserves his own story, and who knows, maybe I will work on that someday. Anyway, he did indeed start as a "donut drone", but ended up becoming a full support character in the story, exchanging his flight capability for a monowheel drive in the process. Mac's promotion to Kasey's sidekick is reflected in his design as well: she's tall and thin, while Mac is short and round. She is bold and daring and gets the two of them in trouble, with him being the voice of reason, older and wiser than Kasey.
There is a clear and discernible effort on your part to give personality to the futuristic sheriff and her robotic sidekick, not only through visual means like poses and facial expressions, but also in accompanying posts. In your mind, what are Kasey and Mac like and what world do they live in?
Kasey and Mac have a cool relationship! They're friends and partners and though Kasey takes center stage, she heavily relies on Mac to get her out of trouble. She's quick to jump into crazy fights, run after the scariest of thugs only because she knows her A.I. friend is monitoring and analyzing her every move, ready to alert her of any danger.
What software did you use to create this piece? Any plug-ins you found particularly helpful?
I used Maya and ZBrush for all the modeling, sculpting, retopology and UV work, Substance Painter and Mari for texturing, XGen for setting up hair and V-Ray for rendering. Post-processing was done in After Effects and Photoshop. Lately, this toolset has become my standard for all of my work. In the future, I'd like to implement my own substances made in Substance Designer, but I've just started learning the ropes.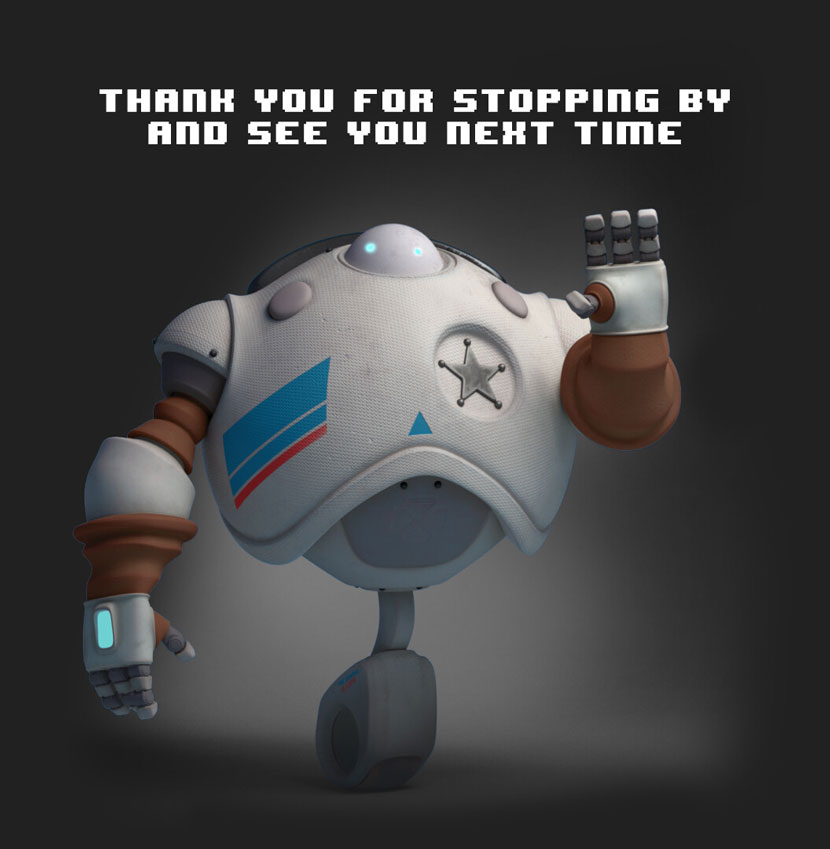 That's all, folks!
Speaking of the future, is there anything else you want to say? Any present or upcoming projects you'd like to mention?
First of all, I want to thank RebusFarm for giving me the opportunity to showcase my work! Currently, I'm setting up a stream and will be live in two to three weeks from now. I'll post a link on my Instagram as soon as everything's ready, so please follow me on there if you're interested!
Thank you and have a wonderful month!
Kosta, thank you very much for taking the time and all the best in the future!
Keep up with Kosta Gdalevich and his work here:
---

HOW TO JOIN OUR MONTHLY CONTEST
You want to be our next featured 3D Artist of the Month and win 250 RenderPoints? Just visit our 3D Artist of the Month competition page and submit your entry. We'll choose the best image and contact the winner.
---
>> Read more articles on our blog