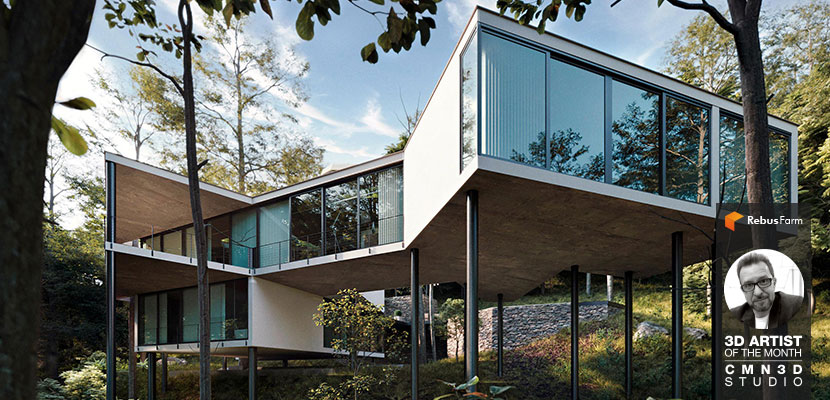 Here at the Rebus render farm, we love an uplifting story almost as much as a great render. The journey of our July 2023 3D Artist of the Month is thus best described with a quote by English writer George Eliot: "it is never too late to be what you might have been." When Carlos Marcello Neves first discovered the wonderful world of archviz, he was already past his 50s. Undeterred by this supposed late start, he dove head first into his new found passion, quickly catching up to industry standards. Within just a few years, Carlos successfully turned his hobby into a successful freelance business, proving that it is indeed never too late…

In our interview, Carlos talks about the power of architecture, his background in photography, and the intersection of art and technology.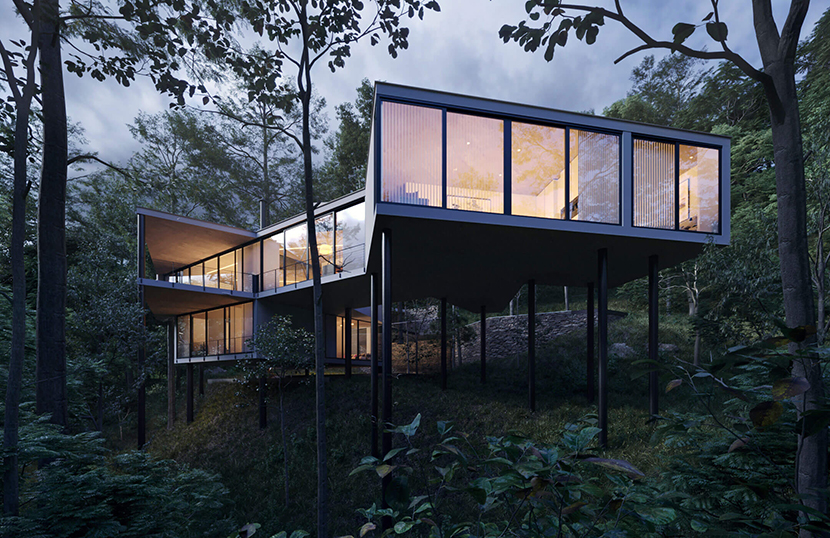 A faithful 3D recreation of one of TERTA Arquitetura's spectacular designs, Carlos' 'Casa Açucena' gracefully hovers above the forest foothills.

Hi Carlos, thanks for joining us. To start things off, please introduce yourself to our readers!

Hi, thanks for having me, what a pleasant surprise this is. My name is Carlos Marcello Neves, I am a 54-year-old freelance 3D and archviz artist from São Paulo, Brazil.
Even though I discovered the fascinating world of architectural visualization later in life, I firmly believe it is never too late to follow your passion and embark on a new adventure. So, here I am!
Tell us more about this discovery and your subsequent adventures in 3D.
It all started in early 2020, when a colleague who was studying architecture at the time told me about a college assignment that involved rendering 3D images of a building. One thing led to another, and I soon found myself involved in the project.
Intrigued by this new world I had found, I continued studying 3D in my spare time. I had no greater goal in mind at first, I was not even aware that this was a viable career option. Only when I received another job offer from someone who had seen the images I had produced, did I realize 3D could become more than a hobby.   
As somewhat of a latecomer, how did you go about learning 3D?
Initially, I taught myself how to use SketchUp, Lumion, and V-Ray by watching YouTube tutorials. After a while, I realized this would only get me so far, so I started looking into more in-depth trainings, and eventually came upon Ander Alencar's OF3D Academy. In May 2021, I signed up for the 'Mentoria' program, which turned out to be an excellent course that greatly improved the quality of my work. I successfully participated in several contests, which further motivated me to push forward. I even had the opportunity to work at Ander's studio as a freelance 3D artist for a few months, which was another invaluable experience.
Apart from that, I have a degree in advertising photography and worked in a photo studio for some years when I was younger, which is quite helpful.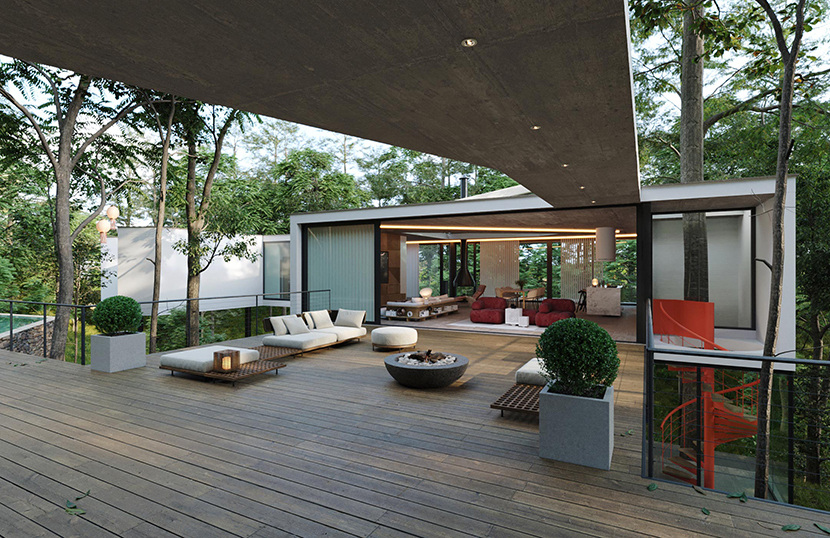 A spacious wooden deck sits at the center of the stilted structure.
How has your background in photography shaped your archviz work and vice versa?
Photography and architectural visualization share many fundamental principles and techniques, making them highly complementary disciplines. Firstly, my experience in photography has helped me develop an eye for composition, lighting, and visual storytelling. These skills are essential in both photography and archviz, as they contribute to creating captivating and engaging visual narratives. Plus, I already knew all the technical details that some beginners struggle with, like exposure, depth of field, light balance, etc.
Secondly, my understanding of lighting in photography has been invaluable in architectural visualization. Lighting plays a crucial role in both disciplines, as it can dramatically enhance the mood, atmosphere, and visual impact of an image. The knowledge I gained from manipulating natural and artificial light sources in photography certainly contributes into creating realistic lighting scenarios in archviz.
What are the main differences between analogue photography and the virtual lens?
The most obvious difference is that we do not have to walk around to find the best angles or wait for the sun to go down…just kidding. I have to say that a camera viewfinder still feels more natural to me, perhaps because I grew up with analog gear as a kid. And the image quality of a pro camera with top lenses is phenomenal. Then again, digital technology has evolved so much in the last 20 years that today, we can hardly distinguish what is real and what is CGI.
The virtual lens is good enough in terms of output and much more versatile, of course. All the necessary parameters can be easily adjusted, not to mention that we can manipulate all the other elements in the scene as well. I guess the main difference between them is that with the virtual lens we have the freedom to find any angle, to make any shot, even those that would be impossible in the real world.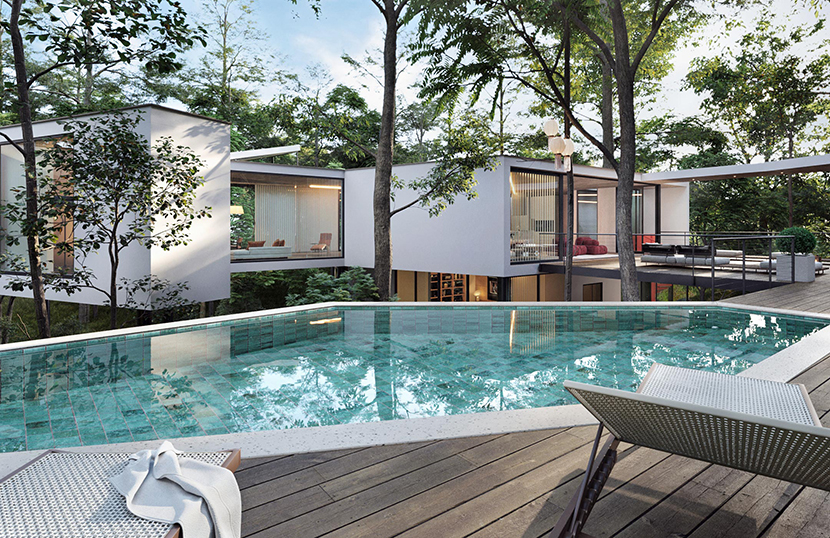 An outdoor pool allows for a refreshing dip among the canopy.
Please tell us about your brand CMN3D Studio and the services you provide!
CMN3D Studio is the brand through which I offer my services as a freelance 3D artist since 2021. Among these are 3D modeling and rendering for architectural visualization, 360° imagery, virtual tours, 3D floor plans and videos. By the way, if it was not obvious already, the CMN part of the name stands for my initials.
Who are your clients and target markets?
Most of my clients are architects and small architectural offices. My work encompasses both exteriors and interiors, especially for houses and residential buildings.
How would you describe your approach and overarching vision as an archviz artist?
My approach is very simple and direct: I closely work together with the client for the best possible results, listening carefully to their requests and feedback at every step of the way to faithfully represent the message within each project. What drives me the most is the desire to translate the vision of architects and designers into captivating visual representations. I think the power of architectural visualization lies in its ability to transport people into spaces that are yet to exist, enabling them to envision the future and make informed decisions.
Where does your own fascination with architecture and archviz stem from?

It stems from a deep appreciation for the artistry and functionality that goes into creating buildings and spaces. Architecture shapes our environment and influences how we perceive our surroundings; it blends aesthetics, engineering, and practicality to create structures that not only serve a purpose but also inspire emotions and elevate our quality of life.
I also have always been captivated by the power of visual storytelling, and architectural visualization allows me to combine art and technology in a unique way. It enables me to take architectural designs, often in their early stages, and bring them to life through realistic and immersive visual representations.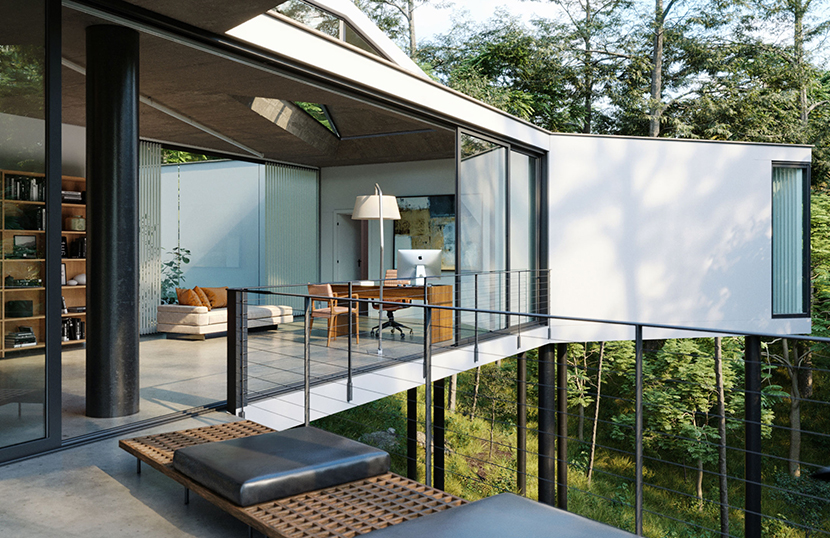 Perched atop the Brazilian rainforest, this is not exactly your usual work station.
What are your main areas of expertise?
Running a one-man operation, I am well-versed in everything from modeling to post-production. While I have worked with the most popular software on the market, my personal favorites nowadays are 3ds Max, Corona Renderer, Unreal Engine 5, and Photoshop and Luminar for post-production. Many clients still use SketchUp, so it is also part of my workflow.
Is there a part of CG-related work you particularly enjoy? For what reasons?
What I enjoy the most is texturing and landscaping. Sometimes, the smallest detail makes the biggest difference.

Is there a specific design philosophy or architectural school of thought you adhere to? What inspires you as a 3D artist?
I am kind of an eclectic person and draw inspiration from a wide variety of sources, appreciating the diverse and unique perspectives they offer. While I do not exclusively follow a specific design philosophy, there are some principles and approaches that resonate more with me, especially those of minimalist and contemporary styles.
As to what inspires me as a 3D artist, I love the work of big studios like Mir., Artefactorylab, Play-Time, KDSL, Oficina3D, and many more. Architects I admire include Oscar Niemeyer, Santiago Calatrava, Renzo Piano, Zaha Hadid, Fran Silvestre, and TETRO Arquitetura.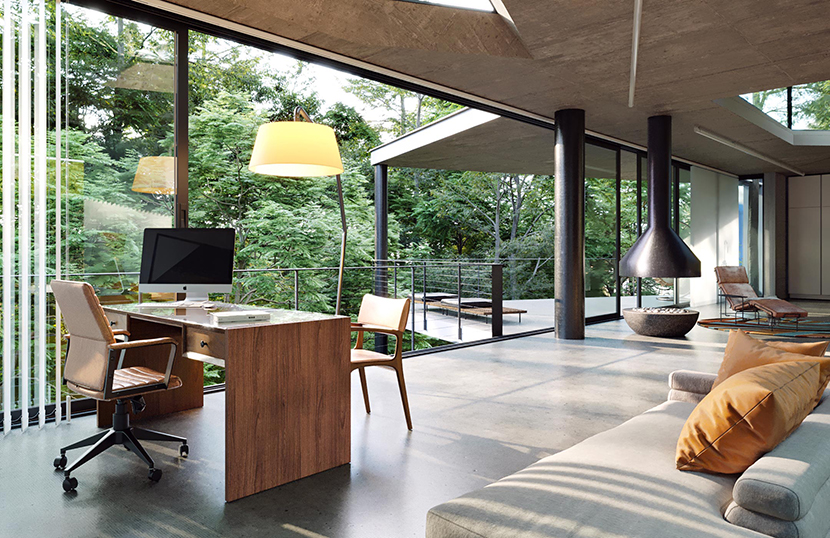 To replicate the dense vegetation, Carlos carefully positioned each tree in the scene.
Speaking of, the project you submitted to our campaign is a 3D recreation the 'Casa Açucena', a stilted two-story house in the forest foothills designed by TETRO Arquitetura. Can you first describe the circumstances that lead to the creation of this project?
This project was developed for my personal portfolio. All 3D modeling was created from floor plans published on ArchDaily. I love the design of this house and how it is perfectly integrated into the surrounding nature.
What were your main goals for this project?
I am still working on my portfolio and thought this would make for an excellent addition, highlighting what I am capable of. Recreating such a beautiful project and trying to faithfully reproduce all the details also made for a fun personal challenge.
What parts of the image were especially important to you, both from a visual/design and technical point of view?
One of the most incredible aspects of this project is its location in the Atlantic Forest foothills, so reproducing the terrain was crucial. The sloped land made things a little trickier, so did the abundant vegetation: I wanted to convey the feeling of a house in the middle of the forest without obstructing the building too much, so I had to carefully position all the trees. Choosing the right textures was another key element to achieve a realistic look.
What were some of the challenges you had to overcome and how long did it take you to complete the project?
No single part of the image was overly challenging, but the scene as a whole required a lot of optimizations due to its high polygon count. Even so, it was a heavy file and rendering everything took a while. From the start to finish, the project took me about two weeks of work in my spare time.
Talk to us a bit about your use of colors, materials, lighting, and overall composition!
The original color palette is very simple. Working from the references I used, I tried to keep the tonality of the vegetation as natural as possible. For lighting, 2 HDRI were used to compose different moods. Most textures are from the Corona Material Library, which is very good, except the wooden deck and some other minor parts.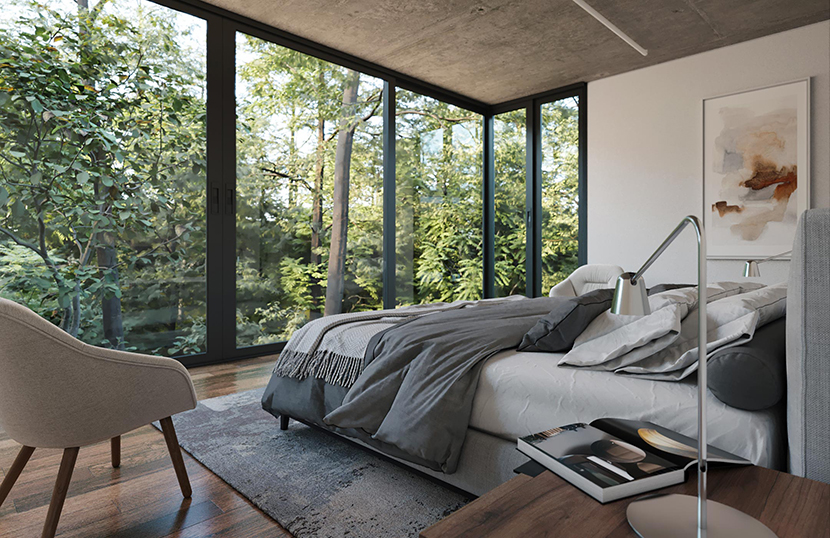 A look at this bedroom interior further highlights how the design seamlessly integrates the environment.
What software did you use to create this piece? Any plug-ins you found particularly helpful?
I used 3ds Max, Corona Renderer, and did a little bit of post in Photoshop and Luminar. Plug-ins I used include Forest Pack for specific parts of the vegetation (most of the distribution was made with Corona Scatter) and FloorGenerator for the wooden deck around the swimming pool.
What has the feedback been like so far? Are you satisfied with the results yourself?
The feedback has been amazing, much better than I expected in fact, and I have received a lot of positive comments. While I am satisfied with the results for the most part, I tend to be overly harsh on myself and always find a couple of things that could be improved. That said, being chosen as your 3D Artist of the Month was an equally unexpected and pleasant bit of extra recognition!
What is one thing you yourself have learned from this project that you can share with us?
I learned that even at a certain age it is possible to learn new things and do a good job. We just have to adapt and keep moving forward. And, of course, stick to the reference images and pay attention to the details, just as I was taught.
Since you mentioned render time earlier: have you used RebusFarm before? If so, please tell us about your experience.
Unfortunately, I have not had the chance to use your services yet, but I am definitely looking forward to putting the free RenderPoints I won to good use. In fact, I already have a project in mind just for that…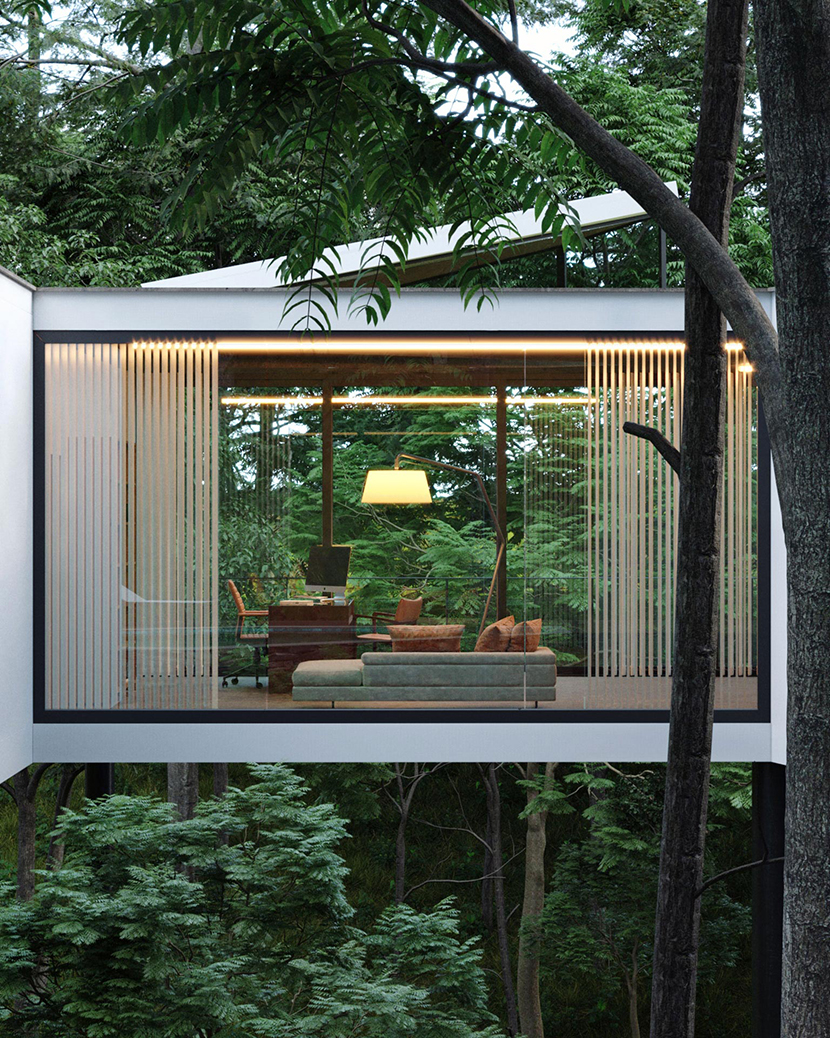 This shot of the living area probably was a lot easier to accomplish with a digital camera.
In closing, is there anything else you want to say? Any plugs, shoutouts or present or upcoming projects you would like to mention?
Just my sincerest thanks to RebusFarm for this opportunity, it is a real honor!
The pleasure is all ours! Carlos, thank you so much for taking the time and all the best in the future.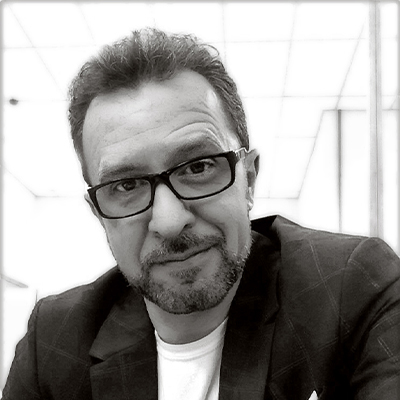 About the artist
Carlos Marcello Neves is a freelance archviz artist from São Paulo, Brazil. Although somewhat of a latecomer to the world of 3D, he caught up to industry standards in no time and today offers his modeling and rendering services through his brand CMN3D Studio. Applying his professional background in photography, Carlos is committed to concoct the perfect blend of art and technology and create immersive visual experiences for his clients.