Thursday, January 2nd, 2020 by Julian Karsunky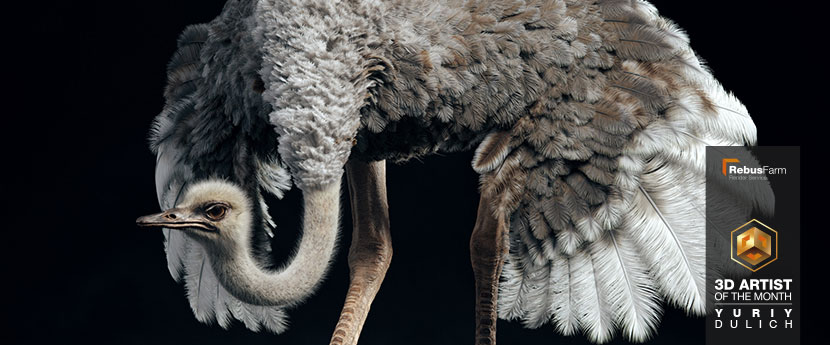 2020 is finally here, and what better way to celebrate the start of a new decade than with a (big) bang!? Opening for our 3D Artist of the Month campaign in January is Yuriy Dulich, an Ukrainian astrophysicist turned stellar groomer and character artist. Having recently received an Animago award for his 'Subarctic Great Horned Owl', his expert avian craftsmanship is on display again: Yuriy's 'Somali Ostrich', the result of a strategic market analysis and a self-imposed challenge, is just out of this world!
Check out our in-depth interview to find out more about Yuriy's fascinating journey, the relation between CGI and astrophysics, and why petting animals is beneficial to his work.
Yuriy's female Somali ostrich, mid-run and striking a proud pose.
Hi Yuriy, thanks for joining us. To start things off, please introduce yourself to our readers!
Greetings, everybody! First, thank you for this honor. My name is Yuriy Dulich, I'm a 35-years-old Groom TD and character artist from Ukraine.
The honor is all ours! Do you recall when and how you first consciously encountered CGI?
That would probably be when I first watched 'Terminator 2' during my childhood. All those famous shots with the T-1000 – back then I could not comprehend how those effects were possible at all. A couple years later, when 'Jurassic Park' was released, I was a lot more aware of the technology involved. In addition to the movie, I even caught a making of, diving deeper into how the masters at ILM created the digital dinosaurs.
From 'Jurassic Park' to the 'Somali Ostrich': quite a poetic development, considering birds evolved from dinosaurs!
What training or education do you have?
At the time I became serious about learning CG, around 2004, there was very little information available, especially in the CIS. In the Ukraine, there were no dedicated schools or courses. Even online, resources were still scarce back then, and the internet infrastructure in my country was just not there yet. Information had to be gathered bit by bit from various sources, for me, those were lessons and tutorials from Gnomon, online tutors (which were difficult to come by), and the forums at CGSociety, ZBrush, render.ru, 3dcenter.ru, as well as a local Ukrainian CG forum, which no longer exists. Of course, I learned a lot through the programs themselves. Long story short, I'm self-taught for the most part and do not have any special or classical education in the art sphere.
But you do have a Master's in physics and astrophysics, which strikes me as rather extraordinaire in our line of work.
I have to disagree; I don't think that my education in our field is particularly unique. Rare, yes, but not unique. I have met and heard of several other CG artists with a degree in physics and other applied sciences.
Point taken! Please tell us more about your studies and how and why you decided to pursuit a career as a 3D artist.
This is a rather long story, spanning about 30 years, so please bear with me. You see, my family was very "lucky" with me. When I wasn't setting something on fire, I spent my time painting or reading science books. By the age of 13, I became safer in my experiments and decided that I wanted to become a physicist. Although I was fascinated by all natural sciences. After the solar eclipse of 1999, I fell in love with astronomy. At college, I met two good friends: one of them introduced me to the fantastical world of Tolkien, the other introduced me to computers. Remember, at the beginning of the new millennium, home computers in the Ukraine were still seen as more of a luxury than the necessity they are today. At the same time, I was part of an amateur astronomy club. As you know, amateurs use simple and inaccurate tools, but they still want to get good photos. That's when Photoshop came to the rescue – my first encounter with an image processing program.
In 2001, the 'Lord of the Rings' by Peter Jackson came out and blew my mind. It struck me for a second time when I realized how much of the movie was CGI. Seeing this world that I loved come so alive on the big screen, all thanks to technology that, in principle, is accessible to everyone was an epiphany. In fact, I owe my current career at least in parts to Weta Digital!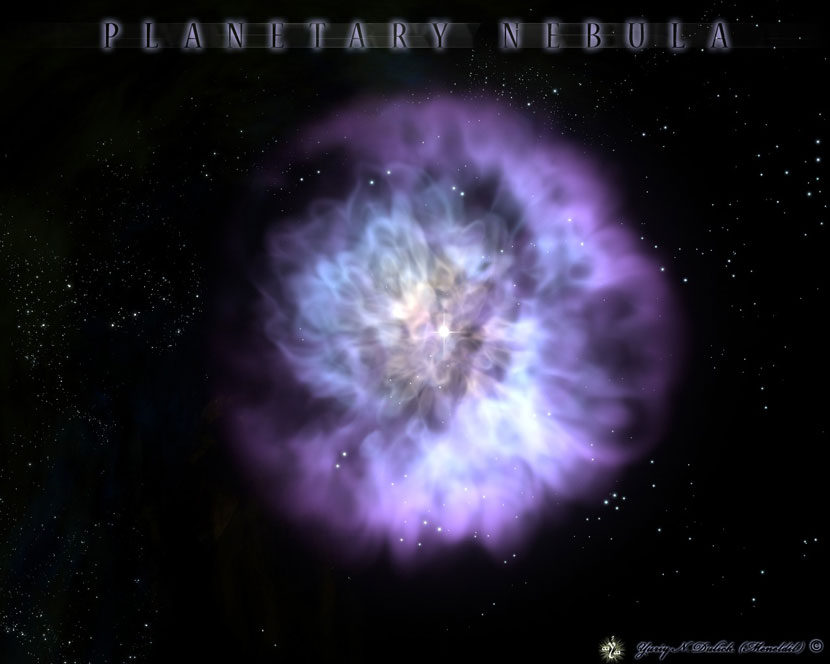 Originally, Yuriy learned CGI to visually enhance his academic endeavors. This planetary nebula from 2008 is among his first attempts.
What happened next? Did this experience immediately impact your career planning?
Well, in 2003 two significant events happened: First, I got accepted into the physics program at the best university in the Ukraine, a dream come true! Second, I got my first computer. Towards the end of my first course, I attended a conference of young astronomers. There was one report that equally intrigued and impressed me: the speaker used CGI visualization of variable star systems. This was basically unheard of at the time! That speaker told me that his friend did this visualization for him in 3ds Max. This was the final straw that made me want to seriously study 3D graphics and implement CGI in my own scientific works. I decided that I would dedicate all summer to figure out this program, and I did!
So, you initially only pursued CGI for academic purposes. What caused the shift towards the 3D industry?
Unfortunately, in my country, being a scientist is neither very honorable nor rewarding. The struggle for grants, low salaries, and an overall lack of support for young scientists all make for an overall precarious situation. During my fifth and final year of university, I got my first job at a small archviz studio. After my thesis defense, I had planned to continue my academic career at graduate school. However, since my topic of study was deemed particularly niche (I studied cataclysmic variable stars), I found myself facing two options: change the subject and go to the Max Planck Institute abroad, or stay in the Ukraine in the hopes of defending my topic.
Given the stale situation, I decided to leave academia and science for good and focus all my efforts on further developing my CG skills. This is how my exploration of the universe of computer graphics began, which to me was just as interesting and practical as the real universe had been until then!
Does your background in physics help with your work as a 3D generalist? If so, how?
Yes, in every single project, and I'll tell you how: At university, my professors not only imparted applied and theoretical knowledge, but also taught critical thinking as a universal skill. Therefore, I would say that a physicist's brain contains not only a computer with a library of mathematical and physical formulas, but also tools that allow us to decompose absolutely anything into components. Systemizing and subsequently reassembling those components then allows for a better understanding of the inner workings of a subject.
To give you a concrete example, when I was working in post-production studios, I was given not only various tasks on fluid simulations and other natural phenomena, but general R&D tasks as well. Or when I was developing a pipeline for a small animation studio, this habit of systematizing and rationally arguing allowed me to better predict possible problem nodes and come up with solutions. Then there was the time I worked on content and holographic devices for 3D mapping. I was heavily involved in the calculation of holographic pyramids, and methods for creating and mixing content, putting my background in physics to good use yet again.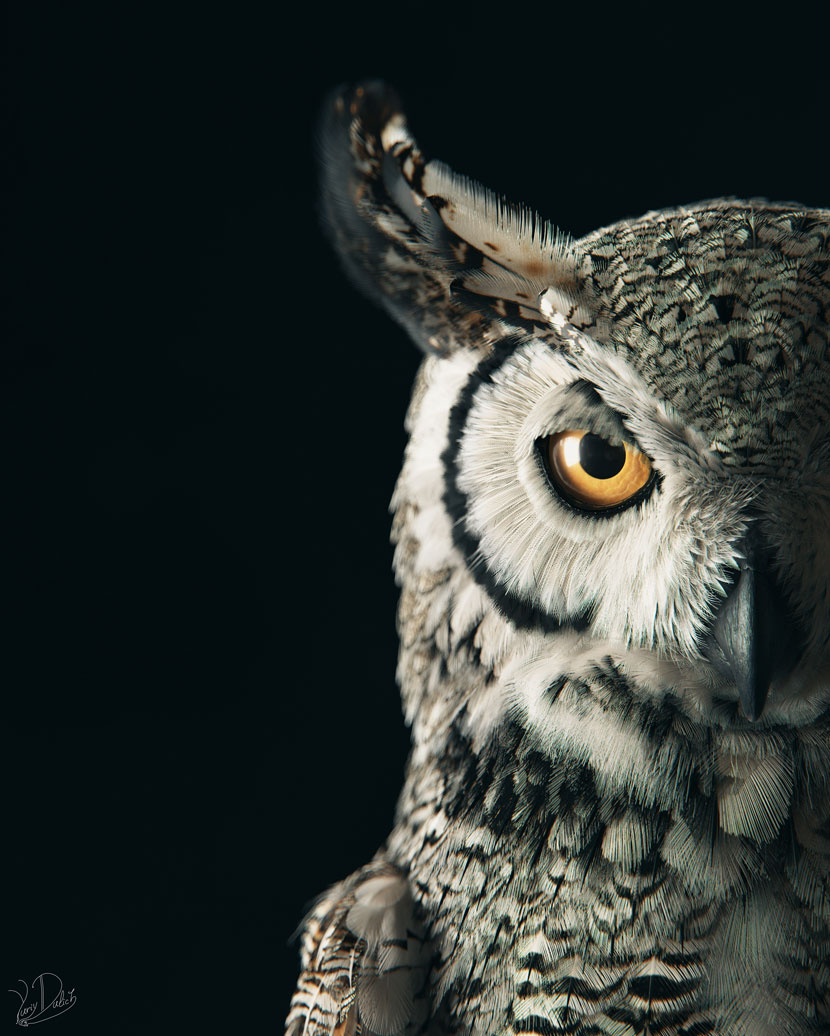 This 'Subarctic Great Horned Owl' won Yuriy the award for best still at last year's Animago conference.
Can you briefly summarize your professional career thus far? What were some of your personal highlights in your working life?
I've been working professionally since 2008. In various studios, I went through nearly every form of production: archviz, advertising, 3D mapping, holographic content, post-production of movies, videos and commercials, and animated series and feature films.
Over time, I slowly climbed up the ranks as well, going from junior artist to technical supervisor. Even having gone through all of this, I'm still not ready to say that I have achieved anything that I'm truly proud of. I had failures and successes, but there remains much to learn and I'm still studying. For the past five years, I've been developing in one rather narrow direction – characters and creatures.
Recently, other artists began turning to me for advice, and as a result, I am preparing a series of Yeti tutorials right now. I've also started publishing more and have received more recognition for my work. At last year's Animago Conference in Munich, I was awarded the "Best Still of the Year" award by the community.
Talk to us about your current job situation. Are you exclusively freelancing right now? What lead to this decision and how are you liking it so far?
Yeah, after finishing my last full-length project, I decided to take a break from Ukrainian studios and freelance from here on. I just didn't feel like "working for my uncle" anymore, as we say. Nevertheless, I will still consider any options to work in studios abroad, should an interesting and challenging opportunity arise.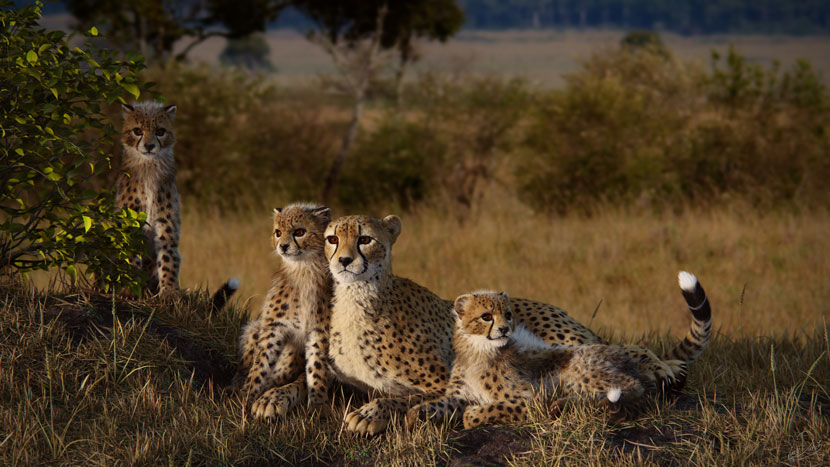 Whether it flies, swims, walks or crawls: Yuriy can create a photorealistic 3D version of any animal, evident by this cheetah family.
So far, I like it pretty great. Now, I can choose what I need to work on and filter projects by interest. I myself manage my personal and work time. My family can even go on vacation for a couple months, with me being able to work remotely from anywhere in the world, as long as I have electricity and an internet connection. My wife helps me manage all my current projects. She's a project manager and her skills help a lot, especially since there's a surprisingly huge amount of work at the moment. We have the next two to three months already planned out, and there's a small queue on top of that. To be honest, I didn't expect this type of demand, but clients like what we do and how we do it!
What services do you provide?
We offer pretty much the entire production cycle of any animal, creature and character, regardless of style and complexity. So, we either work only on a specific part of a character, like grooming, or fully build a character from the ground up. Even if a client does not have a concept yet, we have contacts of freelance concept artists who will take on this part of the work. Furthermore, thanks to our extensive network of specialized artists, we can produce animated content of any complexity in a collaborate effort.
Speaking of clients: who are your clients and target markets?
Our clients are usually agencies or studios that outsource character or creature work for whatever reason. Because of our flexible pipeline, we can easily be a fully functional part of a department or even do the work in place of one. Our target market is as wide as our services are in demand: advertising, animation, promotional materials. We haven't worked on films yet but will hopefully do so in the future.

'Somali Ostrich', base model sculpting.
Is there a specific design philosophy you adhere to? What inspires you as a 3D artist?
Nature inspires me, there simply is no better architect or designer. When working, I frequently watch various documentaries on my second monitor. It broadens my horizon and helps instill new ideas. Very often, I try to analyze how nature combines, mixes and creates such extraordinary shapes, colors, patterns, and ultimately, species. Sometimes, it seems to me that any observant artist would easily be able to obtain a degree in biology and zoology.
Concerning my philosophy, I am not a big fan of scrolling through ArtStation for hours on end, looking for inspiration. I am not saying that this is a bad thing, it's just not my approach. I believe that any work that is worth remembering will automatically be stored in the back of your head, at which point it can be drawn upon at any time, sort of like an internal database.
Speaking of, we do maintain an actual database of reference material, so every time we scroll through our social media feeds, we keep an eye out for cool photos of animals, insects and plants. You never know when these will come in handy. There's also this personal trick of mine: Whenever I encounter a creature that catches my interest, I always make sure to photograph it, and – if possible – touch it with my own hands. Whether it's fur, wool or feathers, I want to get a feeling for the texture, how it's arranged, what it's attached to, and how it works in relation to the body. Such data will surely be useful to me or my colleagues eventually.
What does your usual workflow look like when working with a client?
While this is entirely dependent on the individual project, timing and the task at hand, here's our general approach: first, we make sure to get as much information about the project as possible from the client, including an initial reference. Occasionally, a client might provide us with a comprehensive reference sheet; nonetheless, we always do our own research and study as much as necessary to get a firm grip on anatomy, poses and so on. If a project requires us to enlist additional help, we request the assistance of one of our allied artists and coordinate our workflow early on.
Then, it's business as usual from the sphere to the base mesh, until we create a first draft groom. At this point, we try to capture the shape and silhouette, and modify the mesh and the groom through several iterations. As soon as the results are satisfying to both myself and the client, the character is further detailed: the retopology is carried out, the draft groom is transferred to the new geometry, more details are added to the groom and character geometry, old textures are transferred to the new geometry and new ones are drawn. Along with detailing the groom, the shading process is underway. After all sorts of subtle changes to the geometry, eventually a rig is created for the final groom and the scenes are split into templates for final assembly. Next comes posing, subtle tweaking of the groom and simulation of the groom for a pose or animation. Finally, there's rendering, followed by post-processing, and there you go!
Now let us talk about your work in more detail, namely the hyper-realistic model of a 'Somali Ostrich'. Can you first describe the circumstances that lead to the creation of this piece? Please elaborate on your choice of subject as well!
My wife and I had just completed our own market analysis to gauge customer interest for potential models. We had collected data such as the appearance rate of various animals in commercials, movies and stills. The list we ended up with included an ostrich, so we challenged ourselves to create a viable template within one month.
Why then the Somali ostrich of all things? We compared a variety of subspecies of ostriches, and it seemed to us that the Somali breed has a particularly striking feather structure and color. Since male models seem to be the default, we decided to go for a female ostrich for a change. This allowed us to show an unusual color variation. There is another interesting feature of this species, which I might implement when I have more free time: males have curly feathers.
What was your main goal for this project?
The goal was multifaceted: I already mentioned how we wanted to find out whether we could make a high-quality, photorealistic model of this caliber from scratch within a short time frame. In more broader terms, I also wanted to refine and expand my pipeline, and add ostrich feathers to our feather base. Furthermore, it was important to me not to lose my sculpting skill, which might sound strange, but if you're exclusively grooming for many months, your skills in other areas start to diminish.
Tell us about the results of this self-imposed challenge of yours. How long did it take you to complete the project?
It took 25 days to create the Ostrich template from start to finish, with another two to three days spent on rendering and post-processing. The most important finding for us was that it's indeed possible to work at a brisk pace without sacrificing quality. Unfortunately, this does not hold true for all animals or even birds.
What software did you use to create this piece? Any plug-ins you found particularly helpful?
Maya, Yeti, ZBrush, Mari, Arnold, Topogun, and Fusion. To generate the feathers, I used the jcFeather plugin for Maya.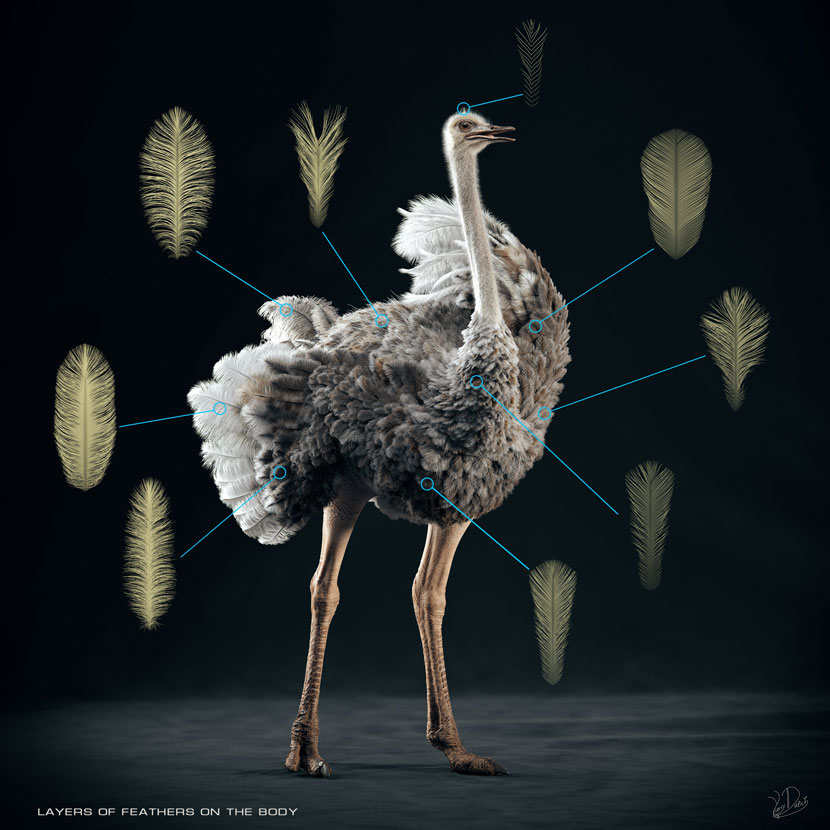 For a detailed look of the development process of Yuriy's 'Somali Ostrich', check out his comprehensive tutorial.
Looking through your portfolio, there are quite a few animals to be found. Is this a matter of personal preference? Tell us about your relationship to nature as a CG artist!
Well, I simply admire nature and all its creations, it's a source of constant inspiration. I love visiting zoos and museums. I am also crazy about mountains, and always stand ready to go hiking for a few days. On any given trip or vacation, I take photographs that can be used as references or panoramas for backdrops. I try to interact with animals and plants, to capture their features through photos or videos. In short, nature is just so interesting, funny and unpredictable.
Your artistic scope clearly goes beyond the realm of photorealism, with some of your work effortlessly transitioning into more cartoony or fantastic styles.
I try my best to maintain stylistic versatility, especially when it comes to characters. For the most part, I prefer working on photorealistic depictions of characters and animals. Making more stylized characters is always a welcome and relaxing change of pace though. Experience has proven that futuristic and hard surface characters are not for me. Fantasy creatures, on the other hand, I love above all!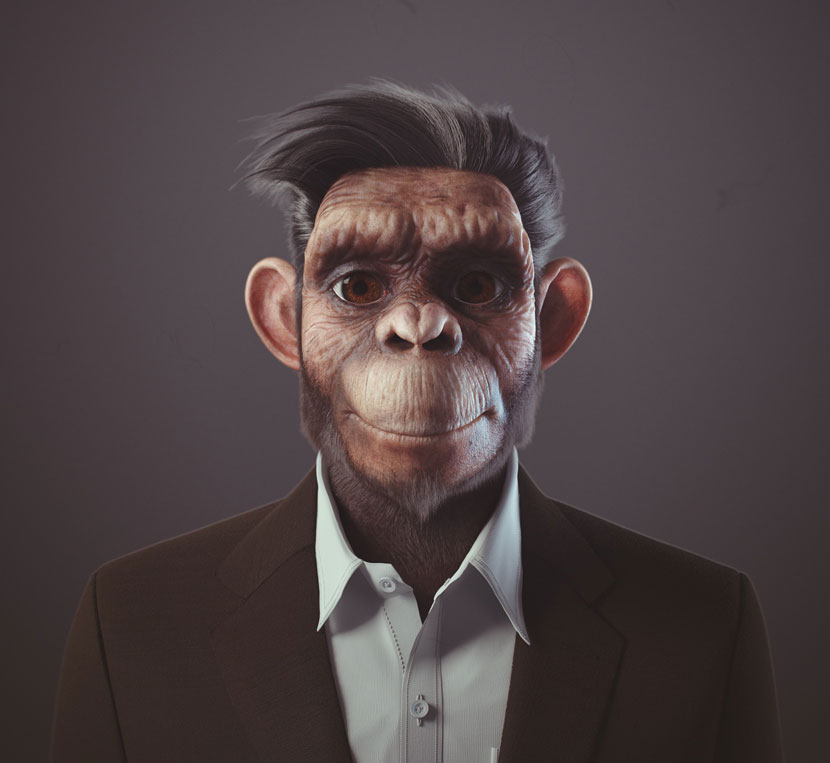 Monkey business? Not really! Photorealistic, cartoonish, fantastical –Yuriy has mastered different styles for his characters and creatures. He had a lot of fun with this one in 2014.
In closing, is there anything else you want to say? Any present or upcoming projects you'd like to mention?
Currently, I try very hard to write a series of Yeti grooming tutorials, beginning with an 'Introduction to Yeti'. If this generates enough interest, I will gladly continue to record a series of tutorials of varying difficulty levels. Also, I still have not abandoned my ambition to recreate a series of creatures from Tolkien's 'The Silmarillion' in 3D, the idea that drew me into all of this in the first place.
Last but certainly not least, we're actively working on opening Biotic Factory, our virtual full-cycle studio for the production of characters, animals, and creatures!
Sounds like we have a lot to look forward to, please keep us updated! Yuriy, thank you very much for taking the time and all the best in the future!
Keep up with Yuriy Dulich and his work here:
---

HOW TO JOIN OUR MONTHLY CONTEST
You want to be our next featured 3D Artist of the Month and win 250 RenderPoints? Just visit our 3D Artist of the Month competition page and submit your entry. We'll choose the best image and contact the winner.
---
>> Read more articles on our blog