Wednesday, January 2nd, 2018 by Julian Karsunky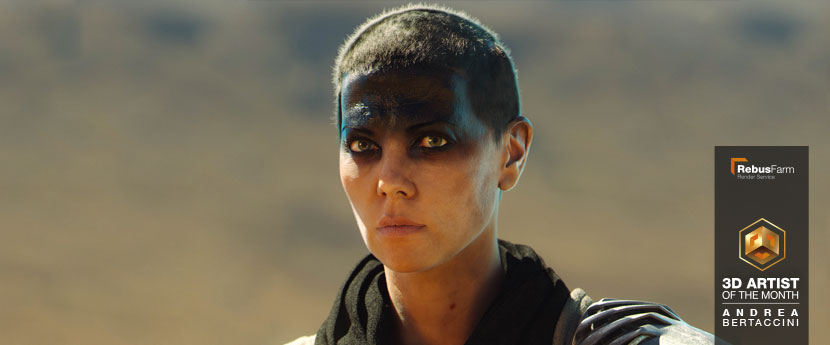 A new year is upon us and we are thrilled to announce the continuation of our 3D Artist of the Month competition! We are off to a more than promising start, as Andrea Bertaccini kicks off 2019 with his rendition of beautiful Charlize Theron in her role of Furiosa from 'Mad Max: Fury Road'. Lately, he has devoted his long-standing experience and spare time to pay homage to the South-African actress via a series of hyperrealistic images. A veteran in the business, Andrea has been navigating the waters of the CG industry at the helm of Tredistudio for close to two decades.
In our interview, Andrea speaks of his humble beginnings involving an old 486, the secret to his company's longevity and his infatuation with Charlize Theron.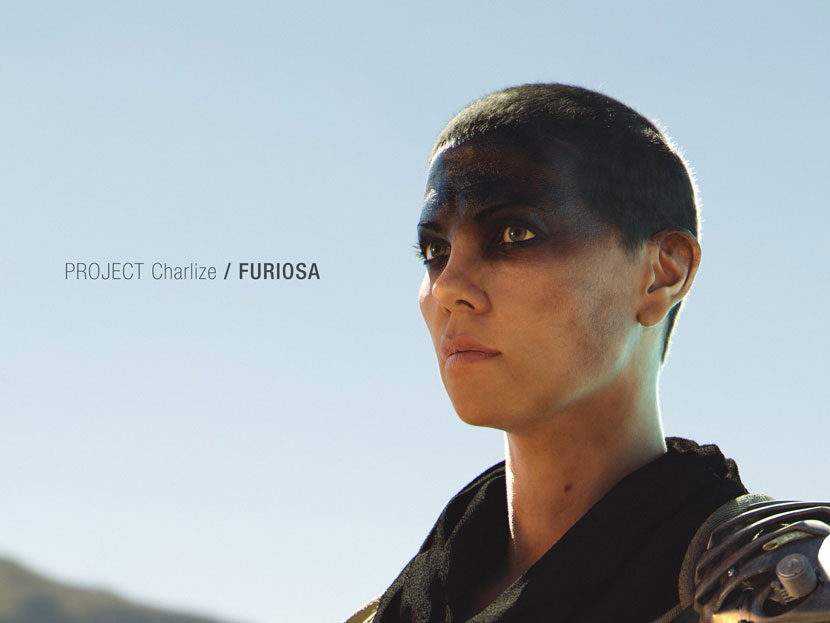 "Don't breathe!" Charlize Theron as Furiosa, a battle-hardened lieutenant from 2015's post-apocalyptic blockbuster 'Mad Max: Fury Road'.
Hi Andrea, glad to have you! To start things off, please introduce yourself to our readers!
Hello everybody, my name is Andrea Bertaccini and I'm from Forlì a small city in Northeast Italy. I was born in 1969 and I'm one of three co-founders of Tredistudio.
Do you recall when and how you first consciously encountered CGI?
Drawing has always been a huge passion of mine, dating all the way back to my childhood. I studied architecture at the University of Florence, in the years when the pencil was the tool of choice and no professor wanted to hear about computers. I was first introduced to the world of CGI during my military service. They put me in an office, sat me in front of a 486 and just said, "go". I didn't even know how it turned on! Back home, I bought my first PC and started studying with the very first version of 3ds Max available on Windows. I'm almost entirely self-taught, which in those years was no easy task, as there were no online resources. All I had were just a few books and a great desire to experiment.
When did you then decide to pursue a professional career as a 3D artist?
After a short period of suffering and much more time spent on the computer, I had become quite passionate about the subject! Eventually, I started collaborating with architectural studio Lucchi & Biserni – in the beginning, it was all very casual, but I soon realized that I could turn this passion of mine into an actual profession. Then, in 2000, we joined forces and established Tredistudio.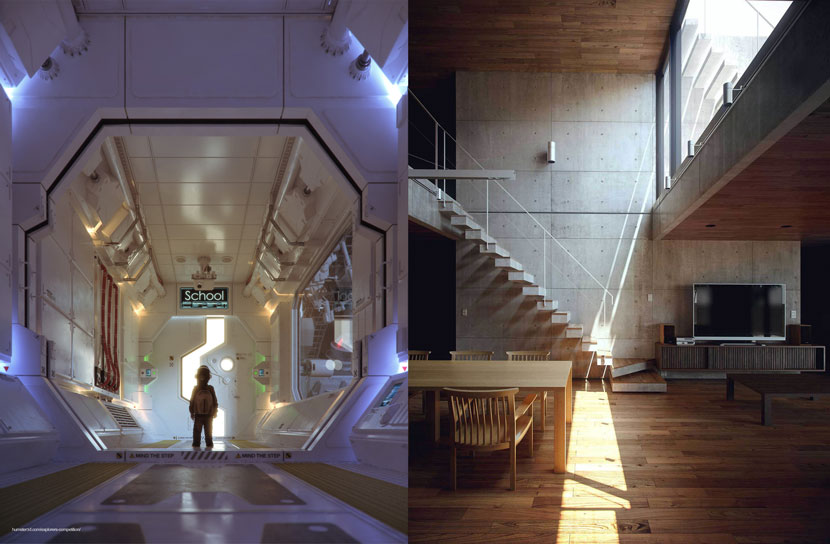 This is a small selection of Andrea's portfolio, displaying his lifelong experience and passion.
Can you tell us more about Tredistudio, the company's history, its field of work and general philosophy?
When we founded Tredistudio, we wanted to combine different skills within a single structure that would offer a wide array of services, ranging from graphic and industrial design to architecture, furniture, and, most importantly, CGI graphics. We have now been on the market for 18 years. This longevity, which we're particularly proud of, is not least a result of the enormous passion we all have for this job. Business truly is pleasure when you do what you love for a living! It's a priceless feeling and I consider myself very lucky to be in this position.
What are your main responsibilities and daily tasks at Tredistudio?
I'm in charge of CGI production, and I also take care of the art direction of most of our projects. I work on all the 3D projects in particular, from the beginning phases all the way through to the end. I love following all the work phases and I'm very involved in the actual production, which is especially important to me. This probably limits the overall number of projects we're able to work on at a time, but to us it's quality over quantity.
Who are your clients?
As customer satisfaction is our primary goal, we do put a lot of effort into building and maintaining intimate working relationships with our customers. This allowed us to closely work with several top brands in the design sector as well as the furniture, communication and fashion industry such as Poltrona Frau, Paola Lenti, Yoox, Moleskine, Cassina and Martinelli luce, to name a few. We also have the opportunity to collaborate with Christophe Gilbert a master in photography as well as other communication agencies.
Is there a specific design philosophy or school of thought Tredistudio adheres to? What inspires you and your team as 3D artists?
Not in particular, no. We generally try to analyze each project by itself, while bringing our experiences and our cultural background to the table. The initial goal is always to create a high-level product. A good idea or innovative concept is a big part in achieving this.
Inspiration, however, is very fickle and it's hard to comprehend or describe how it works for me: sometimes I look at an object and immediately come up with an idea, while at other times I'm concentrating for hours, but am not able to realize anything. Once I have developed an idea, I try to focus it in my mind before sketching it with a pencil. Then I develop it and start adding details.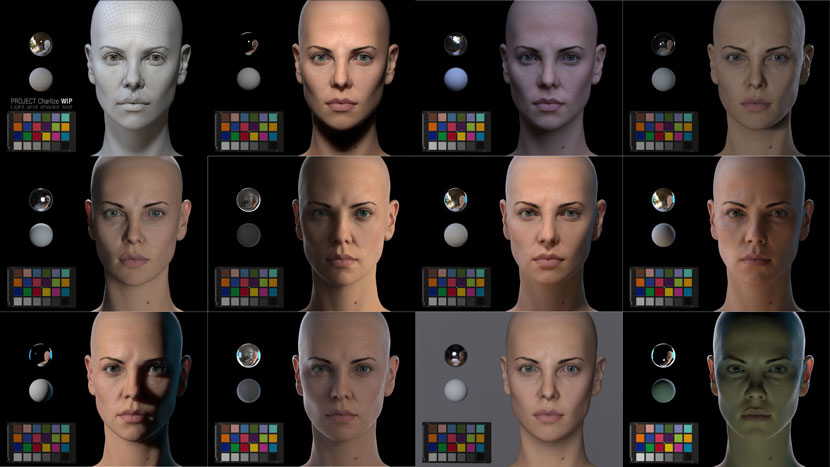 'Project Charlize', light and skin test.
Let us talk about your work in more detail, namely your rendition of the Furiosa character from 2015's Mad Max: Fury Road, portrayed by Charlize Theron. How did you come up with the initial idea and what is it about Charlize Theron that made you choose her as a subject?
The idea for this project dates back quite a while. I'm a big fan of Charlize Theron; originally, I was only drawn to her looks, as I considered her one of the most beautiful women in the world. Once I started paying more attention to her acting, I became passionate about her skill and now I also regard her as one of the most talented actresses in the world!
I started working on a model of Charlize's face in my spare time many years ago, but ended up putting it in a drawer and I kept it on the backburner until last winter. During a time of little work, when it seems that no client is looking for you, I spontaneously decided to put the project back on track. However, character art had evolved a lot in the meantime, and I had to study and experiment a lot before even thinking of publishing something that met my standards.
What were some of the challenges you had to overcome?
The most complicated part was and above all the eyes, in my opinion they are the most important part to make a character feel authentic. Realizing a decent skin shader also proved challenging.
What is 'Project Charlize'?
As I was experimenting with the model, I had the idea to create a tribute to her portfolio as an actress, so 'Project Charlize' was born. The basic idea is to create a series of images inspired by her movies. As of now, I have only made two iterations, Prometheus and Mad Max, but I will definitely continue to work on more scenes in the future. In fact, I hope to publish something as soon as my schedule allows it! Due to the diverse cast of characters she has played over the years, this endeavor will keep me busy for a while.
Once you had a rough concept in mind, how did you approach the project? Can you walk us through the development process step by step?
It varies from project to project, but I normally start with a rough modeling that gives me the spatial perception of the scene. This helps me to decide on the initial composition, which is prone to change numerous times during the process. Subsequently, I model each and every object of the scene. The modeling is crucial to me, because I put the bases of the texturing through the unwrapping of the models. Should the project require it, I switch to ZBrush for the details I need to define the models and textures.
At this point, I start working on textures and shaders. Usually, I try not to use premade textures, but if I do, I always modify them so that they fit my models like a glove.
Shading, lighting and look development go hand in hand. Sometimes I might make a material, only to realize that it doesn't work with the lighting, or that it simply reacts to the light differently than I thought it would.
As I consider lighting a fundamental part of my images, I spend a lot of time to find the exact setup that presents the subject literally in the best light. All of my professional experience helps me a lot with this.
Last, but certainly not least comes the rendering and post-production. The right setup of a scene can make all the difference in rendering time. The amount of post greatly depends on the project, sometimes it's rather minimal – a simple LUT and a couple of settings in the VFB (as with the Charlize project) – and sometimes it's massive.
From model to final render: Once again, pay attention to those shining eyes!
Compared to most of your professional work, 'Project Charlize' is rather derivative. What is your main motivation when doing these type of personal projects?
While it may seem that way from the outside, there's always been a strong mutual influence between my professional and personal work. In the end, the accumulated experience and skills benefit me as an individual regardless of the circumstances.
In terms of motivation, I really enjoy the creative freedom that personal projects offer. Although I do like to try out different techniques, the idea always comes first. The technical realization follows suit.
Is there a difference in how you approach personal and work-related projects?
The only difference is the lack of time constraints. Excluding competitions, not having a deadline means I can spend more time obsessing over details. Sometimes I put an excessive amount of work into details that ultimately are barely noticeable.
How important is it for you to balance the work you do for the studio with your own artwork?
It's of great importance to me! It allows me to realize projects that go beyond my work and gives me the opportunity to experiment. Frequently, it's my personal projects of all things that garner the most attention, which in turn leads to new customers and additional job opportunities.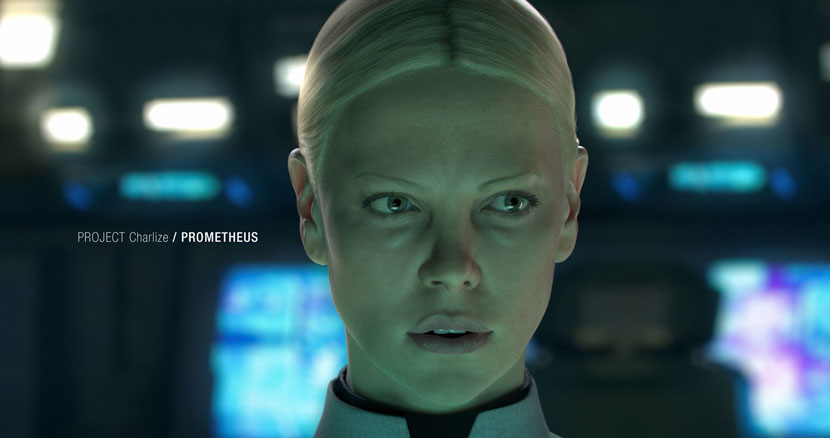 Andrea's photorealistic depiction of Theron in Ridley Scott's 'Prometheus' highlights the actress's versatility. Which of her movies will Andrea tackle next?
What software did you use to create this project? Any plug-ins you found particularly helpful?
I used 3ds Max, ZBrush, Substance Painter, Photoshop and V-Ray. V-Ray was fundamental in producing the final renders, both its SkinShader and even more so the integration of the ALSurface shader helped me a lot in rendering the skin. While I did not use any external plug-ins for the hair, I worked with the 3ds Max Hair and Fur modifier. This was somewhat of a limitation…I really wish 3ds Max would support XGen (I hope someone from Autodesk is reading this!).
Have you used RebusFarm before? If yes, please tell us more about your overall experience with our service.
I've had an account for three years now, but since we were able to render our past projects in-house, we haven't used it yet. However, should the need for outsourcing a render arise, RebusFarm will be my first choice!
In closing, is there anything else you want to say? Any present or upcoming projects you'd like to mention?
The widespread online exposure Project Charlize received came along with new and interesting opportunities. Just recently, I started a new job, but I cannot disclose any details at this point, unfortunately. I have also been contacted by other artists wanting to collaborate on future projects. Let's see what happens…
Sounds like we have a lot to look forward to this year! Andrea, thank you very much for taking the time and all the best in the future!
Keep up with Andrea Bertaccini and his work here:
---

HOW TO JOIN OUR MONTHLY CONTEST
You want to be our next featured 3D Artist of the Month and win 250 RenderPoints? Just visit our 3D Artist of the Month competition page and submit your entry. We'll choose the best image and contact the winner.
---
>> Read more articles on our blog