Friday, December 1st, 2017 by Julian Karsunky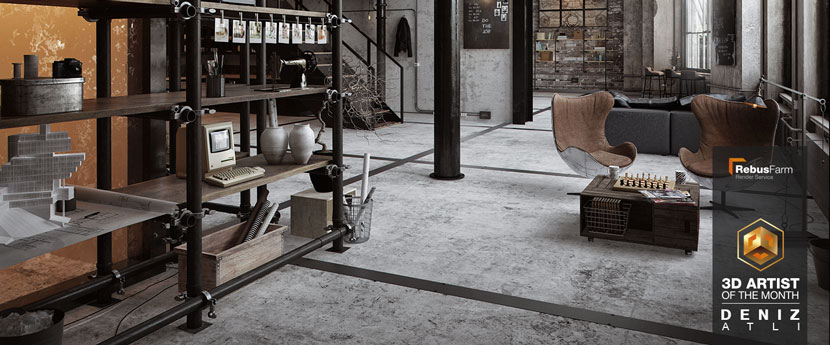 With the year slowly but surely coming to a close, we're excited to announce our final 3D Artist of the Month in 2017. An architectural designer with a soft spot for loft interiors, Deniz Atli combines raw talent with an infectious passion for his work. Inspired by the design of the 'AnalogFolk London' office, Deniz created an impressive reinterpretation of the interior.
Continue reading to find out how skillfully Deniz wanders the fine line between faithful recreation and artistic license.
Hailing from Ankara, Turkey, 28-year-old Deniz Atli undoubtedly has found his true calling in the archviz industry: "To me, it's an immensely fulfilling profession! Just visualizing an idea in your head and making it come to life on your monitor is an invaluable feeling", he exclaims." Being able to then share the results with people from all over the world really puts the cherry on top."
Deniz was first introduced to CGI by a friend in 2013. To further develop his new found knowledge, he began taking advanced online courses in 3D visualization and interior design. Today he works as a freelance architectural designer for architects and construction companies.
'Analog Folk London', detail
"Designing interiors is a deeply immersive process for me. I always try to lose myself within the scene, to envision not only what it looks like, but what it would feel like to actually live in that particular environment", Deniz explains. "Basically, I ask myself: How would I furnish this place if I lived here?" This creative approach regularly yields stunning results – such as the 'AnalogFolk London', a spiced up digital reimagining of the offices of the advertising agency by the same name.
A prime example of the retro modern aesthetic, the AnalogFolk office spaces seamlessly blend industrial and urban design principles. Deniz Atli's virtual reconstruction is a technical marvel that perfectly recaptures this vision of the original design team. It is, however, more than an exercise in 3D visualization. Deniz's subtle changes are proof of his keen eye for composition and an exceptional attention to detail. Carefully replaced objects such as the metal gear clock highlight his expert understanding not only of the source material, but of the boundaries of his artistic freedom.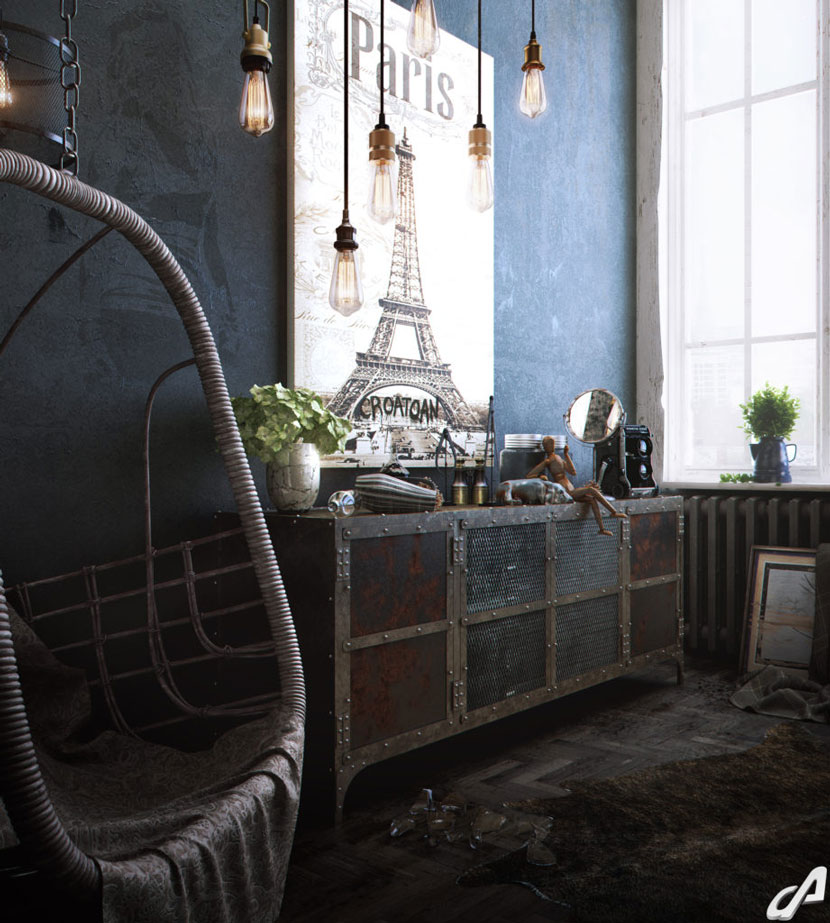 'Paris Loft' by Deniz Atli
Created almost exclusively in 3ds Max and Vray, Deniz worked on the project an entire month in his spare time. "The harmony of all the objects was a huge challenge. The scene went through so many revisions, I had a couple sleepless nights before I finally was satisfied with everything," he recalls. Though this might seem excessive for a personal project, Deniz considers it worth it: "Working that hard is tiring, sure, but achieving the best possible result totally makes up for it. My advice to everybody interested in CGI is to just keep at it, be patient and never, ever give up!"
While he is presently almost exclusively involved in architectural visualization, Deniz is already making plans to expand his portfolio: "I've been dabbling in character modelling and animation for some time now, which I enjoy a lot", he tells us. Hopefully I can become proficient enough to incorporate these subjects into my work in the future".
Incidentally, the RenderPoints he won as 3D Artist of the Month might present the perfect opportunity to put his animation skills to the test! "I hadn't had a chance to use RebusFarm yet, but I'm very much looking forward to trying it out soon," Deniz says.
We're excited to see more of Deniz's work. Currently he's putting the finishing touches on an exterior scene: "The details take a lot of time, but I'll share it soon."
Stay tuned for more and keep up with Deniz Atli here:
---

HOW TO JOIN OUR MONTHLY CONTEST
You want to be our next featured 3D Artist of the Month and win 250 RenderPoints? Just visit our 3D Artist of the Month competition page and submit your entry. We'll choose the best image and contact the winner.
---