Tuesday, April 3rd, 2018 by Julian Karsunky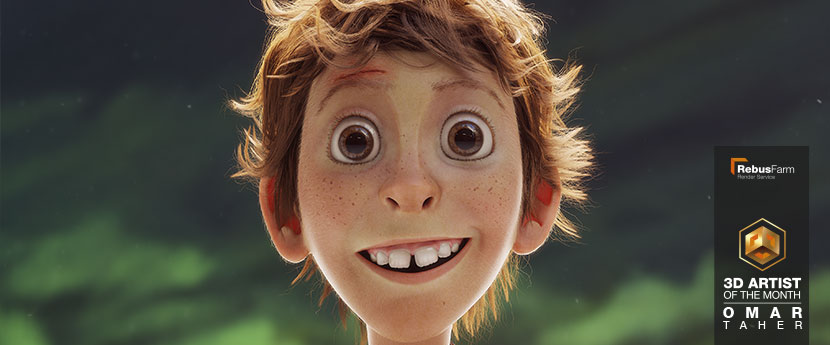 "We spared no expense" in bringing you our April 2018 3D Artist of the Month: Up-and-coming 3D generalist Omar Taher's immortalized 'Timmy', the precocious kid from 1993's blockbuster movie 'Jurassic Park', to critical acclaim. His stylized, yet amazingly detailed rendition of the character won him the grand prize in the prestigious Gnomon Best of Term awards, showcasing his talent to a wider audience and jump-starting a promising career in the industry.
"Hold onto your butts" as we trace Omar's professional journey halfway around the world, from Cairo, Egypt to the Hollywood Hills and from the canvas to the big screen.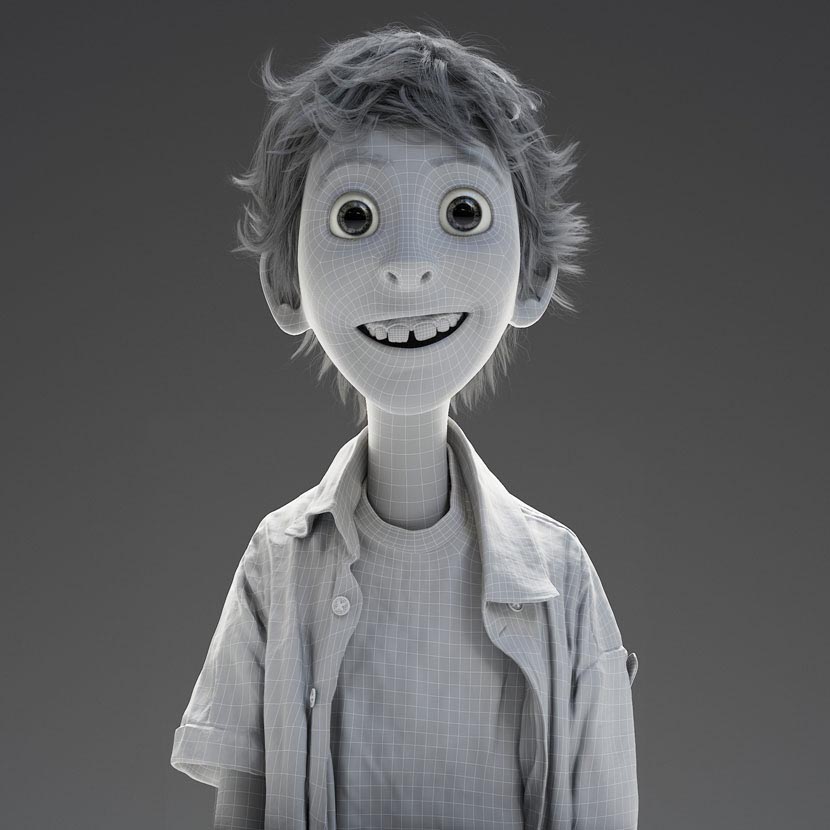 'Timmy', wire render
Looking at the outstanding quality of Omar Taher's digital artwork, you would find it hard to believe that he has been doing CGI for three years only. Long before his transition into 3D and his breakout performance at the Gnomon Summer 2017's Best of Term awards, Omar pursued a more traditional career: "Initially I wanted to become a painter", he tells us. "I ended up working as an illustrator and graphic designer for a couple of years, but ultimately felt that this wasn't the right path for me."
During his studies in his hometown of Cairo, Egypt, Omar had the opportunity to spend a semester abroad in Europe. Still on track to become a graphic designer, he explored the contemporary art scene in Berlin and took painting lessons in Malmo, Sweden. But the spark had already been ignited: "I would always paint and create images after work just for fun", he recalls. "That is, until I watched a friend of mine sculpt in ZBrush and was immediately captivated by the process. From that point on, I spent my free time learning 3D software myself and when I came back from Berlin, I knew I wanted to study CGI!"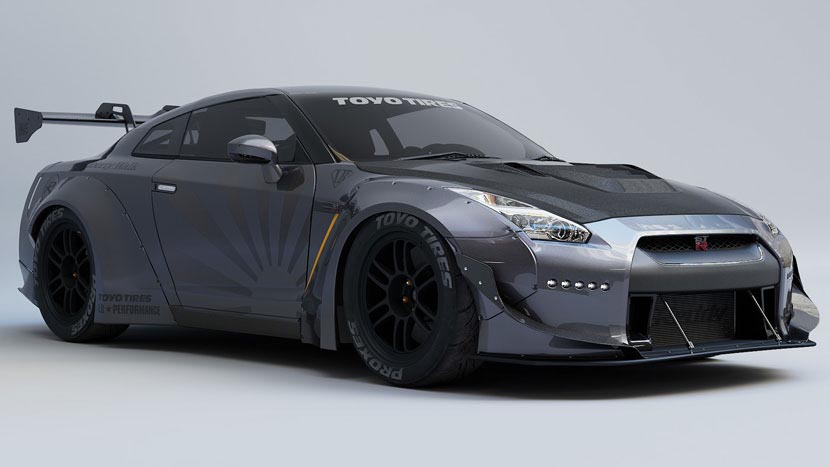 This model of a Nissan GTR won Omar his second Best of Term award in the 'Hardsurface Modeling – Vehicle' category at Gnomon.
Upon his return from Germany, Omar thus followed his new-found passion and enrolled in Gnomon in Los Angeles, California. It was there that he developed his skill as a 3D generalist with a focus on modeling, texturing, lighting and grooming. When the school's equally competitive and prestigious 'Best of Term awards' came around in the summer of 2017, Omar decided to participate. A turning point in his young career, as his entries went on to win him two of the sought-after awards including grand prize, earning him widespread recognition and opening a lot of doors in the process.
Omar Taher's 'Timmy' is a 3D recreation of a sketch by concept artist Jeff Delgado.
From the freckles to the hyper realistic hair and crooked teeth - it is not difficult to understand why the jury at Gnomon awarded 'Timmy' the grand prize. Based on a 2D sketch by Jeff Delgado, Omar's superb texturing, lighting and overall attention to detail turned a character primarily known for being a smartass who is electrocuted in Steven Spielberg's 1993 'Jurassic Park', into a charming rascal straight out of a Disney movie.
"At the time I had just watched 'Moana' and 'Big Hero 6' and was inspired by how well these animations mixed stylized shapes with realistic shaders", Omar explains. As a big fan of Jurassic Park, I've always wanted to make a project related to it, so when I stumbled upon Jeff Delgado's sketch, I i thought it would make for a cool 3D piece"
According to Omar, the biggest challenge in creating 'Timmy' were the skin shaders: "It was tough striking just the right balance between the realistic and stylized look I was aiming for. It was a long process with many iterations.." The lighting posed an additional challenge as well, taking a lot of effort to "properly catch the hair and make everything seamlessly flow together."
Successfully transposing the character from a 2D into a 3D plane took Omar an entire month of hard work and a wide array of software: "I used ZBrush and Maya for modeling, Substance Painter for the texturing and XGen for the hair. Rendering was done in V-Ray, and I used Nuke for compositing."
All the work he put into his projects while at Gnomon definitely paid off in the end: "'Timmy' definitely had a big impact on my career", Omar says. "The image gained a lot of traction online and I got contacted by many studios."
One of these was VFX and creative content studio The Mill, where Omar has been working as a 3D modeler and texture artist since November 2017. During his time there, he had the chance to work on three high-profile Super Bowl commercials for Amazon, Kia and Coca-Cola. "I really like the pipeline here", Omar describes his experience so far, "everything feels very organized and with a fast turnaround for commercials, it always keep me challenged."
As of yet, Omar has not had a chance to try out our online render service himself. But, as he revealed to us, he already has plans to remedy this in the near future: "I'm currently working on a creature for which I want to really focus on fur grooming. Since it's a personal project, I'm definitely going to use RebusFarm to render all the fur!"
Incidentally, Omar cites grooming as his favorite subject in CGI, saying he "really enjoys working on hair and pushing the limits of realism". We can hardly wait to see the fuzzy character he comes up with and wish Omar all the best in the future.
Keep up with Omar Taher's work here:
---

HOW TO JOIN OUR MONTHLY CONTEST
You want to be our next featured 3D Artist of the Month and win 250 RenderPoints? Just visit our 3D Artist of the Month competition page and submit your entry. We'll choose the best image and contact the winner.
---