Monday, February 2nd, 2015 by Margarete Kitel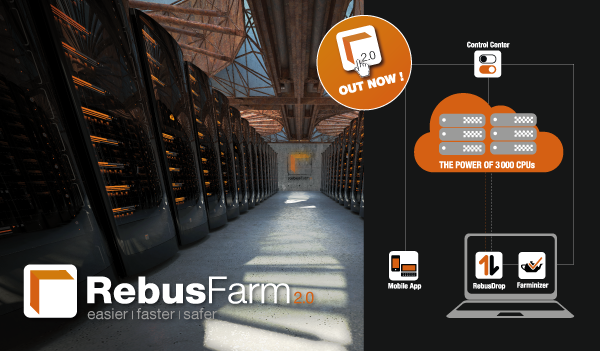 We are happy to announce our new Software RebusFarm 2.0. Many years of experience and close cooperation with our customers has helped us to advance our render service to meet the user needs.
The new automated render technology is designed to provide a seamless experience and to get you up and running in a matter of minutes. The monitoring of render jobs and the communication between the user workstation and RebusFarm is now in real-time!
RebusFarm 2.0 will work parallel with the prior manager for four weeks.  Please use the four weeks to change over.
It is not possible to use Rebus Manager and RebusDrop at the same time. If you want to use one of the programs please close the other one first.
Download RebusFarm 2.0 here.
The new system RebusFarm 2.0 consists of three components:
RebusDrop - enables the upload and download of the user data  
Farminizer - an advanced plugin for your 3D software that makes sending error-corrected renderjobs easy
ControlCenter - for monitoring your jobs using any browser on any device
 Features
Easier and faster workflow 
Faster upload and download
Secure file transfers via sftp and added firewall compatibility 
Easy access to your jobs from anywhere (ControlCenter)
You can now edit your online jobs and export new jobs even if there are still projects downloading/uploading. No needs to wait until all of your projects are uploaded anymore (ControlCenter/Farminizer)
All updates are done automatically in the background. No time-killing local software updates anymore
Notifications about your render jobs in the system tray (RebusDrop)
More flexible priority changes: the priorities (economy, business, premium) can now be changed before the job starts to render or while it's rendering (ControlCenter)
Faster project export - while working on scenes the Farminizer already uploads relevant files in the background without impacting the user's workflow, so most of the files will already be uploaded when submitting the render job. (optional)
Take a look at how it works using 3ds Max as an example:
More tutorials how to use RebusFarm with other 3d applications click here.
Please note that we don't have tutorials for each software right now. We will upload the missing tutorials as soon as possible.
Thank you for your understanding.
---