Wednesday, April 15th, 2020 by Julian Karsunky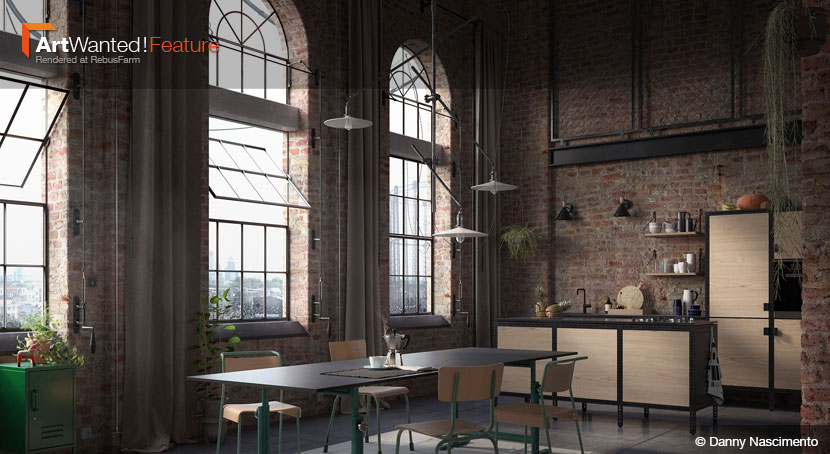 In light of current events, people all over the world spend the majority of their time at home. Lucky are those who can thus retreat to a place akin to Danny Nascimento's 'Industrial Loft'! The world-travelling archviz artist has followed his dream ever since laying hands on his first set of LEGOs, and shows no signs of slowing down anytime soon.
In our interview, Danny talks about breaking into the industry, his travelling years and the joy of learning.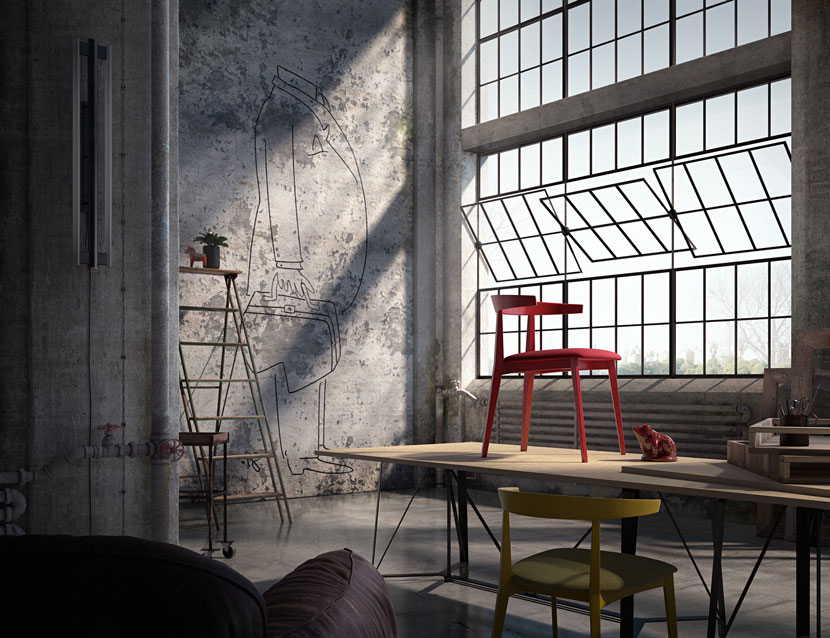 More industrial goodness: Danny created this particular image for a contest that never came to be. Still, his efforts certainly did not go to waste.
Hi Danny, thanks for joining us. To start things off, please introduce yourself to our readers!
Hi guys, I hope everybody is doing well these days! My name is Danny Nascimento, I'm a 3D artist and project lead at Arqui9 Studios. Before I settled in the UK, I had lived and worked in different countries for several years, a time full of amazing experiences. I'm very grateful to you for checking out my work and want to thank RebusFarm for providing me with this opportunity!
The pleasure is all ours! Do you recall when and how you first consciously encountered CGI?
My interest in the arts goes all the way back to my childhood; you could probably draw a direct line from my current job as an archviz artist to my very first box of LEGOs! I dreamt of becoming an architect ever since I realized I could make a career of my drawing skills at an early age.
When and why did you then decide to pursuit a professional career as a 3D artist?
Unfortunately, at the time, I did not have the resources or the time required to follow through with my ambitions, but I knew I could never truly abandon my passion. That is why, in 2002, I decided to finally fulfil my dream by learning CGI myself, starting with some basic shapes and splines using various software available back then. Funnily enough, I still vividly remember the feeling of being able to do everything I wanted with nothing but extruded polylines and a few online learning resources.
Having no prior experience in the field, how did you first break into the industry?
After a lot of long nights spent on my Pentium 4 doing personal projects of questionable quality, I decided to try and land my first job in the industry. It was not easy in the beginning, I must confess, but after a couple more late-night learning sessions and enlisting the help of my colleagues at that time, I managed to improve further, accumulating more confidence and experience. Eventually, I started modelling and rendering at a small architectural studio, where I discovered the power of the first Xeon machines. From there, I went wherever opportunities arose. Before coming to the UK, I spent a bunch of years in Portugal and Spain. Living and working in different countries, I learnt so much – not only in terms of my job – and I'll always cherish that time.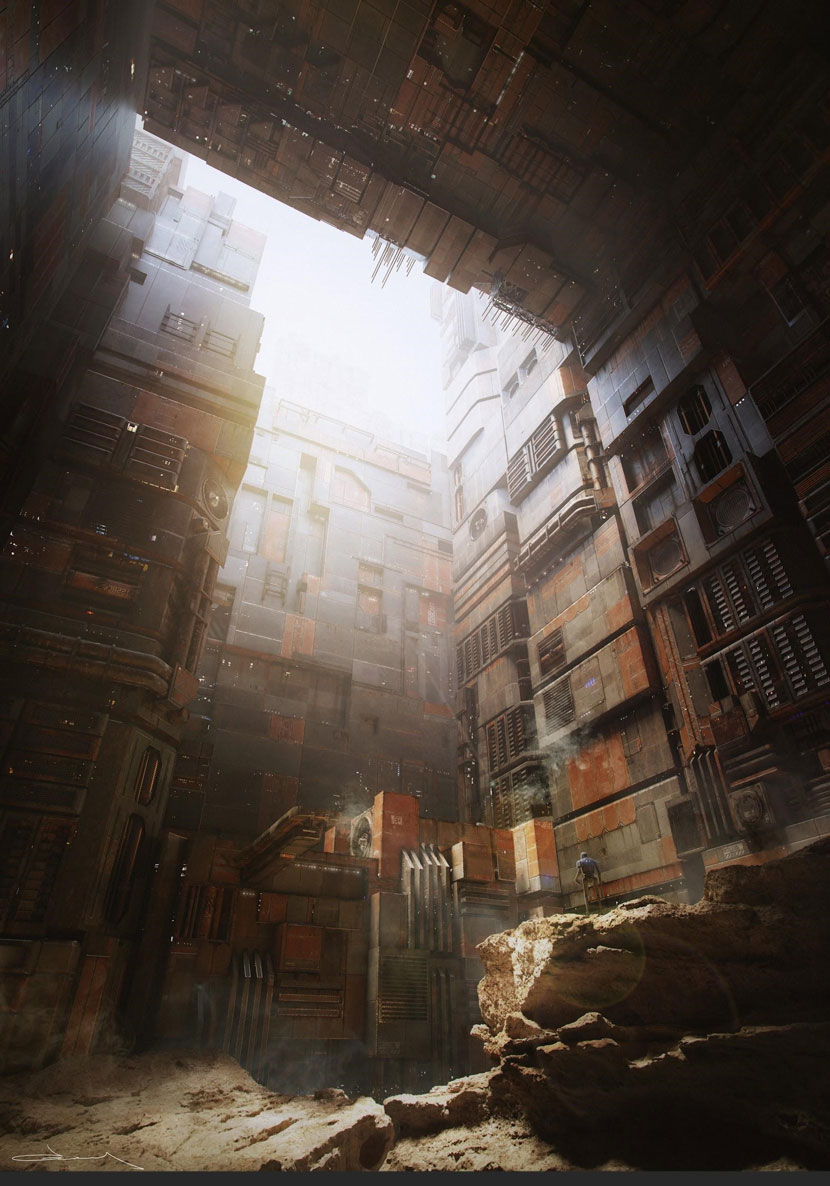 'Into the Depth': Danny cites this futuristic exterior as one of his favorite works.
Please tell us more about your current employer Arqui9 Studios, your personal history with the company, its field of work and general philosophy!
We are a small studio with big values, and an even greater passion for archviz. I first started here a couple of years ago without any expectation and found an incredibly fun and rewarding work environment: I'm part of a wonderful team, work on amazing projects, and, best of all, I'm on a never-ending path of learning and improving.
Our philosophy is simple: stay together, help each other out, do it better today and much better tomorrow. Our services range from storyboarding and concept art to motion graphics and animation, VR and everything in-between.
As project lead, my main responsibility is keeping track of every step of a project. Starting with organizing the info provided by the client, supporting and working alongside the team during the entire production cycle and making sure everything is up to our standards, meaning the highest quality possible!
I hope you guys are holding up fine in these trying times! In what ways has the current crisis impeded your work?
Thankfully, there's no shortage of work at the moment! Currently, the whole team, including myself is working from home; given the circumstances, I feel we're handling things really well, everybody's doing an awesome job! However, it is next to impossible to predict how this will affect the industry in the long-term. As an optimistic person, I try to think more about the positive developments that might come out of this situation.
How would you describe your fascination with architectural visualization?
It's an important part of my life, and has been for a long time. Over the years, I've met incredible artists and have been involved in so many beautiful and complex projects. Whether you're a close observer or just follow the CG scene occasionally, you can't help but notice the steady increase in talent all over the world, with each emerging artist bringing their unique style and way of showing the beauty of this art to the table. To me, this variety as well as the competitiveness that comes with it, is a huge driving force to better myself and an endless source fascination.
With over ten years of experience in the industry, what is something you learned about your job that you can share with our readers?
Considering CGI is an art, it's impossible to reach perfection. For myself, each day is an opportunity to learn something new. Even if you're content with the level you've reached, there is hardly any time to rest on your laurels, because there is always something new to look into, new tools, new techniques. To me, that is the beauty of this job: there's no limit to improving, and I'll never grow tired of learning!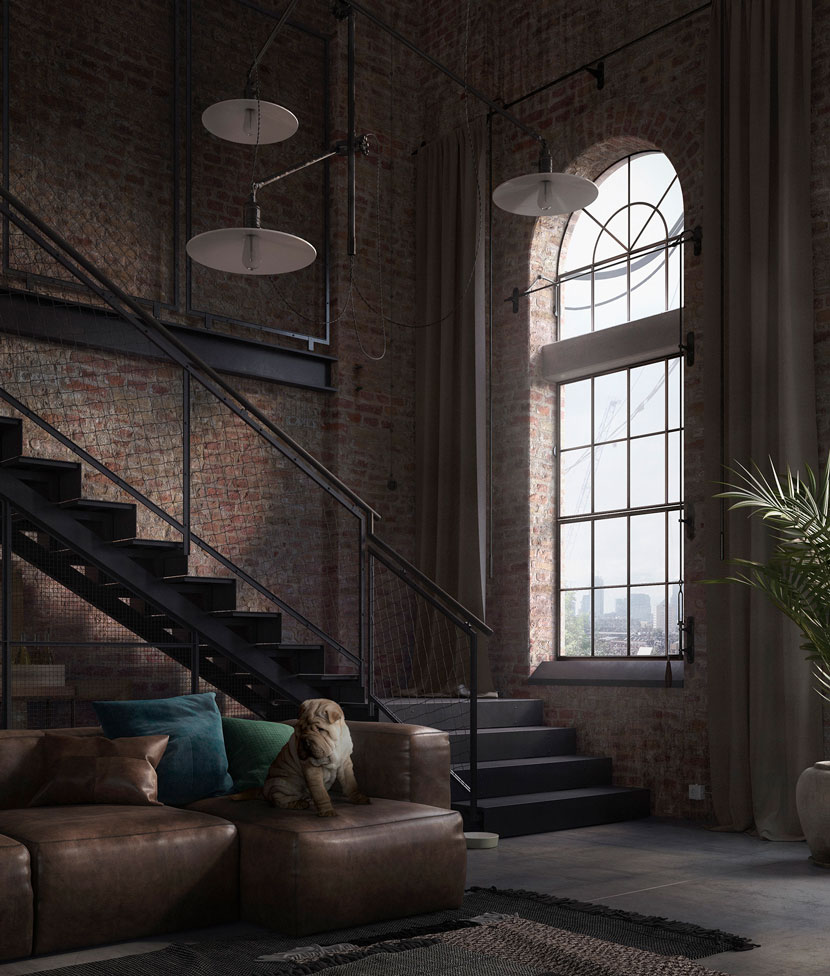 Danny tells us placing this cute and wrinkled dog in the center of the scene proved rather challenging.
Let's talk about your work in more detail, namely the 'Industrial Loft' you submitted to our campaign. Please tell us all about the scene and the story behind it!
I had been looking for a personal project that involved using as many different skills as possible, as I wanted to really push myself. I've always been fond of interior spaces, so I thought this would be the perfect opportunity to go back to my roots. So, after some early research and looking into various references, I just started building in my head, all the while thinking about what I wanted to achieve with this project. Since I'm a big fan of interior design, I had plenty of photographs and advertising campaigns at the ready to take a close look at, and study the composition, lighting and visual story-telling. First and foremost, I wanted to create a technical sound and aesthetically pleasing image.
Can you briefly walk us through the development process step by step?
Having laid out the main concept and design, the actual production was much easier. One of the main goals of this project was to model the majority of assets myself, and use some minor premade decorative elements to finish the scene. As an aside, allow me to shout out the incredible work of bentanji, I used quite a few of their 3D models in my scene. Once I had everything in place, I started looking into lighting and mood.
Lighting and mood are the most difficult parts of any project, the 'Industrial Loft' being no exception. After several failed attempts to get the mood that I wanted, I decided to go for something simpler and more natural. From time to time, I have definitely seen fantastic visuals ruined by mismatched lighting in the past, so I wanted to prevent this pitfall at all costs. Ultimately, my approach was to balance the light with the amount of visual information – fortunately, it worked out well!
The rest of the production went according to the standard workflow: materializing, rendering and post-production, nothing out of the ordinary here. Most of the time working on this project was spent modeling and detailing the scene, and I had a great time doing so!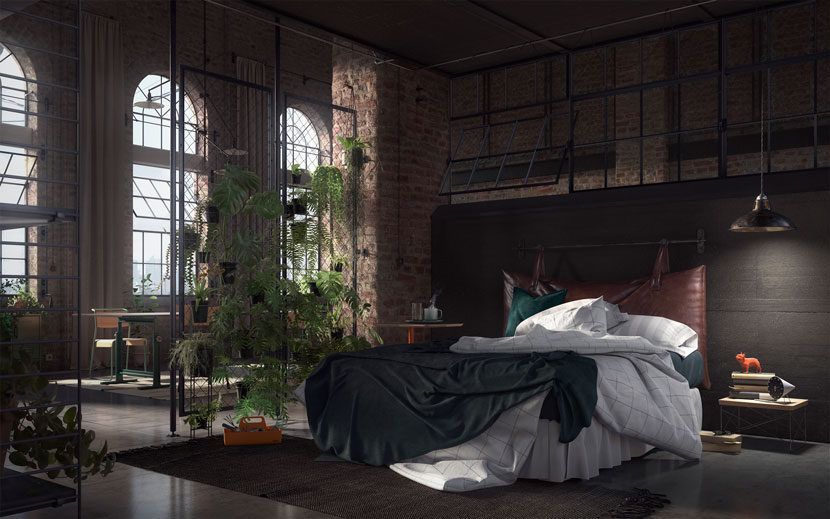 So comfy: this bed presented the perfect opportunity for Danny to push his modeling skills.
What were some of the challenges you had to overcome? What parts of the image were especially important to you?
As I mentioned, one of my main goals was pushing my modeling skills. Take the bed, for example. Having gathered some references on style and matching materials on Pinterest, I spent a whole weekend on the bed alone, modeling and crafting all its details. That has to be my favorite part of the project, even though not all of my efforts in this regard are visible in the final image. It was challenging, but very rewarding in the end.
How satisfied are you with the results?
Once I finished the third image of this set, I realized how fun and relaxing working on the project has been. This kind of self-imposed challenge really helped me to push myself further by making me start thinking outside the box, improving my general knowledge and skill set. If you ask me now, looking back, I am even more satisfied with the results!
What software did you use to create the 'Industrial Loft'? Any plug-ins you found particularly helpful?
Nothing outside the ordinary, really – meaning just 3ds Max, V-Ray and Photoshop.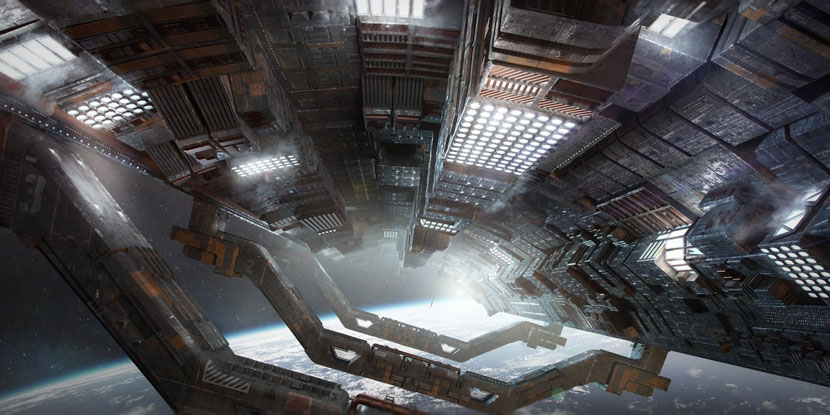 This 'SpaceOrb' was one of Danny's first attempts at Sci-Fi concept art, with more coming in the future!
Please tell us more about your previous experience with RebusFarm. Is there anything you especially like about our service?
I have used RebusFarm for most of my personal projects in the past. Honestly, I can't think of a single thing I would change, as it's really easy to use and by far one of the best solutions to save valuable render time.
In closing, is there anything else you want to say? Any present or upcoming projects you'd like to mention?
Right now, I'm still hooked on the Sci-Fi aesthetic, further exploring techniques such as matte painting and photobashing, but I will definitely come back to interior spaces at some point. What the future holds for me beyond that, I can't say.
As a final note, I once again would like to give a big thank you to all my colleagues and friends who helped me throughout all these years, I've learned so much from all of you.
Keep up with Danny Nascimento and his work here:
---
How to join ArtWanted!
You want to get featured in our ArtWanted! campaign and win 250 RenderPoints on top? Submit your work, rendered at RebusFarm, to This email address is being protected from spambots. You need JavaScript enabled to view it.! Visit our Art Wanted! page for more information.
---
>> Read more articles on our blog