Wednesday, January 4th, 2017 by N. Herget

Katie Melua's "Perfect World" was created by Karni and Saul from Sulkybunny. This project means a significant step forward for the BAFTA-nominated duo - unbelievably it was all made on a laptop in their studio in Bristol!
They are very proud and so are we.

 "RebusFarm is a proof you can do amazing things from a smaller scale studio!"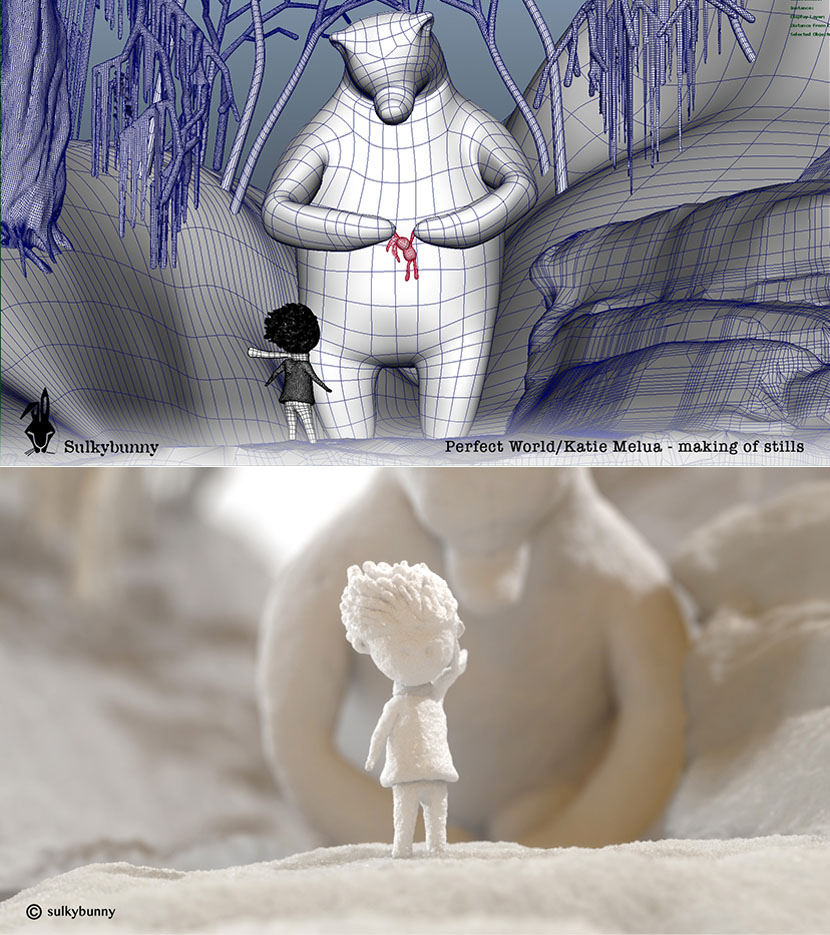 Karni and Saul moved to the UK in 2002 and founded Sulkybunny in 2006. Apart from successfully directing commercials for some of the UK's top production companies, they also won a number of awards from festivals around the world.

With a background in fashion photography and animation the duo's unique style originates from their particular approach:
"We definitely treat CG animation as another tool in the filmmakers' arsenal. In that aspect, we don't really see ourselves as animators. Even a pure animation project is rather a photographic mission than an animation to us. Our CG needs to be made of a real world material. Our lights, our cameras and our character's movements are all closely inspired by real techniques and real world objects."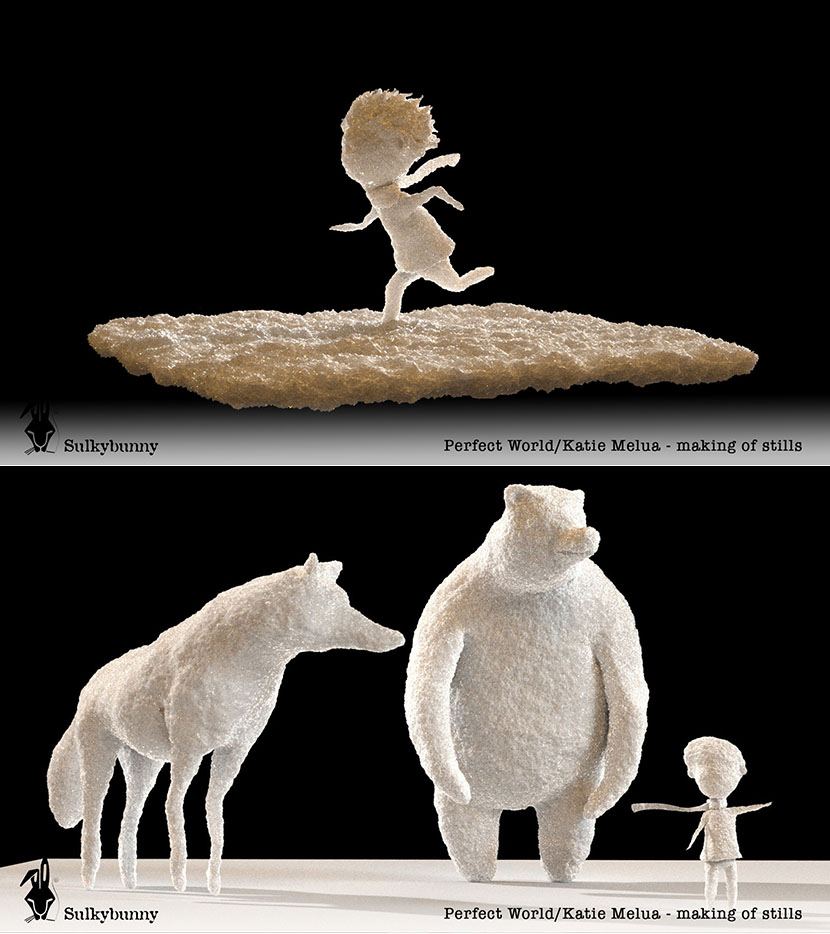 "As common for music videos, time was not on our side. The whole schedule was 8 weeks, and everything had to be done very quickly and with precision. Luckily we could give it our full attention. So, the storyboard was actually drawn on a timeline, as an animatic. Modeling and creating the characters was mixed with doing the CG animatics.
Finally, animating over two weeks and rendering. The whole thing was done on a MacBook Pro, using Maya, ZBrush, After Effects and rendered on the mind blowing Arnold."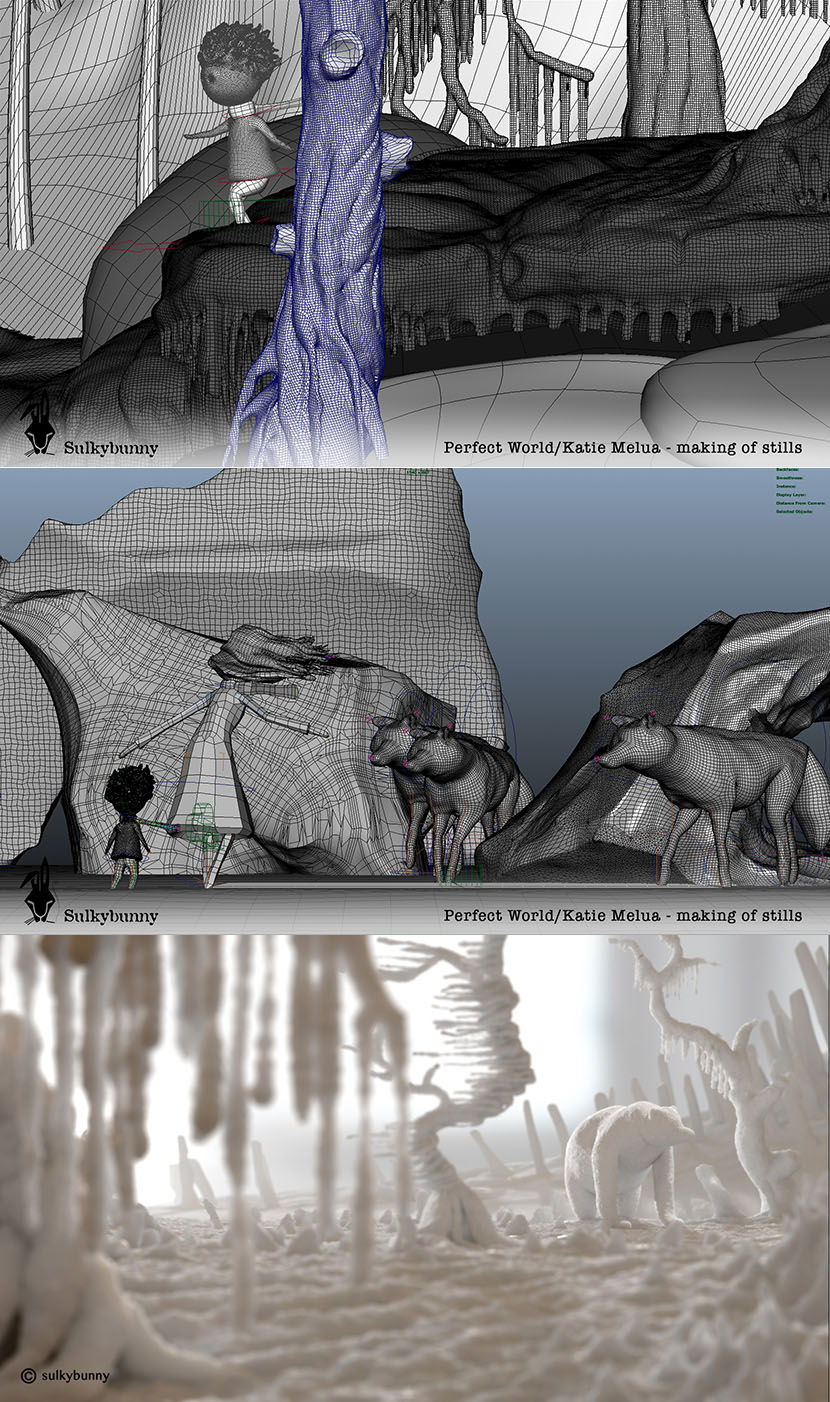 "The one thing that saved the project was a remote render farm. RebusFarm were just brilliant. Smooth and painless as far as I am concerned.
Using only a laptop I was able to render a huge amount of displacements and sub scattering shaders which would never be possible otherwise. Render time 120 hours locally vs. 20 minutes on the farm - you can't resist this power!
Having someone online all the time is a key thing - we animators work at odd hours. Somehow there was always someone to fix a missing frame or help out."

Next, expect some dark monsters for Nowness coming up from Sulkybunny - we're looking forward to this!

And if you are planning to start a career in the digital art they have one advice for you: "Do! Do a lot. The only thing that'll speak for you in the industry is what you've got to show."

Thank you, Karni & Saul!

Sulkybunny is looking to grow as an independent production company to take on bigger projects in the future.
We wish them all the best!
You'd like us to be your partner in supporting your project? Contact us with some details via This email address is being protected from spambots. You need JavaScript enabled to view it.!

---
---