Friday, March 1st, 2019 by Julian Karsunky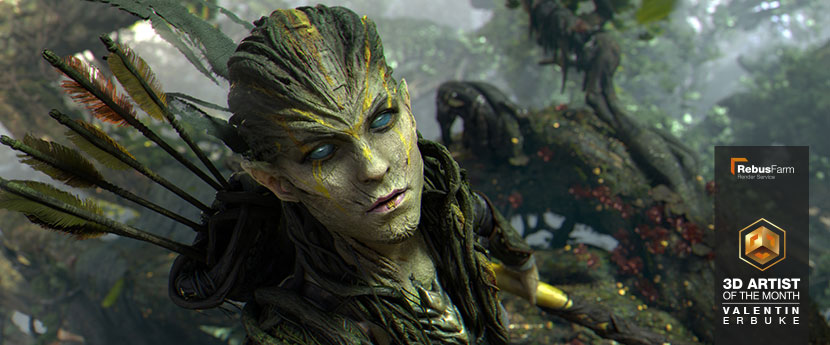 Although February has passed, it is still Valentine's day at RebusFarm! Our March 2019 '3D Artist of the Month', talented 3D modeling and texturing artist Valentin Erbuke, has gifted us some delicious eye-candy. Half elf, half dryad, his equally fierce and delicate 'Jungle Hunter' shot an arrow straight through our hearts! At only 23 years, Valentin's work, notable for its realism and visual coherence, has already earned him a great many admirers in the CG community.
In our interview, Valentin talks about falling in love with 3D, his reasons for relocating overseas and the benefits of teaching.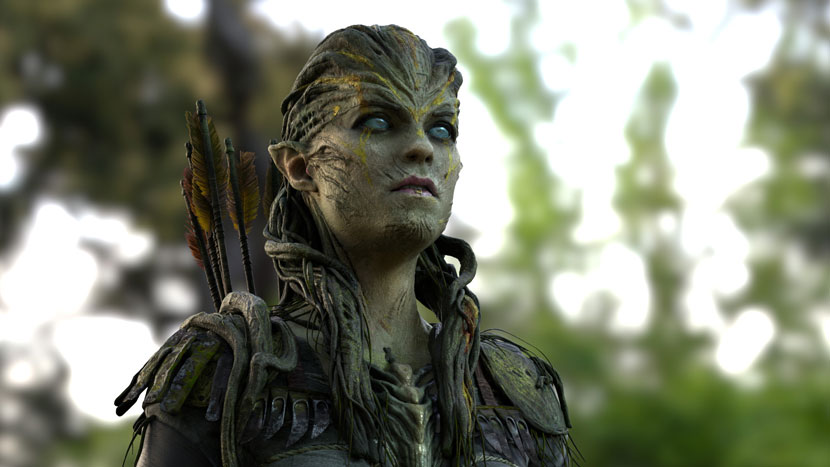 Valentin Erbuke, 'Jungle Hunter'.
Hi Valentin, thanks for taking the time! To start things off, please introduce yourself to our readers!
Hello RebusFarm! My name is Valentin 'Val' Erbuke, I am a 23-year-old character artist from Geneva, Switzerland, currently residing in Los Angeles, CA.
Do you recall when and how you first consciously encountered CGI?
Even though I have always enjoyed drawing, I come from a more technically inclined background, originally. My friends and I were into programming, and one day we decided to try our hands at gamedev; nothing major, just a fun project among us. So, I first was introduced to computer graphics when it fell on me to do the pixel art for our games. Let me tell you, I was terrible at it at first! But one thing led to another as I became more and more intrigued by how games back then were making their visuals. I ended up picking up Blender in my free time, and while I was messing around with the game engine, I slowly started to like modelling!
When and why did you then decide to pursuit a professional career as a 3D artist?
Back when I was about to graduate from high school, my best friend convinced me to help him produce a short animation. He was in charge of the editing and the music, and I was to do all the 3D for it. That was a lot of work, and my first real experience with CG. We didn't know it then, but that experience became a turning point in my life. I had found my calling. I decided to go to a CG college in France to turn that passion into a job.
However, I ended up attending the school for less than two years out of five, as I felt the program wasn't exactly what I needed at the time. Though somewhat disappointed, my dedication to the craft remained steadfast and I returned home to figure out my next move. While I had learned a lot during my two years in France, I was still far from being at a professional level. Initially, I had planned to stay in Europe, but everything changed when my father passed away shortly after I came back. Driven by some newfound form of energy, I grew restless and felt a strong urge to travel.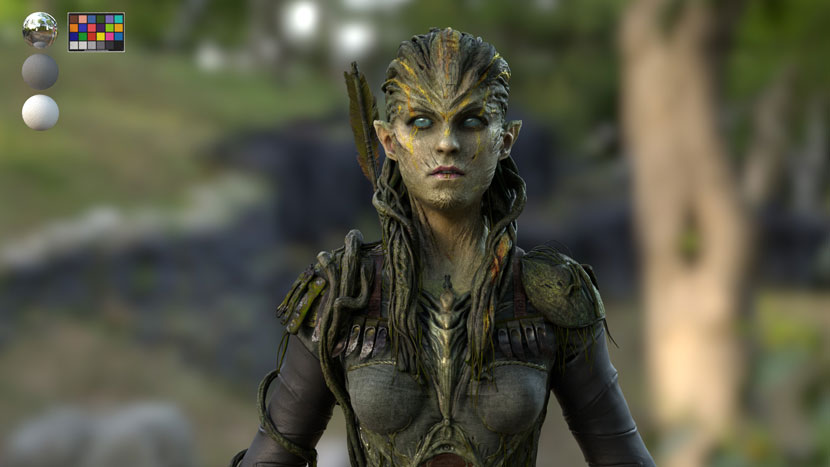 From the fletching on the arrows to her arboreal skin, the model of the 'Jungle Hunter' exhibits a wide variety of textures.
That is when you relocated to Los Angeles and enrolled at Gnomon, I assume?
Right, I had learned about Gnomon during my time in France, around the same time I first heard of The Rookies. Both seemed totally out of my league back then, but a dear friend of mine convinced me to give it a shot. I was late for enrollment at Gnomon, but they still let me in for the upcoming term!
Please tell us more about your time and studies at Gnomon!
My time at Gnomon was the best. Some teachers just know how to motivate you, my experience would have been completely different if it wasn't for Max Dayan. It was tough, 14-hour-days and no weekends, but I was able to persevere thanks to my passion and was happy doing so. I learned so much more during my time at Gnomon than in any other period of my life. It was a blast to just focus on nothing except my craft.
What is your current job situation? Are you employed or working freelance right now?
I am currently working as a CG Artist at The Mill in Los Angeles. It's great, the speed of the turnaround makes for an equally intense and thrilling environment. We just shipped the cinematics for Apex Legends, the new free-to-play battle royale game from Respawn! It was great to be able to work on all the characters' faces and a really fun project overall!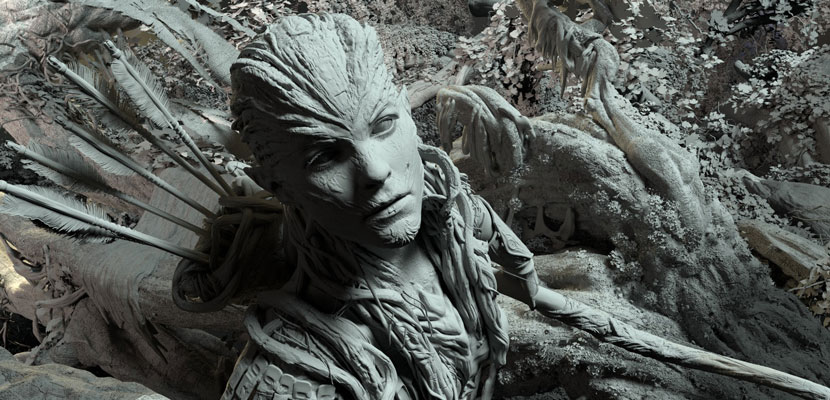 Based on a 2D drawing, Valentin recreated the 'Jungle Hunter' in all her 3D glory from scratch.
Let us talk about your work in more detail, namely your submission to our 'Artist of the Month' campaign, the 'Jungle Hunter', your 3D rendition of a sketch by Russel Dongjun Lu.
The 'Jungle Hunter' was definitely an intense project. The original concept from Dongjun Lu already caught my eye a while back, but the thought of tackling it myself had always seemed a bit overwhelming. One day I decided to give it a shot anyways, and there we go. While not exactly part of the 'Lord of the Rings' universe, I really loved the WETA feeling it gave of!
For the project, I had to model an entire forest, as I wouldn't get realistic lighting through leaves and branches if they weren't there. Also, the depth of my fog would have looked unrealistic if I hadn't done so. While figuring out an approach to the environment, I found that a combination of Megascans, a lot of MASH, IvyGenerator and some scripting was the most efficient for me.
I first split the project into the character and the environment. I wanted to approach the character the way I would in production. What ended up happening is, I reused some of the methodology that I had developed for the wood on the character throughout the environment. This sped up the process of modelling and shading the environment quite nicely! It took me three weeks to get to the final render, which was faster than what I expected when I started the project.
What software did you use to create this project? Any plug-ins you found particularly helpful?
For the most part, I used Maya without any plugins but my own custom tools and ZBrush, MARI, Nuke, Megascans and Arnold to render. MARI especially came in handy as the character itself was composed of 36 UDIMs.
In collaboration with the Chinese site Yiihuu.com, you developed a comprehensive tutorial course about cinematic character and environment creation based on the 'Jungle Hunter'.
As the 'Jungle Hunter' gained some traction on platforms such as ArtStation, Yiihuu.com reached out to me. When asked whether I was interested in publishing an in-depth tutorial on it, I happily obliged.
In the tutorial, I explain all the steps of my workflow and talk through the entire production of the image over a condensed, select 12 hours of content. It encompasses everything for both the character and the environment: From modelling, sculpting, retopologizing for production and texturing to how I approach scattering, MASH and the Megascans assets.
How familiar are you with tutoring and creating tutorials? Is teaching something you're generally interested in?
When I was still living in Switzerland, I was already teaching in my free time. Not CG related content, but the experience helped me devise the tutorial course, nonetheless. At Gnomon, I was also a tutor, and I'm currently teaching a character class online.
I really care about teaching, because I see it as a way to help people who share my passion become better. It is a really humbling practice as well, and I learn a lot from it as well. I definitely plan on teaching more in the upcoming years!
Is there a specific philosophy or school of thought you adhere to in terms of teaching?
When it comes to learning, I believe that we live in an era where YouTube has become the de facto go-to for a lot of people. While YouTube is full of useful tips and tricks, it doesn't help you understand how to effectively approach troubleshooting yourself. From an instructor's perspective, my main issue with YouTube is that it teaches you the how, but not the why. When I teach, I acknowledge that I can't cover every single case scenario that a student might encounter, so I try to explain my methodology and focus more on general problem-solving skills. That way, aspiring artists learn how to do it for themselves, rather than just learning how to press buttons and relying on others.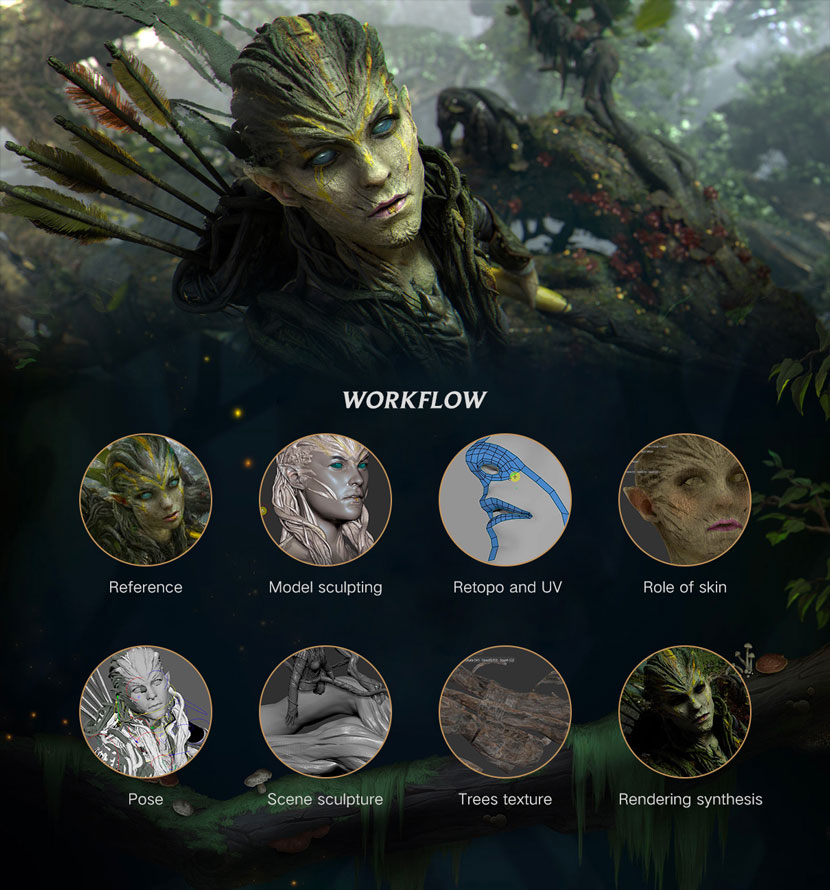 In the tutorial, Valentin offers valuable insight into his approach to character and environment creation.
Have you used RebusFarm before? If yes, please tell us more about your overall experience.
As of yet, I haven't had the chance to use an online render farm at all and I look forward to try out RebusFarm very soon. I have a current WIP that I'd love to render on it as soon as it's ready!
We cannot wait to see what you have in store for us! In closing, is there anything else you want to say?
Thank you for the opportunity, I am really honored to be featured as 3D Artist of the Month!
Keep up with Valentin Erbuke and his work here:
---

HOW TO JOIN OUR MONTHLY CONTEST
You want to be our next featured 3D Artist of the Month and win 250 RenderPoints? Just visit our 3D Artist of the Month competition page and submit your entry. We'll choose the best image and contact the winner.
---
>> Read more articles on our blog