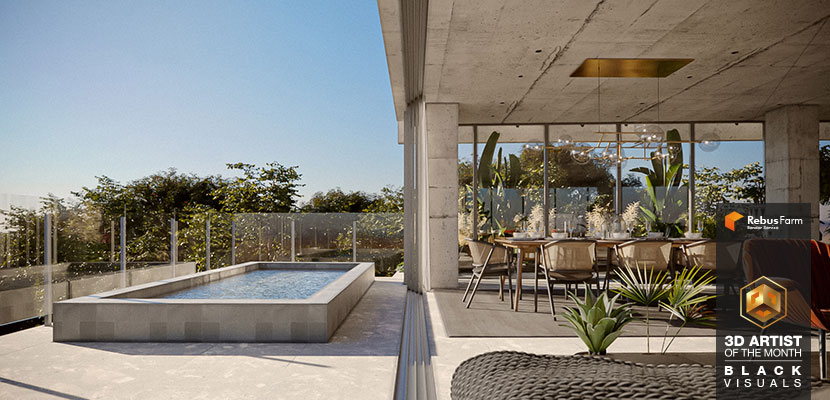 The language of art is universally understood. But in addition to space, it also transcends time: the work of contemporary architects such as Bruno Mesquita from Black Visuals, our February 2023 3D Artist of the Month, is perpetually engaged in a conversation with the past, reshaping, adapting and building upon designs of days long gone. Having already made a successful career for himself in architecture, the Brazilian entrepreneur recently reignited his passion for 3D and founded his own archviz studio. One of the first projects he completed is a tribute to a brutalist architect whose influence can still be felt in Bruno's other work, some of which we at the Rebus Render Farm are thrilled to showcase today!
Continue reading and join us on a journey involving houses of the outstanding variety, a life dedicated to art, and tons of concrete!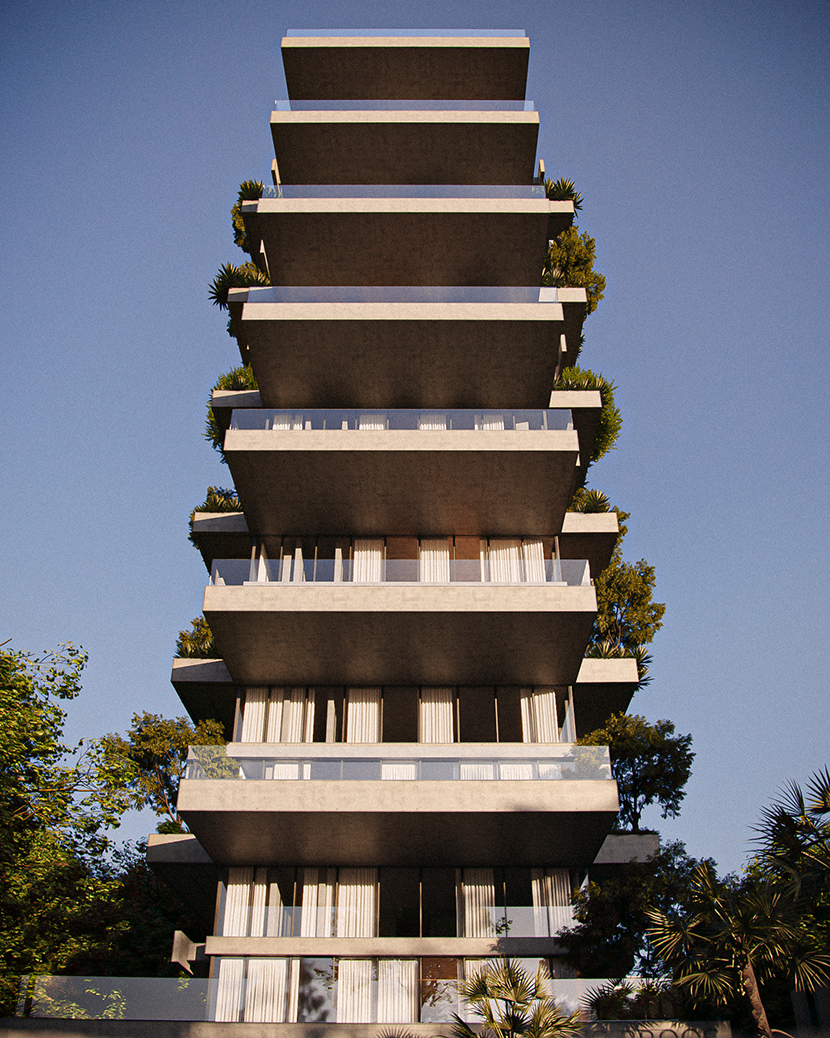 The 'Hans Broos Tower' pays homage to one of Brazil's most influential modern architects, whose legacy still echoes in the neo-brutalist designs of the likes of Bruno Mesquita.
Hi Bruno, thanks for joining us. To start things off, please introduce yourself to our readers!
Hey guys, thanks for having me, I am very honored to be here! My name is Bruno Mesquita, I am 27 years old and I hail from Belo Horizonte, Brazil, where I work as architect, archviz artist, and creative director.
As for my person, I consider myself an artist through and through, with art being the only craft and knowledge that flows naturally to me. I breathe art, every day I work relentlessly to create opportunities for my work to stand out. Most people work to provide for their families, to live a stable, comfortable life; I work to make room for my projects. To illustrate the point: right now, I am saving up money to build my own house in a couple of years. Not because I want to be a home owner, but as a means of creative expression free of client or market restrictions. As soon as that house is done, I will sell it and create another one. And then another one after that, until I run out of ideas. All that to say this truly is what I live for!
Do you recall when and how you first consciously encountered CGI?
I first caught a whiff of architectural visualization back in 2016, when I used Lumion to represent my projects at college. I instantly fell in love with the craft, every aspect of the rendering process was so intriguing to me: from importing the project to adding textures, vegetation, and details, to eventually producing results that make the entire room collectively gasp. I wanted to learn all about this new world I had discovered, so I did some online research and soon found out that all the professionals apparently use 3ds Max to create their images.
At the time, I did not even know what 3ds Max was, all I knew is that it was the tool I needed to master to progress to the next level. I sought out the only in-person course I knew of and had classes with Rafael Marotta, a local teacher very knowledgeable about the archviz world. Although it was only a 40-hour-long course, I learned a lot from him. From then on, I was known at my university as the "render guy", and earned some extra money on the side by doing small freelance jobs for my classmates.
When and why did you then decide to pursue a professional career as a 3D artist?
I did not, actually, at least until very recently. Having learned the basics, I obviously still had a lot of room for improvement – still do, actually. Even though I had greatly enjoyed this short venture into archviz, I decided not to pursue it further, focusing on my career as an architect instead. For the longest time, the rendering process was just a useful tool to visualize my ideas. But all that changed in 2020, when I felt the itch again and decided to buy Ander Alencar's course. Under Ander's guidance, I was able to achieve much better results almost immediately, and soon I was able to fully realize my creative potential through archviz. I believe in the power of good architecture, I wanted to be an artist, to produce pure art. Now with complete control over the tools, I was finally able to directly translate my ideas into reality, transcending from artisanship to artistry.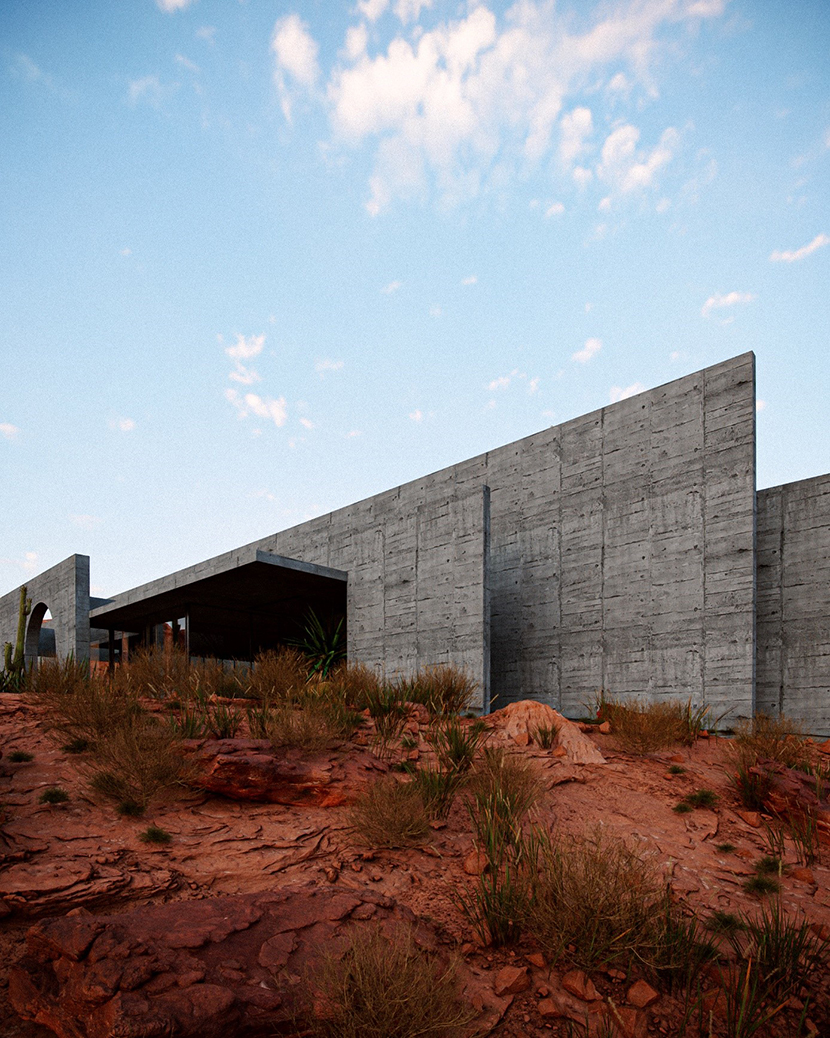 With its massive, overlapping concrete plates, the 'Desert House' stands as proud example of Bruno's appreciation of brutalist architecture.
Reigniting your passion for 3D soon led to the founding of a dedicated archviz company – please tell us about Black Visuals Studio.
Towards the end of 2021, my associate Caio Vargas and I discussed our future plans at great length. For countless hours, we spoke about how we could position ourselves on the market, and shake it up through a different approach. The birth of Black Visuals Studio was the result of our schemes; in combining my 3D skill set and Caio's abilities in management and networking, we aim to produce visual solutions alongside architects and developers. In the span of less than one year, we have already worked on projects from Finland, Italy, New Zealand, the United States, and many other countries. It is thrilling to be a small part of the thriving, globalized 3D market!
Congratulations on your success so far! Though Black Visuals is not your only business venture, is it?
That is right, I also have my own architecture office by the name of IBV Architecture. Managing two companies has been very challenging, to say the least, I am constantly balancing my time and efforts between two very demanding jobs. We are expanding the Black Visuals team right now, which hopefully will relieve some of that pressure, and the future seems very promising.
Is there a specific design philosophy or architectural school of thought you adhere to? What inspires you as a 3D artist?
I collect inspiration from so many different places, I do not even know where to begin! Currently, my biggest architectural inspirations include the work of Fran Silvestre, Oscar Niemeyer's timeless designs, and neo-brutalist architects such as Luciano Basso and Luciano Kruk. Then there is Zaha Hadid, BIG, Snohetta…the list goes on and on. As far as archviz artists and studios are concerned, I admire Mir, Marta Visuals, Brick, Playtime, Thi Lima, and last but not least, my mentor Ander Alencar.
My own approach to design is best characterized as mix and match. I try to mix styles and designs as much as I can when I'm gathering references for my work, because my philosophy is basically this: creating something new is just mixing up in an innovative way existing work. Whenever I create a design, I mix various styles in a compelling and coherent way to produce something new; to me, innovation is largely based on derivative reiteration. There are rules to this blending technique, of course, first and foremost, it has to make sense: you can't just put a neoclassical element in the middle of a modernist house, or a pine tree in the middle of a beach. For every asset I add to a scene, I ask myself: "could this be there in the real world?" If the answer is yes, I most certainly will put it into the scene, otherwise I won't. It is as simple as that!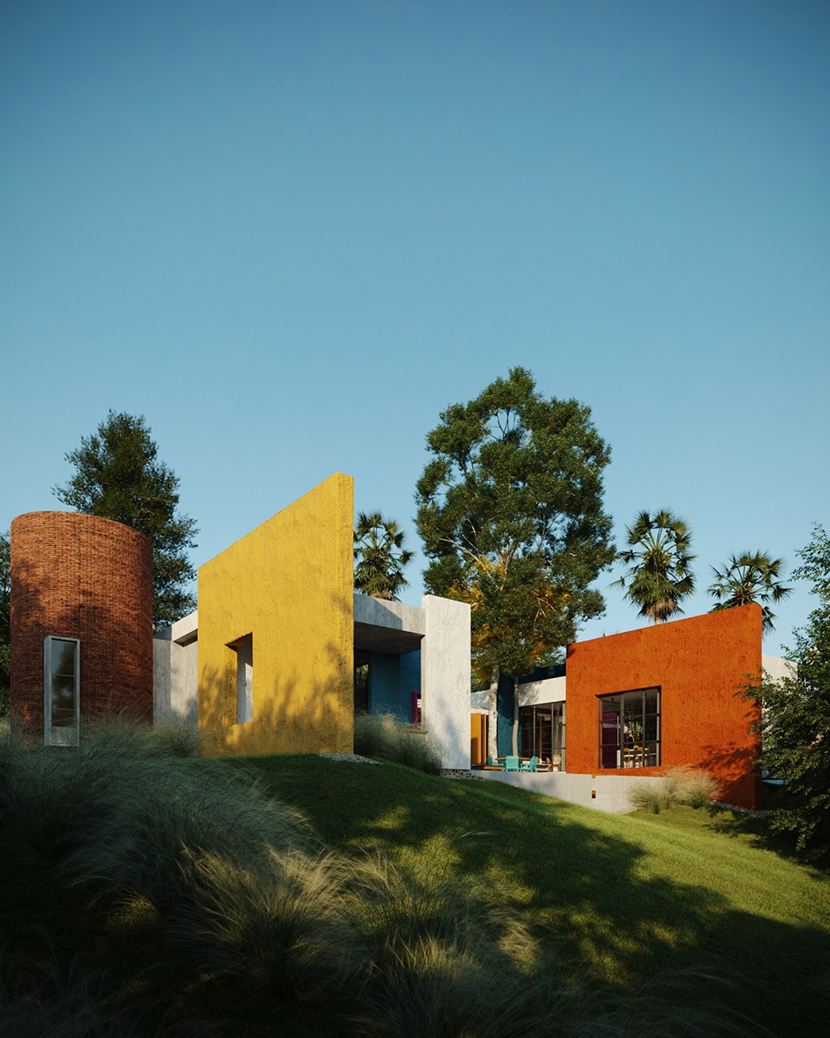 Inspired by the work of Luis Barragan, the colorful 'MF House' is indicative of Bruno's keen artistic eye and out-of-the-box thinking. Check out his making-of on our blog here!

Describe your profile as a 3D artist! Where does your own fascination with architecture and archviz stem from?
When I first started my journey as a 3D artist in 2016, I came across Thi Lima's award-winning 'Butterfly House', and it just…stunned me. I felt so relaxed, calm, and free when I immersed myself in those images. I could hardly believe that, despite feeling so real, all of this was computer-generated. Ever since, I wanted to elicit the same emotional response that Thiago made me feel in others.
What are your main areas of expertise?
We specialize in houses, though I do not mean just any run-of-the-mill residential building. Far beyond providing shelter, we aim to create environments that inspire fascination and magnificence, that stand out architecturally as well as atmospherically. I want our images to draw you in, to communicate; to me, visual storytelling is an equally essential and beautiful part of this artform. If you take a closer look at some of the projects featured in this article, I hope you see each one as an open invitation to immerse yourself in a different reality. At the very least, I want your response to be more than "ok, that's a house".  
Is there a part of CG-related work you particularly enjoy? For what reasons?
There are two things I love above all else: first is creating natural environments for architectural scenes, I greatly enjoy composing different layers of vegetation. For a more thorough breakdown of my approach, please check out the making-of I wrote for the 'MF House', where I detail how I arrange vegetation according to height, color, and type.
Secondly, I love working with light. Light is the soul of any render, it does not matter if everything else is done to perfection, if the lighting is off, the whole scene falls flat. The only way to get it right ist test, test, test; and when you are done, test some more. I meant it: try 15 different HDRIs, move the sun a thousand times, do whatever it takes to achieve the results you want and do not settle for less. Just a few weeks ago, I was training our staff, which consists of me creating a scene from scratch with them closely following the entire process. We spent almost two days just trying out different lights. Of course, in your day-to-day routine you probably will rarely have that kind of time just to light up a scene, but I firmly believe that every minute spent on lighting will significantly improve your work.
This atmospheric shot of the 'Hans Broos Tower' prominently features two of Bruno's favorite aspects in all of 3D: vegetation and lighting.

Let's talk about your work in more detail, namely your submission to our campaign, the 'Hans Broos Tower', a 17-floor residential building dedicated to the eponymous Brazilian architect. Can you first of all describe the circumstances that lead to the creation of this project?
This was a personal project, a portfolio piece to showcase our capabilities for large-scale developments. Ander Alencar provided the design from his brother Nicholas as well as valuable feedback. While the idea is all Nicholas', we wanted to imprint our own identity onto the project, and therefore expanded on the concept. As a young and upcoming studio, it was paramount to convince potential clients that we can produce extraordinary work, and this was a perfect opportunity to stand out in a market that is becoming exceedingly saturated.
For those of us not familiar with Hans Broos, what can you tell us about his work and legacy?
Hans Broos is a Slovak architect naturalized in Brazil. He started his career in the city of Blumenau (which is where the project is located), and later rose to fame in São Paulo. Known for being one of the pioneers of modernism in Brazil, his works were characterized by the use of raw, natural concrete, and strong, present geometrical forms. He was awarded the Honor of Merit medal by the Architecture and Urbanism Council in 2017 for his contributions to Brazilian architecture.
How would you describe his architectural style and how did it influence the design of your project?
In just three words: brute, strong, and unique. As I previously mentioned, he mainly used concrete, wood, glass, and metal, and while his architecture certainly featured brutalist elements, he is widely considered a modernist. One of my favorite works of his is the
monastery in Vinhedo
, it is a perfect example of how he uses massive geometrical shapes to create a sense of magnitude and personality. In terms of materials and design, you can draw a direct line from this project to Nicholas' tower, the premise is the same: long, brute, heavy slabs of natural concrete embrace the surroundings of every part of the building.
A study in coherent design: the construction style and aesthetics of the facade continue all throughout the building's interior.

Please tell us more about the building, its layout and the general design concept.
The concept is pretty straight forward, for the most part. It is a residential building with one apartment per floor, with floor-to-ceiling windows providing a wide entrance of natural light. It has a party saloon, a gym, bike storage, outdoors areas, a common office area, and various other spaces. More unusually, however, is the construction style: the 'Hans Broos Tower' is mainly casted in natural, raw concrete, a striking departure from today's design trends and what initially attracted me to the project. To further highlight the brutalist vibe, I decided to take things a step further and used more intense, stained, and raw concrete plates on all the floors, walls and ceilings – certainly an unusual choice given the nature of the project. Ander even remarked how it was not the most commercial interpretation, but he loved it anyway!
What parts of the scene were especially important to you and what were some of the challenges you had to overcome?
With this architectural style in particular, materials are crucial. I had to make sure that the design properly shined through each and every bit of concrete. Then there were the cameras, as framing the entire building proved challenging. Since the tower is located within a residential urban area, zooming out further would have necessitated modeling the whole block, which I simply did not have the time for. So yeah, finding the proper angles was difficult, since I still wanted to show the building in all of its magnitude.
How long did it take you to complete the project?
Oh boy, this is a doozy: I did it all in three days, it was intense, let me tell you! Here I was in the middle of founding a new company, which involves a lot of administrative and organizational legwork. Additionally, I had a number of deliveries to fulfill for my architectural office, and still: I did not want to lose out on the opportunity to work on such a well-developed project. So I sat at my desk for three days straight and went full berserker mode, completing a total of 26 images and three videos. By the end of it, I was exhausted, but considering the results, it was worth it!
Bruno tells us framing the 'Hans Boors Tower' in all of its staggering magnitude proved challenging.

What software did you use to create this project? Any plug-ins you found particularly helpful?
I mainly used SketchUp, 3ds Max, Corona Renderer, iToo Forest Pack, and Photoshop.
What has the feedback been like so far? Are you satisfied with the results yourself?
Very much so, not only with the project itself, which opened many doors for us, but Black Visuals in general! While we are growing fast, it still feels very organic. Opportunities keep presenting themselves at every corner, and we receive messages from artists all over the world telling us our work inspires them. Knowing that we are creating something special and have it recognized as such makes me extremely happy. I want to take this opportunity to say thank you to everybody that has supported us from the beginning, we would not be where we are today without you.
What is one thing you yourself have learned from this project that you can share with us?
Although not exclusive to the project at hand, the 'Hans Broos Tower' reaffirmed one of the most important lessons in 3D: do not rush your work! Completing the project in just three days not only gave me back pain, I also found numerous small errors within the scenes after, which haunted me until the day I finally returned to the project and fixed them. I know time is limited and you will not always have the luxury of fully developing all aspects of your project, but whenever you do, seize the opportunity! Absorb yourself in the details! Populate your scene with flies, bugs, and birds, stick a dirty water bottle into the drain pipe – it is these minutiae that make your work real.
What advice would you give to aspiring 3D artists?
Do not hesitate to follow your dream and pursue a career in 3D. It took me almost six years until I finally dared to take the plunge and go into the archviz business. The biggest mistake I ever made was not believing in myself and my ability to succeed, and I urge you to not do the same. Take your time to develop your portfolio and start putting yourself out there; if you have both the skills and the passion, great things will come to you – maybe not today or tomorrow, but eventually they will. After all, if you do not believe in yourself, who will?
Personally, I was lucky to be surrounded by people who encouraged and supported me. If it wasn't for Caio especially, we would not be having this conversation right now. He is the backbone of our studio, putting his heart and soul into Black Visuals, and I have no idea what I would do without him by my side. Thank you, Caio, for being such an important part of not only our business, but my life!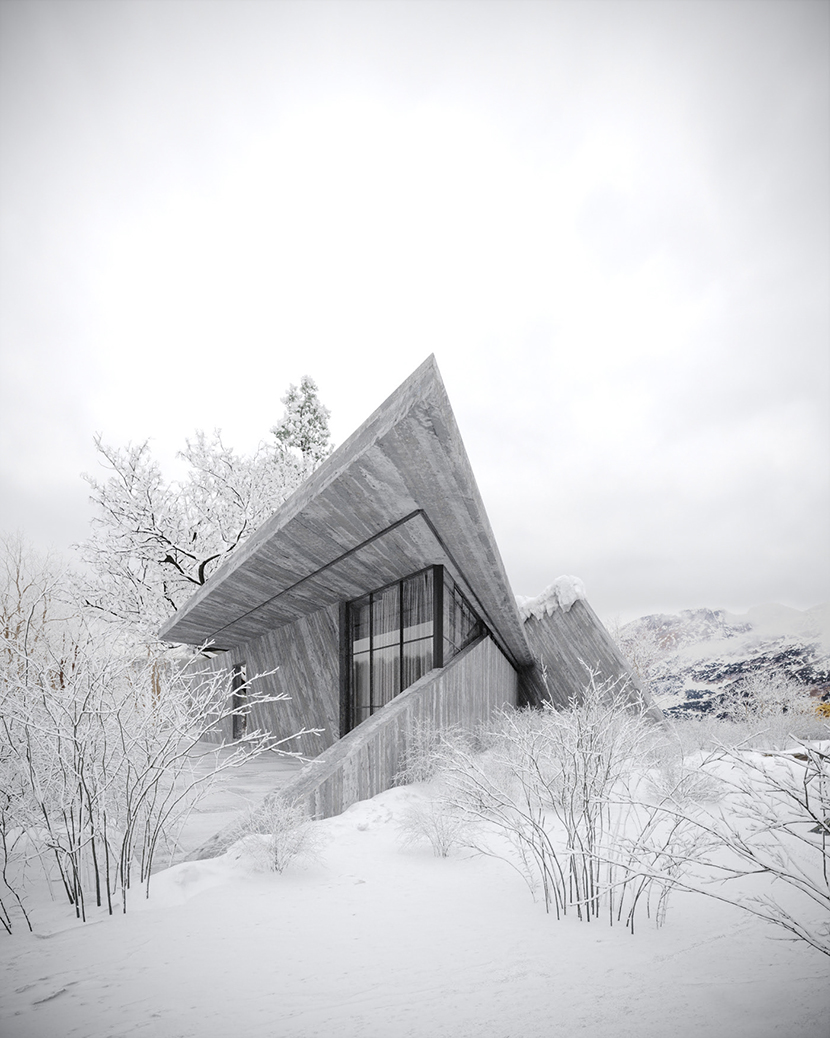 More than just a house: the 'Red Pool House' is another example of how Bruno uses strong and simple geometric forms to create new and unexpected designs.

Have you used RebusFarm before? If so, please tell us about your overall experience. Is there anything you especially like about our service?
Yes, I have been using your services sporadically since 2020. In the beginning, I had some difficulties uploading my project, but your support team helped me resolve the issue, and it was smooth sailing from there. I have some animations planned for this year, so if our machines are too busy, I will happily throw them your way!
In closing, is there anything else you want to say? Any plugs, shoutouts or present or upcoming projects you'd like to mention?
I just want to give my thanks to the RebusFarm team for this opportunity to share my thoughts and ideas with all of you. Going forward, we will post a lot more community-oriented content to our social media, so please follow us at @blackvisuals.3d on Instagram for portfolio reviews and detailed scene breakdowns!
Thank you, and have a great day!
Bruno, thank you so much for taking the time and all the best in the future!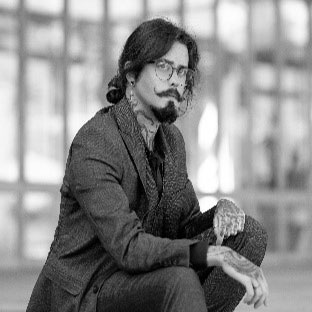 About the artist
Bruno Mesquita is a Brazilian architect, 3D artist, and entrepreneur. Co-owner of IBV Arquitetura and Black Visuals Studio, his working hours are divided between creative design and visual solutions. Whether professional or personal, Bruno approaches every project through the lens of an artist, and aims to produce standout work regardless of the circumstances.