Wednesday, July 27th, 2016 by Nadine Obst

RebusFarm is happy to announce that support for Golaem 5 is about to get real. And right on time, we took the chance to talk to Nicolas Chaverou, Product Manager at Golaem about their latest invention in crowd simulation. 
Tell us something about you and your work at Golaem, please.
My name is Nicolas Chaverou and I'm the Product Manager at Golaem. My job is to ensure that Golaem customers get things done easy and on time. I'm visiting studios and chatting with artists on a regular basis to learn more about their production needs, get feedback on our tool or even give advises on the best way to get their shots done. When at the Golaem office, I ensure that artists' feedback influences our products by explaining their experiences to our developers and making sure that we have the most efficient workflow.
How did it all start? What was the original idea behind Golaem?
It all started during a Siggraph exhibition 6 years ago. We talked to a renowned VFX studio and they were telling us how difficult it was for them to handle stadium crowds because they did not have any in-house specialists and the existing software back then was too difficult to use and to learn. We were a team of animation and AI specialists and our previous jobs precisely involved making populated 3D worlds and describing characters behaviors understandable to non-specialists. We thought that we could do something for them and started working together. In May 2011 we then released the first version of Golaem. 
However, our vision has always been that a procedural animation tool like Golaem could be used not only for backgrounds (like a stadium), but also for mid-grounds (like a city street), or even foreground. Our first customer used Golaem to populate airports for a TV Show. We discovered that they were using it even for placing and animating only 4 people in the middle of a shot. They were confirming our vision, but we still had many things to do before it became real. Year after year we improved Golaem and added features to make Golaem characters more realistic. We are only getting close to our vision with Golaem 5!
Can you tell us more about Golaem 5? What is special about it? How easy can I place a crowd into my 3D scene? Are there any limits?
Golaem helps artists populate 3D worlds very efficiently, from one to hundred of thousands of characters, from ArchViz projects to the most famous TV Shows, Feature Films or Game Cinematics. The main cases where Golaem is used are populating stadiums, city streets and creating battles. However, our notion of "character" is very large. It can be of course humans, but also animals (horses, spiders, birds, fishes...) bikes or even trees, tents, rocks...
Golaem lets artists place these characters, make them navigate around the environment and animate them without repetitive and manual work. All they have to do is to provide a library of character props as well as a few motions (or use the ones provided by our Character Pack). Then they can control their characters very easily by dragging and dropping built-in customizable behaviors. For example, you can quickly get your characters to walk around a city by just dragging and dropping 3 behaviors: go to (find a random target and go there), navigation (avoid other people and obstacles), and locomotion (determining the best blend of motions to match the character direction). 
The strength of Golaem is that it enables to introduce variations at every step. For example, it will randomize props to create as many unique characters as possible, or mix motions so that even if performing the same behavior, every character is animated slightly differently.
But what makes Golaem 5 special is the introduction of the Layout Tool. It gives a lot of freedom to artists because it lets them build a quick simulation and tweak it to get exactly what they want. They can literally select a guy and change his clothes or slow him down or even edit his trajectory. This is kind of word-processing for scene population software. With typewriters, even if only one character on your page was wrong, you had to retype everything. With word-processing software, like with Layout Tool, you can always easily modify what you have done to have a perfect result. 
Actually, this tool is so powerful that since we launched it, many users have reported creating a library of simulations with just one character and creating a full scene by duplicating these characters and modifying them using the Layout Tool. This is a whole new workflow which will make populating 3D scenes even more accessible to anyone. To use the Layout Tool, you really only need to know the basics of Maya, nothing more. 
Which software & renderers does Golaem support? Are you planning more for the future?
Golaem's main platform is Autodesk Maya. Because often when dealing with many characters (> 5000), you cannot just generate all polygons in your Maya scene and render like this because the scene would be way too heavy. It would take ages to load/save and the viewport would not be interactive anymore. 
So Golaem has its own display to generate the character's geometry on-the-fly both at previz and render time. This way the scene stays really light and easy to work with. It also means that, for example, if sending your files to RebusFarm for rendering it would be very quick. You would not send a scene with millions of polygons, but just a Maya scene with a Golaem Proxy object, a template character and a Golaem simulation cache file which stores the position of characters and animation curves so that Golaem can regenerate everything in renderer´s memory. 
We created procedural rendering plugins for the main renderers on the market. We have plugins for Arnold, Guerilla, Mental Ray, Renderman, V-Ray and 3Delight. Of course, if your renderer is not supported you can go the slower way and export full geometry via FBX or Alembic files. For some renderers we have extra-integration in other platforms. For example, we worked with Chaos Group to create a bridge to 3dsMax and Vray. This is what Blur used in the Halo Wars 2 cinematic they released at E3.
This is kind of a scoop, but we are working with the RedShift team to add a RedShift plugin. We are also working on a new Renderer/Platform couple, but I cannot disclose it now. 
I read a lot about the behavior editor, can you go a bit more into detail about this tool?
The Behavior Editor is the heart of Golaem. This is where you can describe what your characters will do. Maybe you read a lot about it because this is something unique about Golaem. Before Golaem, crowd simulation software had a bad reputation because people using them needed programming skills. 
The Golaem Behavior Editor is a node-based canvas where you can drag and drop built-in behaviors to play motions, reach a target, keep a formation, animate clothes, control some bones with a curve and so on. You can assemble these behaviors together to create a sequence (go there, then say hello), conditions (if you are near another enemy, attack), loops, etc.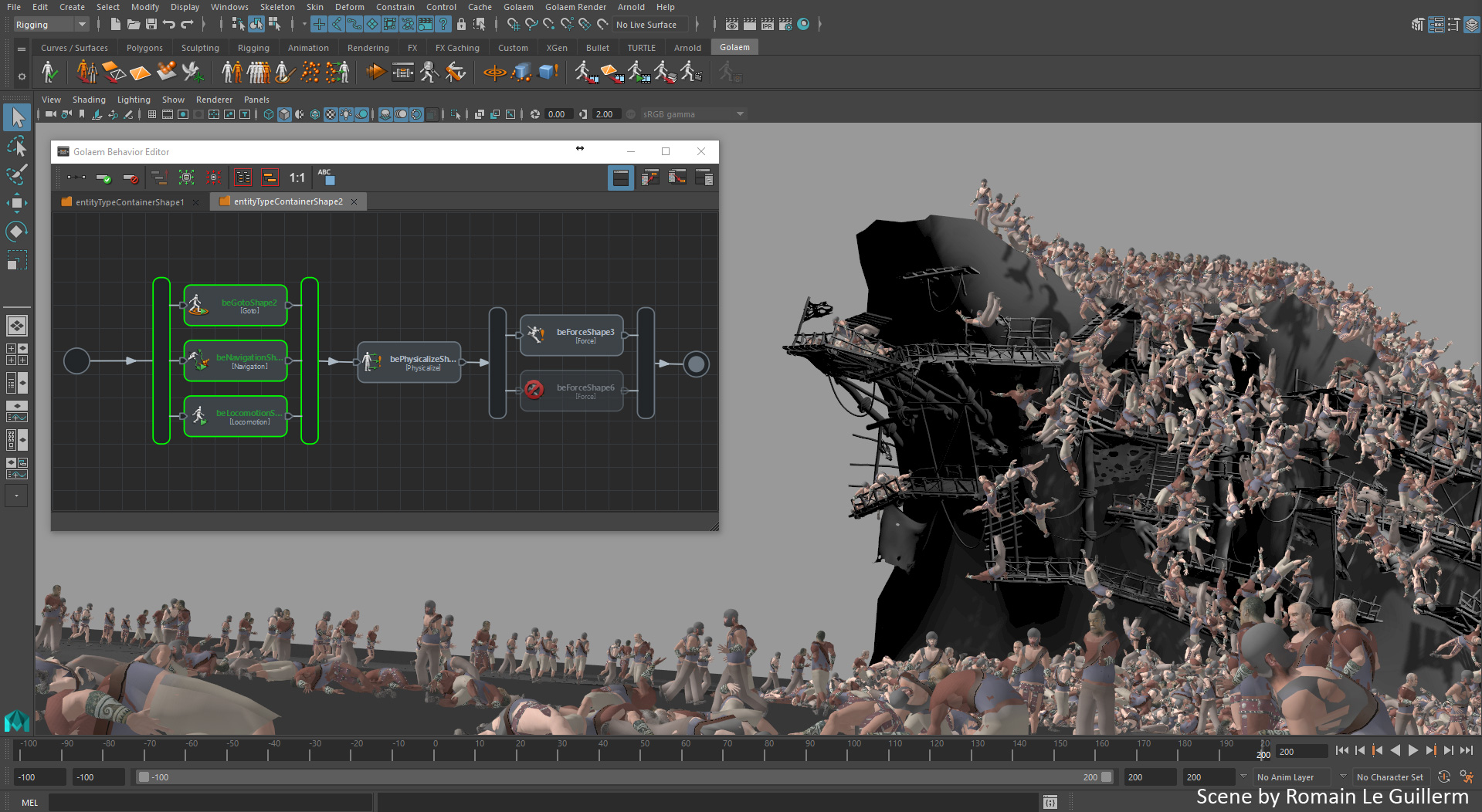 So tell us the big secret: Who uses Golaem?
Everyone! Golaem is used for commercials, TV Shows, feature films & game cinematic. So the range of our users goes from a single freelancer taking a one-month rental to work on a commercial to teams at top studios like Framestore, Milk VFX or Blur working several months on a movie or a game cinematic. 
Starting from 650 Euro for a monthly rental, Golaem is the most affordable population system you will find on the market (both in terms of money and time needed for training). But we also have options for studios relying intensively on Golaem, like the site license, which is very popular among animation studios working on series or TV Shows. We also offer a 30-days free trial for everyone and a non-commercial version for students. 
Are there any special productions Golaem had been used for you can talk about?
Well, the one I would like to talk about is the "Halo Wars 2" cinematic made by Blur but unfortunately, I cannot do it yet. These guys are testing every option in our tool and are doing incredible things with it. You can get a glimpse by watching the trailer that was released at E3.
So because it is summer, let's talk about "The Program", a Lance Armstrong biopic, directed by Stephen Frears. VFX have been done by Union VFX, a studio in the UK. They populated the roads of the "Tour de France" with spectators: mountain roads, house roofs, balconies and even Paris Champs Elysées. But the best part is, as they couldn't hire 200 extra to ride the french mountains like pro, most of the riders and bikes are done with Golaem. On some shots, the whole pack is made with Golaem and even at the foreground very close to the camera. It may not be the most well-known productions Golaem has been used for, but to me, it is the one which best represents Golaem philosophy: easily create an ambiance in your shots whatever it is you have to animate. Golaem has also been used for many TV Shows: Game of Thrones, The Walking Dead, Falling Skies,...
You also have a user gallery on your website, can you tell us more about that? What kind of work do you post there?
We love to follow what our users are doing. We are really involved with them, whether at the beginning of the production to help them think about the best way they can get their shots done or during production as technical support. However, they always surprise us, doing something new in a shot or using Golaem for something we had never thought it could be used for. 
This is also a way for studios to get more crowd jobs. As I said before, there are not many trained artists who can quickly populate a 3D world and not many studios with crowd experience. So by showing our users' work, we are also helping people with production needs to find the right studio. We also have an artist profile page where we feature the best Golaem artists. We know that several studios use it for recruitment and several students found a Crowd TD job, thanks to being featured on this page. 
This is the part of my job I love the best: Helping good people get together and perform great work. 
Anything else you'd like to mention?
We are very excited to work with you guys and we can´t wait to see what our users will do with the extra horsepower they can get from RebusFarm! 
---
---