Monday, December 20th, 2021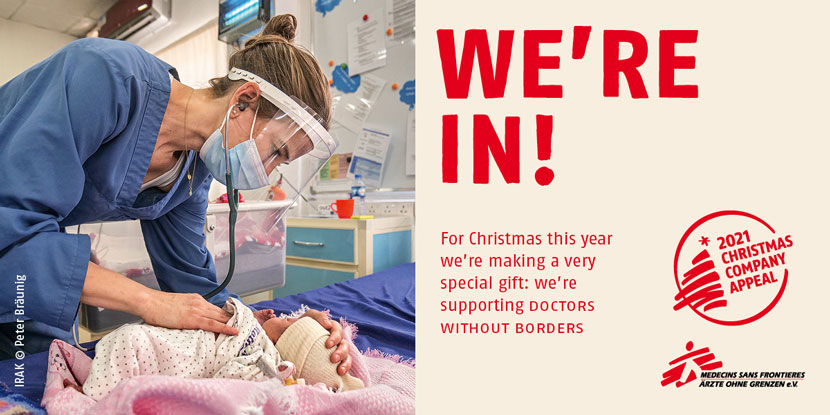 Being grateful for the beautiful lives we have, involves also acknowledging our position of privilege in this world. Some people have to face directly some of the most difficult situations we could imagine. Natural disasters, violence, war, and extreme hunger or thirst are out there, and we should be grateful to be able to help thanks to organizations like DOCTORS WITHOUT BORDERS.
Like the last few years, RebusFarm is supporting the organization DOCTORS WITHOUT BORDERS with a donation. Their goal to provide lifesaving medical humanitarian care as well as speaking out about the issues that they are witnessing is a magnificent job that we think should be supported. As a European country, we also found a cause that reached our hearts and encouraged us to donate to during the holidays, please check out 'Leave No One Behind' and their amazing project. People who dedicate their lives to being part of the solution inspire us to make our small part.
It would be great if you could join any of these causes and become part of something beautiful!
Here are some examples of the work DOCTORS WITHOUT BORDERS does:
Haiti: Emergency aid after the earthquake and tropical storm
Médecins Sans Frontières (MSF) teams are providing life-saving emergency aid in Haiti after the severe earthquake and tropical storm Grace. In the first hours and days after the quake, the staff treated injured people in, among other places, the severely affected city of Port-à-Piment. The aid organization is also supporting hospitals and setting up water stations at other locations since many sources of clean water have been destroyed. In addition, MSF has transported around 100 tons of medical and logistical equipment as well as medication to Haiti by cargo plane. More than 1,300 employees are working on the ground.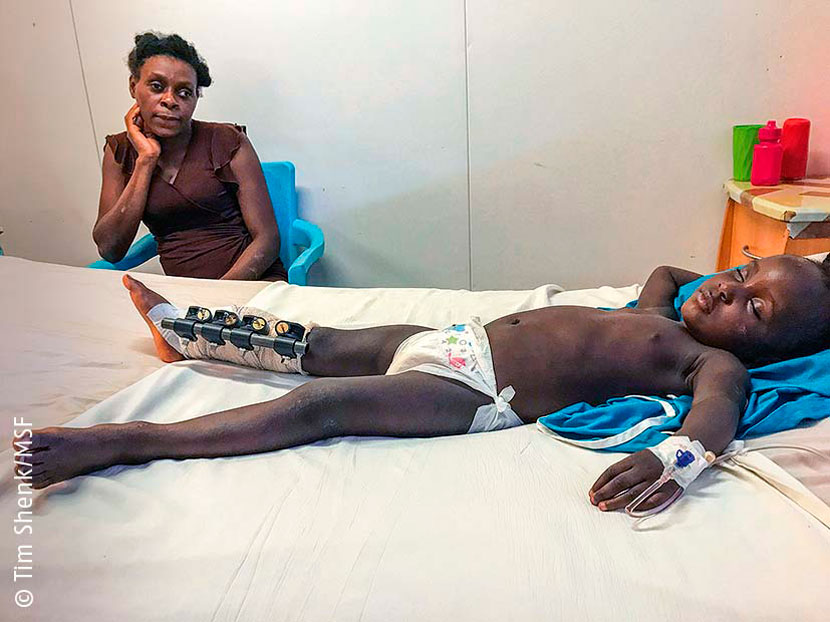 When his family home collapsed during the earthquake, two-year-old François Widnika suffered injuries to his leg. He was brought to the MSF hospital in Port-au-Prince and treated there.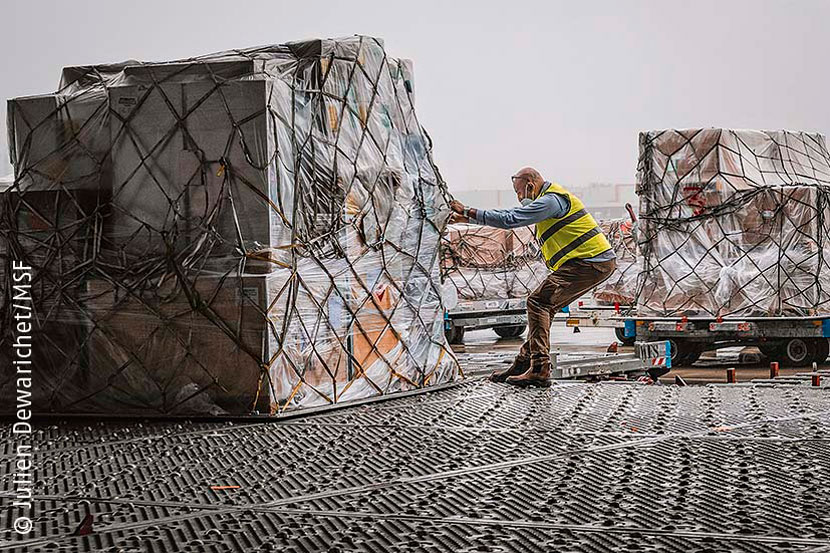 An MSF employee loads medical supplies at the MSF logistics center in Brussels. Two aircraft flew around 100 tons of cargo into the disaster area: medicines, infusions, bandages, tents, and logistics equipment.
Covid-19-Pandemic: Médecins Sans Frontières (MSF) provides aid across the globe
During the COVID-19 pandemic, MSF is giving assistance to people all over the world. The aid organization's teams are treating patients in 165 projects in more than 50 countries, supplying urgently needed materials, and taking care of infection control. In the world's largest refugee camp, in Cox's Bazar in Bangladesh, for example, staff examined 22,000 people with suspected COVID-19 in the first four months of the year. In Mumbai in India, the organization supports a COVID-19 center with around 2,000 beds. In Brazil, mobile MSF teams have been deployed to treat people in remote regions.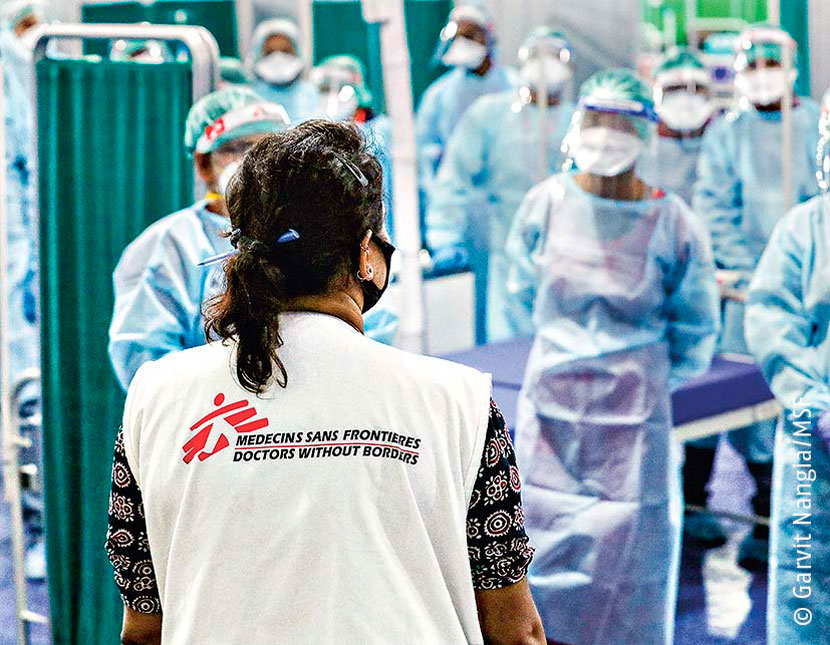 Dr. Nisha Mohan from MSF trains health workers. As COVID-19 infections rise rapidly in the country, the organization has opened several emergency projects like this one in Patna, the capital of the state of Bihar.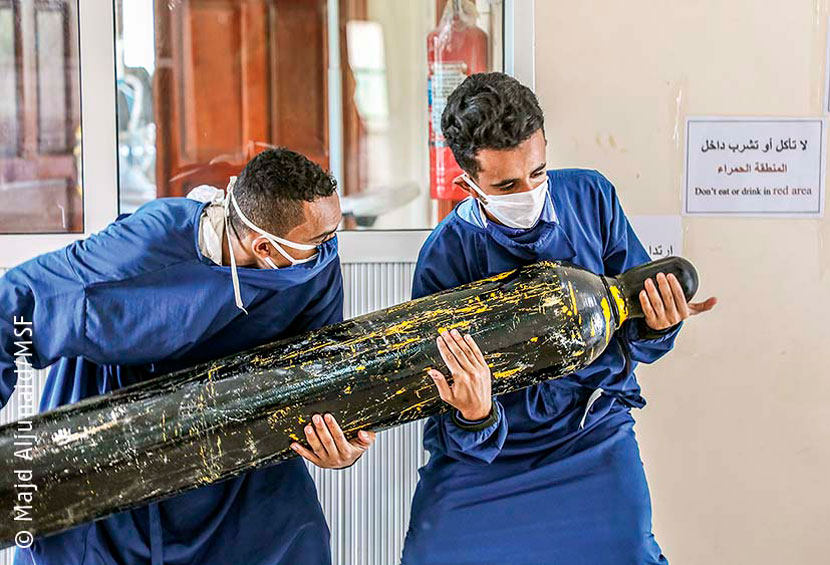 Yemen. Two men carry an oxygen cylinder to the intensive care unit. MSF supports the COVID-19 center in Al-Sahul. Patients who are moderately to severely ill with COVID-19 need around six cylinders a day.
Afghanistan: Medical aid despite great challenges
Despite the enormously challenging situation in Afghanistan, Médecins Sans Frontières (MSF) continues its work because thousands of people urgently need help. However, the safety of the approximately 2,400 employees and their patients always has the highest priority. Many people are in great need in the war-torn country: for example, children who are malnourished, women with high-risk pregnancies who need to give birth in a hospital. MSF teams have been providing medical aid in Afghanistan for years. The fighting this summer has caused the number of patients in MSF facilities to rise sharply.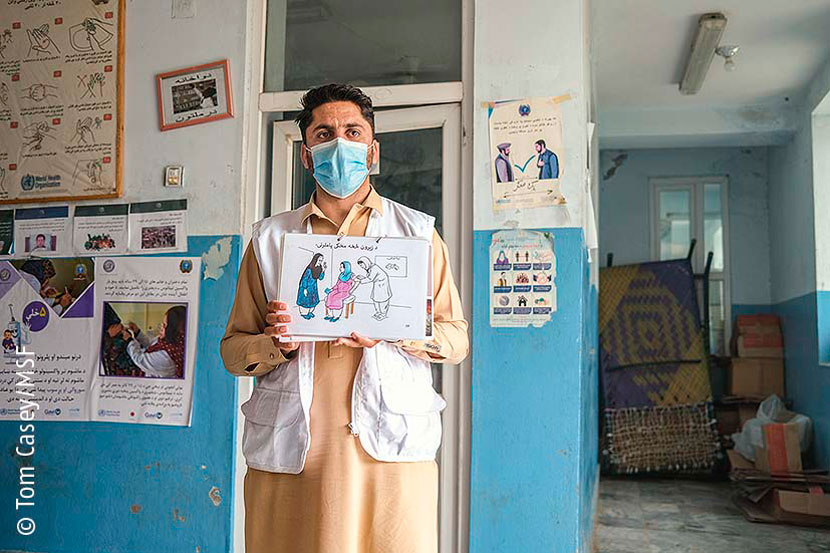 An MSF staff member provides information about risks during pregnancy in the waiting area of a health center in Khost province.
MSF has been running a surgical clinic in Kunduz for years. This patient suffered a severe leg injury from a bomb explosion.
Iraq: Life-saving support for mothers and babies
During the fighting against the group Islamic State (IS), Médecins Sans Frontières (MSF) teams in Mosul mainly provided emergency surgical care and treated the injured in the most affected areas. Even years after the recapture of the area, most of the medical facilities in the city are still not functioning and it is still difficult for many patients to get help. Among other places in the country, MSF operates the Nablus Hospital in western Mosul. The teams there give birthing assistance to around 11,000 children born every year – vital help for mothers and their babies.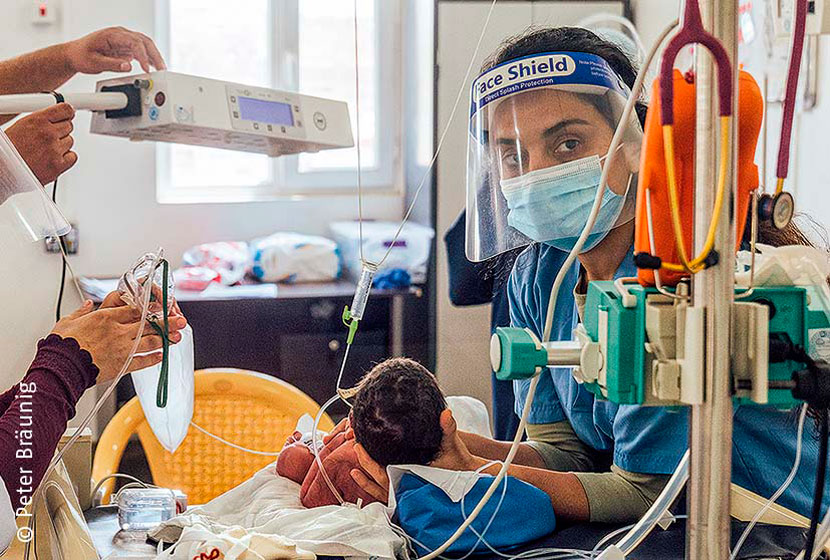 MSF nurse, Ismahan Ciftci, ventilates a newborn baby. The Nablus Hospital in western Mosul is one of the few in the region with a maternity and pediatric intensive care unit.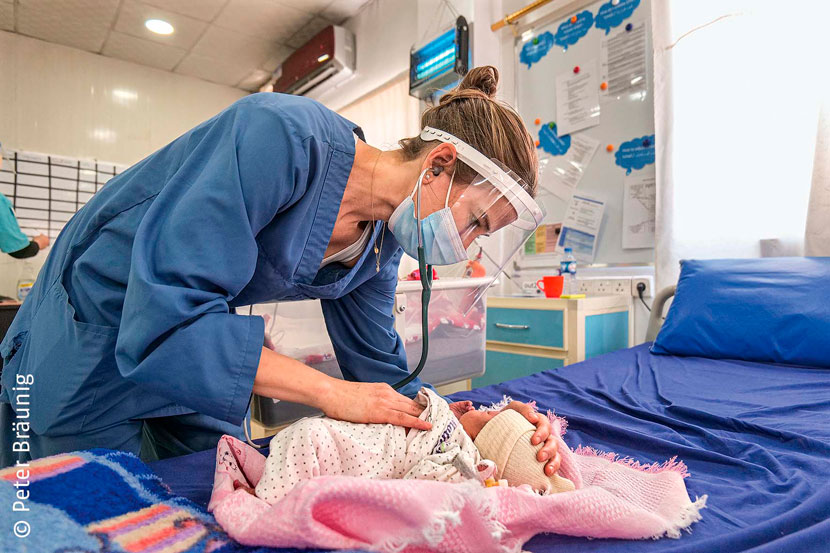 MSF pediatrician, Tanya Haj-Hassan, examines a newborn. The team treats more than 2,000 children a year at the hospital in western Mosul.
You can read the complete report to Doctors Without Borders' COVID-19 Global Response here.
---
For more information about DOCTORS WITHOUT BORDERS visit
---
>> Read more articles on our blog