Friday, September 29th, 2017 by Julian Karsunky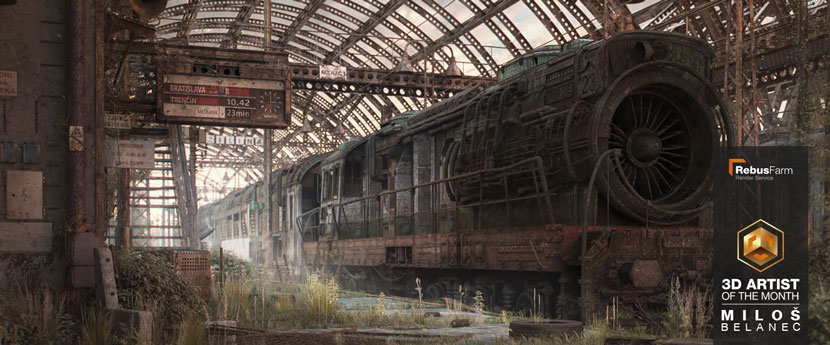 All aboard for our October 2017 3D Artist of the Month, Miloš Belanec! His submission 'The Last Train Ride' is a moody, evocative piece set in a post-apocalyptic world, depicting a once majestic locomotive as a forgotten witness of a time long past.
Continue reading to learn about Miloš's origin as a 3D artist, his love for outdated technology and his passion for textures. If you're eager to find out more about the creation process of 'The Last Train Ride', make sure to check out our exclusive making of, written by the artist himself!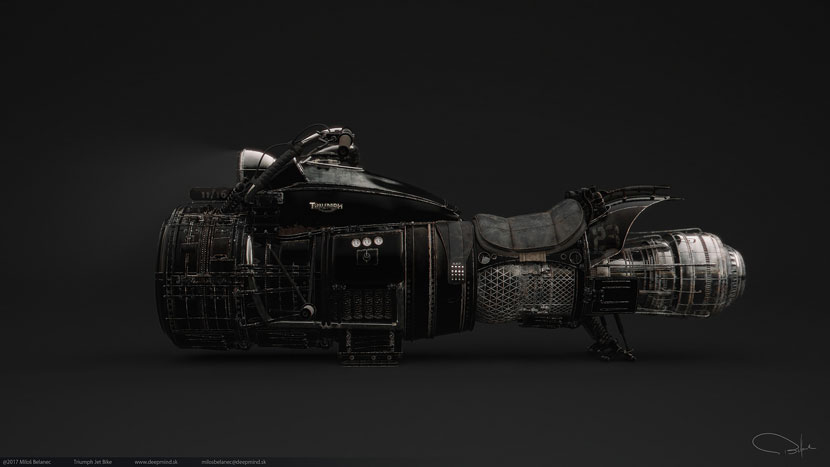 'Triumph Jet Bike' concept art
Between producing outstanding concept art, creating and sharing original textures and managing his own 3D studio DeepMind (www.deepmind.sk), at only 23 years, Miloš Belanec is already an accomplished digital artist. When he's not busy working, he enjoys playing basketball, having a beer with his friends and spending time with his girlfriend, an art photographer with whom he lives in Bratislava, Slovakia.
He first got introduced to CGI soon after his family bought their first PC back in 2009, when an acquaintance noticed him messing around in SketchUp and showed him 3ds Max. "The program was a bit chaotic for me at first, but after a few hours a day of just clicking around, I slowly began wrapping my head around it," Miloš recalls. With no internet access at that point in time, he started learning by himself, a habit that stuck with him ever since.
His autodidactic tendencies, however, were soon to get in the way of his formal education. At art school, he clashed with his teachers and simply refused to work with different software, eventually leading to his expulsion. Though even this setback did not get in the way of his unwavering dedication: "I've always loved drawing and designing. When I found CGI, I knew that was exactly what I wanted to do!"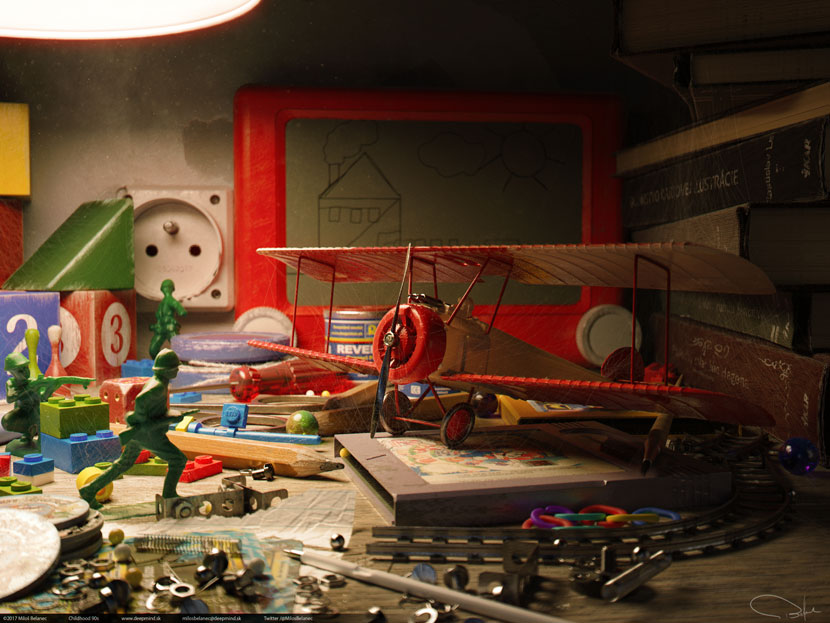 "As a 3D artist, I'm basically creating the toys I wanted as a child"
After changing schools and graduating in an industrial design class, Miloš teamed up with two of his close friends and founded his own 3D studio DeepMind. By then, he had already been doing freelance work and collaborating with bigger studios for a while, creating photorealistic 3D scenes and product renders.
The major turning point of both his career and his artistic vision came when he decided to enter a competition for CG+, although the initial outcome was less than desirable: "It was a complete disaster to be honest", Miloš tell us, "but I had an opportunity to try my hands at sci-fi/steampunk visuals, which I soon discovered was the direction I wanted to go in." After a year of studying shapes, materials and scenes, he released his first official concept art in the style he is now rightfully recognized for: 'Old Hangar'. "Afterwards, everything changed for the better – clients, hardware, contacts, job opportunities – everything!"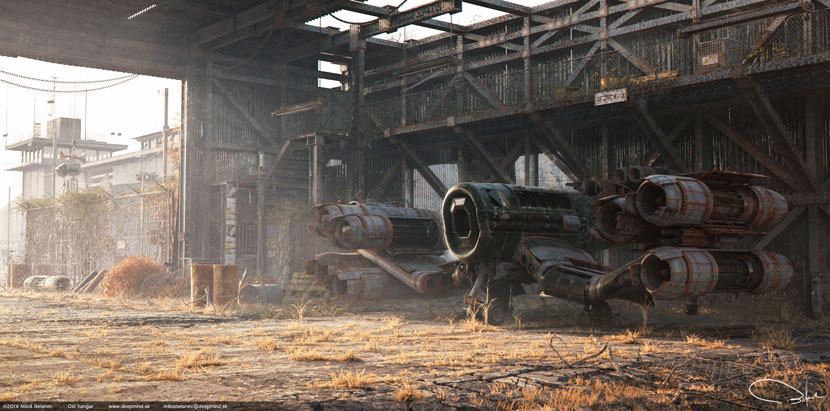 'Old Hangar'
Judging by the quality of his work, Miloš has clearly found his calling in the gritty and desolate aesthetics of a post-apocalyptic future. "I've always been fascinated by old trains and planes. To me, they're these giant, powerful pieces of metal machinery that, at the same time, indicate the passing of time in a peculiar way," he describes his fascination for outdated and abandoned technology. "I'm imagining places I'd like to go to, but since they do not exist in the real world, I create them virtually."
Such as the majestic locomotive in 'The Last Train Ride', modelled after the T669 diesel locomotive, which today still traverses the railways of Czechia and Slovakia, and infused with a powerful turbine engine. Interestingly enough, the T669 – minus the turbine, of course – was manufactured in Czechoslovakia, a country that, much like the train in Miloš's picture, is a relic of the past.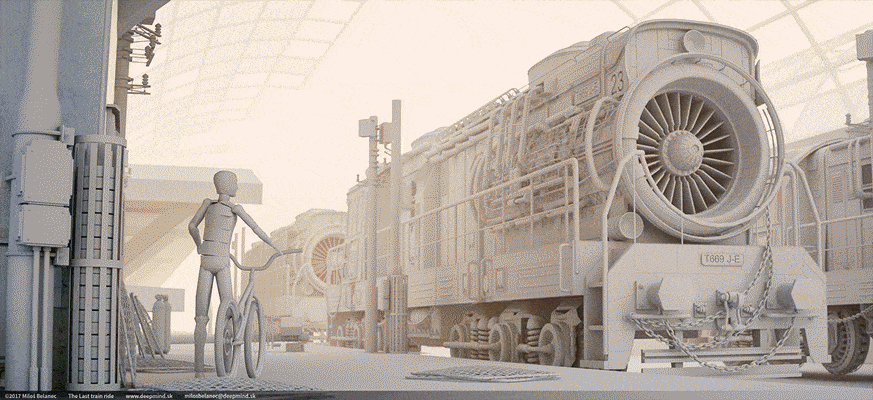 'The Last Train Ride', render process. Learn more about the creation process here.
Besides his work as a 3D generalist and concept artist, Miloš is very involved in the creation of textures and materials, the majority of which he makes publicly available for free download. "People are still looking for free materials on forums and such, and I can very well remember how it felt when I was starting out and couldn't find anything in at least decent quality," he describes his motivation. "Plus I just really enjoy researching and developing textures!" It should come as no surprise that Miloš cites metal as his favorite material.
When asked about his experience with the RebusFarm render service, Miloš tells us he was very satisfied with the whole process: "data transfer was very quick and reliable, everything from processing to final result was exactly as I wanted it to be. I also really liked the app, it's nice and user-friendly and can help even absolute beginners by warning them about possible complications."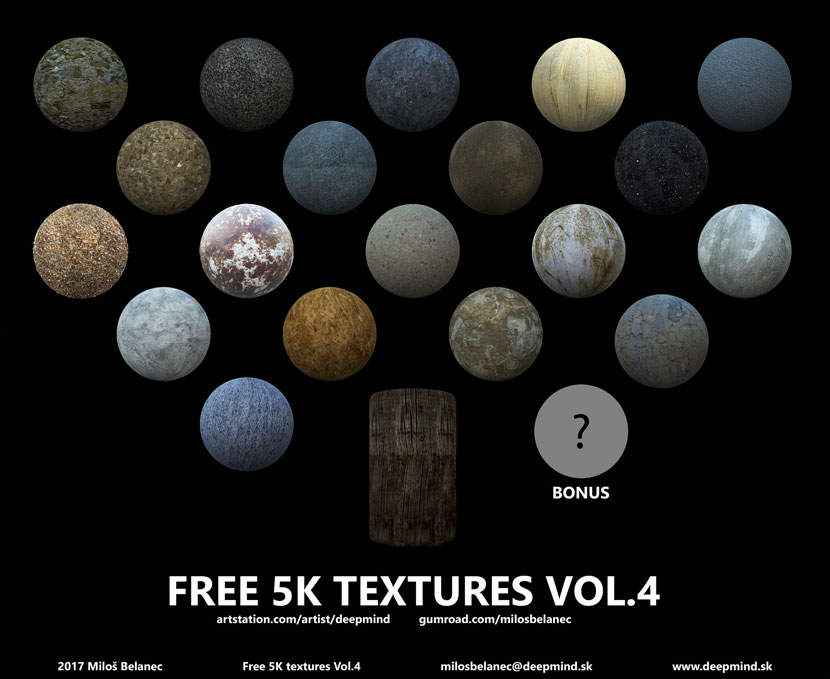 Preview of one of Miloš's many free texture packs, available on his Gumroad page.
A talented artist with a vivid imagination, Miloš Belanec remains infatuated with the creative freedom of CGI: "There are infinite possibilities. With enough time and a proper workflow, I can create anything I can think of!"
While he wasn't quite sure yet what his next project would be, Miloš lately has been busy studying katana, Japanese samurai swords. But that's not all: "Right now I'm also working on another personal project starring my pet praying mantis Dexi – and I'm streaming the entire thing on social media!" Possibilities, it seems, truly are infinite.
For a chance of a glimpse at Dexi, keep up with Miloš's work here:
And make sure to check out the making of 'The Last Train Ride', straight from the deep mind of Miloš Belanec.
---

HOW TO JOIN OUR MONTHLY CONTEST
You want to be our next featured 3D Artist of the Month and win 250 RenderPoints? Just visit our 3D Artist of the Month competition page and submit your entry. We'll choose the best image and contact the winner.
---