Monday,  October 30th, 2017 by Julian Karsunky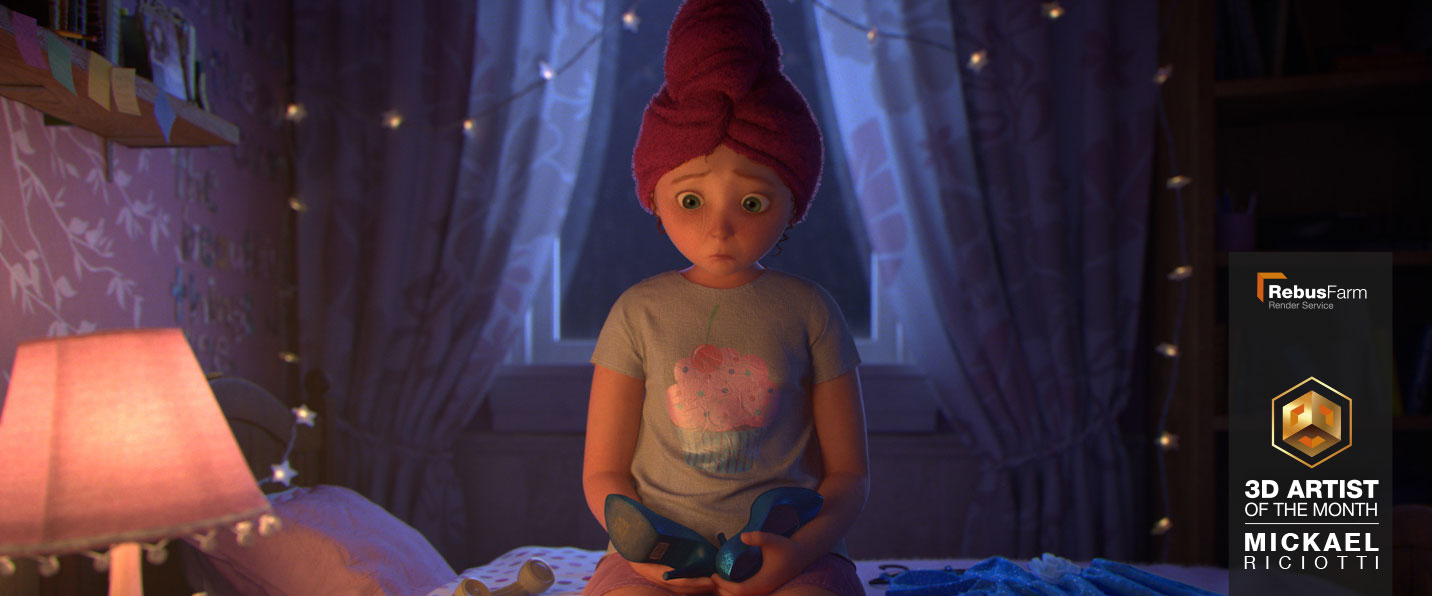 Though the heartbroken looking girl pictured above might not become Prom Queen, we at least crown her creator, talented Mickael Riciotti, our November 2017 3D Artist of the Month. The French 3D generalist and character artist extraordinaire learned from the best in the industry, having worked for high profile studios such as Dreamworks and Disney at the beginning of an illustrious career. Though mainly occupied with photorealistic environments nowadays, Mickael still gravitates towards cartoon aesthetics in his free time as a means of creative expression.
Continue reading for an in-depth look at his adventurous career and diverse portfolio.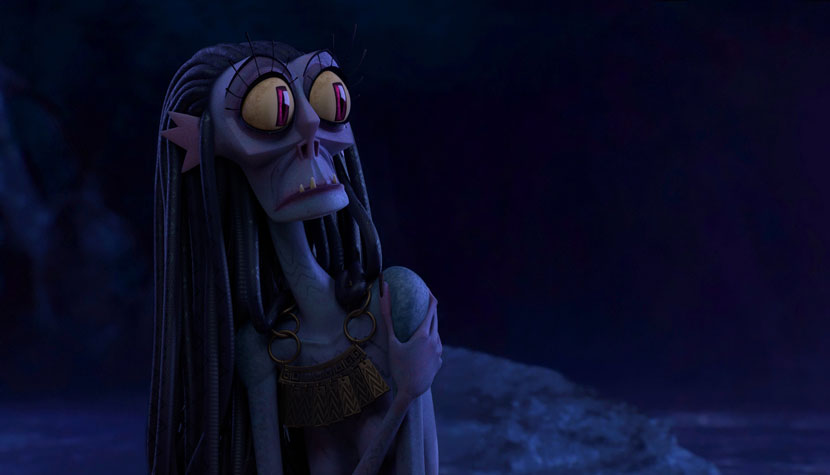 'Sad Medusa', character design based on concept art by illustrator Timothy Lamb.
When Mickael Riciotti first stumbled upon Autodesk 3DS Max 4.2. around the year 2000, he had no idea this was to be the starting point of a journey that would eventually take him all over the world. On the contrary, when he first discovered CGI, he harbored no professional ambitions whatsoever: "Though I spend endless days trying to figure out how everything worked, back then I didn't even think one could make a living out of it", Mickael recalls his humble beginnings. Without steady internet access at the time and limited resources available, learning the ropes of 3D turned out be a continuous struggle.
Nonetheless, Mickael pushed forward and in 2007, he decided to pursuit a degree in CG and filmmaking, effectively reorienting his education and turning his longtime hobby into a career. After receiving his master degree from prestigious French computer graphics university SUPINFOCOM, he dove headfirst into the animation industry, starting his working life with a bang.
Shortly after graduating, Mickael joined the lighting department at DreamWorks satellite studio in Bangalore, southern India. During his two-year-stay, he has worked on blockbuster movies such as 'Rise of the Guardians', 'Peabody and Sherman' and the third installment in the popular 'Madagascar' franchise. To this day, Mickael is quick to start raving when asked about his first work experience: "It was incredible! I learnt about the craft of lighting and compositing and since the India Unit was a smaller studio, I quickly got more and more responsibilities. By the time I left, I was a lighting Lead, responsible for lighting an entire sequence."
Upon his return to France, Mickael learned about Walt Disney Animation's Program for recent graduates from a friend: "Basically, you get the chance to be trained by a mentor for a few months and then work on an animated feature for a whole year". His thirst for adventure not quenched by his sojourn in India, he quickly applied and after a long and tedious visa procedure, Mickael traveled to Los Angeles, where he worked on Academy Award-winning film 'Zootopia' under director Byron Howard. Describing his time at Disney as "a dream come true", Mickael particularly enjoyed the close interactions within the team, being able to get direct feedback from the filmmakers during dailies.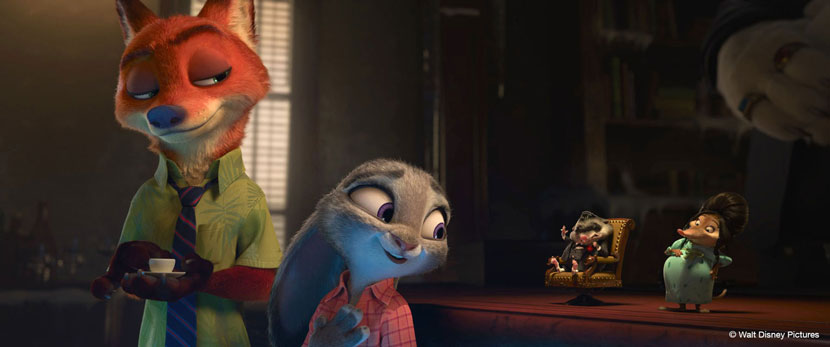 During his time at Disney, Mickael worked on the lighting for around 50 shots of 'Zootopia'.
Since then, Mickael has significantly expanded his scope as a 3D generalist. He's currently employed as environment and lighting supervisor at Unit Image, a Paris-based studio specializing in cinematic video game trailers. Though not much of a gamer himself, Mickael tells us he has "always been inspired by the graphics" and appreciates the challenges at hand: "Within a very limited timeframe, cinematic trailers are meant to convey a mood, or introduce an entire universe to the audience, sometimes months before they'll get to play the game", Mickael explains. "People expect a lot and that motivates me to always push the quality of my work."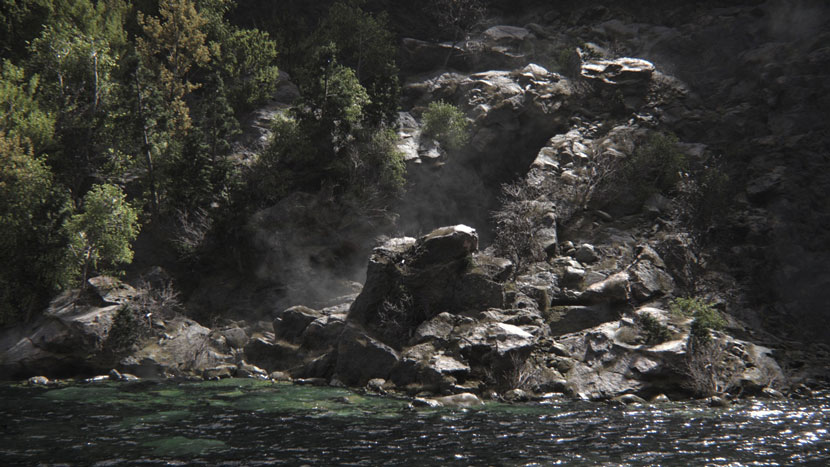 One of Mickael's latest personal projects, these 'Volcanic Cliffs' were designed to test 3D assets in Quixel Megascan.
In stark contrast to his previous work in the animation industry, his present job has him mostly concerned with modeling, shading and lighting of photorealistic environments, a welcome chance to further hone his technical skill. For his personal projects, however, Mickael still loves dabbling in 3D character design – with impressive results!
'Prom Night', the soul-stirring depiction of the tribulations of a teenage girl featured at the top of this article, perfectly captures a distinct and immediately recognizable feeling within a single image. Although one look at the girl's highly expressive face and body language tells the whole story, Mickael has worked in subtle visual clues to the events of the night. From the receiver laying on the bed to the price tag still visible on the sole of the shoe, a lot of carefully placed details weave a cohesive narrative. The tightly arranged composition and Mickael's clearly identifiable skill in lighting further help to convey the overlaying mood.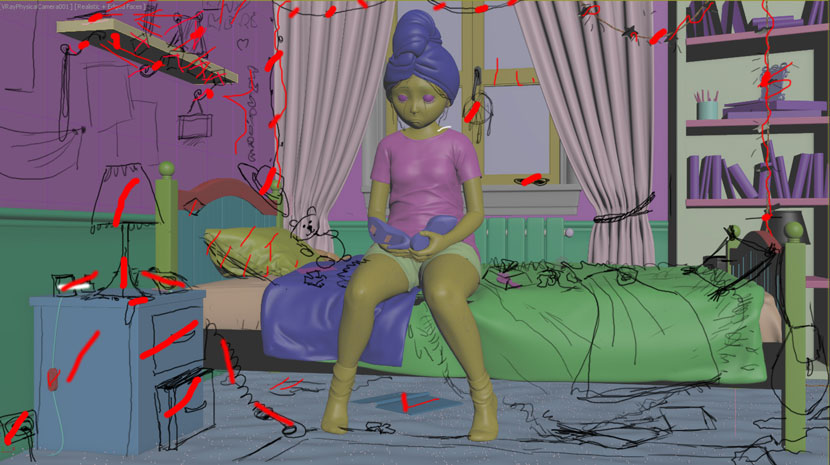 'Prom Night', early sketch
"I thought a female CG character would be a good starting point, but wasn't too keen on modeling yet another busty, blond girl", Mickael says on his approach to finding a suitable subject. "Wanting to take a different route, I asked myself: 'What kind of female character is underrepresented in contemporary CG?'" That's when he decided to focus on an everyday girl, "an anti-hero with self-confidence issues", as he puts it. While adolescence generally is a time of great turbulence, Mickael wanted to push the issue further, thus focusing on prom night as a particularly "dreadful moment in a teenager's life".
The girl's apparent plight is not handled light-heartedly. Instead, Mickael made a deliberate effort to portray his character as graceful and dignified, even in defeat. Though intentionally left unclear whether the girl was dejected by her date or didn't muster up the courage to attend prom, her disappointment upon not living up to the pressure of an imposed social event counterbalances the glamorous Disney princesses of old.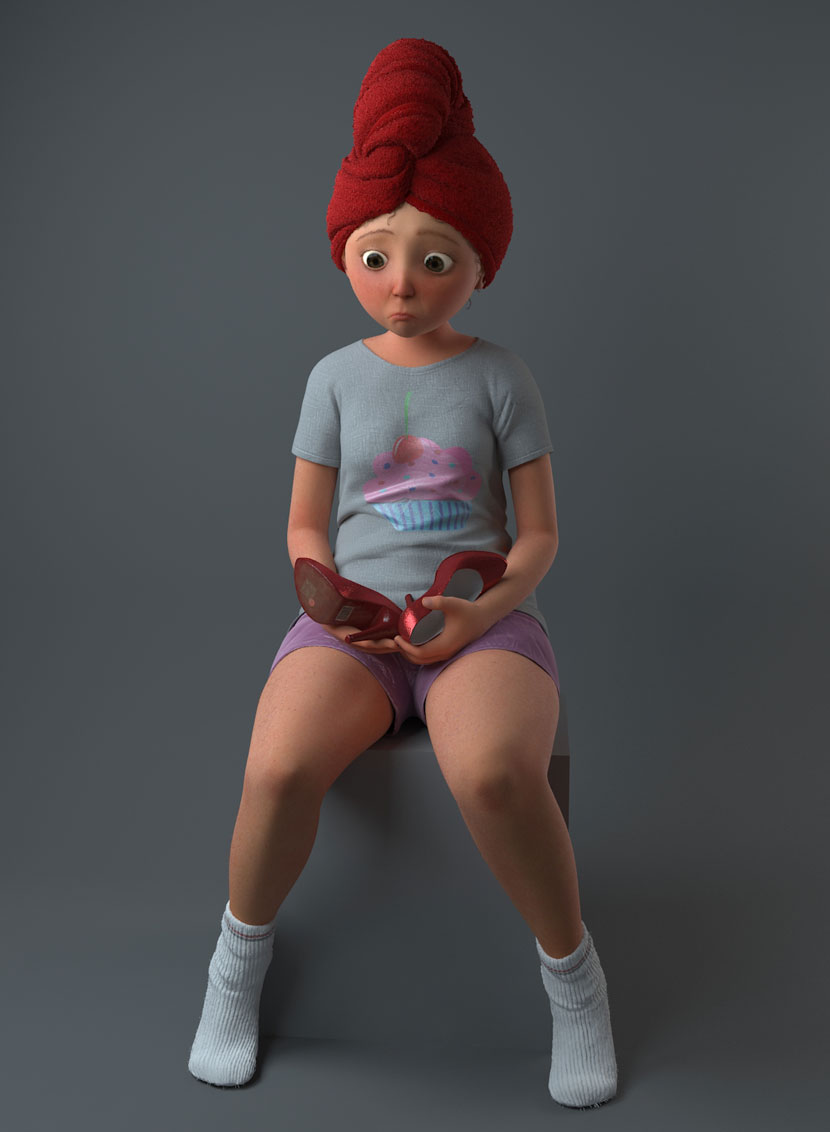 'Prom Night', character model. Notice the realistic proportions and nuanced body language.
Like all of Mickael's projects, 'Prom Night' was created using 3DS Max and V-Ray. The hair as well as the fuzz on the towel was made with the Ornatrix plugin, whereas he sculpted the girl's face and t-shirt with Zbrush. Photoshop was used for texturing, while compositing was done in Nuke.
When it comes to rendering, Mickael has just recently discovered RebusFarm while doing freelance work for a client. "I tested different vendors and quickly figured out RebusFarm was the right answer for my needs: The integration into 3DSMax is so smooth it almost felt like I had an actual render farm in my apartment!" he recalls his first experience with our online render service. "I love how automatic and invisible the whole process is, from the packing and uploading of the source files to downloading the completed frames to the destination folder."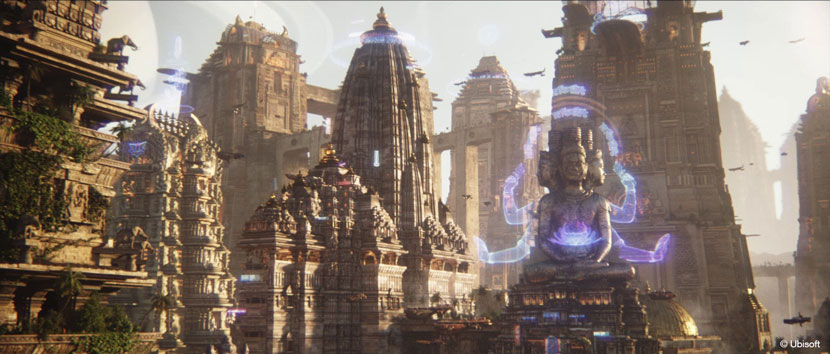 Mickael currently supervises the production of cinematic game trailers, such as the world reveal trailer for Ubisoft's 'Beyond Good & Evil 2' shown at this year's E3.
Despite having used RebusFarm for freelance work in the past, Mickael hasn't used it for any of his personal projects yet. The 250 RenderPoints he won as 3D Artist of the Month will remedy this shortly: "I'll use them to render a flythrough of an environment I've been working on for some time but couldn't render as a sequence on a single computer!"
Keep your eyes peeled for more of Mickael Riciotti's work by following these links:
---

HOW TO JOIN OUR MONTHLY CONTEST
You want to be our next featured 3D Artist of the Month and win 250 RenderPoints? Just visit our 3D Artist of the Month competition page and submit your entry. We'll choose the best image and contact the winner.
---