Monday, August 2nd, 2021 by Julian Karsunky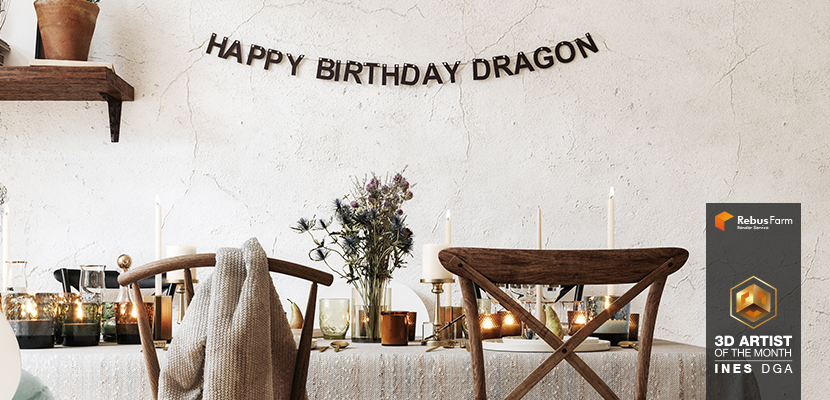 While personal projects are the bread and butter of many artists, some projects are more personal than others. When Ines Dga, our August 2021 3D Artist of the Month, put her heart and soul into creating a unique and touching birthday present for a special someone, the Tunisian interior designer gifted the entire CG community a wonderful scene. 'Make a Wish', her take on a Scandinavian kitchen interior, has already made waves online, and is a sure sign of a great artist on the rise.
In our interview, Ines talks about juggling work and her PHD-studies, female representation in the CG industry, and the power of 3D as a canvass of creative expression.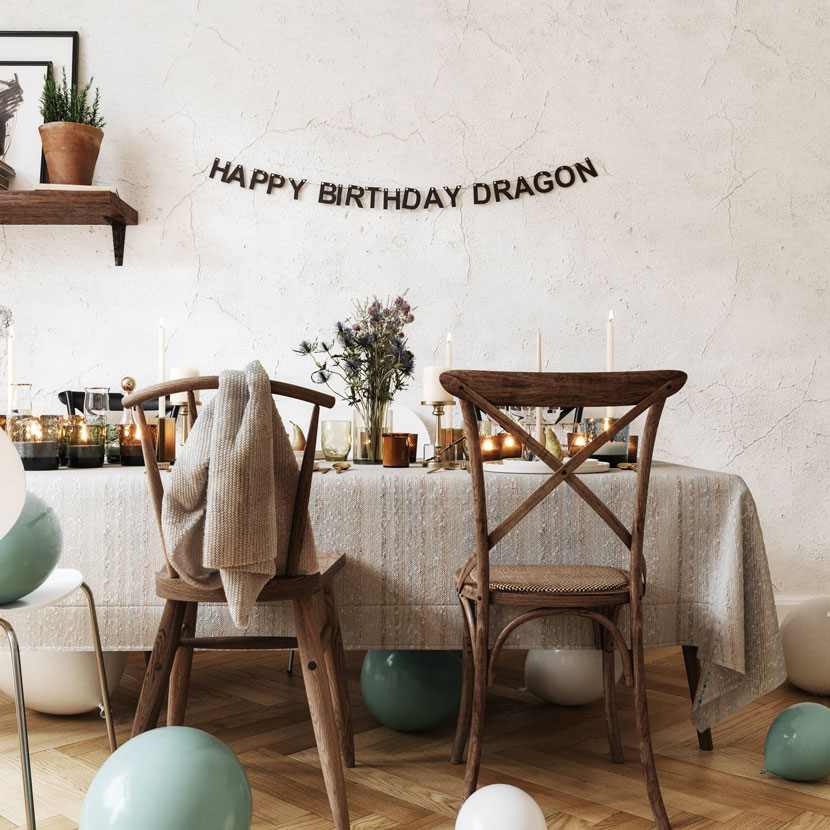 A "gift to a special one": Ines Dga, 'Make a Wish'
Hi Ines, thanks for joining us! To start things off, please introduce yourself to our readers.
Hello all, my name is Ines Dga, I'm a 29-year-old 3D artist and interior designer from Tunisia, currently working towards a PhD in design theories.
Do you recall when and how you first consciously encountered CGI?
While I have been attracted to all types of graphics and visual arts since early childhood, I seriously engaged with CGI as part of my studies, and it became a passion soon after!
When and why did you then decide to pursue a career as a 3D artist?
I can't say that I possessed some special talent, but I felt a strong desire to develop myself in this direction. It's like I found the right space to express myself and my ideas.
What training or education do you have?
Following my artistic inclination, I enrolled at the Institut Supérieur des Beaux-Arts de Sousse, where I completed a three-year program as an interior designer. After obtaining my master's degree with first class honors, I decided to continue my doctoral studies in design theories. 
Combining studies and work is very demanding, but I had to complete my research program! My thesis is about virtual reality and other immersive experiences; in talking about 3D and VR development, I want to specifically draw attention to the role of the women in our community as well.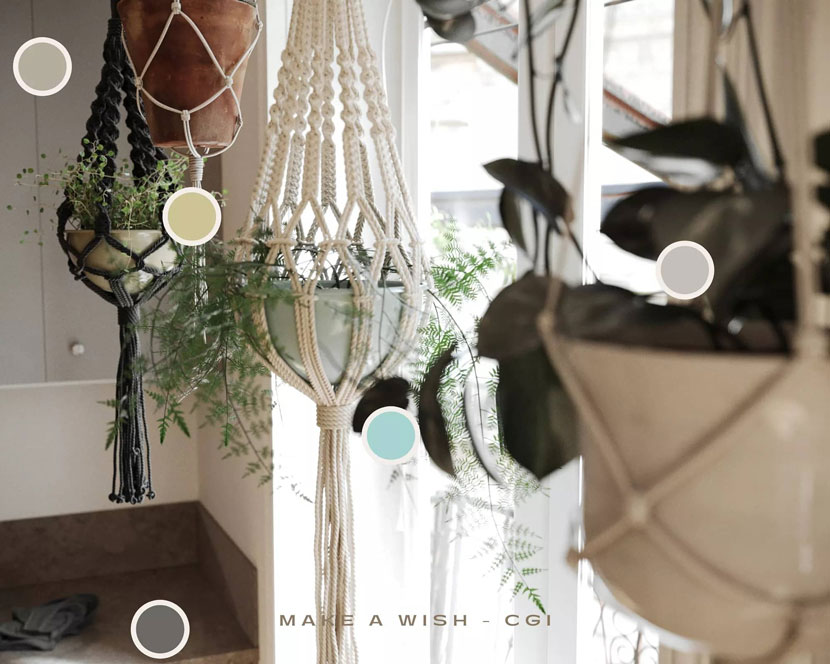 Ines' creativity and experience as an interior designer shines through in every nook and cranny of the room, such as these hanging plants.
Please tell us more about your academic background in design and how it relates to your work as a CG artist.
As I've mentioned, I first discovered the 3D world as part of my curriculum. I made my first steps in SketchUp and 3ds Max, then decided to improve my skills and learn more about rendering at the Illuminance 3D school.
I am grateful for my teacher and consider myself honored to be a student of the great Amir Cherni! A great and well-known artist, he not only properly taught me the fundamentals of this craft, but motivated me to develop myself further. He even helped me kickstart my career: thanks to him, I had the chance to be a part of some big commercial projects for clients.
What is your current job situation? Are you exclusively freelancing at the moment?
Yes, I am working freelance. It is the only arrangement that allows me to pursue my PHD, as I can manage my time freely and work more efficiently on all fronts.
Do you have any long-term goals following your PHD program? Is there a specific field, industry or company you would consider a dream job?
For a while, I worked at a small 3D studio in my town; it was my first serious experience working in an office environment as part of a bigger team. However, I soon felt that I was mostly treading water, with little to no personal progress or professional development, so I left after only eight months.
Since then, I realized how much I want to control my own fate – why not have my own space, my personal 3D office where I can practice my art the way it suits me and my customers best.
Describe your profile as a 3D artist. Tell us about your clients and the services you provide!
I am specialized in creating high-end 3D visualizations, including interior styling and visualization, exterior renders, environment design and product visualization. My goal is to produce compelling imagery through highly sophisticated design, and stunning realism. 
Funnily enough, I never proactively looked for customers, they always found and approached me through my online portfolio. 
Generally speaking, I am most attracted to clients who are open for different views, and projects that allow me to explore my art and creativity. More conventional or predefined jobs do not interest me that much.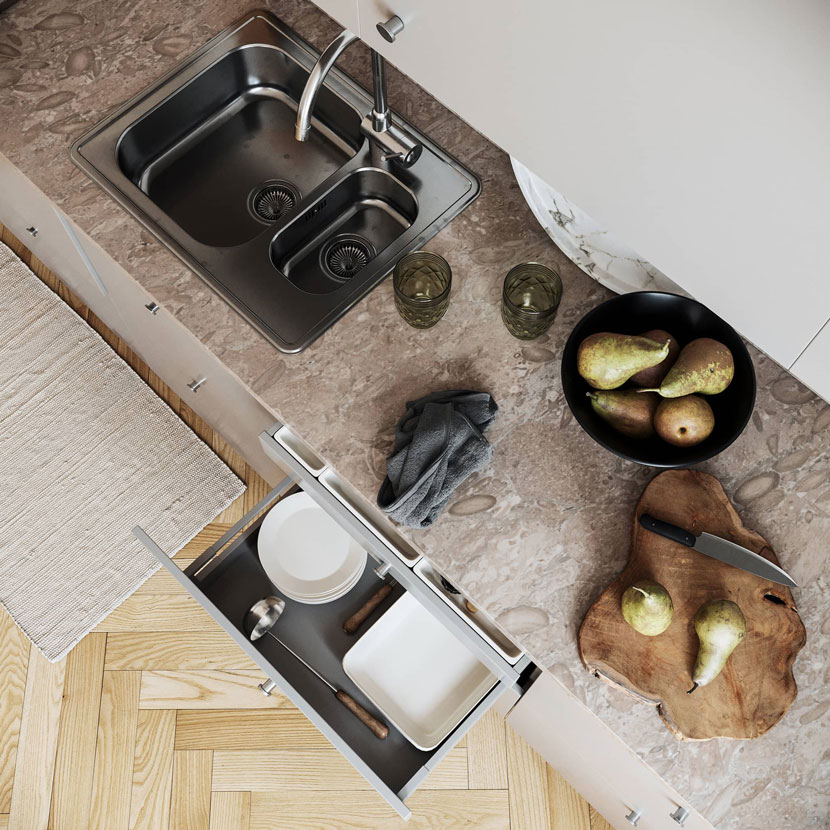 This top down shot of the kitchen countertop further highlights Ines' use of colors.
As a student of design theory, are there specific concepts or schools of thought you yourself adhere to?
Actually, there are no specific concepts or rules I follow. But I always aim to make a strong first impression with all of my designs.
I'm trying to take an individual and nonstandard approach to every project. To make your work stand out, you need that unique and personal touch, that certain unique and original artistic quality. 
Behind every project there is actually a story waiting to be told, a message to be delivered. For me, 3D is my personal world and creative playground, the space I can escape to and express all of my thoughts and feelings with complete freedom.
What inspires you as a 3D artist?
There are too many sources of inspiration for me to mention, from realistic references, photography, to nature, music, and movies.
Of course, I also sometimes feel inspired by the work of other artists. From the 3D world, I am a fan of Amir Cherni, Marek Denko, Bertrand Benoit, Johannes Lindqvist, Alex Roman, Saeed Amiri, Ander Alencar, and Adán Martín.
I am always looking to improve my designs, so I make sure to make time for further studying and personal projects in the evenings or during the weekend. I might slow down one day, but I don't think I'll ever stop learning!
What has your experience been like as a young and aspiring woman in the traditionally more male-dominated CG industry? Is there something that should be done to increase female representation?
I am glad you asked me this question! Unfortunately, it is a male-dominated industry. But if you want to have a career in this industry long term, there are no excuses – dropping hands is only going to take us all out of the game. 
Clearly, we are going to need to set up more female support groups to help those struggling, and give tips and strategies to survive. We ALL need to work together, give encouragement, and lift each other up; otherwise, there will be no women in Archviz left one day.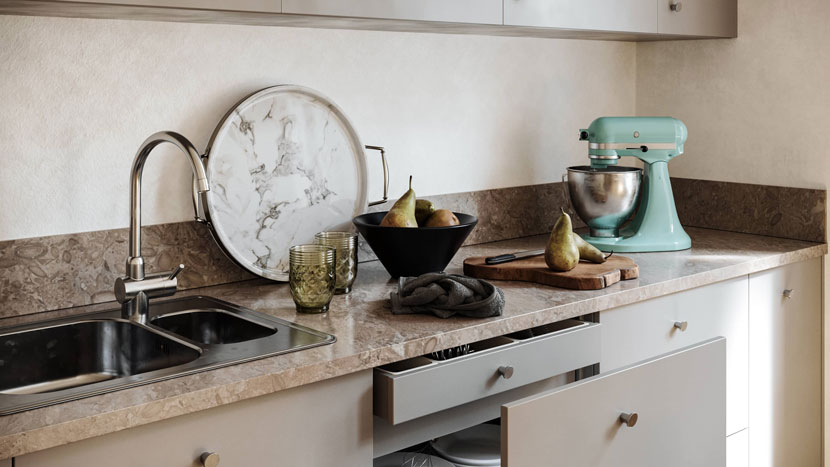 A different angle of the countertop. Apparently, dragons like pears!
Let's talk about your work in more detail, namely 'Make a Wish', the festively decorated Scandinavian kitchen interior you submitted to our campaign. Please tell us all about the project and the story behind it!
As with all of my personal projects, I wanted to improve my technical abilities with this scene.
For my take on the Scandinavian style, I chose to try out new fabric materials and different lighting scenarios, resulting in a warm mood. Furthermore, I wanted to achieve decent hair and fur, and I played with the cameras to produce a couple of hyper-realistic interior shots.
This project took me almost two full weeks, it was not an easy task both technically and emotionally, as it was dedicated as a heartfelt and special gift.
Since the project is labeled as a "gift to a special one", I am naturally curious if you might reveal the identity of Dragon, the recipient of this wonderful birthday present?
Sorry, I cannot reveal who Dragon is. What I can say is that I tried my best for this present: I put all of my passion, time, focus and sincerest feelings into it, because I wanted it to be as special and unique as Dragon is!
On Instagram, you teased the project as a "color palette exploration". Can you elaborate on the underlying idea and how it influenced your design?
Well, I didn't want to limit myself to only one color palette, so I combined fresh and pleasant colors instead. As pastel colors are trendy right now, I dared to mix blue and yellow pastels with white walls and parquet flooring. The use of natural colors is very important to add atmosphere and create an impression close to nature.
Once you had a concept in mind, how did you go about realizing it? Can you briefly walk us through the development process?
My usual workflow consists of finding references, modeling and adding furniture, experimenting with lighting and materials, exploring new things whenever I can with a lot of love and care, then camera placement, rendering and finally post-production.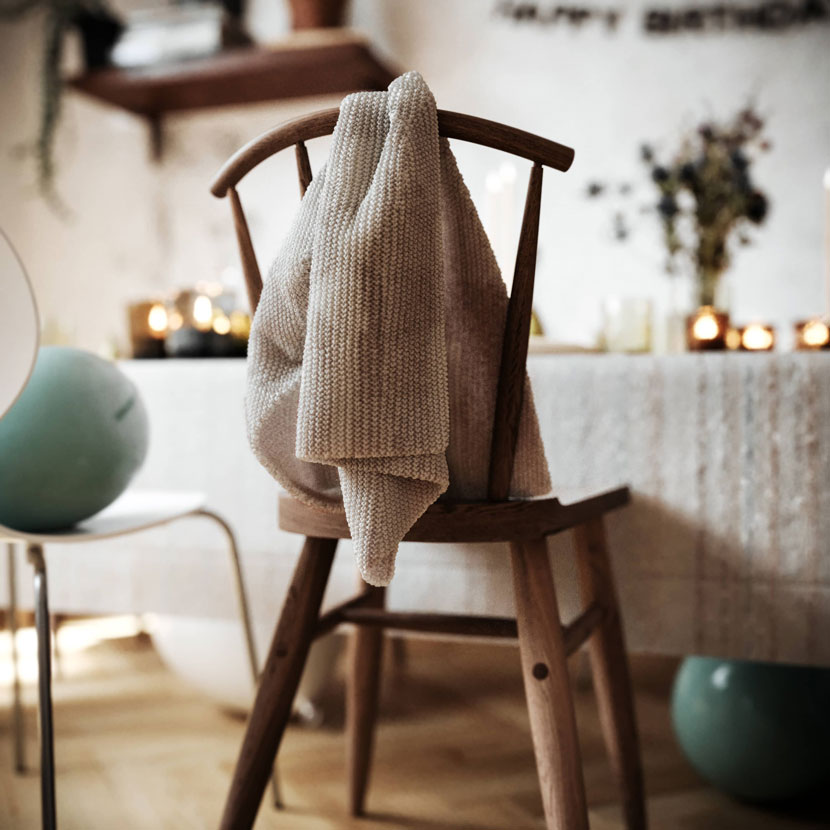 The atmosphere of the interior is as warm and fuzzy as this sweater, whose fabric Ines worked hard on.
What software did you use to create this scene? Any plug-ins you found particularly helpful?
'Make a Wish' was created with 3ds Max and Corona Renderer. I used Ornatrix for the tiny hairs on the sweater, and Marvelous Designer for the rest of the fabrics in the scene. Finally, I used Photoshop for post-production and the Megascan mixer tool to work on some additional details.
What is one thing you have learned from this project that you can share with us?
Working on this personal project helped me step up my shading development skills especially.
What has the feedback been like so far and how satisfied are you with the results yourself?
Well, the feedback has been incredible, which I truly didn't expect! I was blown away by all the positive messages I've received and I could not be more grateful for that.  
'Make a Wish' was shared and featured on the official Corona Renderer pages. It also received an editor's choice pick from Evermotion, was named project of the day on VWArtclub, and posted on 3D Empire. Last but not least, it is a great honor for me to be featured as your 3D Artist of the Month! I'm super excited and very grateful!
As for myself, I'm hardly ever fully satisfied with my work, I always notice further adjustments to be made. But this time, I feel at least some kind of content: this project earned me a lot of recognition and new opportunities, I even received a couple of job offers!
Speaking of, have you used RebusFarm before? If so, please tell us about your overall experience. Is there anything you especially like about our service?
Unfortunately, I haven't had the opportunity to use your services yet. But thanks to the fact that I won the title of 3D Artist of the Month, I am now looking forward to finally try it out soon and make good use of my free RenderPoints!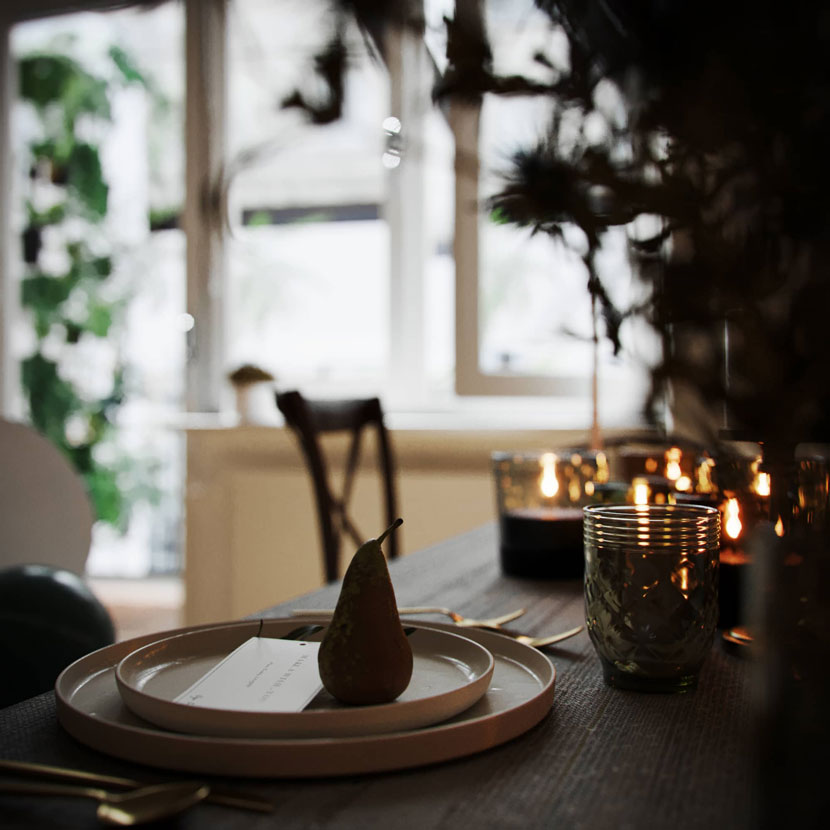 Happy belated birthday, Dragon!
In closing, is there anything else you want to say? Any plugs, shoutouts or upcoming projects you'd like to mention?
I'd like to thank RebusFarm for giving me this opportunity to express myself, I'm incredibly honored and grateful to be featured as your 3D Artist of the Month! This sort of recognition means a lot to me!
BE UNIQUE, BE CREATIVE
With love, 
Ines DGA
Keep up with Ines and her work here:
---

HOW TO JOIN OUR MONTHLY CONTEST
You want to be our next featured 3D Artist of the Month and win 250 RenderPoints? Just visit our 3D Artist of the Month competition page and submit your entry. We'll choose the best image and contact the winner.
---
>> Read more articles on our blog