Wednesday, August 1st, 2018 by Julian Karsunky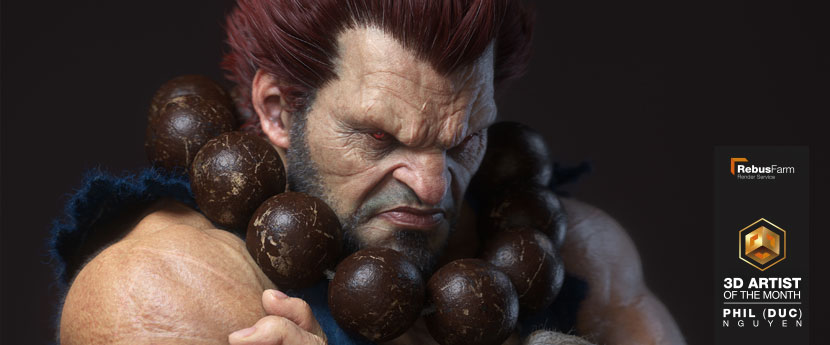 Messatsu! This is the war cry of demonic martial artist Akuma, main antagonist of Japanese video game developer Capcom's 'Street Fighter' series. Brought to life by Philippe Nguyen, our August 2018 3D Artist of the Month, evil has never looked this good. Growing up drawing the heroes of his childhood, Philippe nowadays designs the characters that are sure to fuel the imagination of future generations.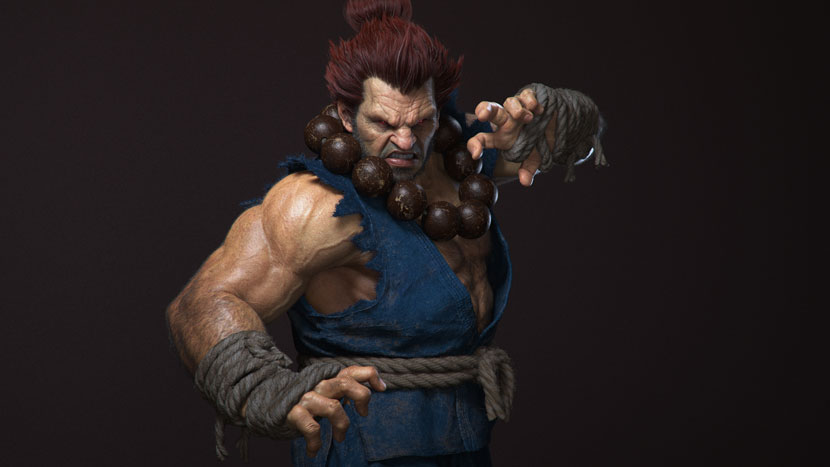 Akuma strikes a fearful pose, displaying the 'Wrath of the Raging Demon'.
Since its initial release, the original roster of Japanese developer Capcom's 'Street Fighter' series has long transcended the grimy arcades where its legacy began in the early nineties. More than 30 years later, the world warriors of 'Street Fighter' have become a global pop culture phenomenon.
Widely recognized for its iconic character design by critics and fans alike, the series continues to inspire artists everywhere to pay homage to the fictional brawlers of their childhood. Although the fandom has produced countless stunning pieces of artwork over the years, very few have ever looked as good as Philippe Nguyen's 3D rendition of Akuma, the mysterious antagonist wielding demonic powers.
"From his basic design to his villainous charisma, I've always loved this character", Philippe tells us. "I used to draw him all the time when I was young, copying illustrations from other artists and such, but I wanted to make my very own interpretation of Akuma in CG."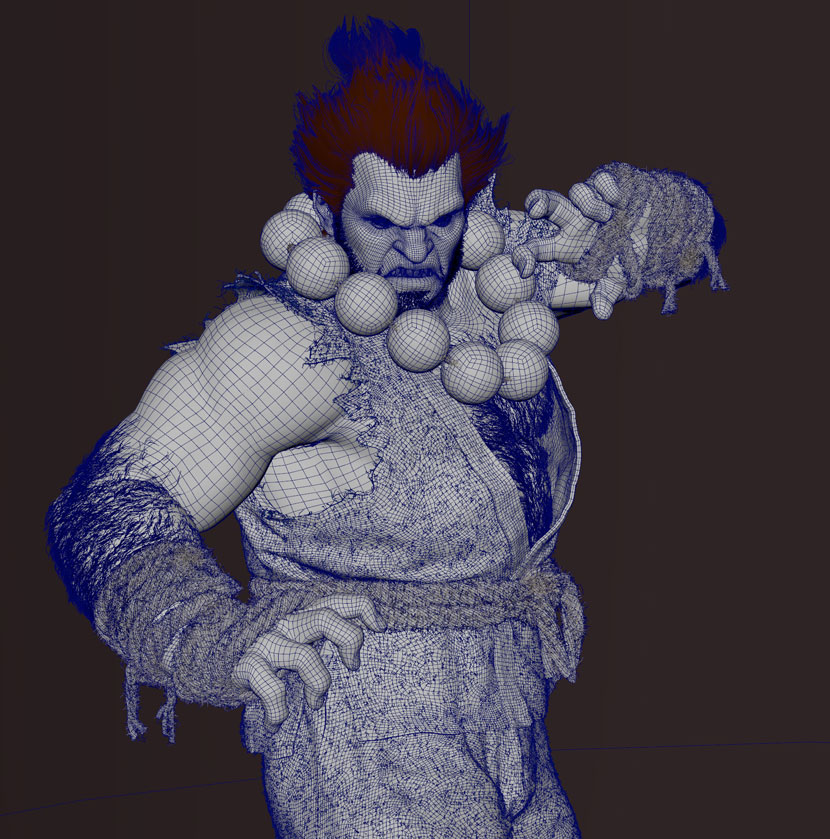 Akuma, work-in-progress.
Before ever dreaming of a professional career as a 3D character artist, Philippe's creative journey began at an early age, "drawing all of my favorite heroes." As he kept drawing, his doodles soon turned into proficient sketches, with the mindless passion of a child leading to the emergence of an accomplished illustrator. Portraying friends and family allowed him to not only earn some much-needed pocket money during his teens, but helped steadily fostering his talent: "I was fascinated by how lighting impacts objects and reveals shapes, subtleties and details," he describes his devotion to his craft.
Although young Philippe was enthralled by CG technology when he first laid eyes on the animated dinosaurs in 1993's blockbuster 'Jurassic Park', a lot of time would pass until he made the switch to 3D himself. Sticking to his artistic roots, he underwent training in mechanical drawing before deciding to expand on his academic knowledge by enrolling at ESMA art school in Toulouse, France. "It was there I first began systematically learning CGI," Philippe recalls.
"Initially I had my doubts regarding my future in this field, as I wasn't too excited learning the basics – everything from geometry modeling, UVs, to simple lighting, texturing and rendering," he says. It was only when the curriculum contained digital sculpturing during his second year on campus that Philippe found his calling: "Discovering Mudbox was like a revelation to me. At that point I knew I wanted to make characters".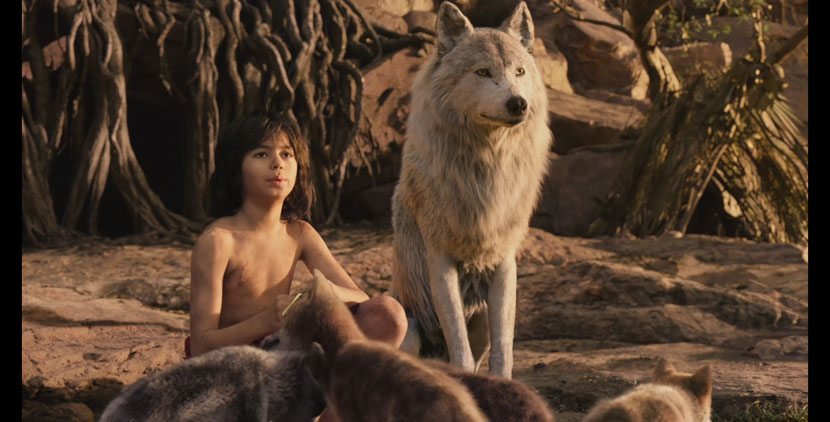 As Groom TD at MPC London, Philippe was in charge of creature grooming for Disney's 'The Jungle Book', including the fur of the wolf Raksha.
Soon after graduating in CG animation and visual effects, Philippe began working his way up the ranks. During his time as a groom technical director at MPC London, he was involved in prestigious projects such as Disney's 2015 life-action adaption of the 'The Jungle Book' and 'Terminator Genisys'.
Today, at age 32, Philippe works as a senior character artist at Unit Image, a 3D animation studio based in Paris, France, specializing in full CG and VFX for cinematic game trailers, commercials and films. "What sets working at Unit Image apart, is that it's a company founded and lead by artists. They know how to fulfill a client's need while making each project interesting and enjoyable for the artists involved."
"As senior character artist, it's my job to create characters from scratch, that entails everything from modeling to lookdev, texturing and grooming," Philippe describes his current position. "As a learned 3D generalist, I love being involved in all stages of production! Instead of passing a model on to the next person in the process, my job allows me to express and see through my artistic vision of character design and creation. As a character artist, this is incredibly fulfilling and I consider myself very fortunate in that regard!"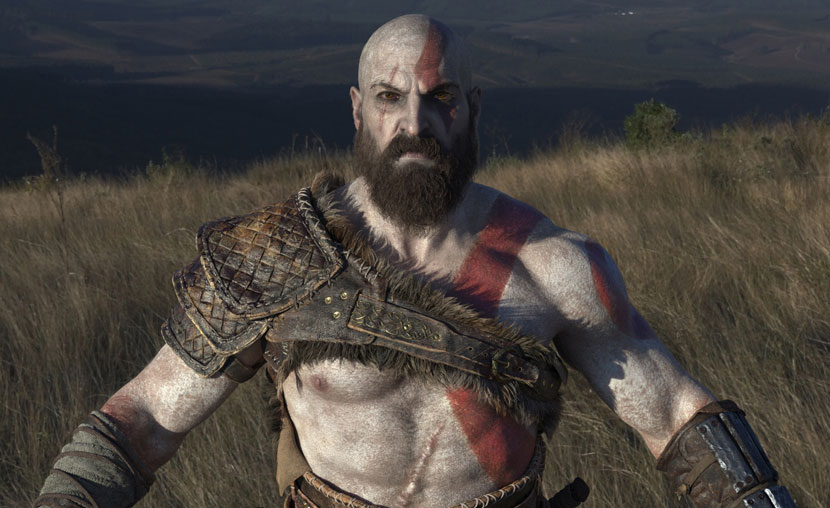 For his latest projects at Unity Image, Philippe worked on cinematic trailers for high-profile games such as 'God of War'.
On top of his work at Unit Image, Philippe keeps busy by taking smaller freelance jobs in between bigger projects. Asked about his preferences, he tells us he generally prefers working on site: "I like working and progressing with a team. The exchange with people from other departments helps me to continue learning new things and further improve as an artist."
The creative freedom he enjoys at work, however, still does not satisfy his seemingly insatiable desire for artistic expression. This drive, combined with the desire to hone his technical abilities, leads to personal projects such as his breathtaking interpretations of characters such as Akuma or the Joker pictured below taking up his free time. "I'm lucky to have an understanding girlfriend", Philippe says with a wink.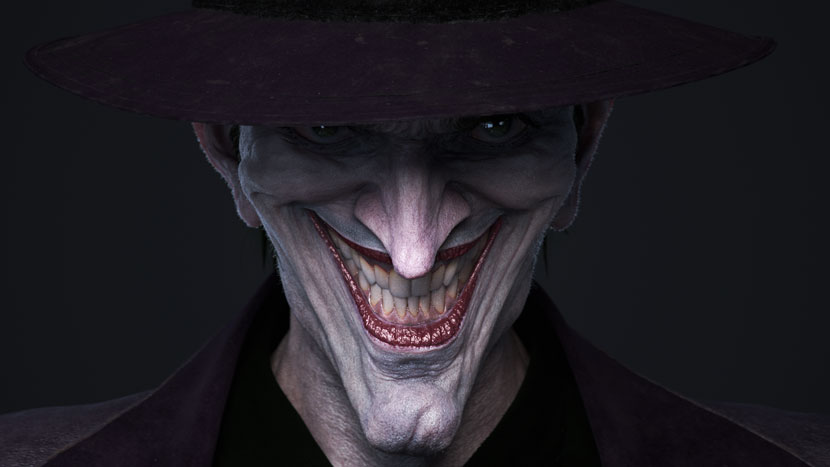 Philippe apparently has a soft spot for villains. Inspired by Alan Moore's depiction of the Joker in 'The Killing Joke', this rendition of Batman's clownish adversary is every bit as impressive as his Akuma.
With a better understanding of both his artistic and professional background, we return to Philippe's Akuma. Though the model stands as a "Gesamtkunstwerk" in the realm of 3D character design, it is still worthwhile to pay closer attention to its individual parts. Whether it is the scratched textures of the prayer beads worn around Akuma's neck, his muscular veins and furrowed brow or every single, expertly crafted piece of body hair – each detail is a prime example of visual story telling, perfectly encapsulating and distilling the image of a battle-worn warrior.
While Philippe told us before how he had always wanted to create his own version of Akuma in full 3D, the project surprisingly originated as a sketch of Hollywood actor Liam Neeson. "I had already begun working on this model of Liam Neeson I made in Zbrush," he explains. "At the time I was playing Akuma Street Fighter V and the project suddenly took on a life of its own."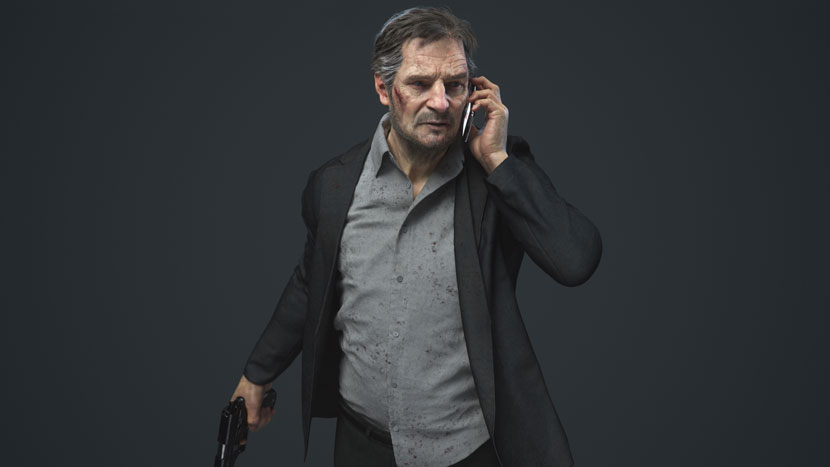 After becoming "sidetracked" with Akuma, Philippe eventually finished his initial project, portraying Liam Neeson's character in 'Taken'.
"The most interesting, yet equally challenging part was creating a realistic facial structure and a believable expression. I envisioned Akuma's face as a mix of human, orcish and demonic qualities, but at first, I struggled with morphing Liam Neeson's face, making it less recognizable."
"To intentionally break the feeling of 3D, I added secondary shapes as well as skin pores with alpha provided via texturing.xyz. Then I went over all the wrinkles and micro- wrinkles in redetail."
Turning Liam Neeson's visage into an expression worthy of a demon proved difficult.
Speaking of software, Philippe tells us his workflow for personal projects is mostly similar to his professional jobs. "I used Marvelous Designer for the clothes and Ornatrix for the hair. I project texture in Mari or – in case there's no need for extreme accuracy – directly in Zbrush. The asset texturing was made in Substance Painter and rendering was done through V-Ray."
"With the exception of Ornatrix, I try not to rely on plug-ins too much, because I want to be able to make as much as possible with the basic tools available to me through the respective software."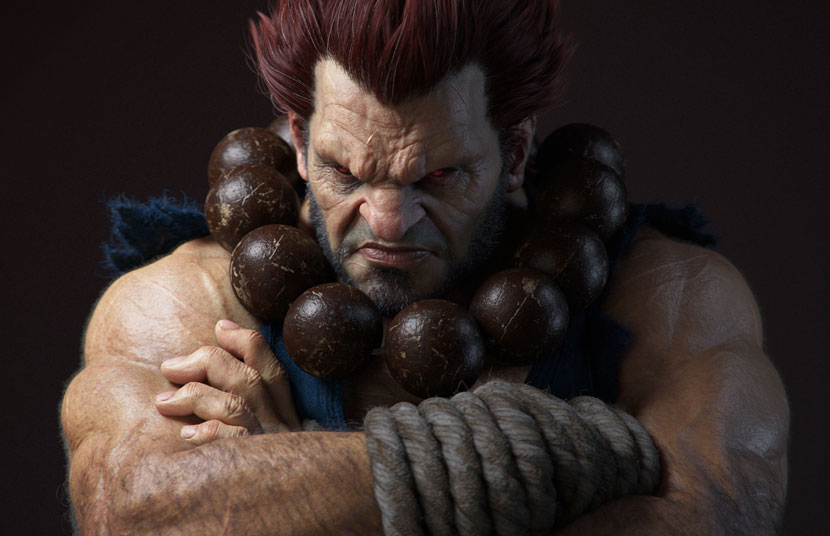 "Personally, I don't consider my work as realistic as I often hear it described from others. I deliberately exaggerate shapes and details".
As of yet, Philippe has not had a chance to use the RebusFarm render service, but is looking forward to try it out in the near future: "With the RenderPoints available to me now, I can't wait to render some HD sequences without having to spend days on my personal machine!"
We cannot wait to see the results of Philippe's well-deserved RenderPoints and hope to see more of his amazing work in the future.
If you too want to follow Philippe Nguyen's work, you can keep up through these channels:
---

HOW TO JOIN OUR MONTHLY CONTEST
You want to be our next featured 3D Artist of the Month and win 250 RenderPoints? Just visit our 3D Artist of the Month competition page and submit your entry. We'll choose the best image and contact the winner.
---
>> Read more articles on our blog