Monday, March 13th, 2017 by Julian Karsunky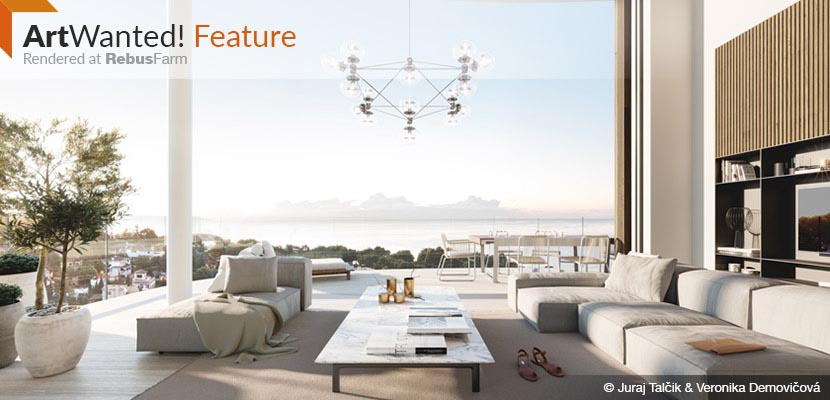 Today it's our great pleasure to give you an insight into the work of Juraj Talčik and Veronika Demovičová, the equally charming and talented couple behind Talčik & Demovičová, the renowned digital boutique specializing in high-end photorealistic imagery of contemporary architecture and design. Hailing from Bratislava, Slovakia, the 3D-duo has quickly gained a reputation for their stunning visualization and keen eye for detail, currently sporting over 35k likes on Facebook. For our Art Wanted! feature, Juraj and Veronika talk about managing their own studio, real live and digital sources of inspiration and "PC monkeys".
First and foremost, thanks to the both of you for taking the time to talk to us about your work! Together you founded and are now successfully running "Talčik & Demovičová", your very own studio. Considering the collaborative effort required, how do you divide responsibilities between the two of you on a daily basis? 
Juraj: Most of the time it's quite fluid, really! Generally speaking, Veronika is more of a designer, picking the pieces when we're given free reign to do so, while I am more technically orientated, improving our workflow and doing research. On the creative side it depends on who is more involved in our respective projects, but she's great in composition and I specialize in lighting and materials.
Veronika: I am also the one who makes sure the company runs well business wise and is paying taxes on time :-) Although we do have an accountant who helps with that kind of stuff. Juraj is the one who communicates with our clients. A big incentive for clients to work with companies of our size is that they get to talk directly to the very person who actually does their image, instead of going through a proxy like an account manager or senior partner who then gives the job to an intern.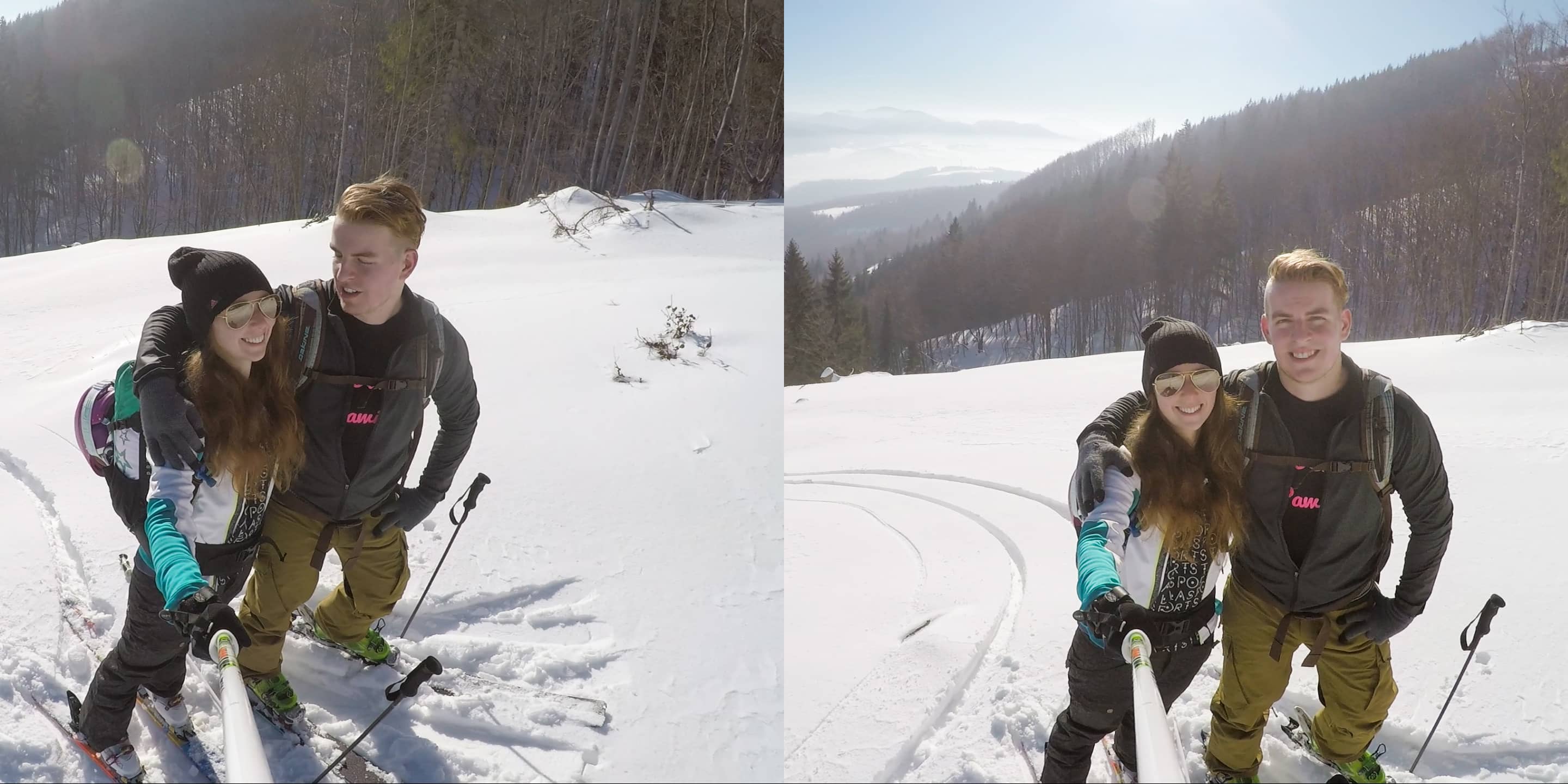 Juraj Talčik & Veronika Demovičová
What were the biggest obstacles you had to overcome in your joint career thus far?
Juraj: With all the horror stories about "clients from hell" I often read about online, we consider ourselves very lucky for having always had great work relationships with our clients. But of course it's never without complications entirely and educating clients often takes considerable energy. While most of them trust you enough to allow very smooth workflows, some might have very strong visions that are just not feasible or plain impossible to execute.
One of our most common peeves is coloring: Guys, I'm sorry, but it's not possible to have that magical golden sunset mood and yet still have every material appear perfectly neutral like a D65 balanced swatch.
Veronika: Obtaining the necessary trust and freedom is crucial in finding success in any creative endeavour. The worst thing to happen to creators is when they let themselves become mindless button pushers or "PC monkeys" as I like to call them. There are also the occasional clients who think that they could do your job better than you, though thankfully in our field that's a rather rare occurrence.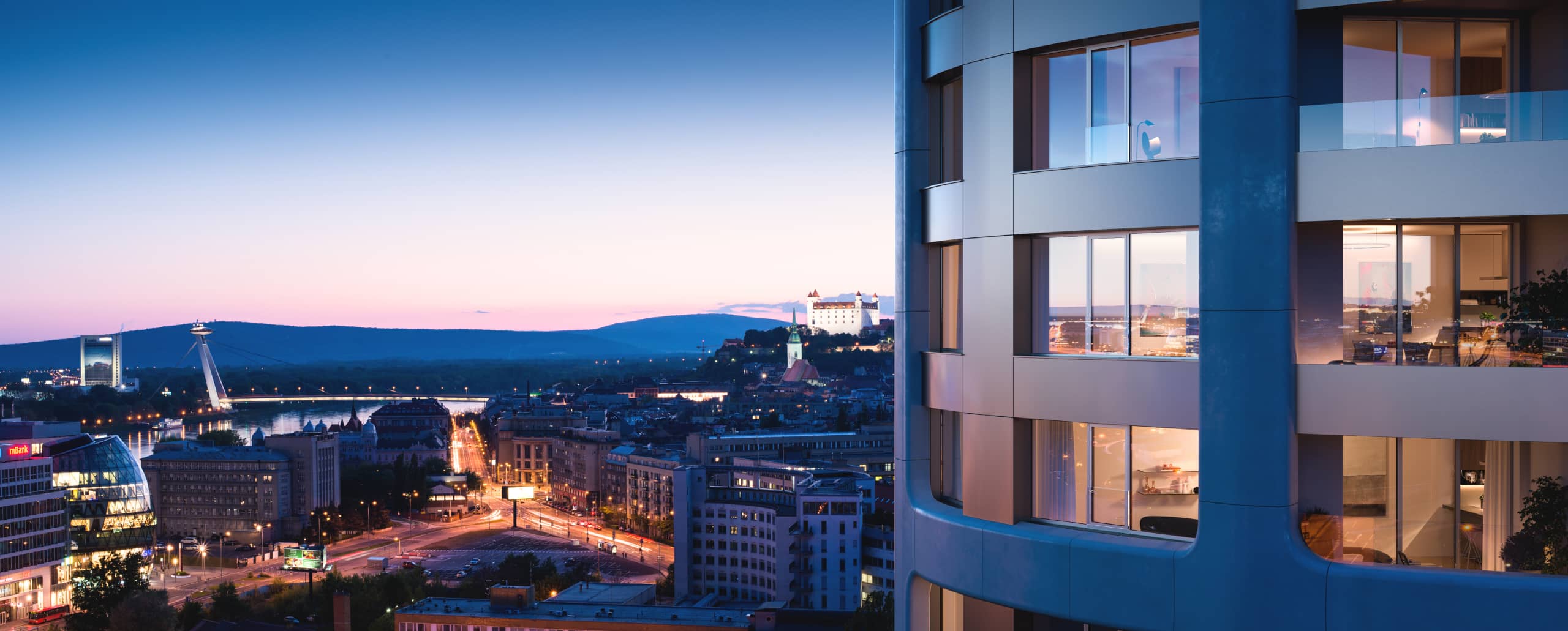 Skypark by Zaha Hadid

Together you've managed to become household names in the industry, your work in contemporary architecture and set design is held in the highest regard. Since allegedly yesterday's failures are today's success, how did your studies go?
Juraj: I wasn't exactly successful in finishing college, but it provided the necessary groundwork for me to build on later. I figured out where my focus lied rather early and spent all my time making images instead of studying. Eventually I started selling my services to some of my classmates. At the time, that felt revolutionary to me and it never devolved to a mere job since. More importantly though, it's when Veronika and I became not only a couple but also started working together as well. It has always been a mutual effort between the two of us. We just "rebranded" recently to make it more obvious.
Veronika: I pushed a bit further, actually finishing my architectural degree :-) Back then, juggling work and school projects at the same time was quite challenging. On top of that, a lot of my teachers looked down on my work, which often made me feel frustrated. So finally getting out and focusing purely on work was a great relief.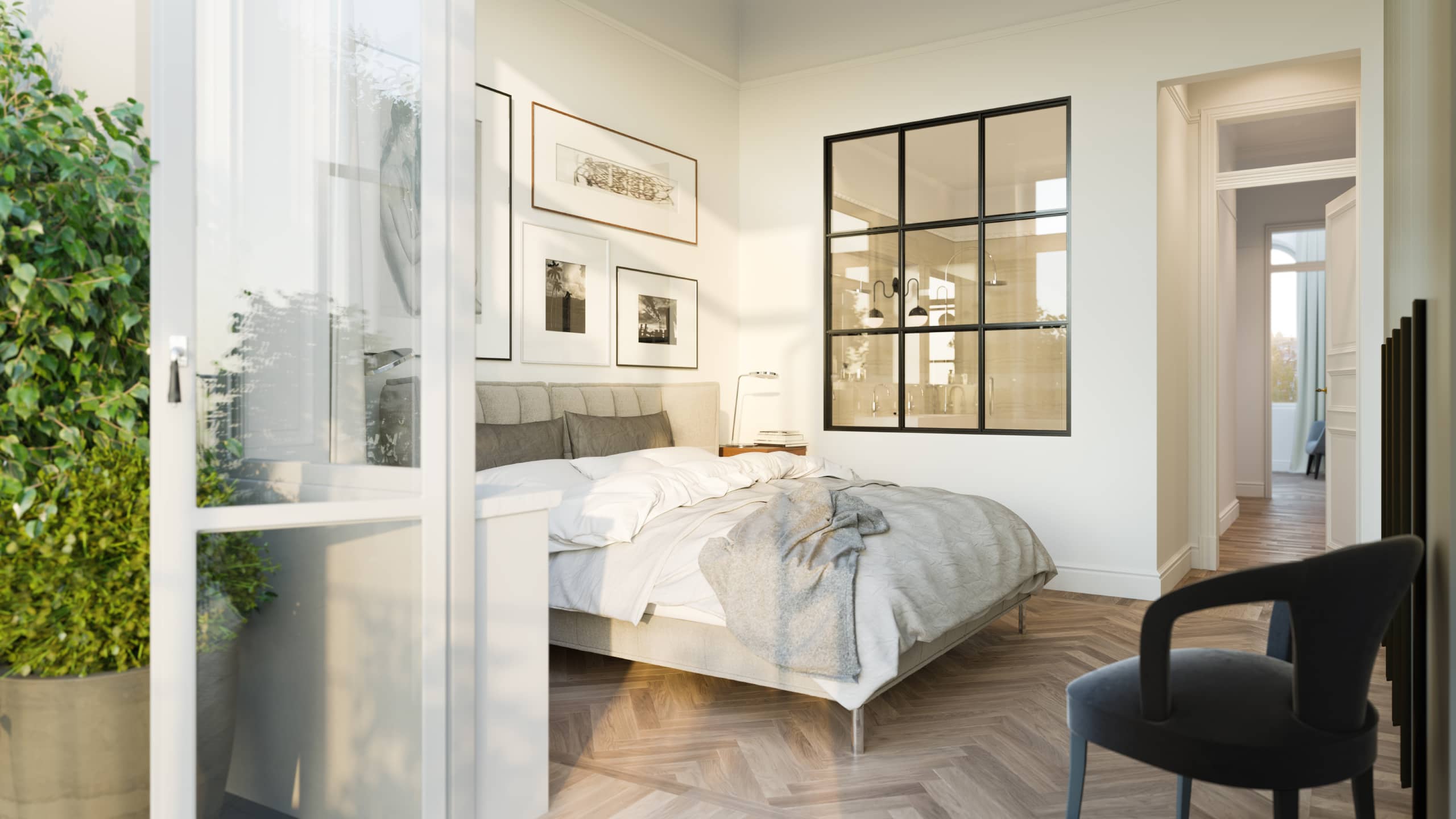 N°58 Classical Stockholm apartment
Nowadays both of you are also working as lecturers yourselves, imparting your extensive knowledge to aspiring 3D artists all over the world. What's some advice you'd give to people just starting out in the field?
Veronika: Strive to create something that impresses a wider public than just the CGI community – you should aim higher than a scratched shader ball! It's a very technical field, yes, but the primary focus should still be creativity.
Juraj: Today it's simultaneously easier and harder for those new to CGI than it was back when I first started years ago.There's a tremendous amount of resources readily available, ranging from in depth tutorials to assets as well as props, scripts, and tools, so you can get up to speed much faster. On the other hand, there's less room for experimentation and discovery. Finding your individual approach through trial and error might be less efficient, but it certainly yields more personal and unique results. Notable examples of this can be seen in the works of today's senior artists such as Marek Denko, who despite never having had access to any kind of tutorial whatsoever, keeps publishing absolute jaw-dropping projects on a yearly basis. A majority of the industry in contrast seemingly uses a cookie cutter approach and produces works that while often technically excellent, are somewhat lacking in soul and thus ultimately just not very noteworthy.
What subjects in CG do you like the most? Which software do you prefer?
Veronika: I really enjoy when our CGI work overlaps with the real world, especially in relation to interior design and photography. When we get to pick pieces to populate our scenes, choose a theme for it and shoot in the field: references, hdris, backplate photography – all that good stuff. Lately, we've been experimenting a lot with photogrammetry, scanning complicated props to make the scenes feel more natural.
Juraj: I like technical development a lot, how we're getting exceedingly closer to realism and interactivity. My original inspiration for going into this field was my lifelong fascination with computer games and the imaginary worlds therein. For me, that has always perfectly matched with architecture and we've been seeing more and more of it lately, with architects advising or straight up building the environments for games and movies. So real-time in general is very exciting to me. It's not something we're fully concentrating on quite yet though, as there's still so much to learn and to do with classic still imagery.
Talking software, Corona Renderer is what continuously makes our life easier. I'm also a big fan of Unreal Engine and am awed everytime a new update is released.
As avid users of our rendering services, what has your overall experience with RebusFarm been like so far?
Juraj: RebusFarm is great in that the entire process of using a render farm is really user-friendly. You don't have to concern yourself with manual FTP uploads, calculating costs and similar inconveniences. Any time and effort saved on the technical side is a big plus in my book. Used in conjunction with a renderer like Corona, the plugin pretty much becomes a one button solution.
You can also shoot them an email at 2 AM on a Sunday night and receive a reply within 5 minutes…only to realize it was a user error :-).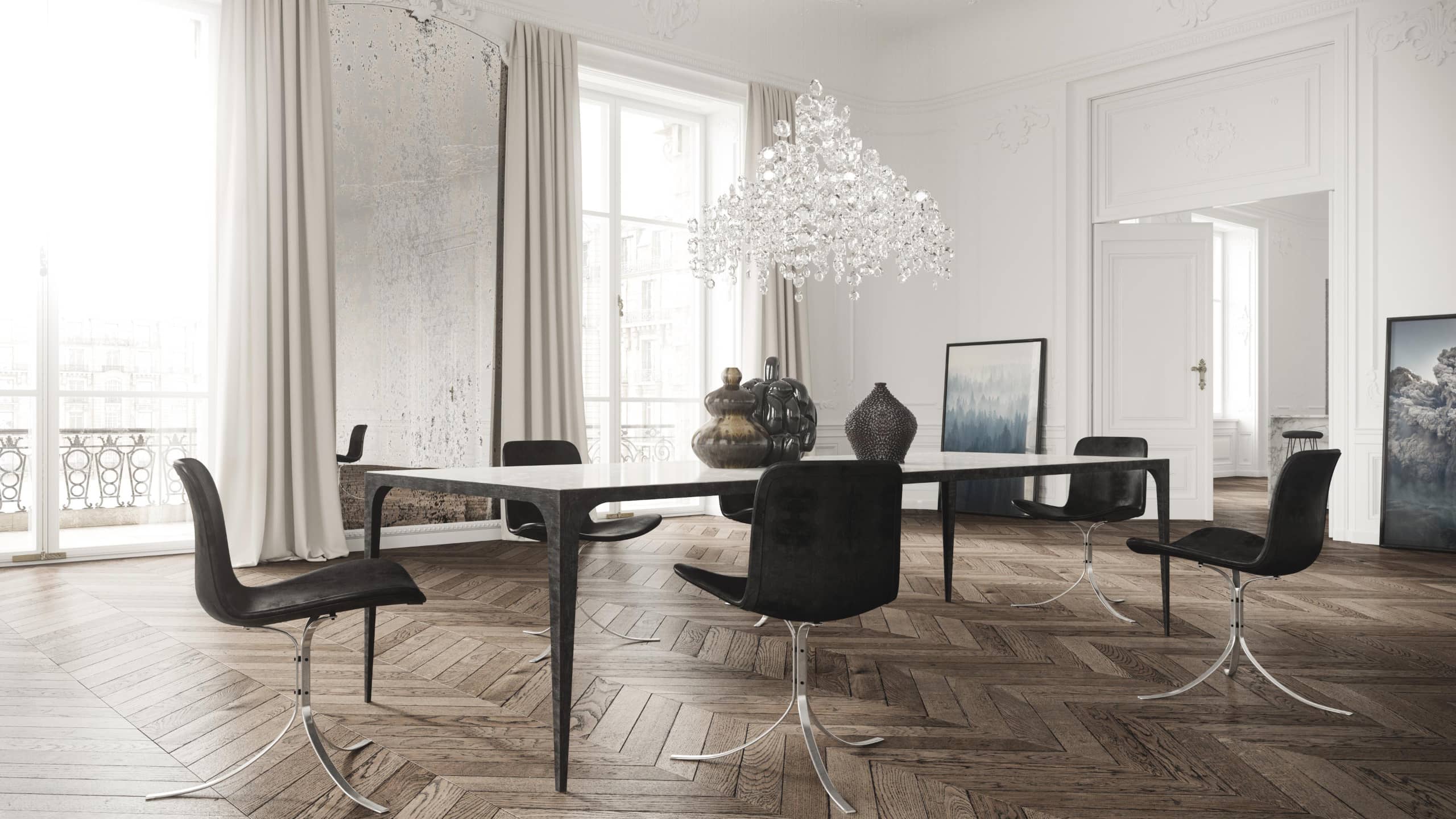 Classical Apartment by Jessica Vedel
Previously you've mentioned creating your own video tutorials in the near future. How are those plans coming along?
Juraj: Yeah, well that :-) Sadly, when it comes to projects such as this one, my "near future" commonly becomes "a long time", as the goals I set for myself are so dauntingly high that they ultimately deter me from starting. It's just so much easier for me to keep answering shorter, more singular topic requests in forums or messages. I still want to do it though…I think I'll just stop making promises and refrain from talking about it altogether to not embarass myself further.
Any other upcoming projects you'd like to talk about?
Veronika: While image making will remain our bread and butter, we're branching out with some new things on the side that are still tangent to CGI. It has to do with our hobbies and is the logical conclusion of combining the fun with the useful. Business is pleasure when you're getting paid for something you would do regardless! Not giving away any more right now, but when the time comes, we'll tell you all about it :-).
How to join Art Wanted!
You'd like to join our Art Wanted campaign, get featured on our blog and win 50 RenderPoints on top? Submit your work, rendered at RebusFarm, to This email address is being protected from spambots. You need JavaScript enabled to view it.! Check Art Wanted for detail
---