Wednesday, June 1st, 2016 by Nadine Obst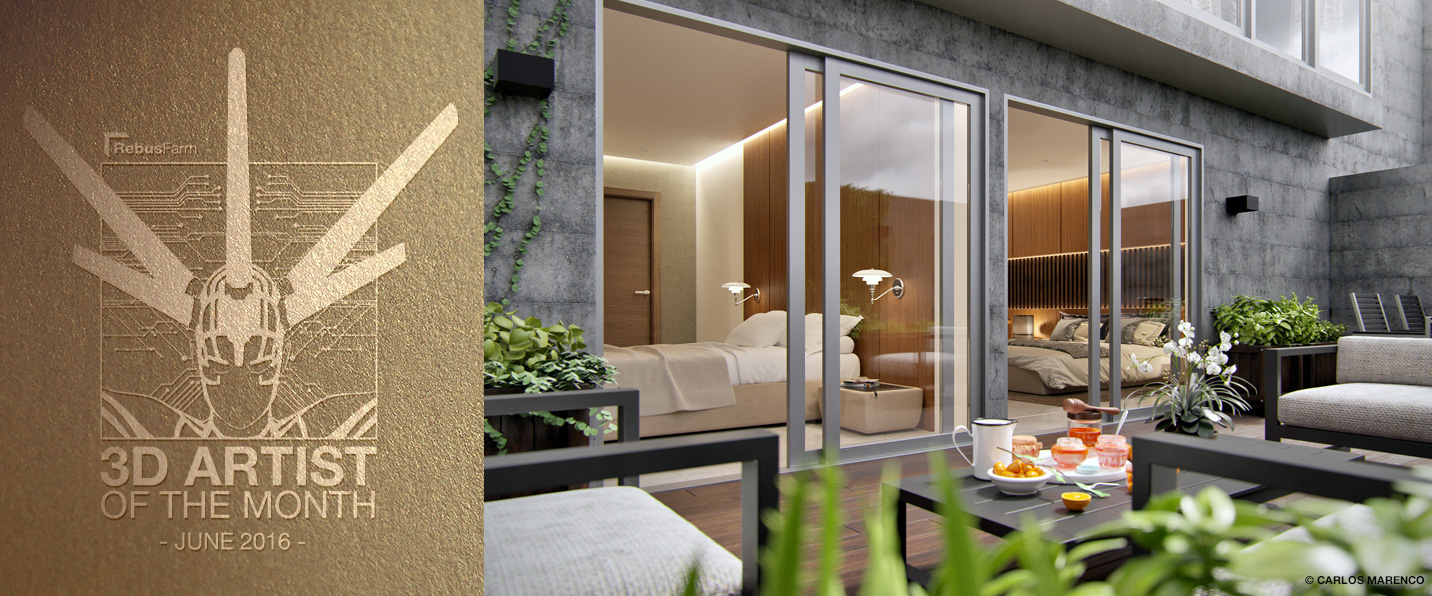 Today we'd like to introduce to you our 3D Artist of the Month June 2016, Carlos Marenco from Nicaragua. Carlos took the time to talk about his career and the making of his winning image "The Garden" in the following interview.
Hi Carlos, thanks for taking the time. Please tell us some more about your work as a 3D artist.
My name is Carlos Marenco and I'm a Nicaraguan architect specialized in architectural visualization. I started working in ArchViz almost 6 years ago, maybe more, I don't remember exactly, but what I do remember is my first render...it was a weird one though! I made it by using SketchUp and V-ray and spent hours practicing, watching tutorials online and reading books like the famous Legrenzi's Book. This book helped me learn the majority of V-ray SketchUp settings, which is quite funny as it's actually an introductory book for 3ds Max users. Since then I never stopped learning and trying to improve my skills. I want to offer my customers high quality renders at all time.
My first job was for a company working in the construction business in my home country about four years ago. I also got the chance to work as an architectural and graphic designer on some of their residential projects. It has been an excellent experience for me. After one year I started to work as a freelancer at first offering my manpower on freelancer's websites only. Step by step I built a stable client base around the world. You can find his portfolio on his website Marenco Arch Viz. 
Talking about your winning image "The Garden", which software did you use for your creation?
For "The Garden" I first made a structural model using 3ds Max. Then I chose furniture from 3dsky and for the design, I got inspired by images I found on facebook and during my online research. I created the wood and ceramic floor using the FloorGenerator 2.00 which I highly recommend as it is one of the best plugins on the market and really easy to handle. For postproduction, I used Photoshop and ArionFX (great for 32bits EXR formats). I will go more into detail on that in my making-of later on. 
Any preferences or special tools you use and can recommend?
Actually, I just started to work with Corona Renderer. I personally experienced that the quality and working process of this render program is much faster than V-ray. But it obviously depends on each individual preference. But right now, since I'm working with the program for three weeks now, I can say I'm very happy with my results. Although V-ray had been my number one tool since I started to work in ArchViz, I can definitely tell a difference between both programs. Generally, I do work with SketchUp, 3ds Max, V-ray for SketchUp, Corona, Photoshop, Lumion, AutoCAD and architectural and interior design programs. 
What about RebusFarm, have you already used our service? What did you experience?
Yes of course! I have worked with RebusFarm many times now. I really appreciate your work and your service is very professional. I love that I'm able to get my work rendered faster and for an affordable price. High resolution renders would be impossible to do on my home computer. 
Anything else you'd like to say?
Well, I'd like to thank you and your team at RebusFarm for giving me this great opportunity and also would like to thank the guys at Ileven Studio Design from Mexico who helped me realize this project. 
Thanks a lot, Carlos. Let's move on to your making-of the winning image "The Garden":
To create the design I used some collected ideas from garden roofs and terraces to create a cozy ambiance. It can help a lot to collect previous ideas, inspirational designs, furniture, materials and all necessary information about your customer beforehand to get better results.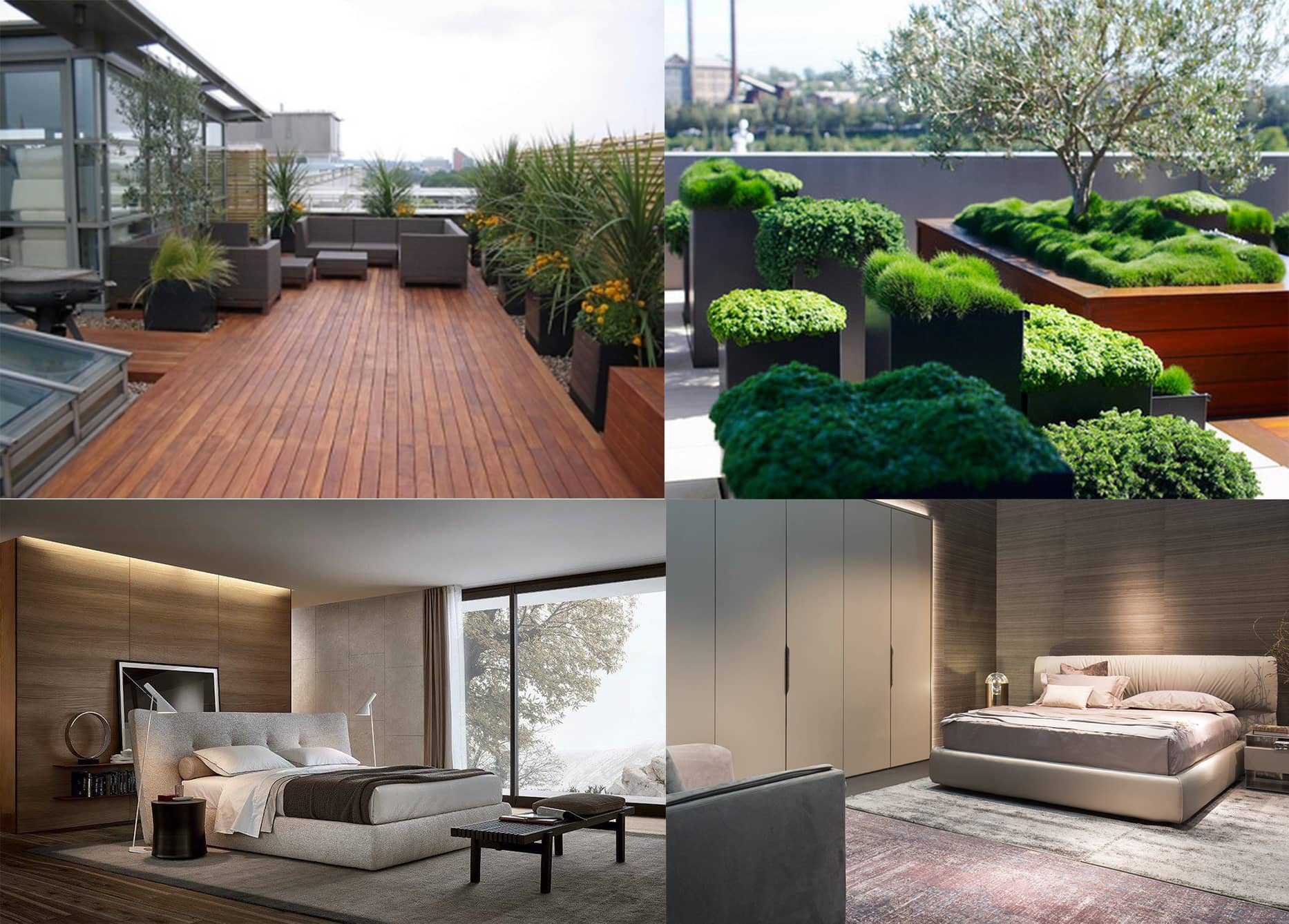 To create the model I started with a simple JPG image. I prefer to work without the AutoCAD file as you can spend a lot of time on only deleting unnecessary layers. Of course, the process might be less precise but if you practice you will get along with the scale very well. I usually use a standard wide door size as a reference.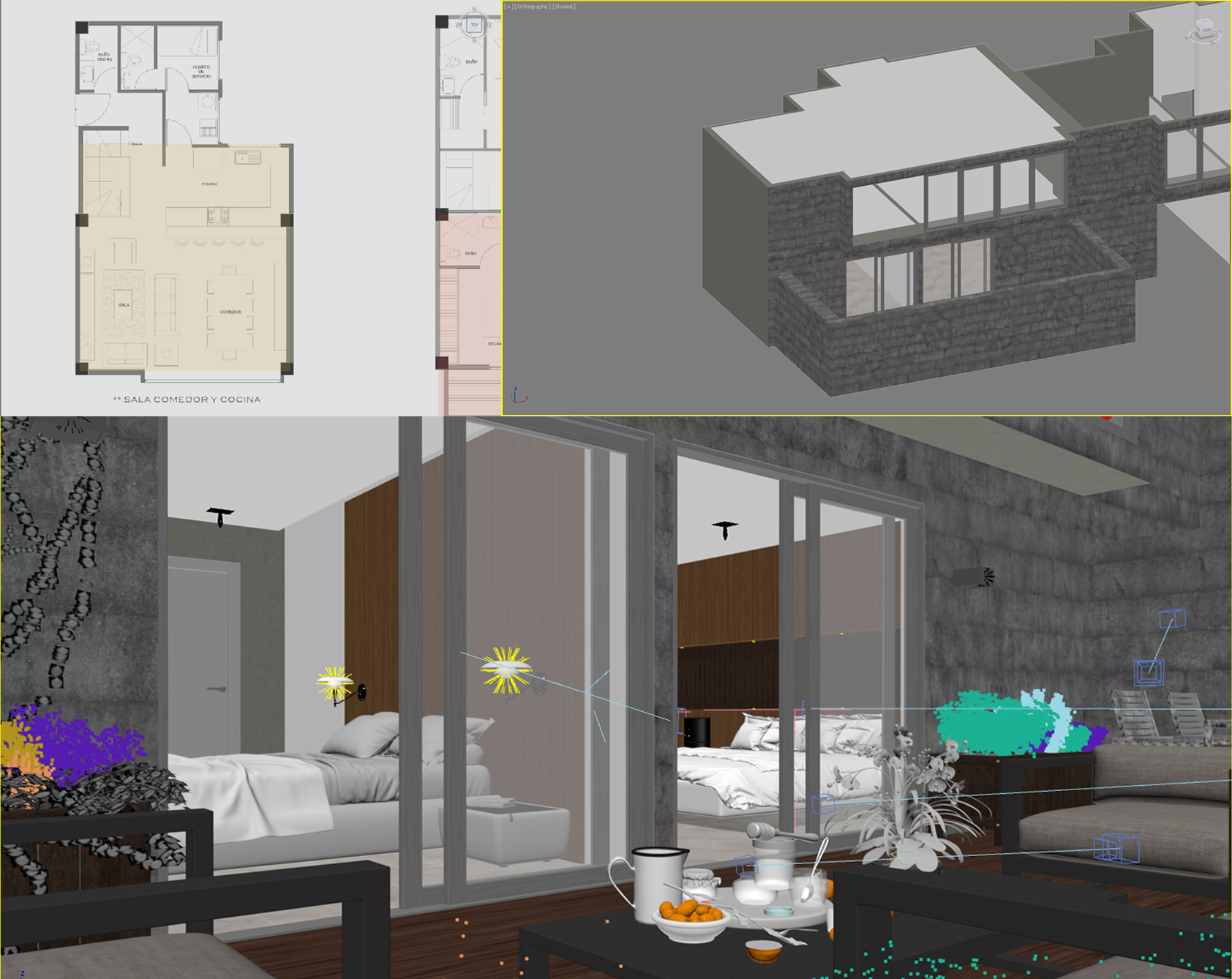 For the external lights I only used an HDRI skydome from Vizpark and for interior lights, the lamps and rectangle lights on the ceiling, Corona sphere lights. I have learned that it's not necessary to use the gray render test. To get the best result with the HDRI illumination you only have to work with the camera settings in Corona active mode in real time and then change the highlight angle a bit, that´s basically it. Very easy!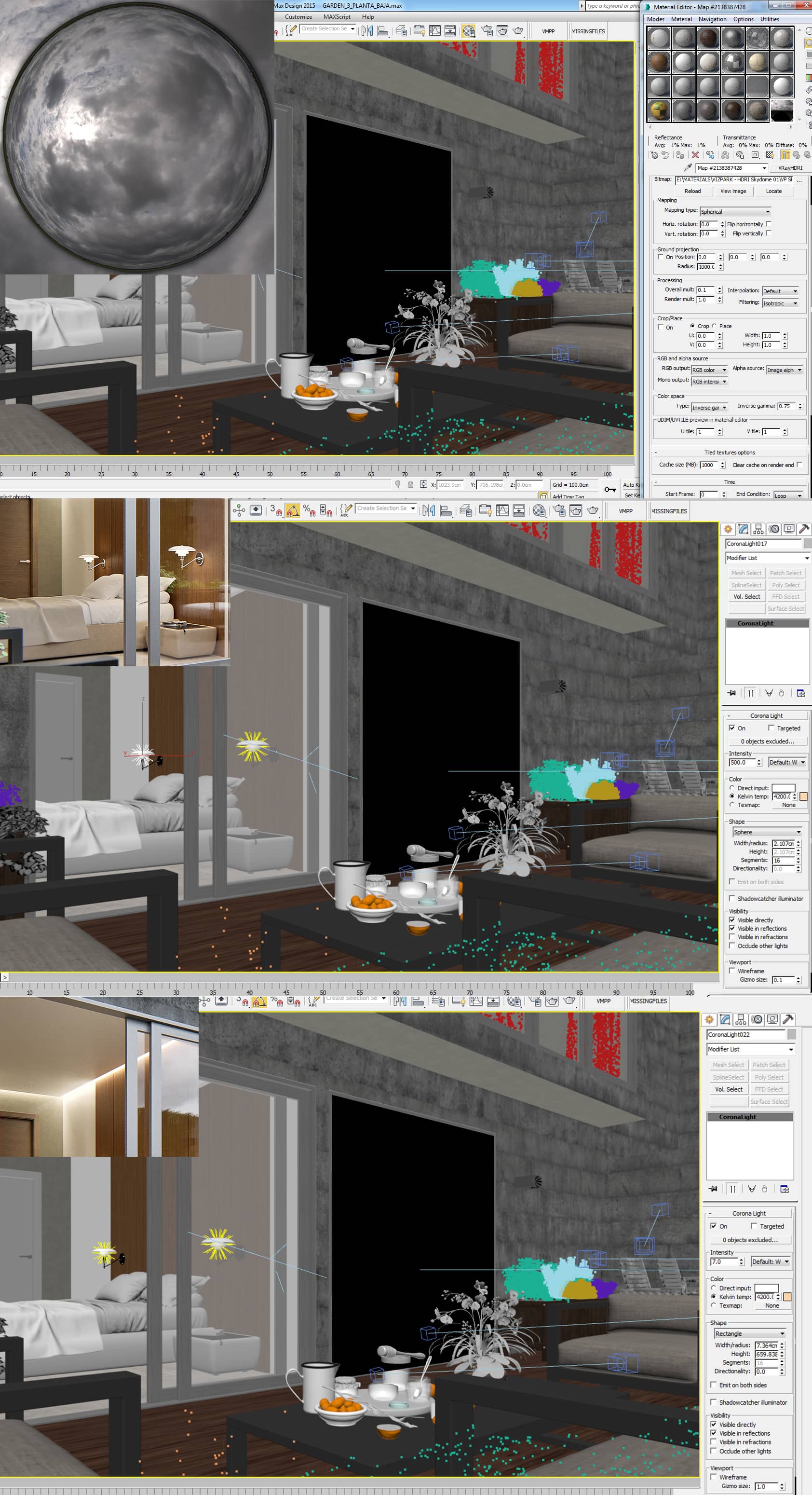 For materials, I did not use anything too complicated. The multi-texture map of the wood floor is from CGsource and works very well with Corona. Then I added a concrete map with some AO effects and that´s it! To convert the V-ray materials I used the Corona Converter 1.26, I recommend you to change from bitmap to Corona bitmap and check the Corona gamma material just to avoid any errors. In case the Corona system gives you alerts while rendering you have the option to select the model which is causing errors separately. From my point of view one of the best advantages of this program.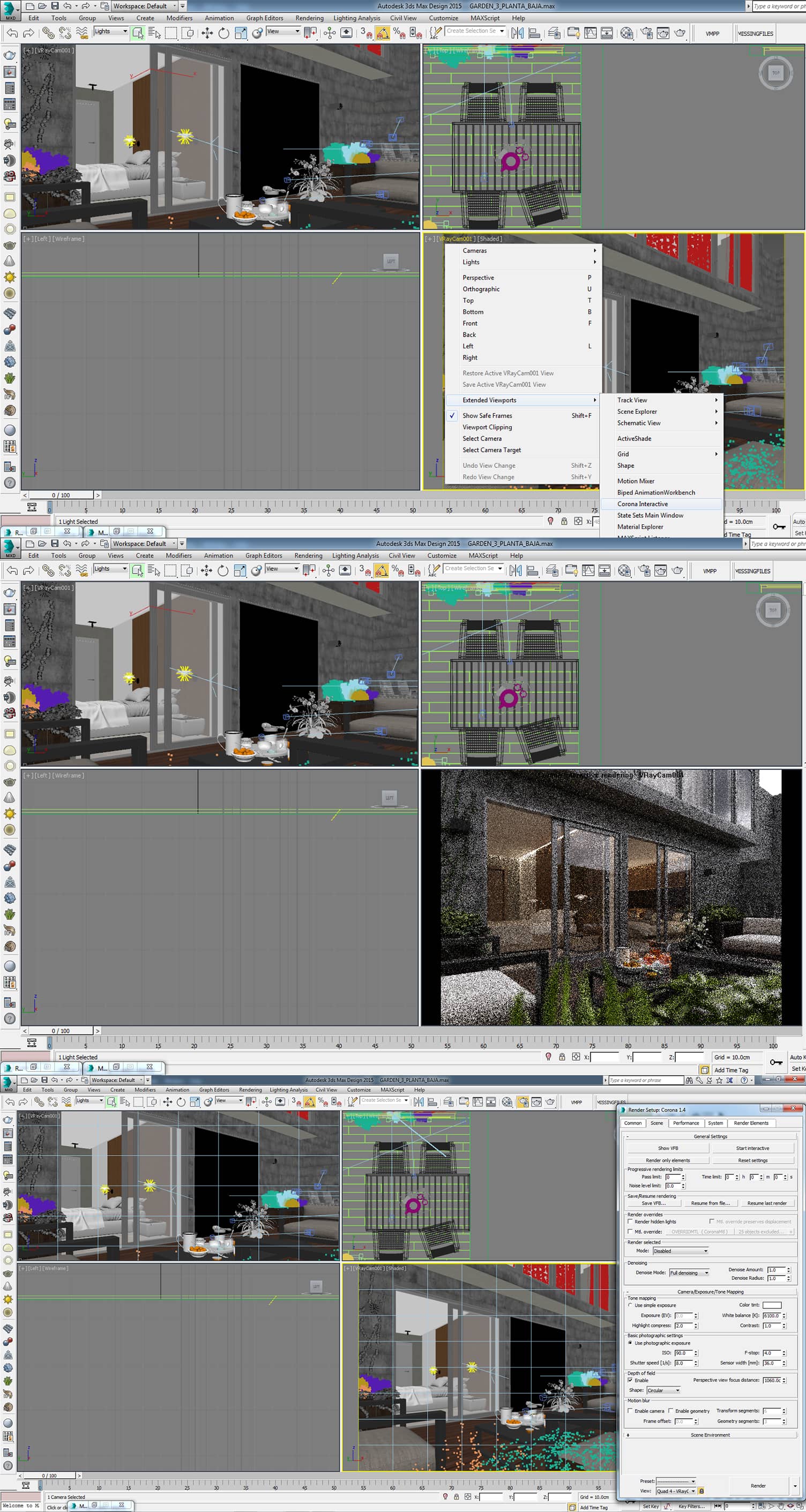 For post production, I used Photoshop and ArionFX which works very well with renders in 32 bits. Only two Corona render elements and some ArionFX effects and the image was done.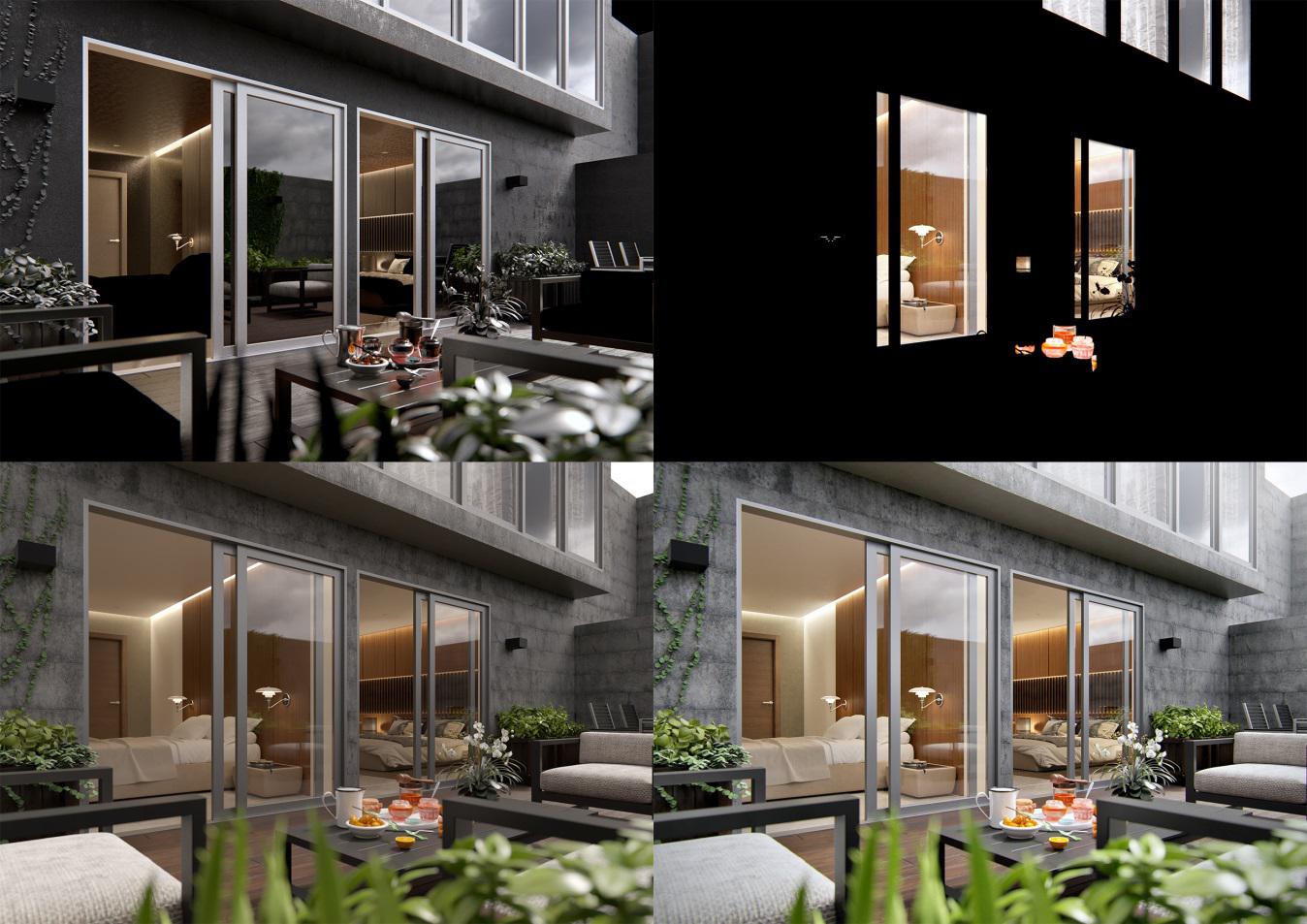 You want to be our next featured 3D Artist of the Month during the upcoming month of July and win 250 Renderpoints? Then, just visit our facebook page, upload one of your self-made 3D images and send us a personal message containing your email address. We'll choose the best image and contact the winner.

---
---