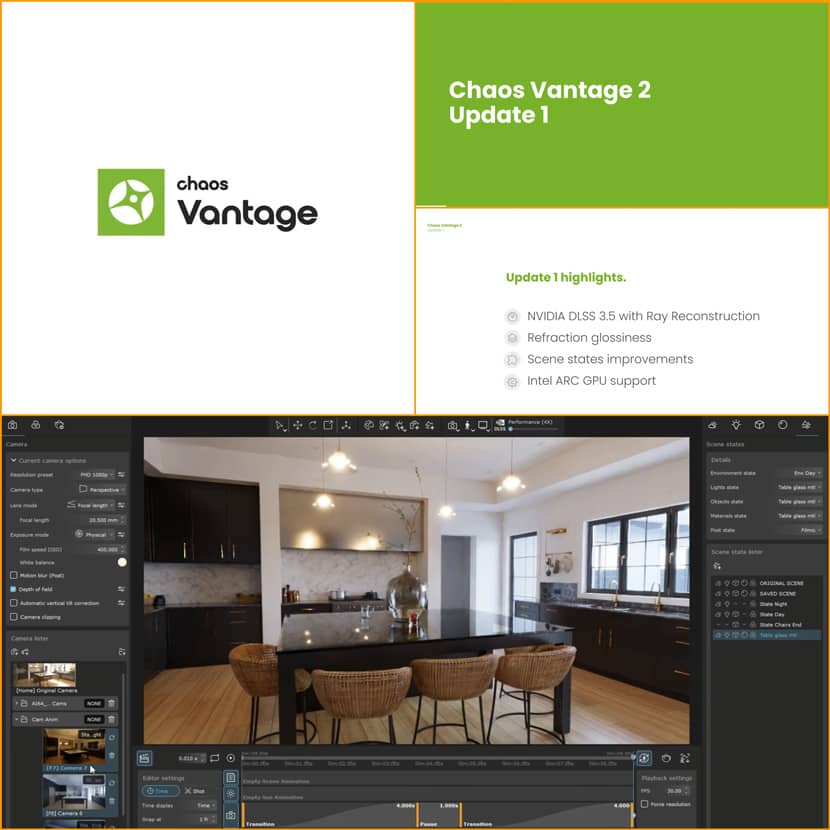 Experience high quality in real-time: NVIDIA's AI-powered DLSS 3.5 denoiser increases speed by three times while preserving visual fidelity.
Chaos Vantage, the real-time raytraced rendering solution, is the first non-gaming application to support NVIDIA's DLSS 3.5 technology. DLSS 3.5 is an AI-powered denoiser that uses a neural network to generate high-quality preview images, allowing you to iterate quickly and make confident decisions before rendering. With the ability to recognize a wide range of scenes, panning and camera movements become smoother and faster.

You don't need the latest NVIDIA card to use DLSS 3.5 — the technology improves ray tracing on RTX GPUs up to the 2018 RTX 20 series. DLSS 3.5 becomes the default denoiser type when using NVIDIA RTX cards with Chaos Vantage 2, Update 1.

In addition to this groundbreaking new feature, the new Chaos Vantage Update includes:

- Refraction glossiness, for frosted glass effects
- Scene state animations, for smooth transitions between different scene states
- Intel ARC GPU support

Learn more by watching the video below!

Chaos
 is a Bulgarian company established in Sofia in 1997 (famous for V-Ray). It is a world leader in visualization and computer graphics, creating technology that empowers artists and designers to visualize anything they can imagine. Their solutions vary from 3D rendering to real-time rendering and simulation software.