Tuesday, August 24th, 2021: 3D Community News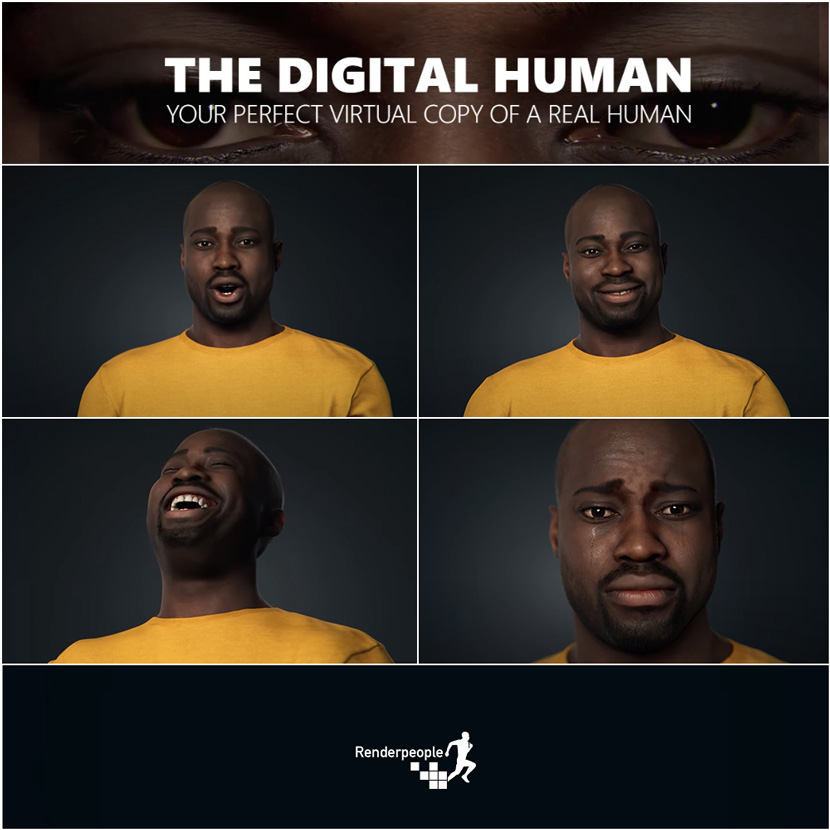 For many years we have seen very talented and experienced people recreating humans as a way of art. From sketches and paintings to 3D graphic arts, imitating the human form has always been an exciting challenge for us, humans. Now, Renderpeople is launching a project that not only imitates the human form but copies it in such a hyper-realistic way that it will take our interaction with 3D graphics to a whole new, personal level.
The Digital Human is a communication interface between human and machine, which can serve as an assistant, moderator, or simply a virtual companion. This virtual doppelganger of a real human will have you feeling comfortable and interacting in a human-like way, giving you the possibility to use it for anything you can imagine, your creativity is the limit!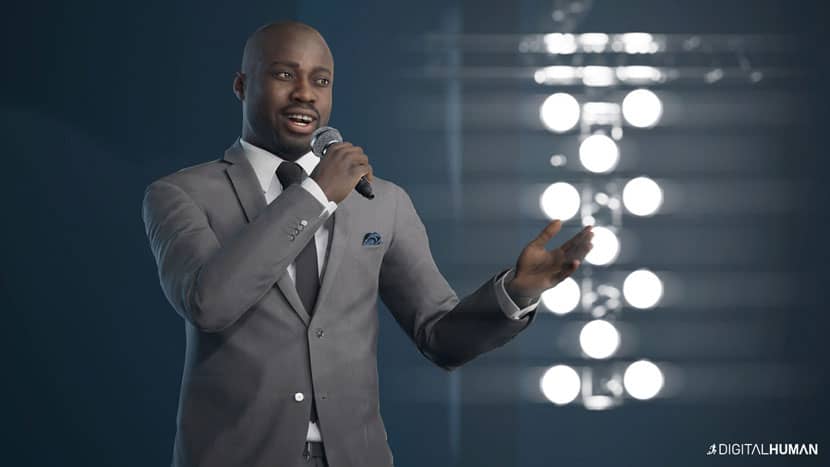 The Digital Human hosting an event.
To make all this possible for us, Renderpeople makes use of state-of-the-art technology to create a pixel-perfect hyperreal copy of a real-life human counterpart. There are many visual details, like motion, voice, and fine textures that have to be taken into account to achieve this unbelievable similarity, to be able to make you feel like you are seeing real expressions, feelings, movements, and feel like you are having an authentic interaction.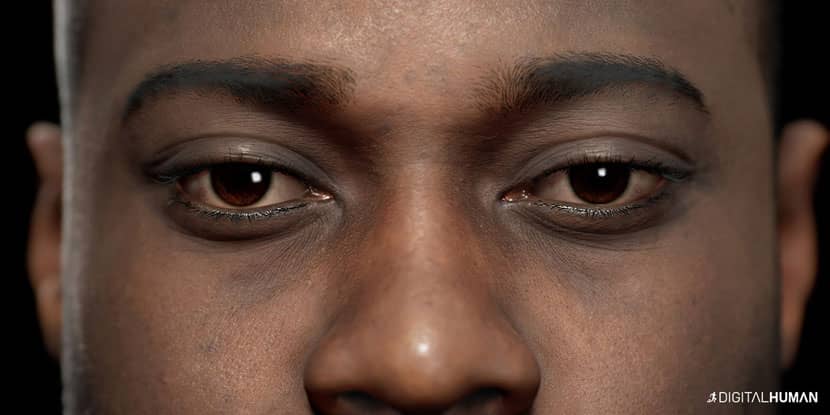 Close up of the detail in the Digital Human's face.
Renderpeople's 3D scanner is one of the most advanced photogrammetry rigs in the entire world, built with high-resolution Canon DSLR cameras, which allow them to scan the details that make us imperfect, human-like. Facial expressions are crucial to feeling an authentic human interaction. There is nothing more meaningful and communicative than the emotions shown by a tiny change in someone's face, like a subtle smile or a tiny grimace. In order to reproduce every tiny detail, an anatomically correct data set is essential. Over 190 different facial expressions (so-called "morph targets") were captured from the project's photo model, Fred.
'Morph targets', or facial expressions, being captured from the human model.
Like you've seen in Hollywood movies' back-stage footage, the animation of the Digital Human relies on Fred wearing a full-body motion-capture solution. This allows a perfect match between Fred's previous 3D photo-scans and his own body motion, bringing this virtual copy of Fred to life.
Renderpeople has achieved a photo-realistic and life-like version of a human being considering the perspective of all areas of research. The Digital Human is the result of many years of experience, extensive research, and a combination of high precision 3D scanning, motion capturing, and manual refinement. We are very eager to see how this project evolves and benefits our immediate society, all thanks to Renderpeople and its incredibly talented team.
Renderpeople is a 3D-product company dedicated to creating a vast library of first-class 3D people assets. Their use of photogrammetry scanning to create digital people has allowed them to simplify and accelerate the life of CGI professionals all over the world.