Tuesday, April 26th, 2022: 3D Community News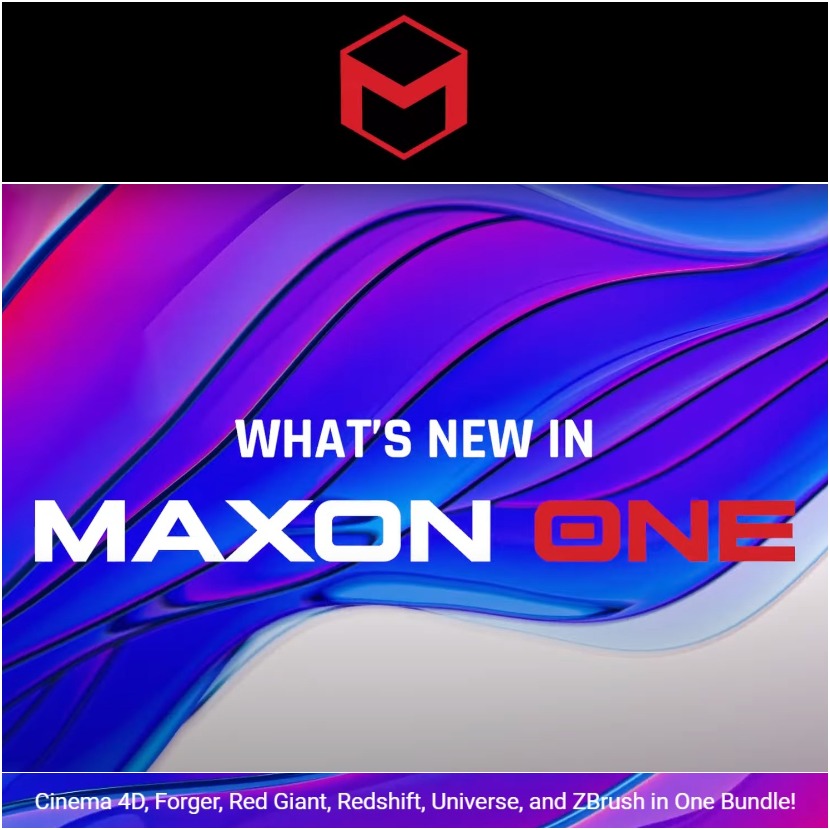 Maxon is excited to announce that it has included Zbrush to its family and from now on is also the newest member of Maxon one is a subscription type that allows artists to get all of Maxon's apps (CINEMA 4D, TRAPCODE SUITE, VFX SUITE, MAGIC BULLET SUITE, UNIVERSE and REDSHIFT renderer) at a low price. Monthly for 170.97 EUR or Annual for 1351.77 EUR.
Some of the updates are:
Z Remesher for retopology.
New interactive modeling tools.
Advanced spline nodes.
New capsule possibilities.
Improved vector import.
All new Cloth and rope dynamics.
Multi-threaded CPU or GPU simulations.
Redshift CPU with high performance compatibility.
Stand surface offers incredible photo-realism and translate materials from another renderer.
Simplified render settings.
Offers selection of polygonal primitives (spheres, planes, cylinders, capsules, torus, etc.).
Supporting iPad and Apple Pencil.
The number one digital sculpting tool is now part of Maxon.
VFX Suite 3 introduces Real Lens Flares.
Magic Bullet Suite 16 adds new Optical Diffusion and Halation tools.
Universe 6 introduced four new tools, Stretch, Sketchify, Box Bokeh and Chromatown.
Trapcode Suite 18 now supports M1 chips for (layer maps and all Trapcode tools).
Enjoy watching the Maxon One newest update now!
Also, if you are interested in REDSHIFT 3.5 new updates, you can watch this 2-minutes video below:
Maxon is a developer of professional 3D modeling, painting, animation, and rendering software. In January 2020, Maxon and Red Giant closed a merger of the two companies. Cinema 4D, Redshift 3D, and Red Giant products help you create and render everything from stunning visual effects in top feature films, TV shows, and commercials, to cutting-edge game cinematics for AAA games, as well as for medical illustration, architectural and industrial design applications. Maxon products are available directly from the website and its worldwide distribution network.