Wednesday, September 29th, 2021: 3D Community News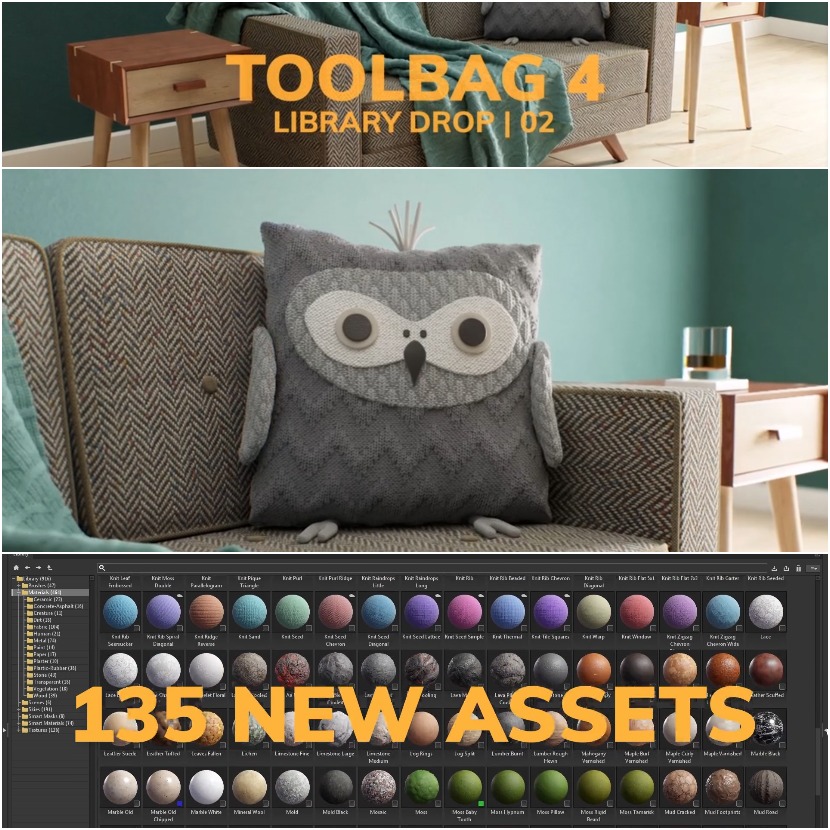 Marmoset has just released toolbag Lib Drop 02, which contains 135 new materials divided into categories.
The pack contains 28 Smart Materials and 107 New Materials, which are free for all Toolbag users.
Some of the materials are:
Ceramic Category (Brick Wall, Brick Wall Clean, Brick Wall Sloppy, Ceramic Ancient Glazed, Ceramic Ancient Rough, Subway Tiles, Subway Tiles Square).
Concrete-Asphalt (Concrete Aggregate Damaged, Concrete Irregular, Concrete Irregular Cracked).
Fabric (Corduroy, Cotton Dobby, Cotton Herringbone, Cotton Oxford, Kevlar, Knit Basket Loop, Knit Basket Wide, Knit Caterpillar, , Knit Hurdle, Knit Interlock,).
Creature (Ivory, Ivory Polished, Fur Sheep, Scales Fish, Scales Komodo Dragon)
Metal (Aluminum Chain Link, Aluminum Machined, Aluminum Scuffed, Barbed Wire).
Paint (Paint Rusted Worn, Paint Scratched Rusted, Paint Steel Worn).
Plastic-Rubber (Carbon Fiber Damaged, Carbon Fiber Scuffed, Electrical Tape Dusty, Plastic Faded Painted).
Stone (Basalt, Basalt Lunar, Flagstone, Flagstone Dirty).
Wood (Ash, Ash Varnished, Bamboo, Cedar Aged, OSB Ply).
And a lot more.
You can get Marmoset Toolbag for 14.99 USD per month for an individual subscription,  39.99 USD per month for a studio, and 119 per seat/per year for an academic.
Watch this less than a minute video below and learn more about the tool:
Marmoset Toolbag is a Multi-Tool for rendering, texturing, baking, and scene editing with real-time physically-based rendering and image-based lighting.