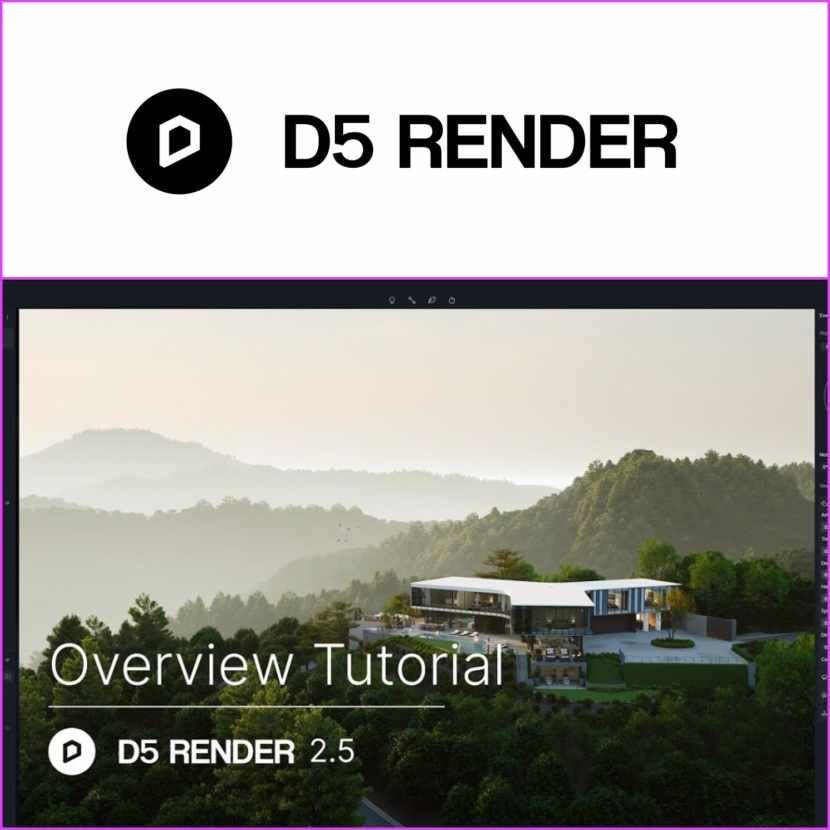 Dimension 5 Techs has released D5 Render 2.5.
It's another sizeable update, adding a new Caustics effect to simulate the lighting patterns created by light passing through transparent objects like bodies of water.

It's currently limited to basic light sources and to the Custom, Transparent, and Water material templates.

Other new features include a Section Tool, for creating cutaway renders, and D5 Studio, a cloud-based workspace for storing effect and brush presets.

Experimental new render super-resolution technology and Advanced Camera Tool
There are also two new beta features: D5 SR image upscaling, and the Advanced Camera Tool.

D5 SR (D5 Super Resolution) is D5's proprietary AI-based image super-resolution technology: it's equivalent to Nvidia's DLSS, AMD's FSR, or Intel's XeSS, all of which D5 Render already supports.

Like the alternative technologies, it speeds up the rendering of large images by enabling the software to render at a lower resolution, then upscale the result.

In the initial release, D5 SR is not supported for EXR output, or on AMD or Intel GPUs.

The Advanced Camera tool can be placed in the scene independently of existing cameras. It supports picture-in-picture display and a wider range of aspect ratios than standard cameras.

Other feature and workflow improvements
The asset library gets over 200 new assets, including interior parallax assets, 3D plants, and Asian characters, plus support for car paint material parameters for 3D vehicles.

As ever, there are a lot of smaller features and workflow improvements: find a full list via the links below.

Pricing and system requirements
D5 Render is available for Windows 10. It requires a GPU capable of hardware-accelerated ray tracing: Dimension 5 recommends an Nvidia GeForce GTX 1060+, an AMD Radeon RX 6700 XT+, or an Intel Arc A3+.

Integration plugins are available for 3ds Max 2014-2016 and 2018+, ArchiCAD 21+, Blender 2.93+, Cinema 4D R20+, Revit 2018+, Rhino 6.1+ and SketchUp 2017+.

The Community edition is free; subscriptions to the Pro edition, which includes advanced features, access to the full asset library and sequence rendering, cost $38/month or $360/year

Check the video now!

D5 Render is a new real-time ray-tracing rendering engine.