Friday, February 18th, 2022: 3D Community News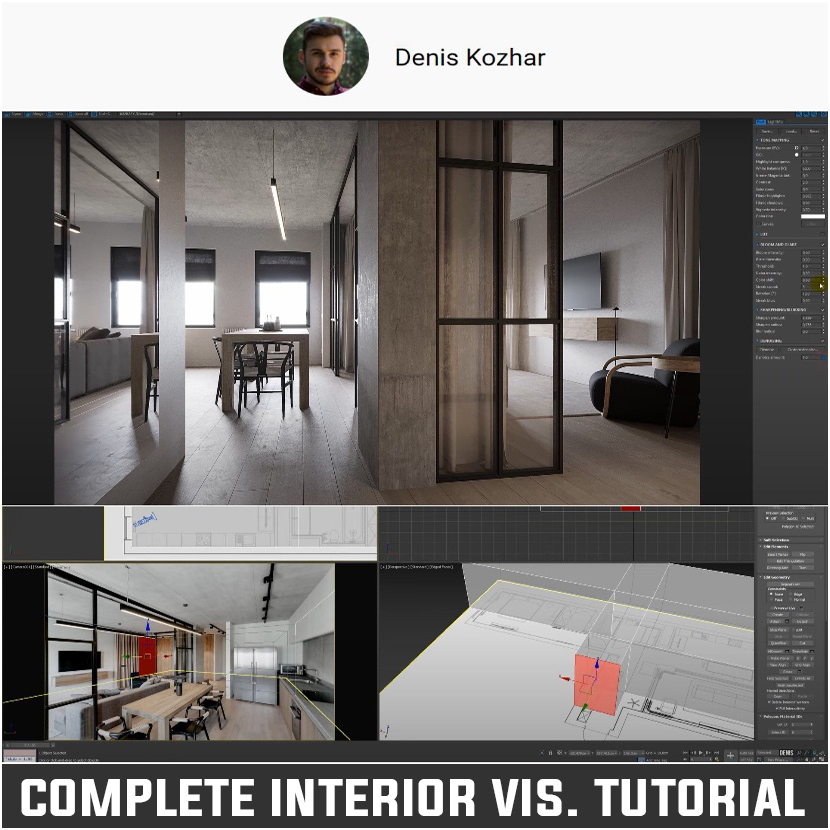 Denis Kozhar, an ArchViz artist from Russia, has recently shared a complete interior visualization tutorial in English, using 3DS Max & Corona renderer.
This is the second part of his tutorial series. You can watch the first part, related to exterior visualization HERE.
Denis starts his project from scratch unwrapping many topics such as:
Using pure-ref and adding reference images. From 00:00 to 00:34 min.
Starting from setting up the blueprints. From 00:34 to 01:30 min.
Setting up the units, preferences, and scaling. From 01:30 to 03:15 min.
Setting layers for each component of the scene. From 03:15 to 04:12 min.
Matching the perspective of the reference image to figure the heights. From 04:12 to 08:09 min.
The modeling process of the walls with editable poly. From 08:09 to 13:24 min.
Cutting out the windows and doors. From 13:24 to 16:29 min.
Setting IDs for walls, ceiling, and detaching floor. From 16:29 to 16:57 min.
Making the outer shell of the Interior space. From 16:57 to 18:03 min.
Bathroom ceiling and setting up the structure of the material. From 18:03 to 20:37 min.
Applying chamfer to the walls and ceiling. From 20:37 to 21:10 min.
Creating Corona camera set-up and starting interactive. From 21:10 to 22:40 min.
Building the fixed furniture and elements. From 22:40 to 01:10:05 min.
Kitchen creation with external assets. From 01:10:05 to 01:18:57 min.
Adding windows and curtains. From 01:18:57 to 01:21:07 min.
Furnishing the living room and adding curtains. From 01:21:07 to 01:22:39 min.
Building up the bedroom space by modifying assets. From 01:21:07 to 01:24:51 min.
Adding some details in the bathroom. From 01:24:07 to 01:26:01 min.
Explaining some of his workflow tips about the ceiling. From 01:24:07 to 01:28:13 min.
An easy way to create preview renders. From 01:28:13 to 01:29:39 min.
How to choose HDRI and how to set it up correctly. From 01:28:13 to 01:32:53 min.
Explaining how to use corona sun and sky. From 01:32:53 to 01:35:07 min.
Daylight scenario without HDRI or Corona sun. From 01:35:07 to 01:37:22 min.
Creating artificial lighting and setting it up. From 01:37:22 to 01:41:23 min.
Explaining tilt-shift parameter in corona camera. From 01:41:23 to 01:44:21 min.
Discussing some useful tips related to lighting. From 01:44:21 to 01:46:45 min.
Materials, Marmoset and Mixer to create custom textures. From 01:46:45 to 02:28:27 min.
A discussion about postproduction and how to do it. From 02:28:27 to 02:38:23 min.
Enjoy watching these 2.5 hours step-by-step interior visualization video tutorial below:
Denis Kozhar is a Russian ArchViz artist with a great passion to share his workflow and useful tips with the community.