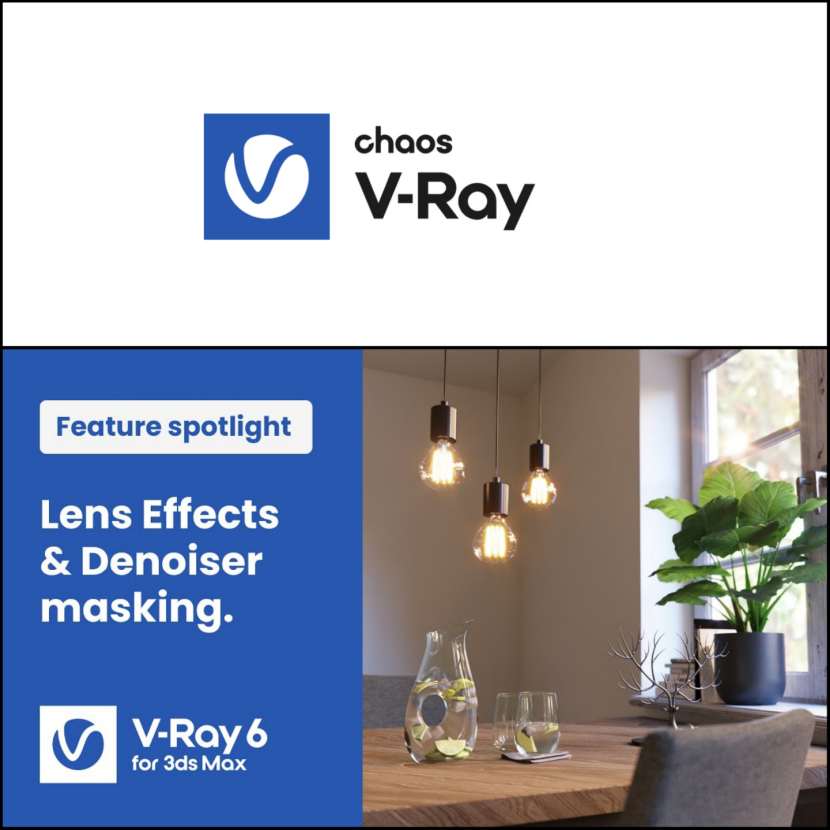 Chaos has released V-Ray 6 for 3DS Max Update 1, the latest version of its flagship production renderer.
Despite the small change in version number – it's officially V-Ray 6.01 for 3DS Max – it's a wide-ranging update, adding new features to the VFB, V-Ray Decal, the V-Ray physical camera, and V-Ray lights.
The release also implements Intel's Open Path Guiding library when rendering on CPU, a new compressed textures mode to reduce the memory usage when rendering on GPU, and AI upscaling in V-Ray Denoiser.
Visual effects artists get initial USD export, making it possible to export V-Ray materials, lights, and cameras to other host applications in USD format.

New features for collaborative workflows via Chaos Cloud.

Outside the core application, the new workflow introduced in V-Ray 6 for 3ds Max for sending renders to Chaos Cloud directly from the VFB to solicit feedback from clients or collaborators has been extended.

Users can now add visual annotations, including lines and arrows, to both still images and image sequences; and Chaos Cloud now supports versions and A/B comparisons.

Here is a summary of the update:
Masking for Lens Effects and Denoiser
V-Ray Light Material post-processing
Decal cylindrical projection
Decal additive bump
Custom resolution per camera
Initial USD export and USD Stage support
Faster heavy scene loading
Viewport composition guides
Faster fog rendering
Compressed textures mode for GPU rendering
V-Ray Clipper Mesh mode for GPU rendering
New V-Ray Material Translucency for GPU rendering
Render Element support through refractive surfaces when GPU rendering
Visual annotations and versioning on Chaos Cloud. 
Enjoy watching this awesome video presentation!
Chaos is a Bulgarian company established in Sofia in 1997 (famous for V-Ray). It is a world leader in visualization and computer graphics, creating technology that empowers artists and designers to visualize anything they can imagine. Their solutions vary from 3D rendering, real-time rendering, and simulation software.