Tuesday, March 29th, 2022: 3D Community News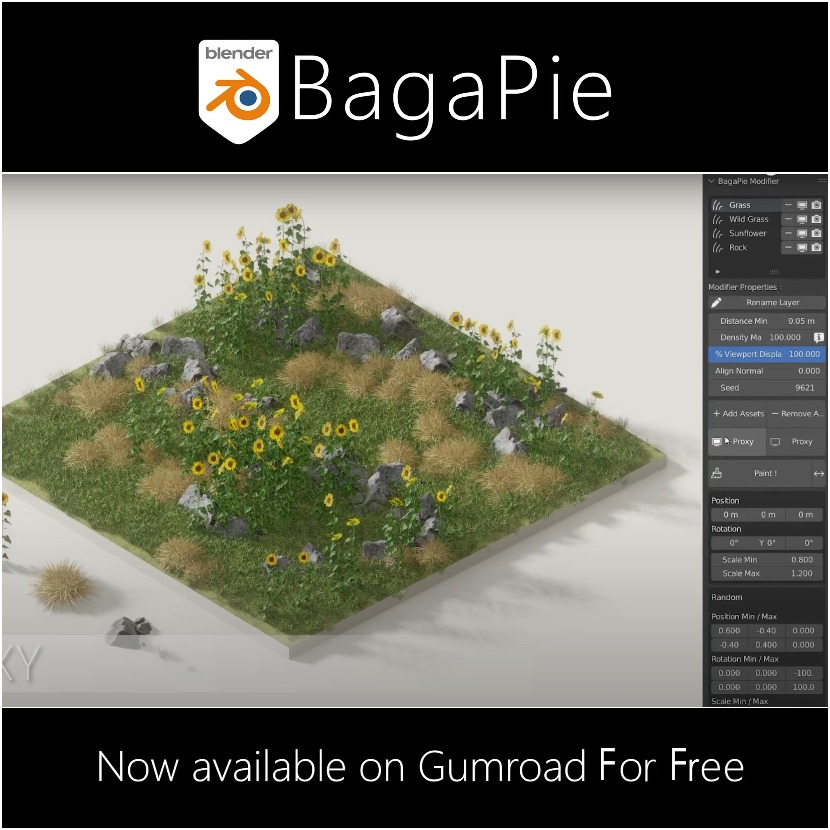 Antoine Bagattini has recently developed an amazing tool called BagaPie V6, which can nicely distribute objects in Blender.
In this update, he adds new generators for architectural assets including floors, beams, stairs, pipes, and columns; plus, the ability of camera culling and proxy support for instances, as well as the option to scatter instances by texture.
Some of its features:
Scattering based on Geometry Nodes.
Scatter Paint.
Point Effector. Influence scatter particles scale by proximity.
Camera Culling for Blender 3.0. Now, it uses a node group for better customization.
Boolean based on the modifier.
Random Array. Array-based on geometry nodes.
Create object groups and instances.
Walls and windows with modifiers.
He also includes his free Ivy Generator in BagaPie V6 which is offered for free.
This tool can be used with any 3D model, and he also offers a pack of assets like rocks, trees, and more, that are designed for BagaPie V6.
BagaPie Assets with over 100 assets is available for 69 USD.
Enjoy watching the quick demo below:
Antoine Bagattini is an architect who graduated from ENSA in Marseille, France. He had a passion for Architectural visualization, and he established F12 studio to create stunning ArchViz images for his clients. He also develops new handy tools in Blender making 3D artists' life easier.