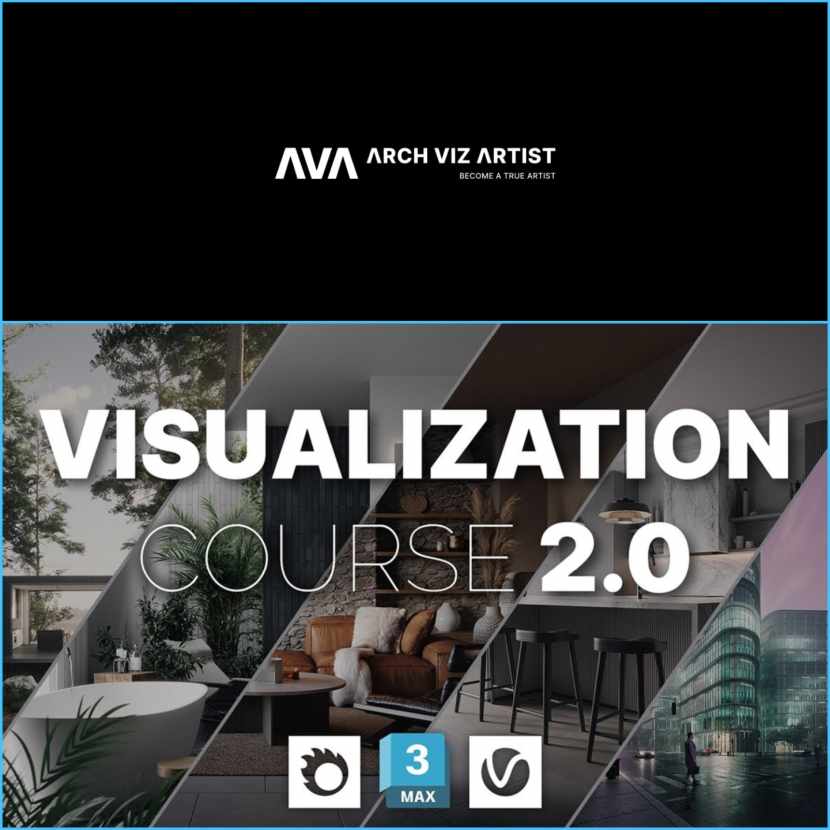 Arch Viz Artist recently released a new video announcing its new Visualization Course 2.0!
The new Visualization Course 2.0 is aimed at 3DS Max users, together with Corona and V-Ray engines.

Basics of 3ds Max

Learn 3ds Max from the ground up. Our quick, comprehensive lessons will help you master the program without wasting time on unnecessary information. We'll also show you the best ways to organize your files and folders, helping you to keep your work tidy and secure. Plus, a good folder structure will save you time and prevent you from misplacing files. Get ready to streamline your workflow, and get the most out of 3ds Max.

3D Modeling (Interior & Exterior)

Learning 3ds Max modeling is essential for any 3D artist. Even though we don't usually create models (we receive models from clients and purchase pre-made assets), occasionally, when the need arises, we must swiftly produce or edit an existing model to meet the client's requirements. In this course, we'll take you step-by-step through the basics of creating an interior. You'll learn how to create a complete interior from start to finish, including windows, floor, and doors. We will also show you how to model buildings from exterior scenes.

Camera setup

Choosing the right camera angle is a crucial part of creating compelling visuals. It can be the most challenging part of the process. The details, architectural highlights, and surrounding context change the perception of the image based on the camera angle. By learning the composition rules and best ways of setting up cameras in 3ds max, you can ensure that your visuals have the desired impact.

Lighting setup

Lighting is a key element in capturing emotions and setting the tone of any image. With the right lighting, we can change the atmosphere, mood, and sense of depth. We will take you through the basics of all lighting scenarios, such as daylight, overcast, sunset, and night, for both interior and exterior shots. Learn how to master the power of light to bring your images to life.

Materials

If you want to create photo-realistic materials, you must be an attentive observer of the world around you. This is a fundamental skill in creating stunning visuals that will wow your viewers. We'll show you how to create materials that look and feel real, so your work will never be doubted. Get ready to craft materials that will make your image stand out!

Greenery Scattering

At the end of our course, you will have learned how to manually position objects to create the perfect composition but also how to use the Chaos Scatter tool to quickly and easily scatter greenery in your scene. You won't need any additional plugins, as this tool is built-in to the software. This knowledge will save you time on future projects and enable you to create beautiful landscape compositions with plants, stones, etc

Storytelling

Adding a story to visualizations is essential if you want your image to stand out and capture attention. In this course, we'll cover the concept and demonstrate various methods of incorporating stories into images. You'll learn how to incorporate storytelling elements to engage your audience and create a compelling narrative. By the end of the course, you'll understand how to effectively communicate your message through visuals, and be able to create stunning, attention-grabbing visuals that will engage your audience.

A.I.

Artificial intelligence is getting better and better, and the tools using it are being improved quickly. With the market constantly changing, it is important to stay ahead of the curve and remain competitive in the industry. For this reason, we decided to include bonus techniques where we present to you how you can use A.I. to your advantage.

Post-production

As 3D artists, we understand the importance of post-processing to get the best results – which is why we are here to show you how. We strive to create the best image in the 3D software and only give it subtle improvements in post-production for the best results. We'll teach you how to use Photoshop to enhance your visuals, as well as how to save time and post-process your images directly in 3ds Max. Learn how to save time and perfect your images in post-production by using our step-by-step instructions.

The course is not yet published, but interested artists can buy it in the pre-order sale HERE!

Check the video now!

Arch Viz Artist is dedicated to sharing knowledge of architecture, graphics, and architectural visualization.