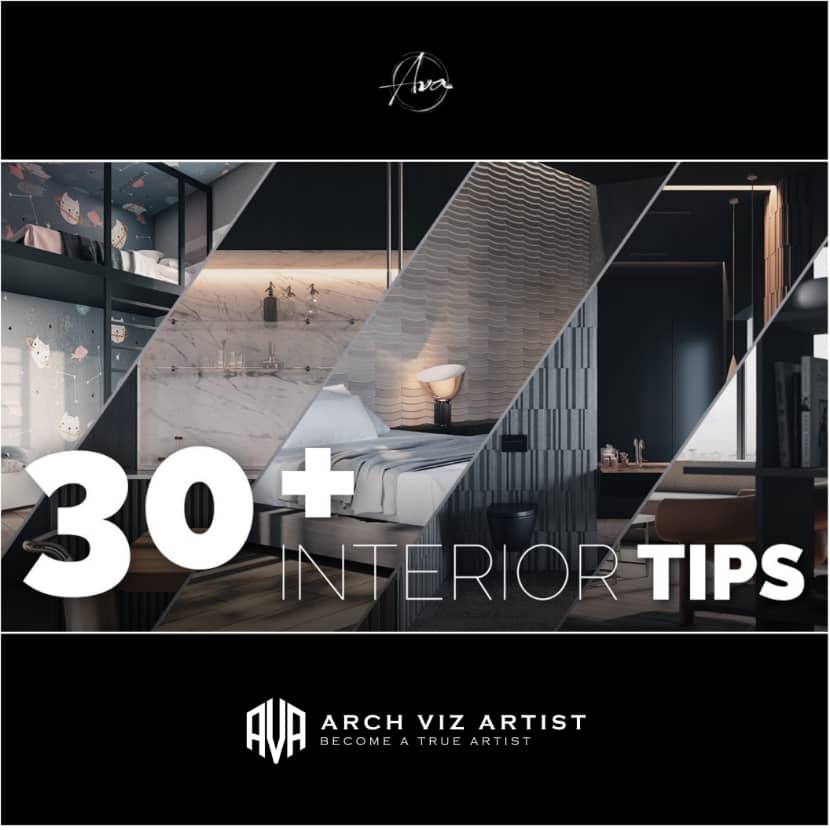 Arch Viz Artist released a new super-useful tutorial with a bunch of useful tips for interior design!
Transform any interior space following these tips and tricks. Make sure to use it in your architectural projects or 3d visualizations!

There are 34 interior design tips to be exact, but anybody could benefit from it, not only 3D artists!

In this video you can learn:
⏱️ Timestamps
00:00 Three as a magic number
00:20 Group in threes
00:33 Use color schemes
00:53 Change the perception of the space
01:50 Use color to create a 'WOW' effect
02:08 Add contrasty grout
02:21 Consider natural light ahead
02:44 Design interior lighting
03:04 Add atmosphere with mood lighting
03:34 Plan color temperatures of the lights
04:01 Add the space and light with the use of a mirror
04:21 Play with the lamps
04:49 Add moldings to quickly change your wall
05:06 Play with the wallpaper
05:26 Don't forget about the ceiling
05:43 Use the same flooring throughout the space
06:05 Interior Design Course
06:43 Use the space around the bed
07:03 Use rugs to divide areas in the open space
07:19 Combine the kitchen island with the table
07:43 Avoid cluttering
08:00 Get flexible storage solutions
08:13 Decorate bookshelves instead of cluttering them
08:36 Hang the curtains high
08:53 Don't place all the furniture against the walls
09:07 Use different scales
09:31 Play with different heights
09:44 Use books as a decoration
10:02 Dress the bed
10:33 Use iconic pieces of furniture
11:01 Use wood to warm up the place
11:10 Use different textures
11:36 Mix metals
11:55 Think about ergonomy
12:18 Use cohesive styles
Enjoy watching this awesome video tutorial now!
 Arch Viz Artist is dedicated to sharing knowledge of architecture, graphics, and architectural visualization.