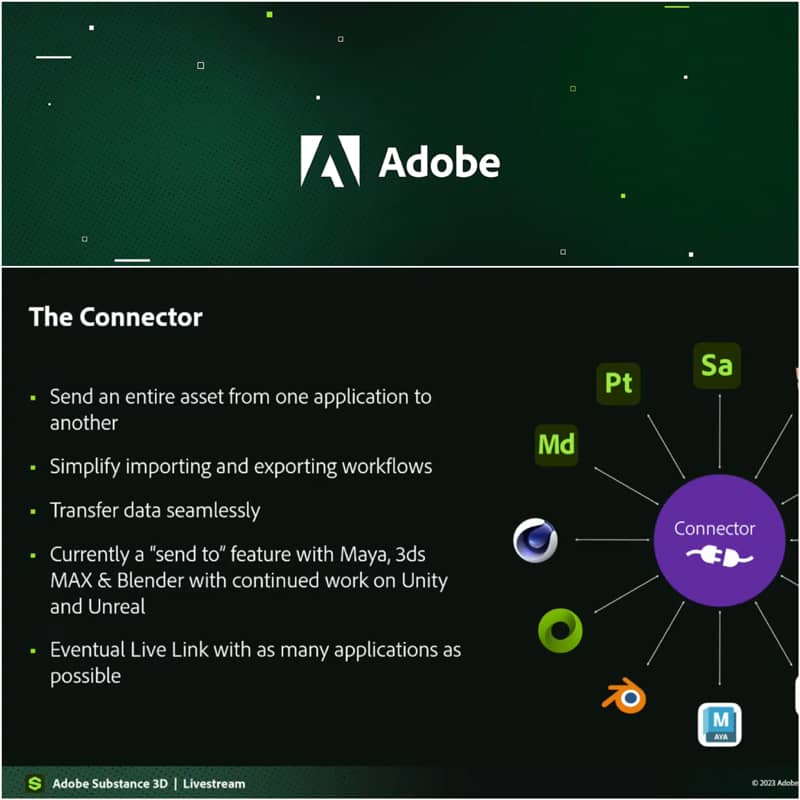 Adobe Substance 3D has recently presented an update on the latest developments and announcements in the Adobe Substance 3D collection. The livestream kicked off with a community showcase, followed by some exciting updates on some recently announced open-source initiatives, product updates, and much more. Enjoy the video!

Besides all these new things you can watch in the video below, Adobe has also introduced the Substance 3D Connector – a plug-in that makes it easy to move assets between Substance 3D applications and other DCC software. The tool works directly in Substance 3D and sends materials, models, and anything else you need with one click, without having to export and import objects.

Right now, Connector works with 3ds Max, Blender & Maya, but Adobe wants to expand it to as many apps as possible including Unreal Engine, Unity Cinema 4D, Katana, Houdini, and NVIDIA's Omniverse.

Since Adobe is currently testing the plug-in, it will be approximately released next year. The company has also released Substance 3D Sampler 4.2, which includes an improved AI-powered version of Image to Material and a new AI Upscale feature.






Adobe is an American multinational computer software company delivering applications for a wide range of content, including graphics, photography, illustration, animation, multimedia/video, motion pictures, and print. Incorporated in Delaware and headquartered in San Jose, California, famous for its creative suite that contains Photoshop, Premiere Pro, Illustrator, After Effects, Lightroom, Substance 3D Designer, Acrobat Reader DC, and many more.