Friday, August 20th, 2021: 3D Community News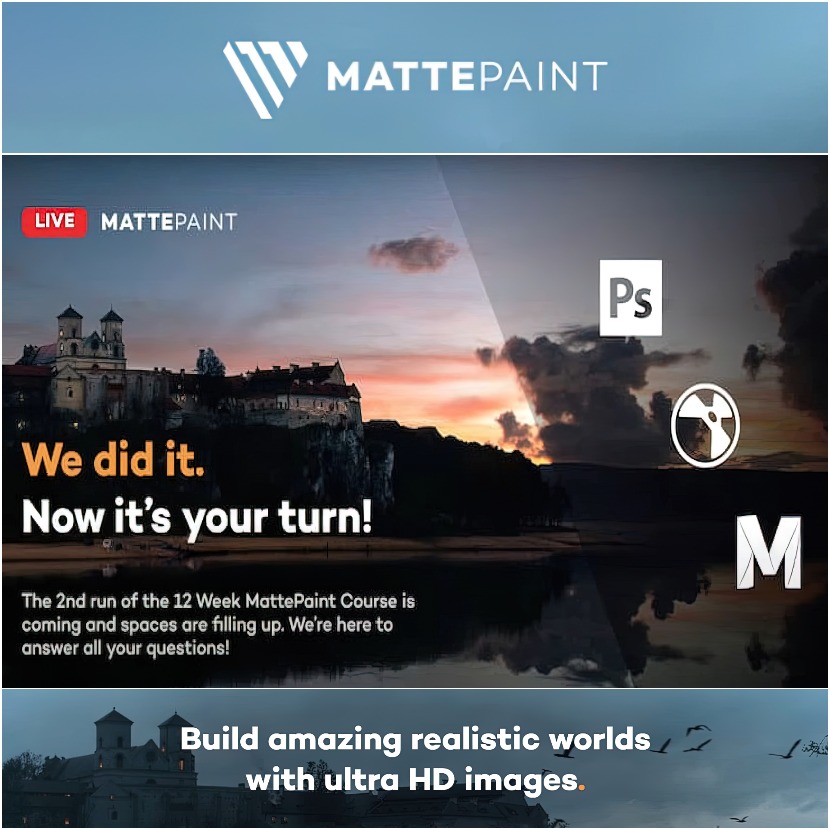 MattePaint has announced their 2nd run of the 12 weeks Matte painting course, coming on a live stream.
They dedicated this live stream to answer all questions for Matte painting artists and taking you through the course modules.
Week 1 & 2. Getting familiar with basin junior tasks and the techniques to execute them successfully.
Week 3. The artistic fundamentals of color, perspective, composition, architectural and industrial rendering techniques.
Week 4. Starting your first project, seamlessly blending multiple photos into one cohesive image.
Week 5. will discover how to integrate CG renderings into an environment.
Week 6 & 7. Setting Extension and environments cleanups.
Week 8. Working with a simple 2.5D projection setup in Nuke, different camera moves.
Week 9. Starting Project 5, solving problems associated with moving plates and extension.
Week 10. Working on Project 5, working with Nuke, Multi-Frame camera projection, and learn how to QC (Quality check/Control) images.
Week 11. Finalizing Project 5 will review completed shots from weeks 9 and 10 and finishing any final DMP and 2D work done. (Final assignment will be a surprise).
Week 12. Finishing the secret final assignment and feedback for the unfinished assignments from the previous weeks.
If you are a Matte painter or looking to be one, you must watch this more than an hour Live stream!
Conrad Allan and Oleksiy Golovchenko provide two awards, silver & gold, for completing the Final status of the course assignments.
Meet the Instructors
Conrad Allan has ten years of experience in CGI and matte painting. He started as a structure modeler for Architects in 2006; he contributed to the "Game of Thrones" series, Thor, Assassins Creed, Independence Day, and more. He is a respected artist, teacher, and entrepreneur.
Oleksiy Golovchenko worked as a Matte Painter artist and Environment Supervisor for the past decade. And was credited for Altered Carbon (S2), Dark Crystal: Age of Resistance, Star Trek Discovery (S3), Alita: Battle Angel, Deadpool 2, Batman VS Superman, Godzilla, and many more.