Tuesday, September 1st, 2020 by Julian Karsunky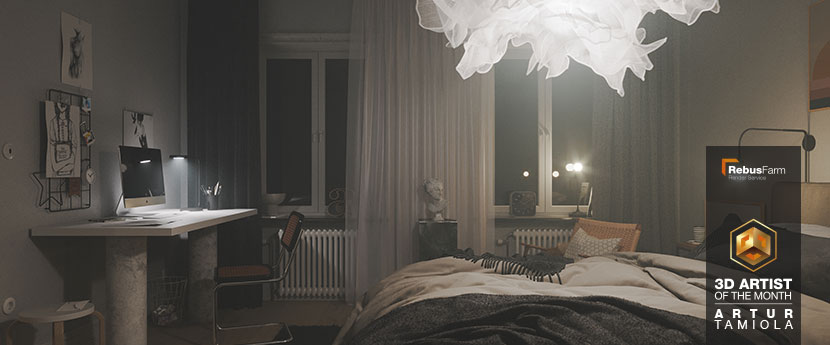 Life is not linear. Despite our best efforts, our paths more often than not take turns for the unexpected. Polish CG generalist Artur Tamiola, our September 2020 '3D Artist of the Month', was thrown into cold water when he landed an industry job mere weeks after installing his first 3D software and has been on a journey of self-improvement ever since. Recently, he has discovered the world of architectural visualization as a resourceful playing ground, with his take on a 'Scandinavian Interior' marking a temporary high point.
In our interview, Artur talks career struggles, the importance of connecting with others, sleep deprivation and plastic balls.
Hi Artur, thanks for joining us. To start things off, please introduce yourself to our readers!
Hi everyone, my name is Artur Tamiola, I'm a 33-years-old Art Director and CG Generalist with over ten years of experience in creating animations and photorealistic 3D visualizations. I live in Gdansk, Poland.
When did you first take personal, later professional interest in CGI?
I encountered CGI for the first time during my freshman year at university in Gliwice. My roommate was working in the game industry, and after watching him create massive levels, I got hooked pretty quickly – shoutout to Adam Bryła, who's currently working on dark fantasy first person shooter 'Witchfire'. Luckily enough, only two weeks after initially installing 3ds Max, I got my first job at a local company called i3d. Even though I'm a big gamer myself, I naturally shifted towards 3D animation over time.
With over ten years of experience in the industry, can you briefly summarize your career thus far?
My first days as a 3D artist were rather hectic, as I had next to no experience whatsoever. I barely managed the current tasks, but over the course of the following months, I started to at least get the basic idea what this job is about. Long story short, over the next four to five years, I worked with so many great artists, many of whom later went on to join renowned companies such as ReelTimeUK, Platige Image, and Juice. I learned a lot from them and had the chance to be part of big projects for clients like Boeing, Exxon Mobile and Samsung.
Eventually, I started freelancing and found myself teaching 3ds Max. I was running the courses and also taking on small projects. Then, one particular day, I met my future wife at a class I was teaching. Fast forward one more year, and we moved from the south of Poland to the seaside in the north, and I shifted my career once again toward commercials.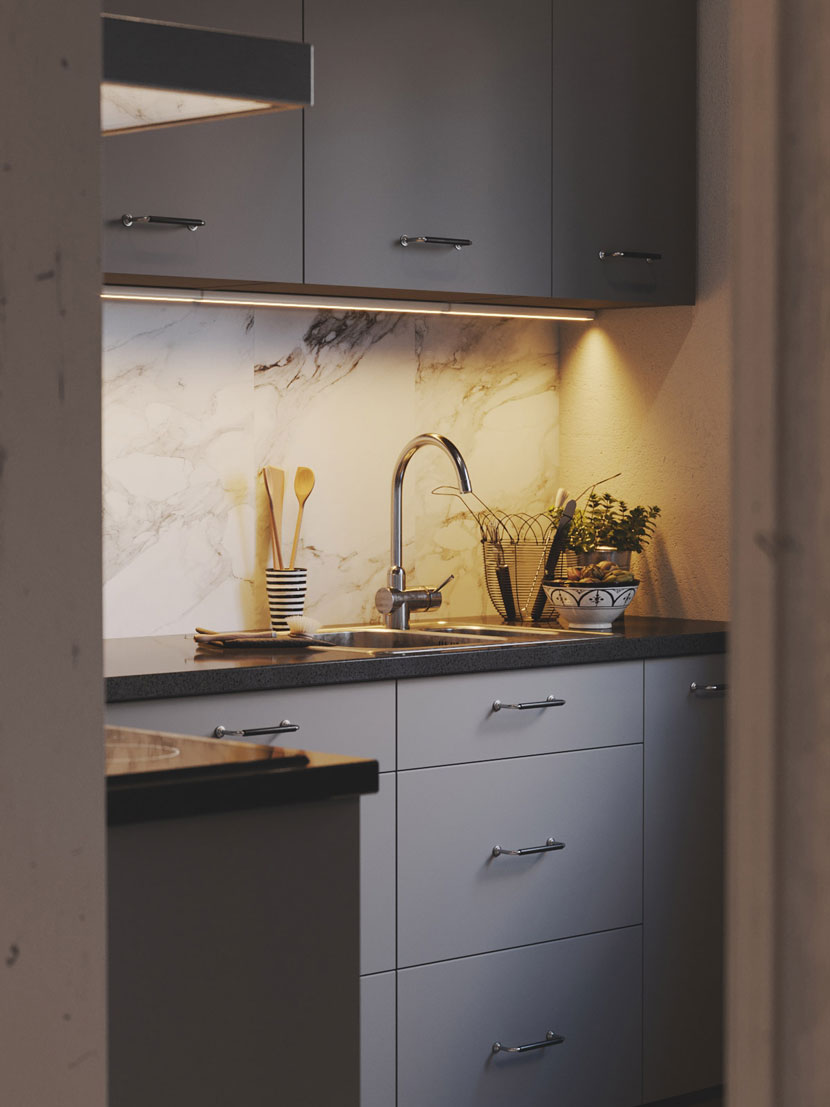 A look at the kitchen area highlights Artur's consistent use of a warm color palette in designing and lighting the apartment.
Looking back, what were some of your personal highlights in your career up to this point?
It's hard to pinpoint any particular highlight in my career, since it has been quite the struggle at times. I've always just tried to become a little bit better one step at a time. One big change for me was when I decided to cut off most of my freelance job and focus on personal projects in summer 2019. From that point on, my career got a bit more traction, with big names in the industry starting to recognize me. To be honest, being chosen as '3D Artist of the Month' is my first prize as an artist, and I believe that it will be a huge highlight in my career looking back on it!
The first, but hopefully not the last! Please tell us more about your current job situation and your work as an art director.
I'm currently working at video production company Mova Film. There is no day-to-day routine at my job, and that's the most beautiful part of it. As an art director, I'm focusing on smooth communication with my team and our clients, turning briefs into scripts and giving tasks to different people.
I have a strong background in 2D and 3D animation, so I can handle those projects pretty much by myself as well. What is most interesting about my work is I get to work as a colorist, too. I'm still trying to up my color grading game using a DaVinci Resolve Mini Panel, and I have a couple of TV commercials under my belt.
Are you still freelancing on the side presently?
As much as I'd love to take on more freelance projects, I'm still trying to further develop my 3D skills, as per my resolve from one year ago. Being a father to a three-year-old daughter, the constant juggling between a daytime job and personal projects is already challenging enough. So how do I balance time between my job and freelance or personal work? The closest answer I can give is: sleep deprivation. However, I'm very much determined to be the best version of myself, and my wife supports me all the way!
From the outset, Artur paid special attention to the various furry textures in the scene.
I hope you are holding up fine in these trying times! Has the current crisis impeded your work?
These certainly are difficult times, but thankfully, my family and I are holding up pretty okay. I didn't lose my job, and I had more time to spend with my family, so I'm trying to stay positive, do my job the best I can, and look for new opportunities.
What inspires you as a 3D artist?
What inspires me the most as a 3D artist is to solve problems given by myself and others. To be more exact – I try to see the bigger picture, understand different fields of work and figure out how to go about it. I'm continually reflecting on phenomena in the real world and how to explain them using 3D tools in a problem-solution approach.
As a generalist you are proficient in a wide variety of fields. Is there a particular area, subject matter or style you enjoy the most?
I like to up my shaders game, and I generally love to explore lighting scenarios. I find myself exploring different graphic and architectural styles a lot. In doing so, I discovered that my art direction skills translate quite well into architectural visualization, so I hope to turn my interior and exterior projects into something more than camera flythroughs. All in all, I try to explore different fields and I encourage more people to do the same.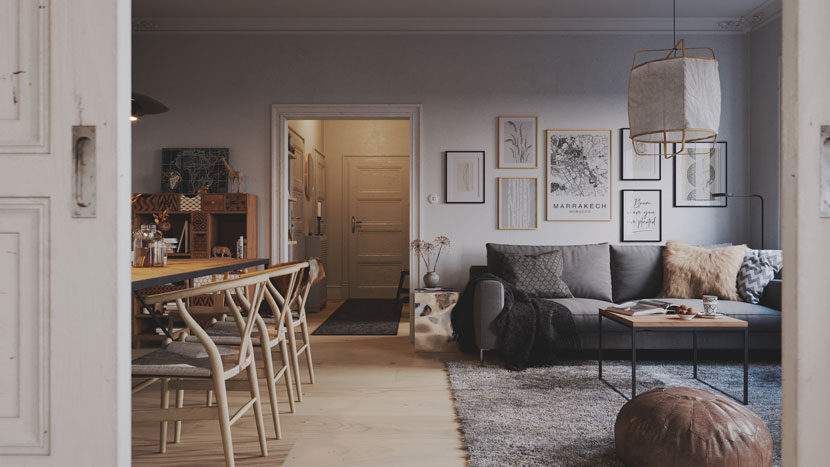 To achieve a lived-in look, Artur designed his 'Scandinavian Interior' around the personality of an imaginary tenant.
Let's talk about your work in more detail, namely the 'Scandinavian Interior' you submitted to our campaign. First, please tell us all about the scene and the original idea behind it!
As the name suggests, my 'Scandinavian Interior' was originally supposed to be a conventional interior project. The Scandinavian aesthetic has been the go-to for the archviz community for a while, and everyone tries their hands at it sooner or later.
Initially, my main goal was to create a couple of hyper-realistic interior shots and achieve decent hair and fur using Ornatrix. At some point, I felt I'm on to something more. I explored different lighting scenarios, including a 'cigarette smoking' mood, and played around with fisheye cameras.
Once you had a rough concept in mind, how did you then go about realizing the idea?
Usually, I start my creative process with extensive research. I like to get my mind completely wrapped around one project and make it grow. I chose the Scandinavian style, but I quickly decided I wanted to twist it with a Moroccan touch. I tried to make the interior look like someone is genuinely living there, I imagined a single lady who is fascinated by the African culture and loves photography. Thus, I added a couple of objects that can highlight the owner's personality. All of this really started to come together after I decided to go mostly with a warm color palette and dried plants.
From what I understand, the project took on a life on its own as you worked on it and became much bigger than originally intended.
That's right, I initially only went for a couple of day scenario shots, but I ended up rendering over 100+ closeups, 50+ wide shots, panoramas, fisheyes, and two animations (spoiler alert). I had animation on my mind, but you never know how quickly you might burn out on an idea, which is why I kept my expectations low.
Eventually, having a lot of shots already done and different moods developed, it felt natural to go with the flow and take another month to edit and render the full animation. In the end, I had such a good time I went on to create a spinoff called '18532 Plastic Balls'.
How long did it take you to complete the project and how satisfied are you with the results?
It took about three months start to finish, and I'm satisfied with the little things like the Dutch angles in the animation and the overall color palette. I received overwhelmingly positive feedback since I released the full set, which made me very happy and, incidentally, is also the reason you are reading this interview right now. That is, if you made it this far!
What software did you use to create the 'Scandinavian Interior'? Any plug-ins you found particularly helpful?
My usual workflow consists of 3ds Max and Corona Renderer, but I love to explore new software whenever I can. I contacted exlevel and explained what I was up to, and they were kind enough to support me by providing a two month trial of Ornatrix. I used Adobe Premiere for editing, After Effects for compositing and to resolve some minor flickering issues, and DaVinci Resolve for color grading.
The 'Scandinavian Interior' also led to the creation of another project, the aforementioned '18532 Plastic Balls'. Can you give us a quick rundown how that idea came to be?
As much as I love how the project turned out, there's no elaborate backstory to it. One idea led to another and suddenly I was releasing plastic balls into the apartment, filming it all with a GoPro camera. At the time, I had actually already moved on and was working on my next personal project 'The Cabin', but then I went back and revisited the interior one last time. A storm of plastic palls…I just needed to see with my very own eyes!
I used tyFlow to do a quick setup, and that initial test kept me occupied for an additional two to three weeks. As you might've guessed, the title refers to the number of rigid bodies in the tyFlow simulation. All in all, both 'Scandinavian Interior' and '18532 Plastic Balls' are pretty conventional portfolio projects, so they go together well in that sense, I felt.
How important are personal projects to you as an artist both in terms of creative expression and honing your skills?
Personal projects are the driving force of my career, I can't stress enough how important they are. Working on your craft is the first step to express what you want, and getting out of the comfort zone is what makes us better artists.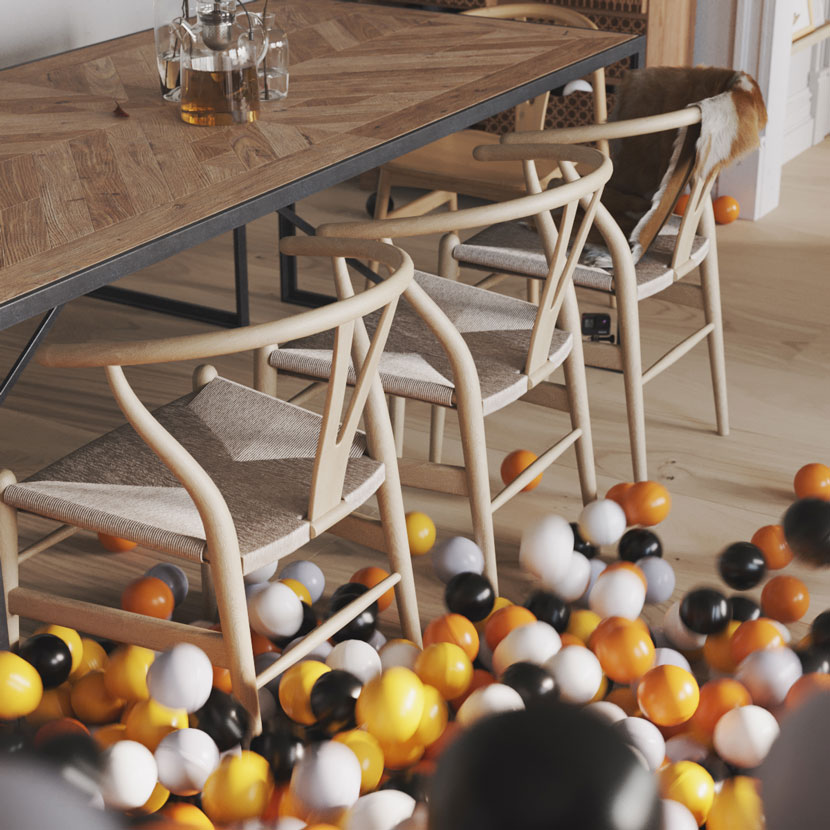 Satisfied with a job completed, Artur unleashed a torrent of plastic balls on his tidy 'Scandinavian Interior'.
As an experienced 3D generalist and art director, what is the number one advice you would give to aspiring CG artists?
Reaching out to different people has been a significant step in my career. I love to pick the minds of well-established artists, exchange ideas, and get a different perspective. It is what works for me perfectly, and I can share my story to motivate aspiring CG artists in turn. I'm not saying it's a perfect solution since we are all different, but working on yourself one step at a time makes you a better artist every day, and eventually, you'll get there!
Have you used RebusFarm before? If so, please tell us about your previous experience! Is there anything you especially like about our service?
I had the great pleasure of working with RebusFarm twice so far. It was only the economy class ride, but I will surely jump on the express train one day! I used the RebusFarm Manager to transfer all the scenes from within 3ds Max to the render farm, which was a very smooth experience all the way through. I waited my turn, and in a blink of an eye, I was ready to go. To be honest, I didn't test any other rendering service because RebusFarm is the way to go for me, and I hardly see any room for improvement.
In closing, is there anything else you want to say? Any present or upcoming projects you'd like to mention?
I'd like to thank RebusFarm for the opportunity to speak about myself, not to mention the prize itself! I'm blown away by the positive feedback I've received and I couldn't be more grateful for that.
If my story resonates with you, feel free to reach out to me; I know how important it can be for an artist to connect with others. I hope my work motivates you to explore new ideas, and if you find anything I've said curious, drop me a message too.
What can I say about upcoming projects? Well, I hope to continue my personal projects and try to talk more about them as well, maybe even do tutorials, if there's any interest.
Cheers!
What a kind offer! Artur, thank you so much for taking the time and all the best in the future!
Keep up with Artur Tamiola and his work here:
---

HOW TO JOIN OUR MONTHLY CONTEST
You want to be our next featured 3D Artist of the Month and win 250 RenderPoints? Just visit our 3D Artist of the Month competition page and submit your entry. We'll choose the best image and contact the winner.
---
>> Read more articles on our blog