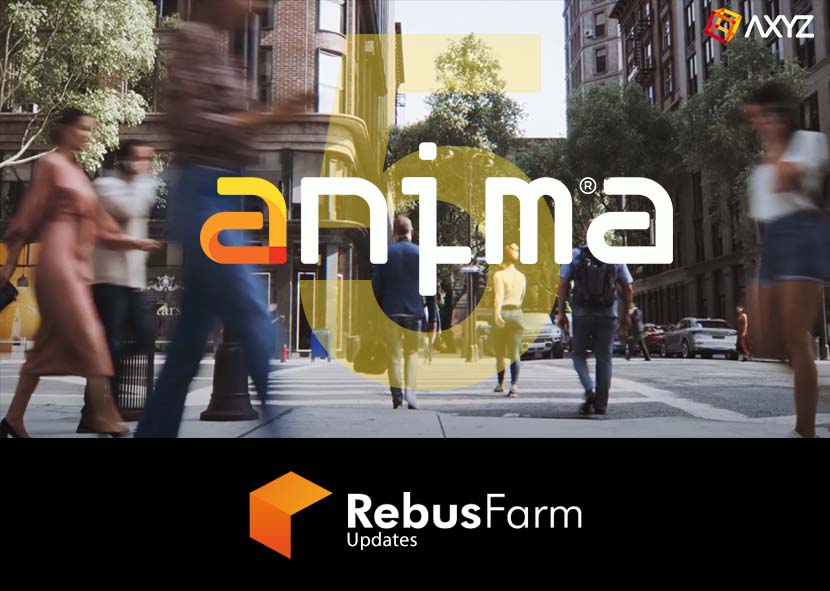 The Rebus 3ds Max Render Farm and the Cinema 4D Render Farm updated their anima versions to 5.0.0. Please note that all your jobs will use the new version, so we strongly recommend matching your version with ours.
The steps mentioned in the article: 'PROBLEMS WITH THE RESOURCE PACKAGE ('MISSING ACTORS')' are not necessary to be followed if you are using this same version of anima.
Note that anima project created with versions 4.5.5 or 4.5.6 can be rendered with this version, but you may need to follow the steps in the article. Also, take into account that older versions than 4.1.1 will not be supported with this anima version.
Some important release notes are
Cinema4D Plugin: Added Cinema 4D 2023 support.
anima: The resource cache 'Read from file' option has been extended with various improvements to allow working with plugins or multiple users in a network without running into file access errors. The resource cache will now write to a temporary file any changes it wishes to save if the file is not available for modification and the changes will be merged the next time the file can be opened for writing. This should allow users to work on the same project that another application is currently rendering from without having to rely on the 'Keep in RAM' feature.
Among the most significant features anima 5 introduces the new 4D Digital Human waking character system, which adds a level of realism never seen before in a crowds system. Like the 4D digital humans introduced in version 4, these new models simulate walking characters with extreme naturalness, facial expressions, and clothing deformations. 
In addition to the existing pedestrian path generation system, a new one has been specifically developed to control the new characters and use them in both close and medium camera shots.
A neural network-based crowd-generation system has also been developed. With the new engine, Neural Crowds, an AI is built based on the training of thousands of motion-captured walking movements. This allows us to offer crowds that move more naturally and realistically. 
Finally, we have spent extensive time optimizing our 4D format's encoding and decoding algorithms to boost performance in Unreal Engine 5, so you can create immersive environments filled with dozens of stunning 4D characters to gain a better understanding of space, scale, and design.
anima Plugins: The render farm packing functionality will now prompt for an error if the required resources for rendering are somehow missing from the resource cache, preventing incorrect submissions and render processes from being launched.
3ds Max
For 3ds Max we ran the update on all available versions: 2015-2023.
Cinema 4D
For C4D the update was made for all versions: R16-R26 and 2023.