Thursday, August 12th, 2021: 3D Community News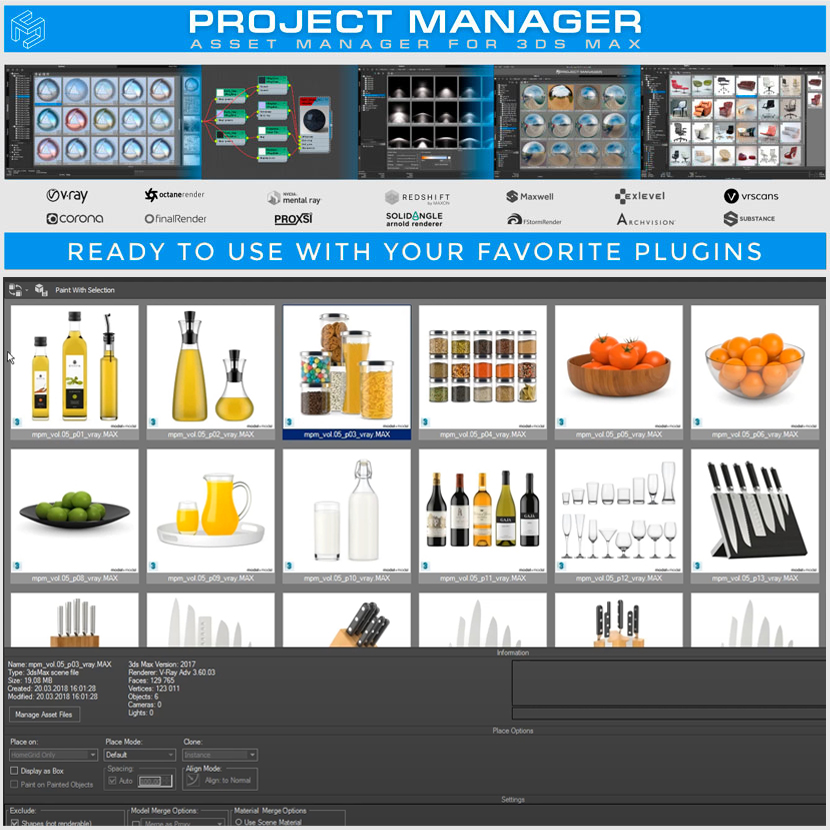 Project Manager by KStudio is a plugin for automating the project's creation structure. This plugin minimizes the routine work associated with resource management, leaving time for solving more interesting and creative tasks!
This amazing tool simplifies not only the process of project creating but also its completion! Using the Project Manager, you have the opportunity to easily organize the models, which can be downloaded from the 3D model store RebusMarket.
A convenient archiving function for further sending the file to our render farm for final rendering will greatly simplify the final stages of work.
ASSET TRACKING SYSTEM
With this plugin, you can be entirely in control of external links in your scenes. Asset tracking features include support for XREF files and easy linking with external files. Using the Asset Tracking tab, you can search for missing assets and relink external files. Project Manager simplifies and streamlines the processes of editing and managing scene assets. For example, it's much easier to locate specific assets using filters by name, asset type, file status, or selected objects.
The tool can also interactively display the assets linked to the selected objects. Besides, the plugin makes editing scene bitmaps easier since they can be quickly located and placed into the Material Editor with just one click. Asset rename tool and image resize functions are also supported. Finally, the ability to archive scenes either for backup or sent to render farm services, such as RebusFarm, makes Project Manager one of a kind.
BATCH PROCESSING 3D FILES
The Project Manager also possesses the tools to help you with the batch processing of your assets.
These are Convert&Resize Images, Advanced Asset Renamer, Auto Assign preview, and Batch Render&Relink.
Batch Render&Relink tool is designed to search, relink and collect missing files for multiple 3D models and material libraries in batch mode. Also, as its name suggests, this tool allows users to render previews for asset files. 3D models, Material libraries, and IES photometric files are supported. This tool works with most 3D file formats, such as max, 3ds, fbx, vrmesh, abc, cgeo, etc. There is a possibility to use custom studios and render presets to get better rendering results for 3D files.
WHY PROJECT MANAGER?
It is your one-click solution to the problem of managing most of your time-consuming tasks without leaving 3ds Max; it makes the drag-and-drop features an instant conduit to building your scenes and managing your assets with great ease.
Thus, the plugin allows creating complex materials without breaking a sweat by dragging and dropping the necessary files right onto the models or into the Material Editor. To downsize your 3d projects, the objects can be merged as proxies or xRefs in the viewport. Finally, the asset tracking system of Project Manager provides users with the unique capability to promptly fix missing files from scenes and/or xRefs, collect and replace files, search and relink missing files, categorize and archive assets. In terms of compatibility, fully supported rendering engines include V-Ray, Corona, Fstorm, Octane, Maxwell, Arnold, etc.
You can start using Project Manager right away – its interface is intuitive and easy to navigate. Organizing and managing asset libraries have never been more convenient for designers and 3D artists, especially when using the unique drag-and-drop features this tool provides.
Many studios and freelancers worldwide use Project Manager for many different tasks, from designing architecture and interiors to create a game level to working on a 3D movie scene.
So, if you feel the need to power up your productivity, try out the Project Manager plugin now!
Use the coupon code RebusFarm during August 2021 to get a 20% discount.