Monday, April 25th, 2022: 3D Community News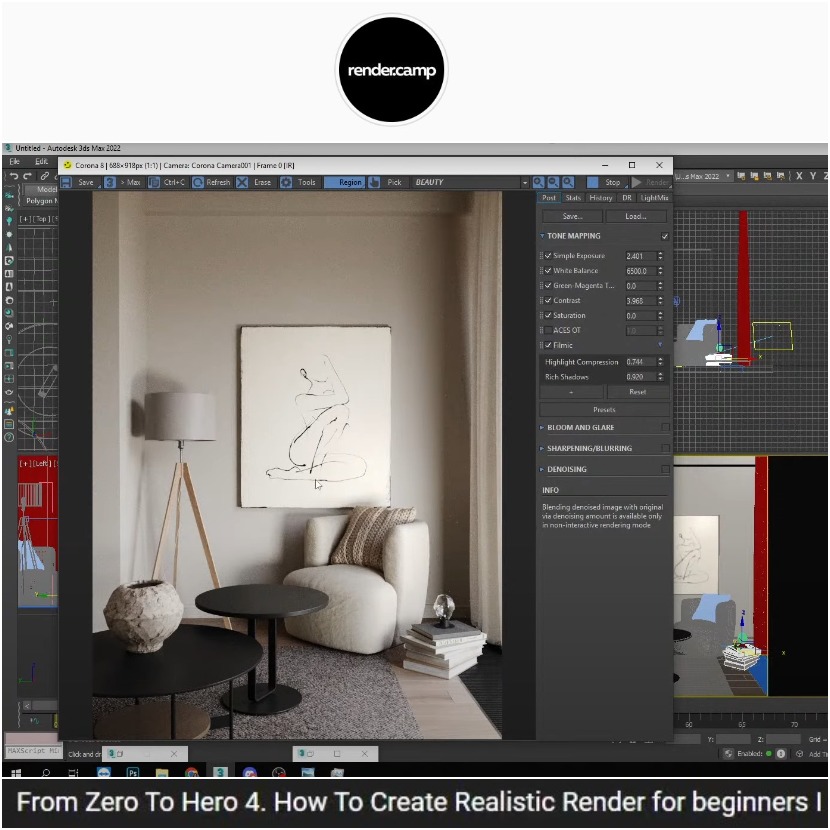 Render Camp has released the fourth live stream workshop of their new series "From Zero to Hero" creating an Interior scene from scratch in order to achieve a realistic render.
Thanks to Irena Poliakova from Render Camp who shared this simple and nice tutorial, targeted at beginners.
Some of the headlines discussed in this live are:
Modeling process. Creating a scene from scratch, starting with modeling on a specific plan.
Detailing the scene and adding assets, by creating floor and wall baseboard. Also, importing 3D assets to the scene.
Working on lighting, shading, and composition. Setting up the camera based on a reference image, and finally adding light using an HDRI map.
Creating some realistic materials. Starting with table materials, and adding part by part to exclude from the override mat.
Making the final render in Corona 8, adding the final touches, and preparing the final render settings.
There is a simple Q & A at the end of this master class.
Don't forget to check the video description, to download all the files need to materialize your exercise.
They also offer a really good beginners' course, instructed by Irena Poliakova, a Ukrainian 3D artist with more than 14 years of practical experience in architectural visualization and more.
Enjoy watching this 1.5-hour workshop below:
Render Camp is an online school for 3D architectural visualization, who aims to share knowledge, and help thousands of designers, visualizers, and architects in order to learn how to achieve a realistic qualitative render in a quick and efficient way.