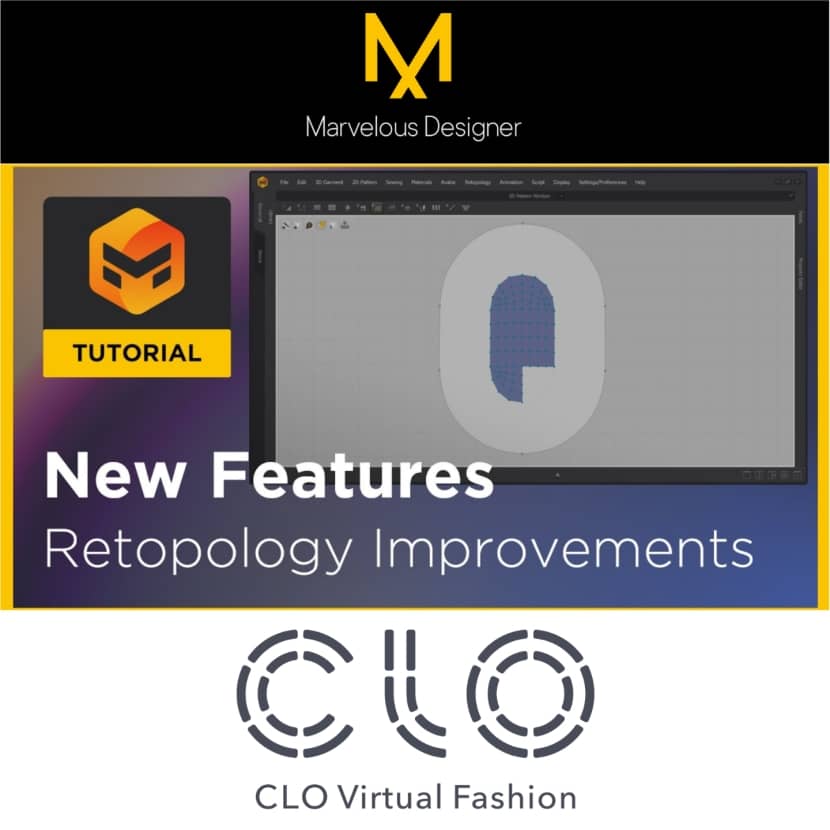 Clo Virtual Fashion has announced the release of Marvelous Designer 12!
New features include improved retopology tools; animation improvements including the ability to fix isolated keyframes, blend caches, adjust timings and create loops; Styleline editing for people without pattern-making experience; the ability to fit a suite to a custom avatar on import automatically; spiral patterns; nearby weld vertices on export feature and more.

- Retopology Improvements
These updates improve the flexibility and ease of use of the Topology Tools within Marvelous Designer.

- Animation Editor Improvements
With simulation keyframes, users can fix isolated simulation issues, blend caches together, adjust timing, and create looped animations

- Styleline Editing
Quickly shape patterns in the 3D Window without needing previous experience in pattern making.

- Automatically Create Fitting Suit at Import
Automatically generates a Fitting Suit for a custom bipedal avatar at import.

- Merge Vertex Feature
Merge vertices by proximity at export, producing an 'air-tight' unified mesh - useful with quad geometry created using the Retopology Tools.

- Hotkey Reference Window
Shows important hotkeys for the active tool, helping users become familiar with shortcuts, and exposing hotkeys that don't have UI buttons.
Of course, the update features many more improvements, which you are free to read and get familiar with on the official Marvelous Designer 12 website.

Enjoy watching the video below to get a hold of the new features!
CLO Virtual Fashion develops true-to-life, 3D garment simulation technology for the fashion and film/gaming industries.