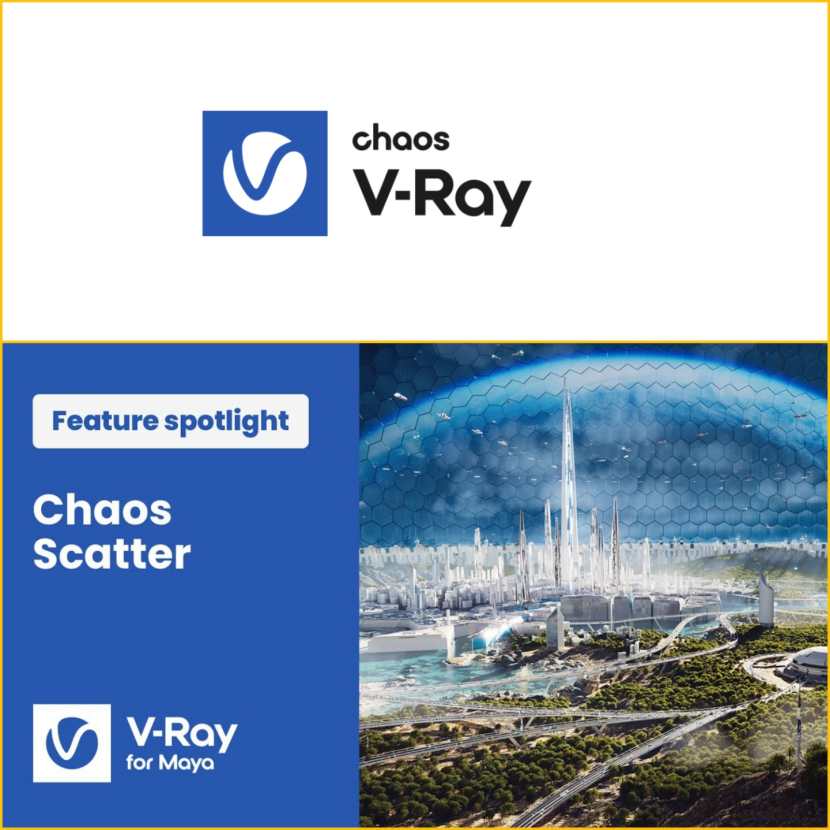 Chaos has announced the release of V-Ray 6, update 1 for Maya and Cinema 4D.
The update adds many new features including Chaos Scatter, which allows for the efficient placement of objects into scenes in a random or patterned manner without overloading the computer's memory.

This feature is designed for both natural and man-made environments, supporting the scattering of millions of objects with ease.

Artists can now also precisely manipulate light behavior through the Custom Light Decay feature, adjusting a light's intensity, hotspots, and the spread or length of rays for unique artistic effects.
In terms of efficiency, enhancements to static mesh and hair optimizations can accelerate the time to the first pixel by up to seven times. The V-Ray Profiler has been updated to identify potential bottlenecks, providing further opportunities for performance improvements.
Another new feature is the new V-Ray Clipper Mesh tool, allowing users to create intricate cutaways and sections using any mesh object. This feature provides an alternative to Boolean operators and can be animated to achieve complex effects.
V-Ray 6, update 1 for Maya, and Cinema 4D is available now. Find out more on the Chaos website. 
Check the video now!
Chaos is a Bulgarian company established in Sofia in 1997 (famous for V-Ray). It is a world leader in visualization and computer graphics, creating technology that empowers artists and designers to visualize anything they can imagine. Their solutions vary from 3D rendering, real-time rendering, and simulation software.