Wednesday, March 9th, 2022: 3D Community News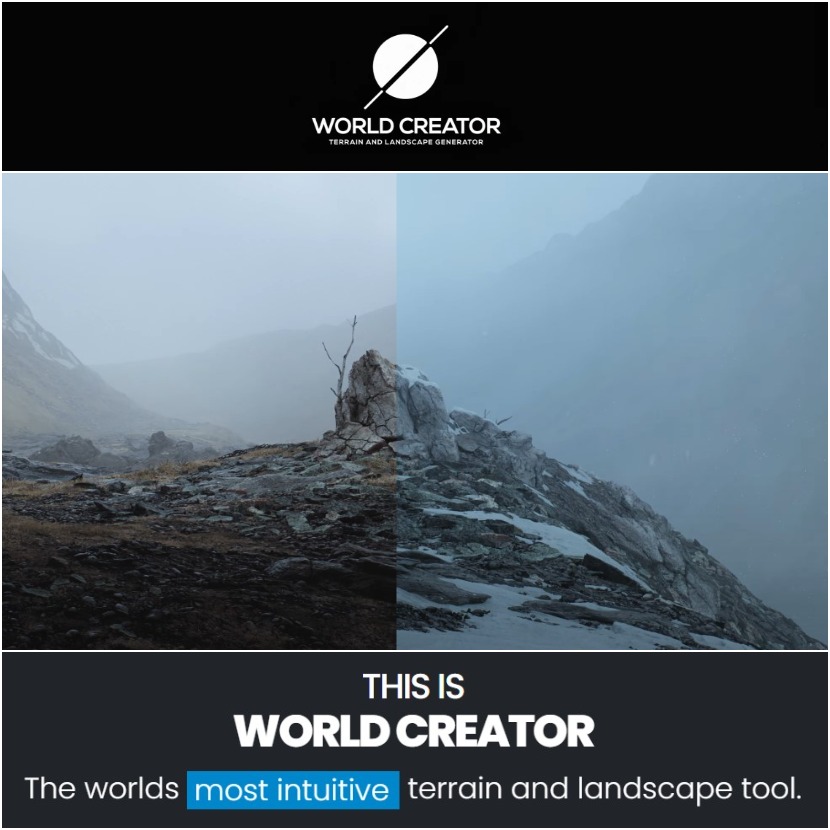 Bite The Bytes has recently released the 3rd version of World Creator which is a real-time GPU-based terrain and landscape creation tool. This version is different from the previous one as it's independent of Unity and offers more features and tools.
Now you can create Terrains from simple and basic shapes. Some of its new features are:
33 filters to modify terrains and mimic the effects of erosion and sedimentation.
Create cliffs, ridges, canyons, and more.
Import to Substance 3D Designer. (SBSAR format).
Real-time updates, fully procedural.
Ultra-powerful shape designer. Create and sculpt the terrain you want.
Integrated real-world map browser.
Very powerful gradient system.
Import textures with different extensions (PNG, TIF, JPG, TGA, BMP, and more).
More than 35 masking and effect options.
16 royalty-free PBR materials that can be increased to 100 from the customer portal.
Terrain wizard, tiled terrains, object import and placement, procedural river generator, camera animations, scene creation system, thermal erosions, input management, tons of more filters.
Enjoy watching "I AM", a short film by Aaron Westwood where all the terrains have been created with World Creator and rendered in Cinema4D using Octane renderer HERE. 
If you are interested in learning more about this amazing tool, check the introduction part 1 by Design with TP below:
World Creator is provided in many subscription bundles (monthly, yearly and perpetual) and each one has 3 subcategories (individual, small company, and large company).
Monthly: Individual 16.90$, Small Company 34.90$ and Large Company 128$ all per seat.
Yearly: Individual 169$, Small Company 349$ and Large Company 1289$ all per seat.
Perpetual: Individual 349$, Small Company 689$, and Large Company 2489$ one-time pay per seat.
Bite The Bytes is a software company based in Fulda Germany which is specialized in procedural real-time landscape and terrain generation for visualization and creation of digital content (games, movies, education, science, and art), with more than 10.000 clients all over the world, such as Blizzard, Blur, Capcom, Eidos Montreal, Xbox Game Studios, Square Enix, Unity, and more.