Monday, May 9th, 2022: 3D Community News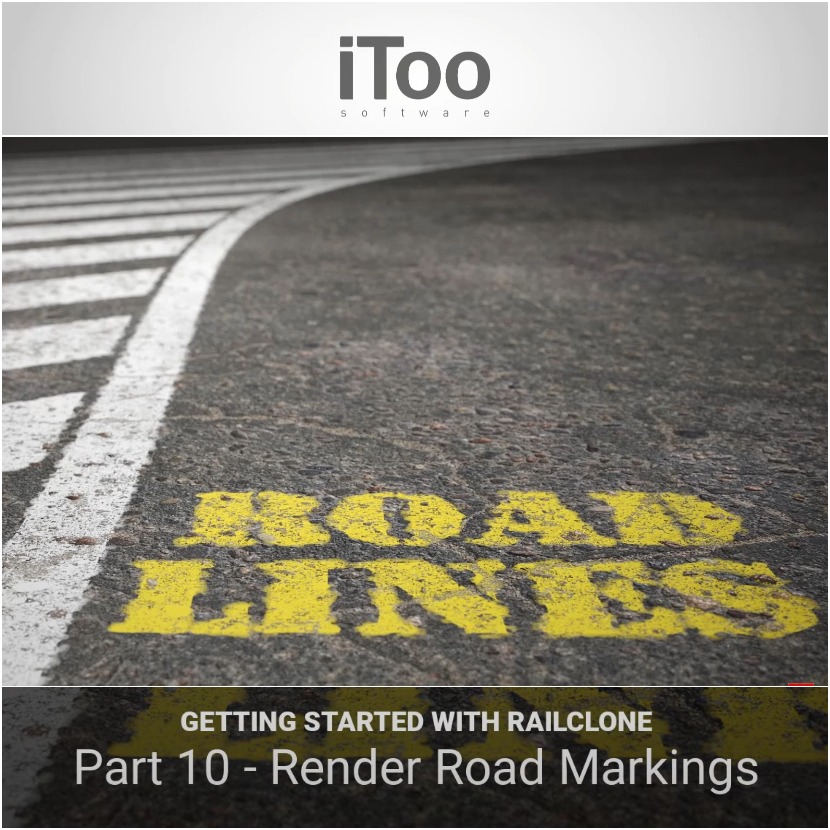 IToosoft has recently shared its latest quick tutorial on "How to create parametric road markings" with the help of RailClone. This tutorial is the 10th part of the "Getting Started with RailClone" playlist.
In this very useful tutorial, you learn how to achieve a parametric realistic road marking, using a V-Ray Distance map and RailClone, but this technique can be applied to any render engine that supports distance maps such as Corona renderer.
Some of the Road markings you can achieve are: Solid single line, dashed single line, double solid line, double dashed line, dashed and solid line, and another style than can fill areas while maintaining a lined outline.
Follow these simple steps to achieve a great result:
Introduction to the styles you can achieve. The majority can be done by the RailClone lite version.
Start by creating a simple solid single line.
How to set up the material in V-Ray Chaos Cosmos, which can be used by Corona users too.
Adding the color of the yellow markings as an additional color.
Converting it to a dashed single line.
Creating double solid and dashed lines.
Making dashed solid lines and the opposite as well.
Exporting all the controllers for later use without opening the style editor.
Creating the last style "hatched line fill markings style".
If you don't want to watch the tutorial till the end, you can download the finished style from the download section "Road Markings"
Enjoy watching this quick but helpful tutorial now!
RailClone is an artist-friendly parametric modeling and layout tool for 3DS Max that can create and use sophisticated assets.
IToosoft is a 3D software developing company founded in 1999 in Cádiz, southern Spain. The creators of Forest Pack and RailClone, top-ranked plugins for Autodesk 3DS Max with a wide range of applications in Archviz, VFX, and games, are constantly working hard to develop clever and productive tools which make 3D Artists' life easier.