Wednesday, April 6th, 2022: 3D Community News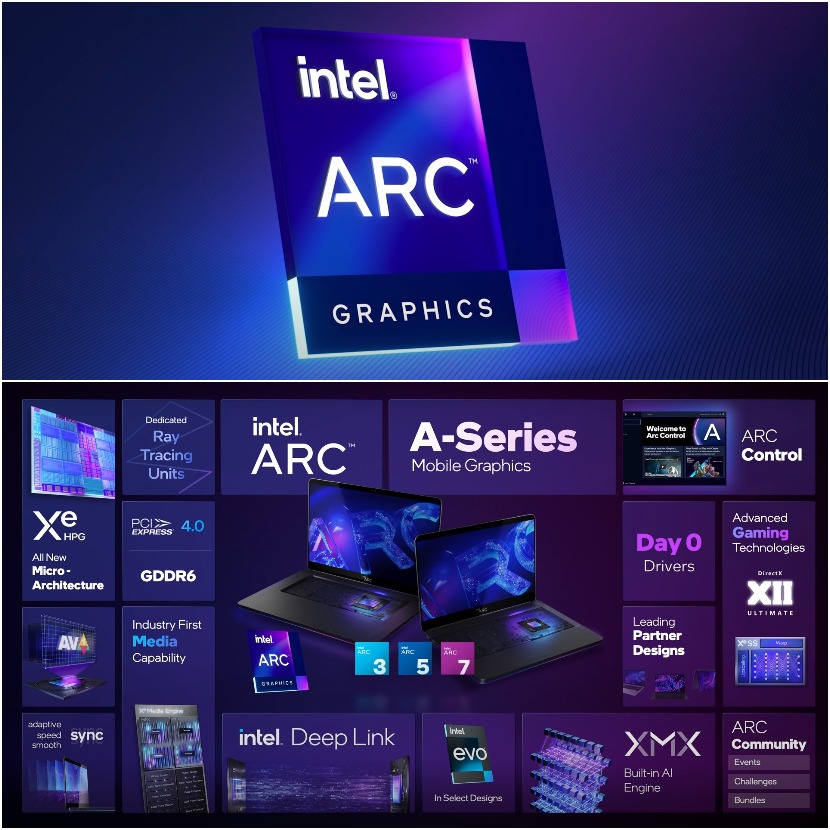 Intel has recently launched its latest, GPU game-changer, graphics family for laptops named "Arc A Series".These are the first discrete Graphics GPU chips, for gaming and content creation-oriented laptops.
Roger D. Chandler" Intel's vice president said that later this year, it will be followed by GPUs for Desktops and powerful workstations.
The first two Arcs of ARC 3 series:
A350M with 6 Xe cores and 6 Ray Tracing units 4GB.
A370M with 8 Xe cores and 8 Ray Tracing units 4GB.
ARC 5 and ARC 7 are coming later this year for heavy-duty, high-performance Laptops with more juice.
ARC 5 Laptop Series:
A550M with 16 Xe cores and 16 Ray Tracing units 8GB.
ARC 7 Laptop Series:
A730M with 24 Xe cores and 24 Ray Tracing units 12GB.
A770M with 32 Xe cores and 32 Ray Tracing units 16GB.
Some of the capabilities and supported technologies are:
Xe-cores with XMX, for accelerating AI workloads. (XeSS upscaling new technology support).
Xe Media Engine, full support of Direct-X 12 including hardware-accelerated ray tracing and AV1 video codec open media technology.
Deep-link makes Arc GPUs work seamlessly with Intel CPUs.
Xe Display Engine and Xe Graphics Pipeline, with a performance of 60 FPS 1080 Res on a range of popular games.
To learn more about this game-changer GPU series CLICK HERE.
Enjoy this 12-minutes presentation for the ARC Series, and a surprise at the end of the video:
Intel Corporation is an American multinational corporation and technology company located in Santa Clara, California. Founded on July 18, 1968, by semiconductor pioneers Gordon Moore (of Moore's law) and Robert Noyce.  It is the world's largest semiconductor chip manufacturer and is the developer of the x86 microprocessors series, which is found in most personal computers (PCs).