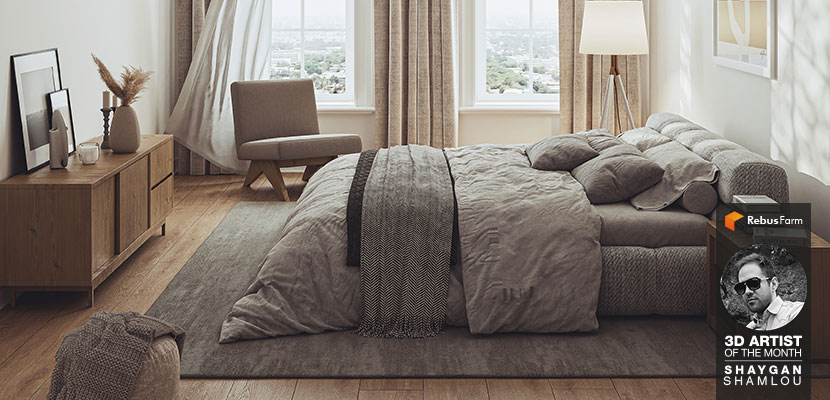 As we enter the fourth quarter of the year, our Rebus render farm 3D Artist of the Month campaign shows no signs of slowing down! On the contrary, in October 2023 talented archviz artist Shaygan Shamlou blesses us with his wonderful interior designs. A passionate proponent of the minimalist style, his work expertly blends clear and elegant compositions with warm and inviting colors, resulting in inviting and calming living spaces.    
In our interview, Shaygan discusses his stylistic preferences, taking creative risks, and how business can become personal.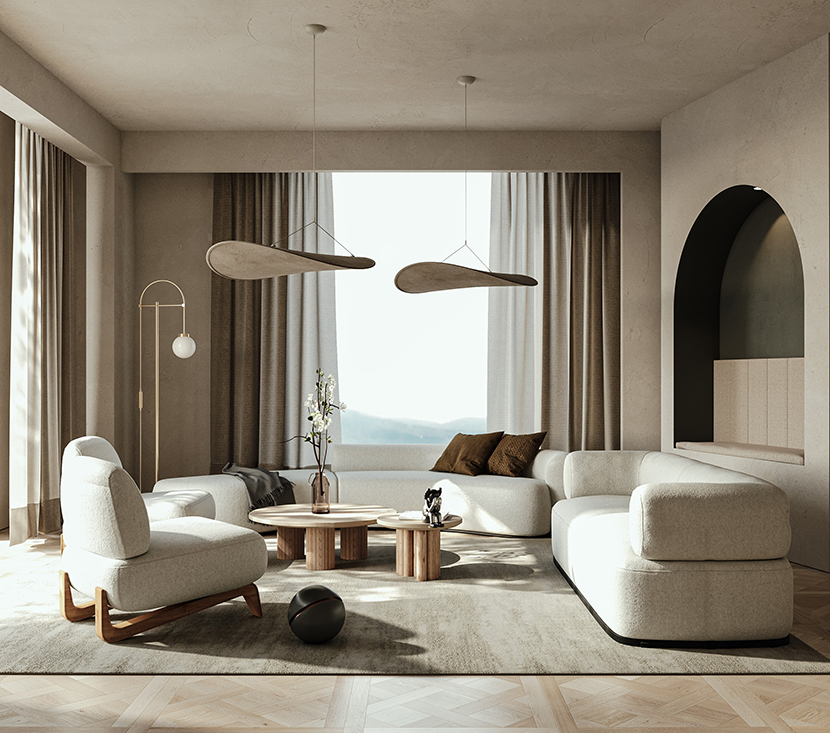 Warm, pastel colors and minimalist furnishings are trademarks of Shaygan's interior design.

Hi Shaygan, thanks for joining us! To start things off, please introduce yourself to our readers.
Hello to all CG friends. My name is Shaygan Shamlou, I am 29 years old and I live in Tehran, Iran. For many years, I have been working as a professional 3D artist specializing in interior design, and I always try to be the best version of myself.
There is another proficient 3D artist by the name of Shaygan Shamlou, whose studio Redfox Digital features some of your work. To avoid any confusion going forward, can you explain what I assume to be family relation?
Indeed, Shayan is my older brother. He has had quite the illustrious career so far, before founding Redfox Digital Studio, he worked for several renowned companies, including Norman Foster.
I see! With that cleared up, I'd like to take a step back and briefly explore your professional history. Where did your own journey in the field of 3D begin?
I first became interested in learning 3D during my architecture studies. I was sketching before, but I eventually turned to digital solutions, since visualization seemed an essential tool in my field going forward. At the same time, I was following my brother's work, which only furthered my interest. After graduating in interior design, it was with his help and guidance that I turned to more advanced software and started implementing my own designs. Besides my brother, I also learned a lot from magazines, websites, YouTube videos, and similar resources.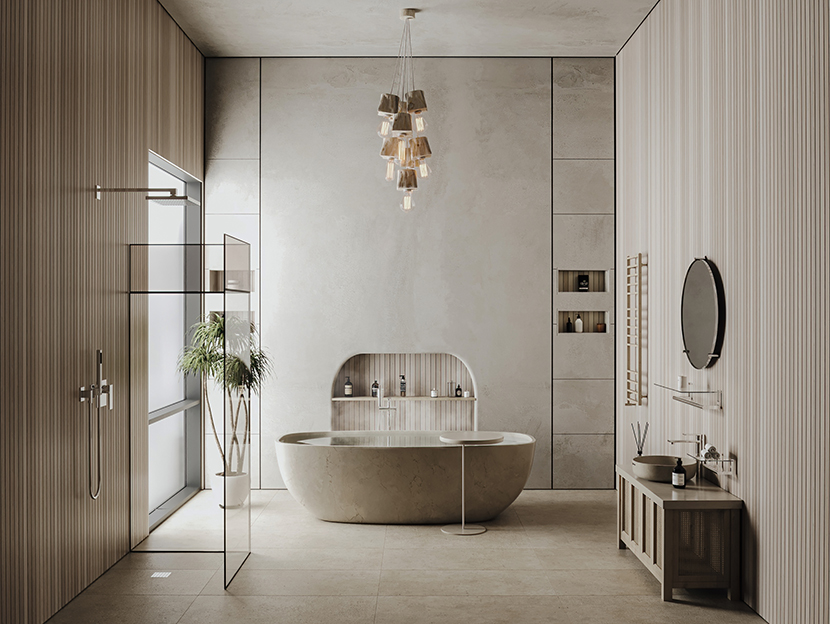 This 'Dreamy Bathroom' is another example of Shaygan's soft spot for the minimalist style.

Please tell us about your current job situation! Are you exclusively freelancing at the moment?
Yes, currently I work alongside my brother as part of the team at Redfox Digital Studio team, where I focus on interior design and visualization. I also take on additional freelance work here and there. I have had several offers from companies in the past, but for now, I like it this way.
What services do you provide and who are your clients and target markets?
I provide any service in simulation design such as interior and exterior design, animation, and 360 tours. With Redfox Digital Studio, we target everyone from architects, designers, real estate developers, and marketing agencies, though personally I do a lot of work for private individuals as well. I also collaborate with architects from Canada and the U.S.
How would you describe your overarching vision as an archviz and interior design artist?
To me, interior design is a lifestyle and a source of peace and tranquility. I'd like to think that having this much personal investment in my work also helps me achieve better results.
Shaygan's seamlessly adapts his interior designs to fit different styles, as with this 'Scandinavian Bedroom'.

Describe your profile as a 3D artist! What are your main areas of expertise?
My focus is on various domestic and residential styles from all over the world. I have also tried my hand at more surreal and fantastic works, which I am very fond of.
Is there a part of CG-related work you particularly enjoy? For what reasons?
I really enjoy researching and exploring different interior designs. Finding the perfect colors and furnishings for an interior space, then arranging these elements in the most harmonious way gives me a lot of joy.
Where does your own fascination with architecture and archviz stem from?
Some things in the world just exist naturally in humans, I don't know if I can trace my passion for interior design any further than that. Nice designs and arrangements have given me a good feeling for as long as I can remember, and I always try to improve my work by seeking out as many instances as possible.
Is there a specific design philosophy or architectural school of thought you adhere to?
Not exclusively, no. Instead, I believe in a flexible and adaptable approach to design that allows me to draw inspiration from various sources. I find inspiration everywhere in the world around me, whether it is nature, contemporary architecture, art, or even everyday life experiences. I believe that by keeping an open mind and embracing diverse influences, I can create unique and compelling 3D designs that resonate with both clients and audiences.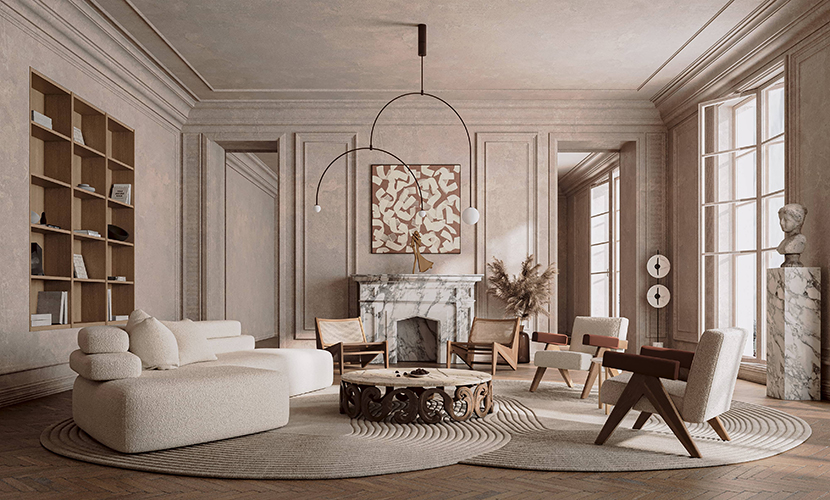 Shaygan Shamlou, 'Classic Apartment'.

Let us talk about some of your work in more detail, starting with the 'Classic Apartment', an elegant English interior. Can you first describe the circumstances that lead to the creation of this project? Was this a commercial or personal project?
I am friends with a couple from London, England who are very fond of this classic aesthetic. They asked me to design their house combining the classical with more modern design elements. Seeing how this project is both commercial and personal, you could maybe call it a "personal business".
I should also note that while I did in fact design the entire house, I was only allowed to publicly share the reception area
What parts of the scene were especially important to you, both from a visual/design and technical point of view?
Most important to me was the main shot, giving a complete view of the room. I also wanted to show the cityscape and the typical London weather through the windows to get a proper feel for the locale.
What were some of the challenges you had to overcome and how long did it take you to complete the project?
The most difficult, yet equally important part of this house was the construction of the strange cornices covering almost all the walls and especially the ceiling. I placed and fixed them both manually and with the help of special plugins. These renderings took me nearly a full week; for reference, the entire project including the rest of the house took me two weeks.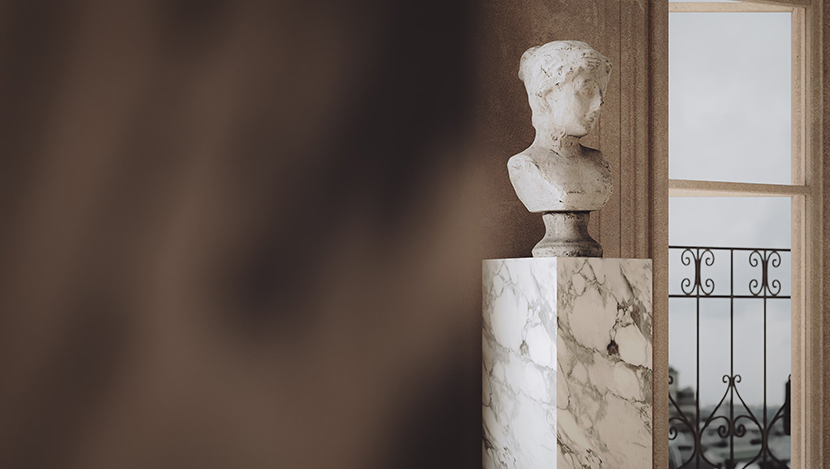 A classic beauty: sitting atop a marble pedestal, this antique bust imbues the apartment with timeless elegance.

How would you describe the style of this particular interior? What makes it "classic"?
It is a blend of my usual minimalist style and classic design. As to the second part of the question: the aforementioned cornice strips on the ceiling and walls, the statues, and the plaster material. just to name some of the more striking features.
Talk to us a bit about your use of colors, materials, lighting, and the overall composition!
London is a fascinating case study in lighting, often cloudy, and sometimes you even get sunshine and rain at the same time. So I used three light sources: an HDRI, the sunlight, and another plane for the city backdrop. Calibrating and matching all three of these took some time, of course. I generally try to use light furniture and warm colors because of their calming effect.

Warm, pastel colors and minimalist furnishing are a mainstay of your interior design work. Is this your signature style or an aesthetic that you are especially fond of?
Yes, I make no secret of my stylistic preferences. After all, as you pointed out, I use minimalist design and warm colors in almost all my work. With this interior however, I felt combining minimal and classic elements would make for an interesting contrast. It might have been somewhat of a bold choice, but I am more than happy with the results.
A closer look at the dining table and a lamp, both continuing the white marble aesthetic.
What software did you use to create this scene? Are there any plug-ins or tools you would recommend?
I plan on writing an article for 3D World Magazine in the future, breaking down the entire scene, so for now, I will only give the short version: I used 3ds Max for modeling, rendered through Corona 10, and did post in Photoshop. The plugins I used include SiNi, Sweep Profile amongst others.
What has the feedback been like so far and how happy are you with the results yourself?
My friends – and clients – were very satisfied with the results, and so am I. I was more surprised by the public reception: initially, I did not expect this project to be particularly popular, but then the official Corona Renderer account published it on their Instagram page, and I realized that many people are very much interested in this style, which made me very happy.
What is something you have learned from this project that you can share with us?
Having the courage to experiment with different styles and taking creative risks can pay off!
A sneak peek at Shaygan's latest project. Check out his Instagram for more images of this 'Nordic Design Kitchen'.

Have you used RebusFarm before? If so, please tell us about your experience: is there anything you especially like about our service?
While I was fortunate enough to have many of my works published on your gallery page, I have not tried rendering through your site yet. However, I look forward to finally give it a shot soon, as I have heard nothing but good things about the speed and reliability of your service.
In closing, is there anything else you want to say? Any plugs, shoutouts or present or upcoming projects you would like to mention?
I have just published a new project on my page, which I have also sent to you – I hope your readers will like it [editor's note: see images above]. Other than that, I just want to say a big thank you to the RebusFarm team for having me, it has been a great honor.
The pleasure was all ours! Shaygan, thank you so much for taking the time and all the best in the future.